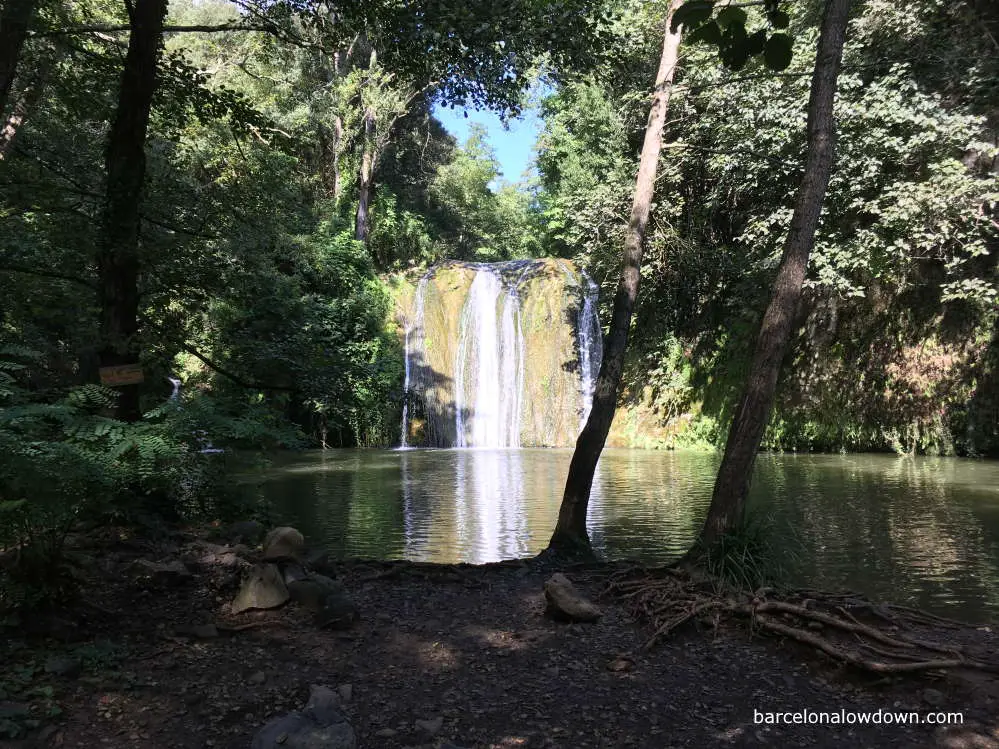 Ninety kilometres north of Barcelona, the Espai Protegit del Brugent is a small nature reserve that follows the course of the River Brugent, just south of the La Garrotxa Volcanic Area.
There are seven waterfalls and natural swimming pools located along the length of the river, all of which can be visited by following marked footpaths from the car park at Les Panes d'Hostoles (see map below).
Gorg de La Plana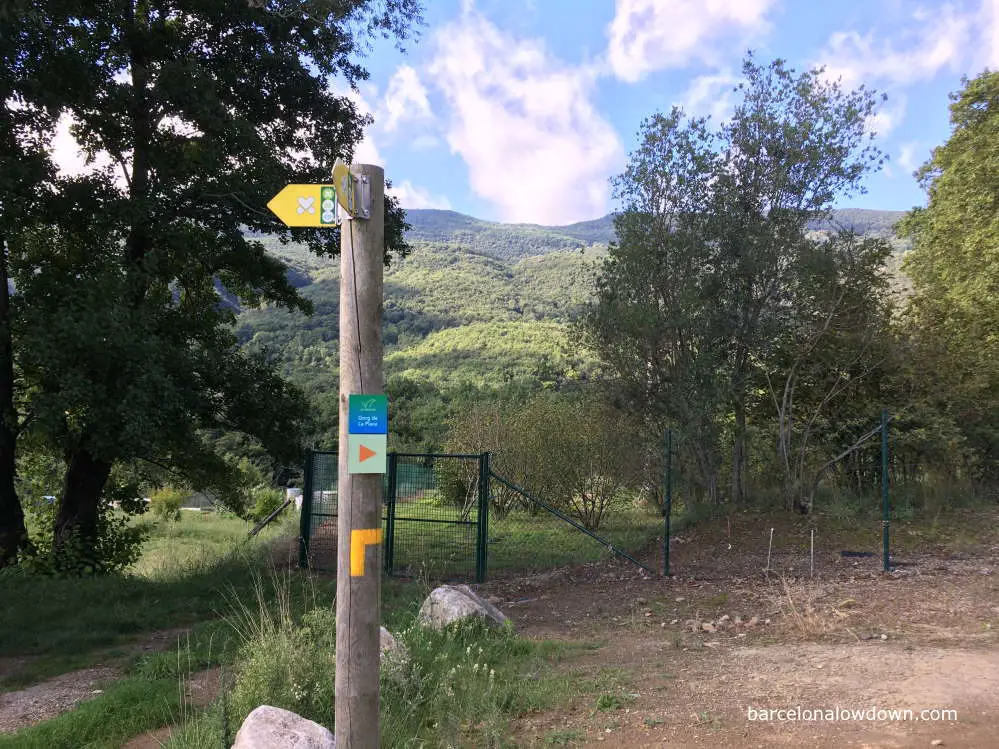 The most accessible of the seven waterfalls is El Gorg de La Plana, approximately one kilometre from the car park.
To get to the waterfall, you start by walking uphill through the car park towards the cemetery.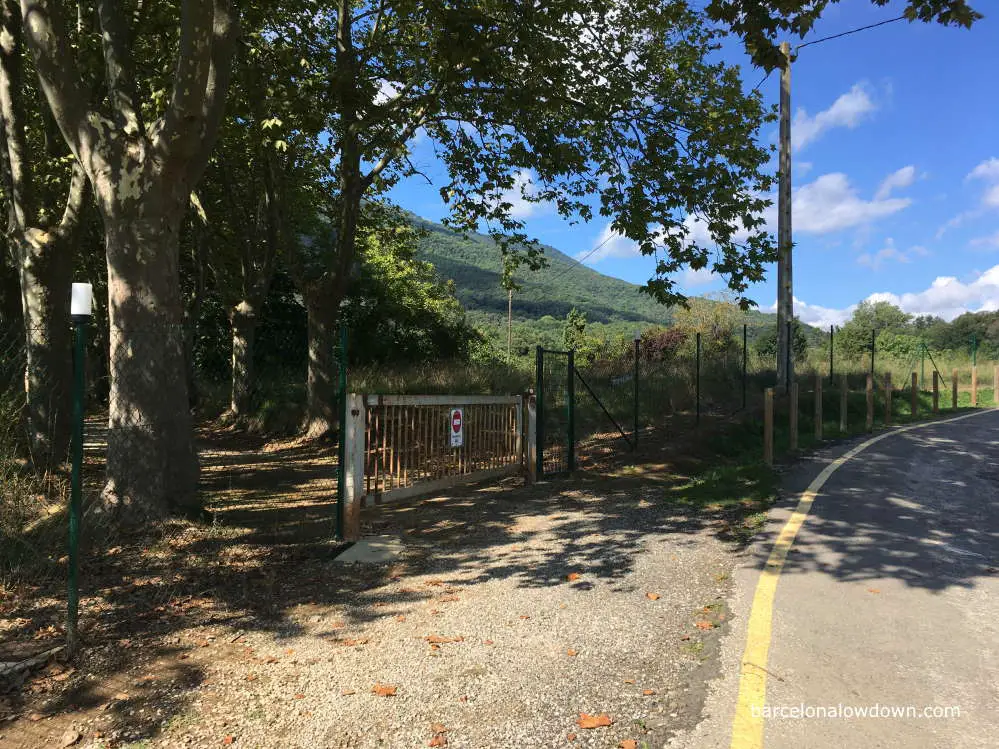 As you cross the road in front of the cemetery, you'll see a metal gate and a wooden signpost that marks the start of the footpath.
Turn right in front of the gate and follow the footpath, which runs alongside a green chain-link fence that marks the perimeter of a farm.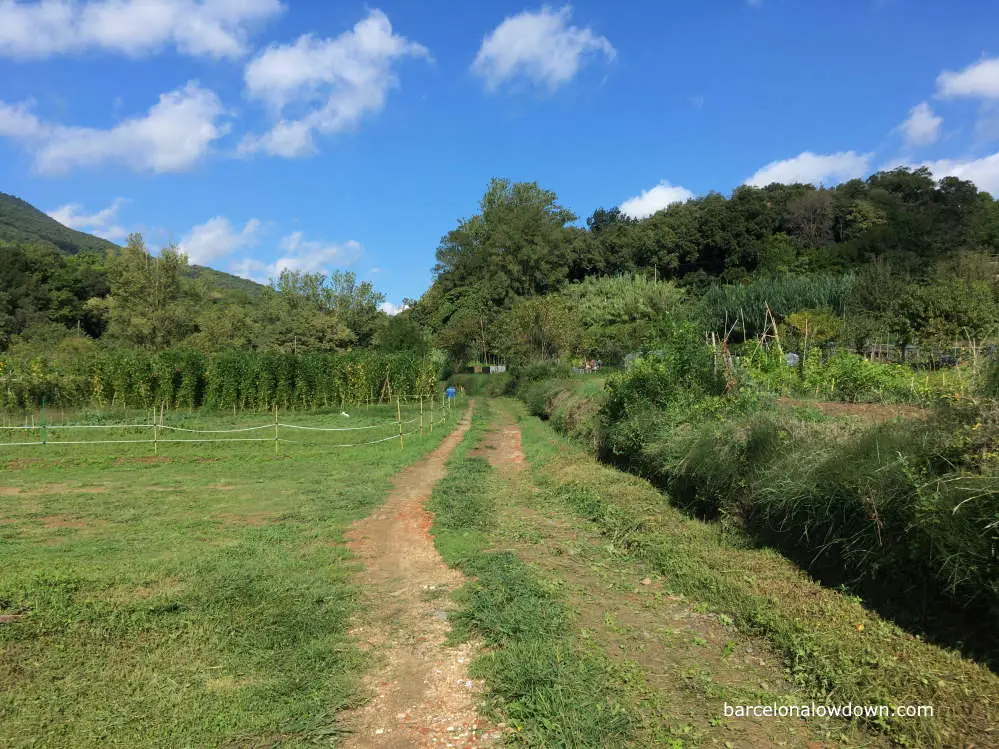 After about a hundred metres, the footpath turns left away from the road and heads downhill slightly.
Next, you turn right and follow a farm track between some fields to an area of woodland (see photo above).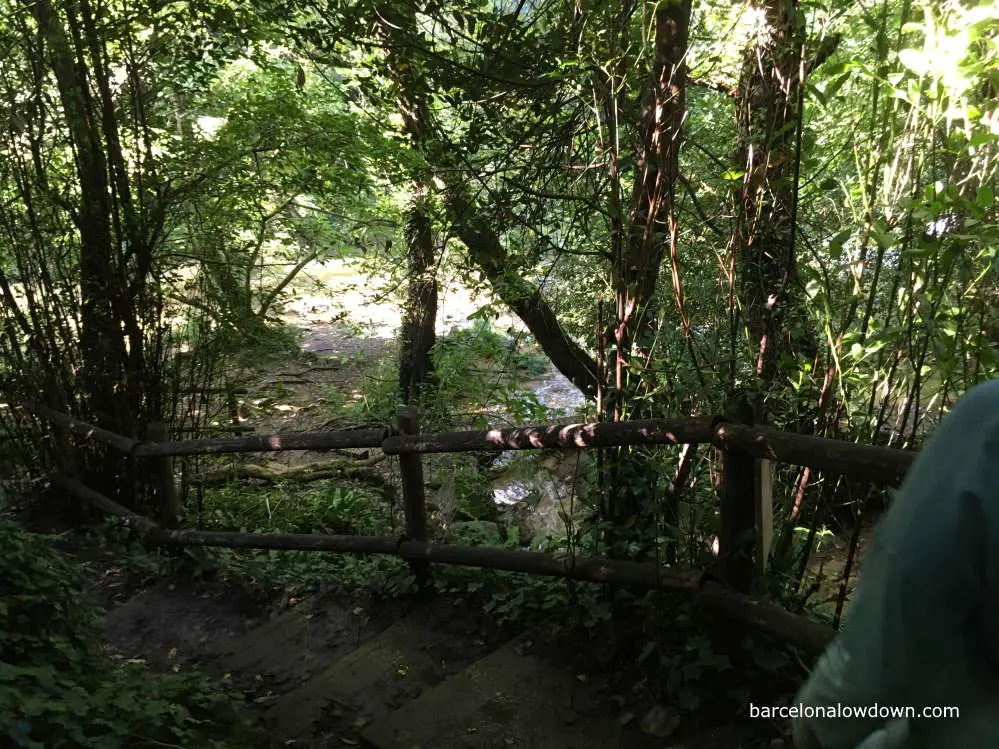 Shortly after the path enters the woods, you come to a series of wooden stairs that lead down to a natural swimming pool and two small waterfalls.
Although very scenic, this isn't the Gorg de la Plana. To get to the main waterfall, you cross a small wooden bridge and follow the riverbed upstream another two or three hundred metres.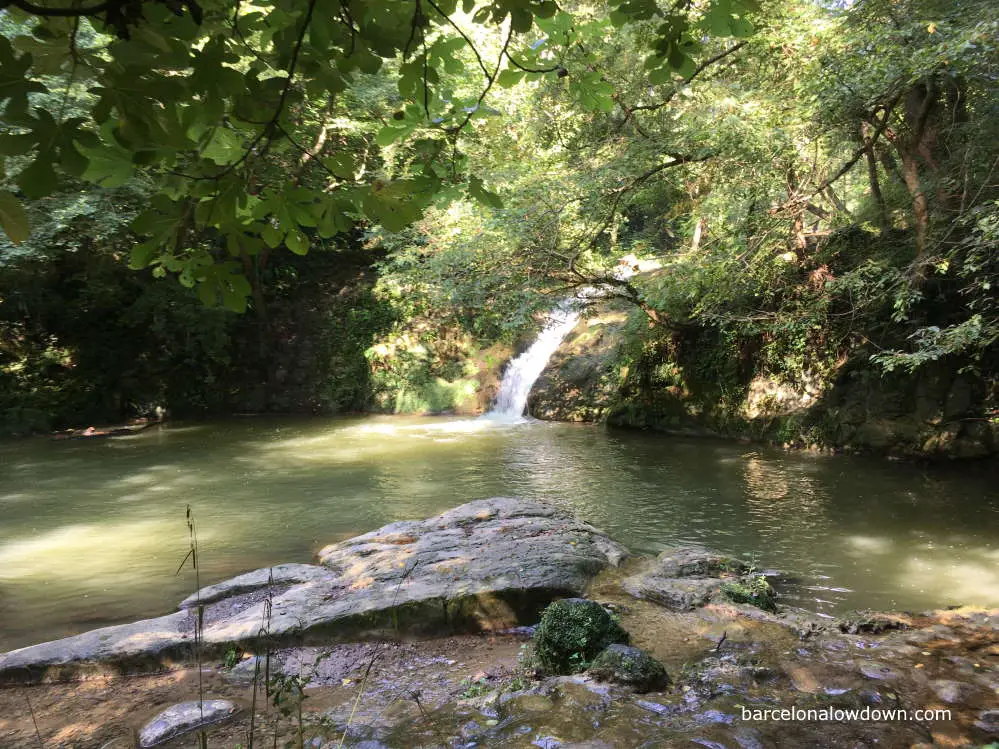 After about a hundred meters there's a brick arch which you use to cross the river.
The walk to the waterfalls and back takes about forty-five minutes at a leisurely pace and is suitable for walkers of all ages and abilities.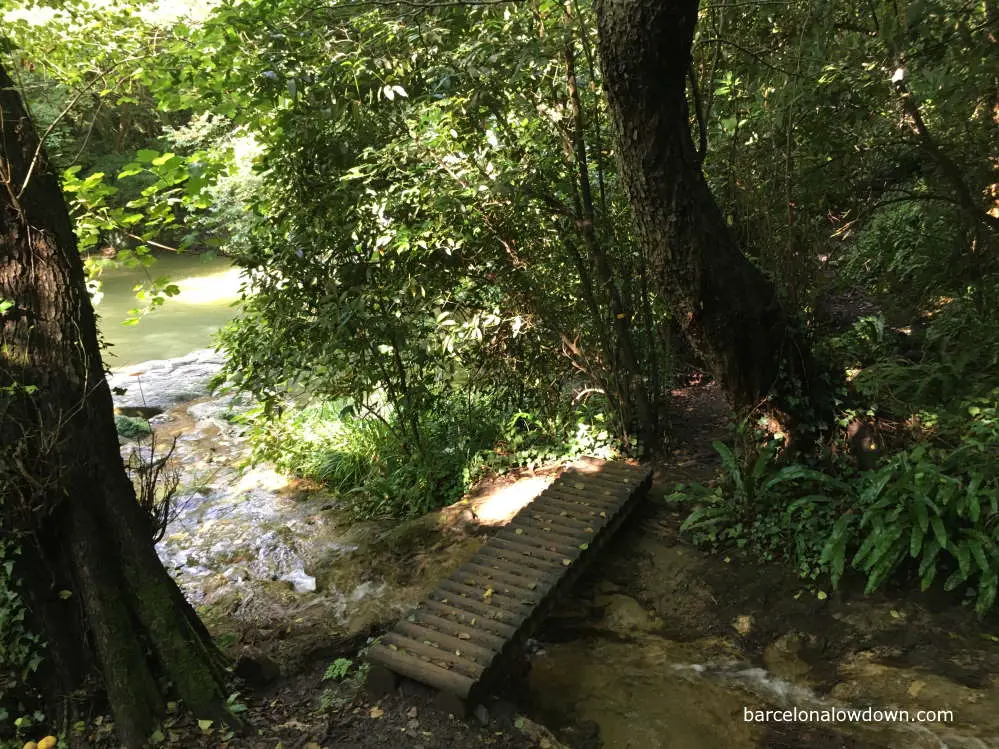 Visiting the Gorg de la Plana Waterfalls
From June 24th to September 12th and at weekends during September and October, access to the waterfalls is limited to three hundred people per day. You have to purchase a ticket in advance from the nature reserve's website.
This is done to protect the area and prevent it from becoming too overcrowded. If you plan to visit at the weekend, it's best to reserve your ticket several days in advance.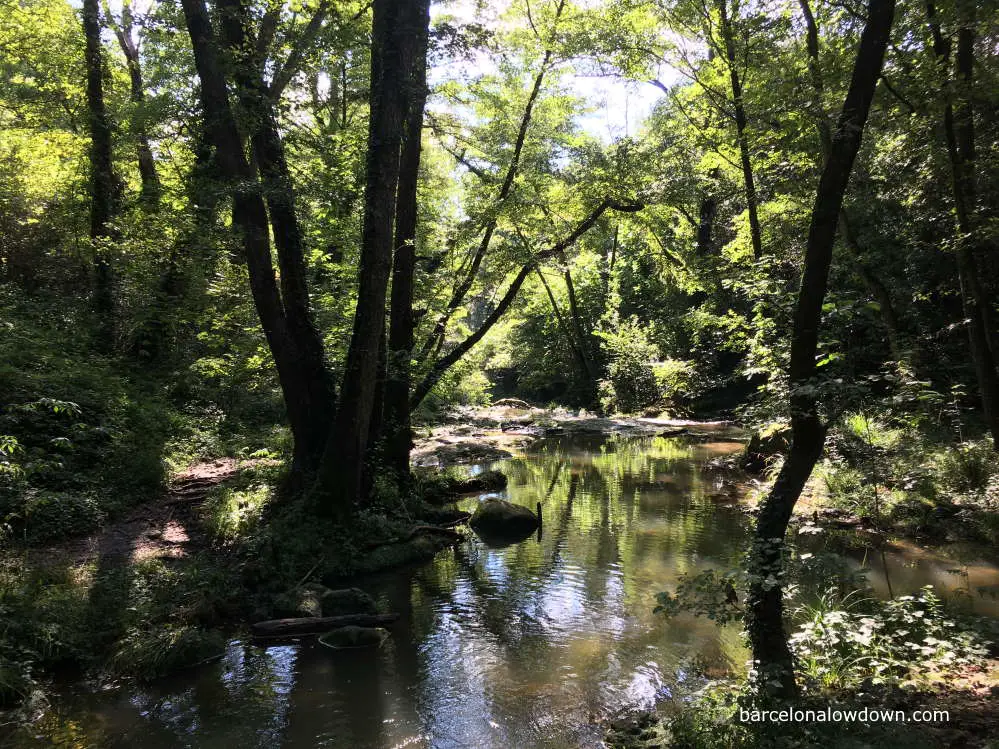 How to get to El Gorg de les Planes and where to Park
From Barcelona, take the C-17 to Vic, followed by the C-37 and C-63 to Les Planes d'Hostoles.
The car park for visiting the waterfalls is on your left, just before you arrive at Les Planes d'Hostoles. If you're using Google Maps, search for "Aparcament Gorgs Les Planes".