Badalona is just 10km north of central Barcelona. The long sandy and un-crowded beach is popular with Barcelona's windsurfers, many of whom store their gear at one of 3 windsurfing clubs.
According to the locals, the prevailing thermal wind blows stronger here than at any of the other local beaches. The sea breeze normally picks up at about midday and then drops off at around 6pm.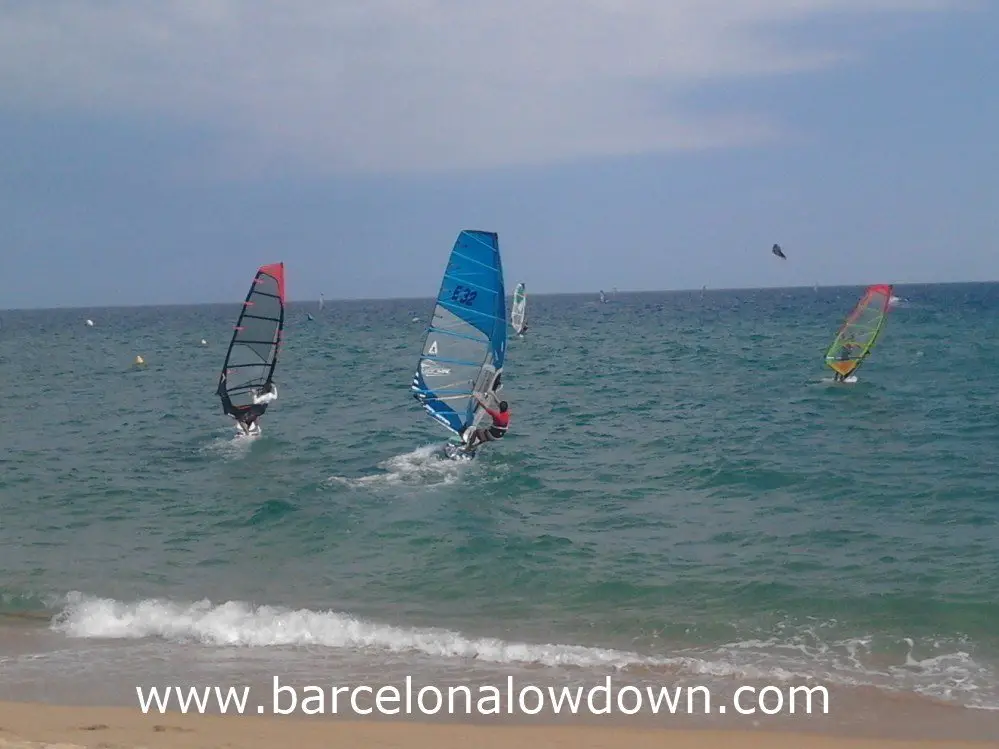 Conditions
Conditions here are perfect for free-ride / bump and jump with chop and rolling swell as you go further out (depending on wind strength and direction).
There are 2 prevalent winds; Garbí (SW) which blows cross shore from the right and Llevant (E) which is cross-on.
Garbí is reinforced by the sea breeze and from April to July regularly blows from 12 to 18 knots. The sea state is flat and there's no shore-break.
Llevant is less frequent and generally stronger. The only disadvantage is that it's onshore and is accompanied by a moderate shore-break and a current which runs from left to right. The shore-break isn't too bad but you need to time your launch carefully to avoid getting washed back up the beach.
Equipment
You can windsurf all year round at Badalona, Most of the locals use 100 litre boards with sails between 5.4 and 6.5m2. Some also have 8m sails and large slalom boards.
Wetsuits – From November to April you need a 4/3mm long sleeved steamer. The rest of the year a 3/2mm short sleeved wetsuit is sufficient. In summer you can sail in boardshorts and a rash vest.
Access and Parking
Out of season it's normally possible to find somewhere to park on the seafront. High season you will need to get there early.
To get there from Barcelona, drive north along Gran Via which changes into the C31 (signposted Badalona). Take the "Badalona Nord" exit (number 213), then follow "Carrera Riere Canyadó" to the beach. The journey takes about 15 minutes.
Most of the year you can just park and sail wherever you want. There are normally less cars parked at the northern end of the beach.
From July to September you can only launch in front of the windsurfing clubs where there are marked channels. You don't have to be a club member to use the channels.
Forecasts, Anemometers and Webcams
The Windfinder corrected forecast is pretty reliable for Badalona. Having said that, in the summer the sea breeze can often blow up to 5 knots stronger than forecast !
Real time wind conditions here (service currently unavailable). Note that wind speed is given in m/s, double it to get the speed in knots. The site updates every 10 minutes. As a rough guide, if it's sunny and the sea-breeze is blowing 10 knots at mid day it will reach 15 knots by 3pm. The site also has a webcam.
Windsurfing Clubs in Badalona
There are 3 windsurfing / water sports clubs on Badalona Beach:
All three clubs allow members to store boards and one or 2 sails rigged an ready to go. Great if your job is flexible enough to allow you to sail for a couple of hours at lunchtime!
Windsurf Hire Centres and Schools in Badalona
There are no windsurf hire centres in Badalona but you can hire material from the sailing school based at CN Bétulo. I'm not sure what gear they have available apart from beginners boards.
La Escola del Vent (the wind school) teaches sailing, windsurfing, canoeing, swimming, surf and SUP. They also hire gear.


Kitesurfing in Badalona
Kitesurfing is allowed in Badalona out of season. From June to September you will need to go to Castelldefels.
If you have any questions of about windsurfing in Spain please leave a comment below.
Spot Guide