Set in a natural bay and surrounded by mountains, El Port de la Selva is a small fishing village on the Costa Brava, just twenty kilometres south of the French border.
Although there are a few hotels in the village as well as a campsite, some holiday apartments and several good restaurants, El Port de la Selva remains largely untouched by mass tourism and is mainly visited by Spanish and French day-trippers who come to enjoy a paella and the village's laid-back vibe.
Having said that, there's no shortage of things to see and do in the area, including uncrowded sandy beaches, rocky coves and well-marked walking trails. Not to mention one of the most important religious monuments in Spain.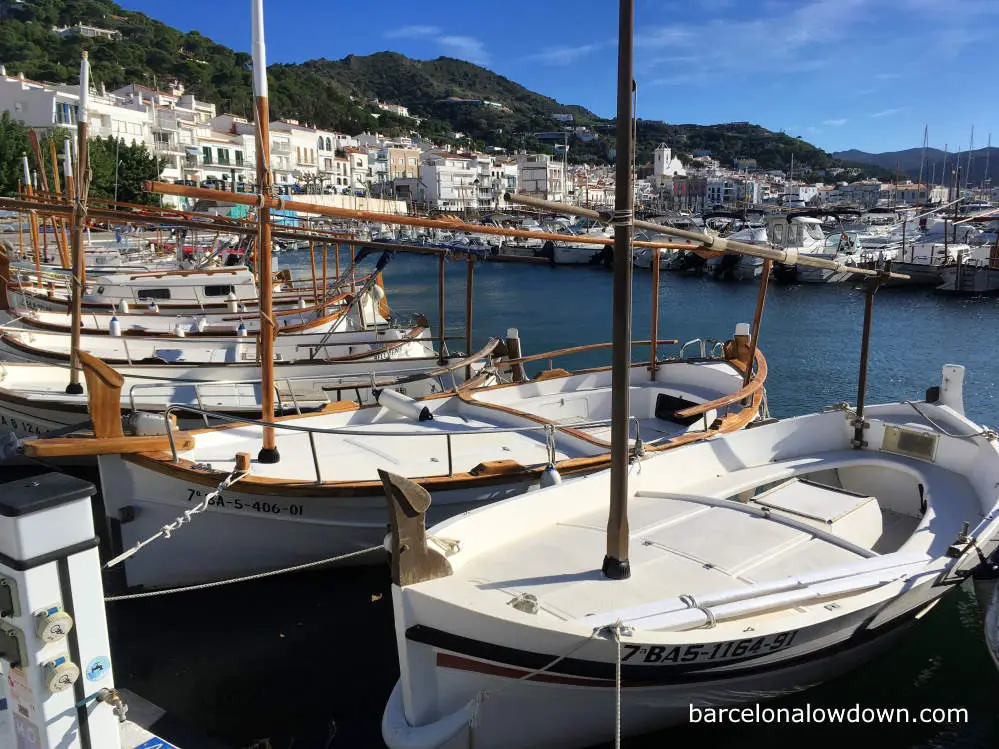 1. The beach, port and village
Unlike other similar-sized towns on the Costa Brava, which now live almost entirely from tourism, El Port de la Selva remains a working fishing village.
To this day, the port is very much the centre of village life and is a hive of activity where fishermen land their catches and stretch their nets out to dry, as they have done for generations.
The picturesque town centre is a cluster of whitewashed houses and cobbled streets, huddled around the port and the church of Santa María de les Neus, which dates back to the eighteenth century.
Next to the port, there's a five-hundred-metre-long sandy beach with an attractive promenade where you'll find plenty of restaurants which specialise in fresh fish and seafood.
2. Rocky coves and the "Camí de Ronda" Coastal Path
Due to its unique location, surrounded by hills and slightly cut off from the rest of the Costa Brava. El Port de la Selva offers visitors a unique opportunity to explore the surrounding coastline, which is dotted with tiny coves and sandy beaches that can only be reached by boat or on foot.
The village's Tourist Office issues free maps with a selection of well-marked walking routes along the coast and inland. The most popular walks in the area include the footpath east along the coast to Cala Tamariua, Cal Cativa and Cap Mitjà. In the other direction, you can follow the GR92 around the bay, past the Punta s'Arenella lighthouse towards Llançà.
Both of these routes are part of the Camí de Ronda, a series of historic footpaths that run from the French border along the entire length of the Costa Brava to Blanes.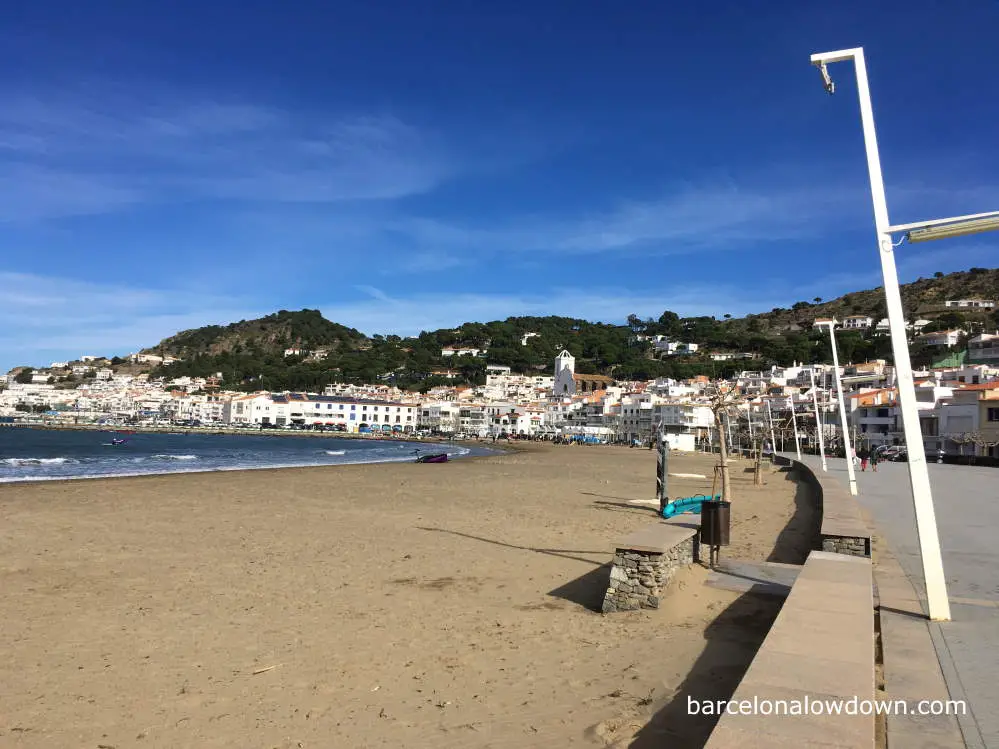 3. The Monastery of Sant Pere de Rodes
Located in the mountains, just outside of El Port de La Selva, during the Middle Ages, the Monastery of Sant Pere de Rodes was one of the most important Christian pilgrimage sites in Europe.
The monastery dates back to the ninth century AD, and by the twelfth century had become one of the most significant religious buildings in Catalonia.
After a series of wars and attacks, the monastery was abandoned during the eighteenth century. It wasn't until more than a hundred years later that it was declared a National Historic Monument in 1930.
Today the Sant Pere de Rodes monastery has been largely rebuilt and is open to the public daily from Tuesday to Sunday. There's more information in this post.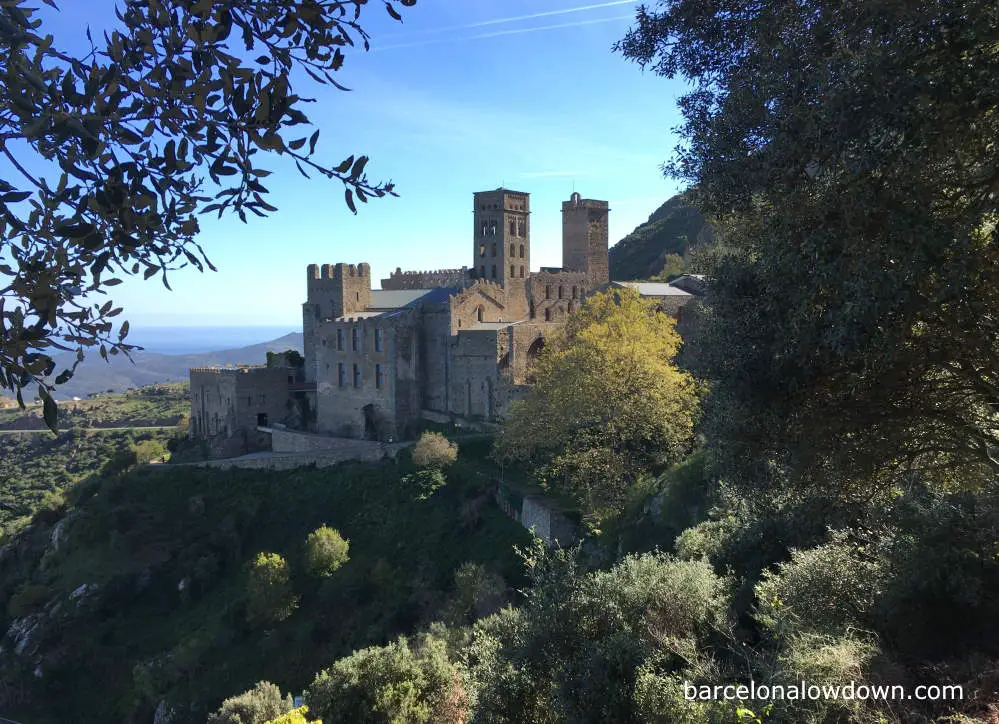 It takes approximately fifteen minutes to drive from El Port de la Selva to Sant Pere de Rodes following the GIP-6041. There's a free car park just before you arrive at the monastery.
You can also walk to the monastery following the route of the Camino de Santiago. The path is well-marked and easy to follow (map here), and at a moderate pace, it takes about two hours to get there.
4. Santa Creu de Rodes
The village of Santa Creu de Rodes grew up alongside the Sant Pere de Rodes Monastery and was home to artisans and farmers who supplied the monks and visiting pilgrims.
Today, all that remains of the village is the Romanesque Church of Santa Helena and some stone walls which used to be people's homes.
5. The Castle of Verdera
On the very peak of the Sant Salvador de Sa Verdera mountain stands the remains of a Verdera Castle, which was used to defend the monastery.
It takes about twenty minutes to walk from Sant Pere de Rodes to Verdera Castle. Although not much remains of the castle itself, it's well worth the effort because, on a clear day, the views are spectacular.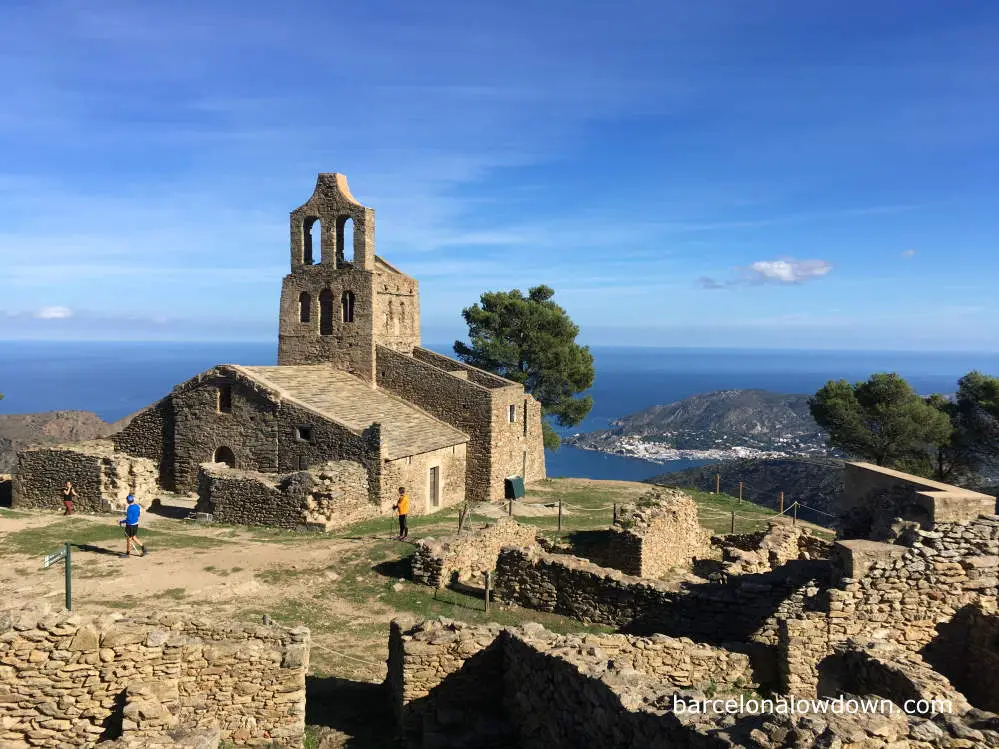 6. Windsurfing & watersports in El Port de la Selva
Out of season, Port de la Selva is one of the best places on the Costa Brava for windsurfing. The Tramuntana winds, which blow most frequently from autumn through springtime, fill in from the north and are usually more potent here than further south on the Costa Brava.
The Tramuntana blows directly onshore and produces small breaking waves with more significant swell as you go further out. It's a fairly easy place to sail, suitable for intermediate and advanced windsurfers.
Most people launch from beside the jetty next to the harbour. If you get into difficulty, the wind and waves will wash you back onto the long, sandy beach.
Because mountains surround the village, the wind needs to be blowing almost directly from the north in order to work. Even so, the wind is usually considerably stronger on the water than it seems on the beach. If you've not sailed here before, I recommend you check what the locals are using before rigging up.
Out of season, you can usually park your car right by the launch point and rig up on the promenade. If not, there will be space in the gravel car park at the other end of the beach.
There's a windsurfing hire shop here called Windiscovery that rents both beginner's and advanced windsurfing equipment and will also let you take their kit to other beaches on the Costa Brava. They also offer windsurfing lessons and rent SUPs, wing foils and canoes.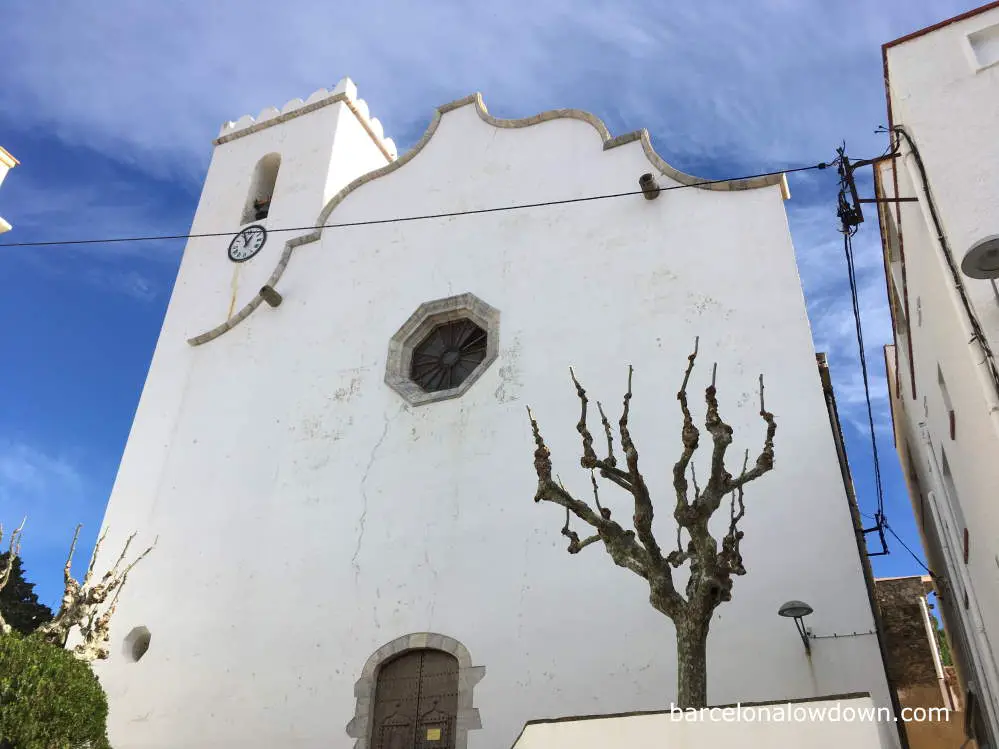 7. Walking the Camino de Santiago from El Port de la Selva
Since 2010, El Port de la Selva has been an official starting point for the Camino de Santiago. A metal sign beside the port indicates that you are at km zero.
The route then follows along the beach to Camping Port de la Vall, where it turns inland and heads uphill to the Monastery of Sant Pere de Rodes.
The route is well-signposted as far as the monastery but not so well-signposted as you continue towards Figueres, which is the suggested endpoint for day one.
This is a very long day, and if you plan to visit Sant Pere de Rodes on the way, I recommend you break it into two shorter stages by staying at either Pau or Vilajuïga.
I also recommend you purchase a copy of Callum Christie's Camino Catalan guide and download one of the Wikiloc tracks of the route before setting out.
The church of Santa María de les Neus is usually closed, but you can get your pilgrim's passport stamped at the Tourist Information office near the beach.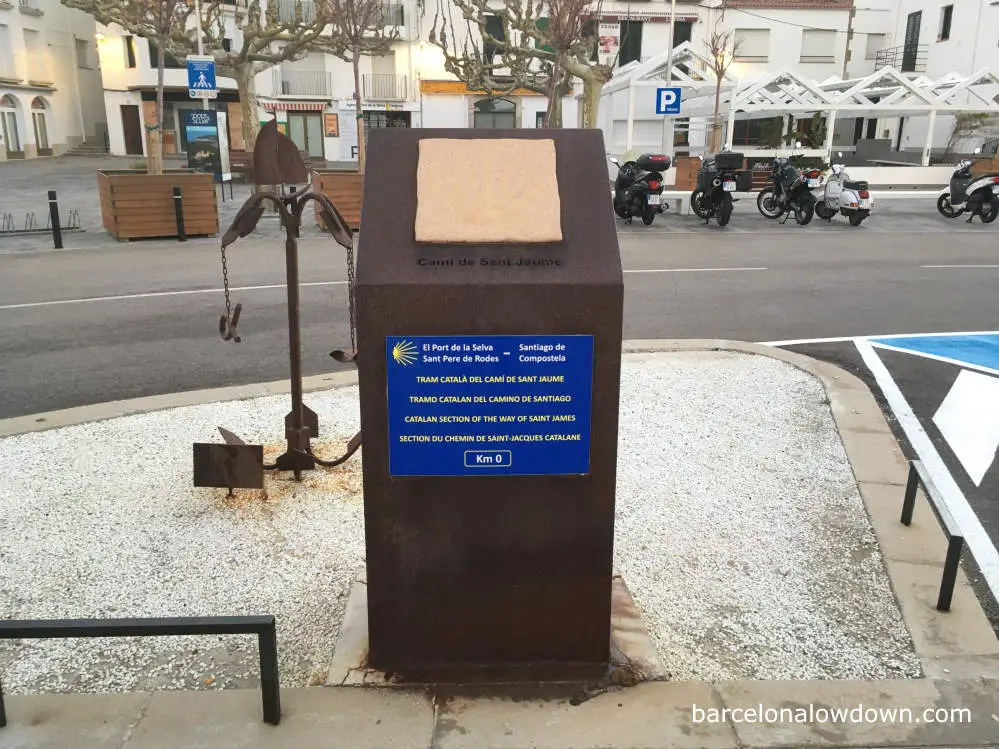 There is nowhere to purchase a pilgrim's passport in El Port de la Selva, so you should either bring one from home or pick one up in Barcelona.
There isn't a pilgrim's hostel in El Port de la Selva. The cheapest hotel in town is Hotel Agora, which has simple, clean rooms at affordable prices. You should book in advance because they are often fully booked.
Festivals and events in El Port de la Selva
Fira de l'Espàrrec
Each spring, El Port de la Selva celebrates its annual asparagus fair. The fair, which usually takes place during the first weekend in April, features music, children's activities and asparagus tasting. There is also usually a tapas route around the village bars.
Where to Stay in El Port de la Selva
As mentioned earlier in this article, I've mostly visited Port de la Selva as a day trip from Barcelona. On the two occasions we spent the night here, we stayed at Hotel Agora, a good value, budget hotel.
The rooms are simply furnished with aircon, TV and a private bathroom and are spotlessly clean. The hotel also has a small kitchen area which can be used by guests, and a roof terrace with sun loungers and views across the bay.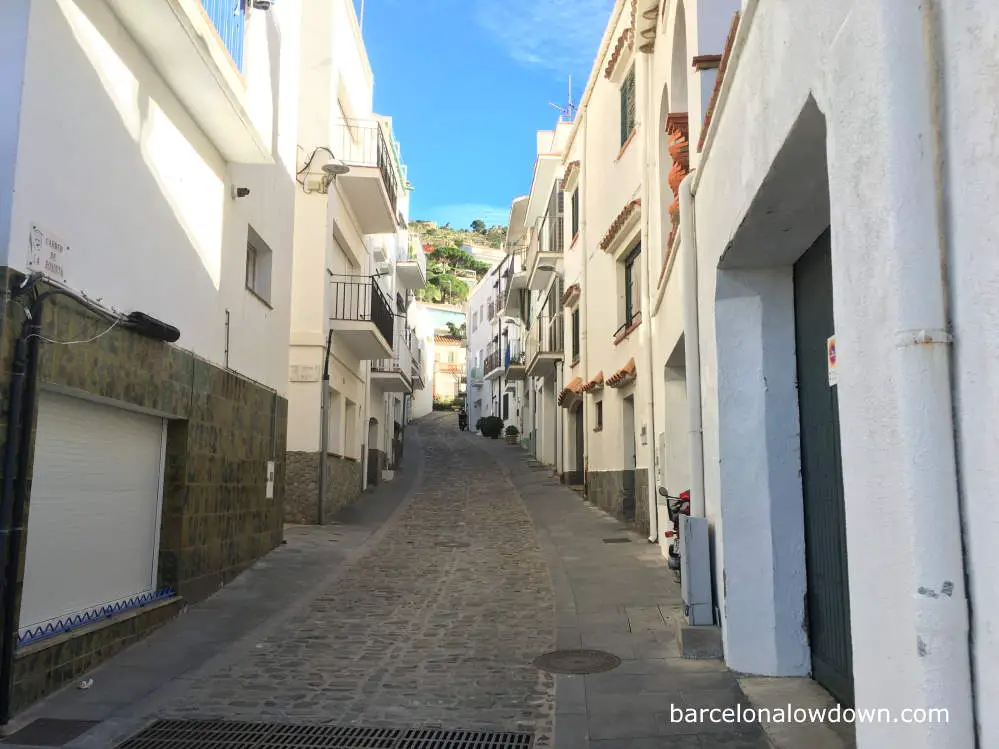 Vegetarian restaurants in Port de la Selva
There aren't any vegetarian restaurants in El Port de la Selva, and most places specialise in seafood and paella. Having said that, as a vegetarian, you don't need to worry about going hungry.
There are a couple of Pizzerias in town, including La Timba, and most restaurants serve dishes such as Grilled Asparagus with Romesco Sauce which are suitable for vegans and vegetarians.
In the evenings, most bars serve tapas, and there will usually be at least a couple of vegetarian options available. Check out Bar Gus, Carrer de la Lloia, 1, which has a good selection of tapas and a cosy terrace.
How to get to El Port de la Selva and where to park
By Car
As with most towns and villages on the Costa Brava, the easiest way to get to El Port de la Selva is by car.
Driving from Barcelona to El Port de la Selva takes approximately two hours. As you leave Barcelona, take the AP7 motorway via Girona and north towards Figueres. From here, you take the NII and N-260 to Llançà before following the coast road to El Port de la Selva.
There's a fair amount of on-street parking near the port and along the seafront. If this is full, you should still find space in the free car park beside the beach just before you enter the village.
By public transport
There are no direct public transport options between Barcelona and El Port de la Selva.
During the summer, you can take a Middle Distance or Regional train from Barcelona to Llançà (line R11), followed by bus number 32 to El Port de la Selva. Train timetables here, bus times here. Unfortunately, the bus only runs during the peak holiday period from June to September.
Otherwise, you can take the train to Figueres and catch a bus from there to El Port de la Selva. Train times here, bus timetables here.
Another alternative, if you have time and not too much luggage, would be to take the train to Llançà and then walk the 9km to El Port de la Selva along the Camí de Ronda coastal path.
Tours
Get Your Guide offers several tours to the Costa Brava, although, as far as I'm aware, none stops at El Port de la Selva.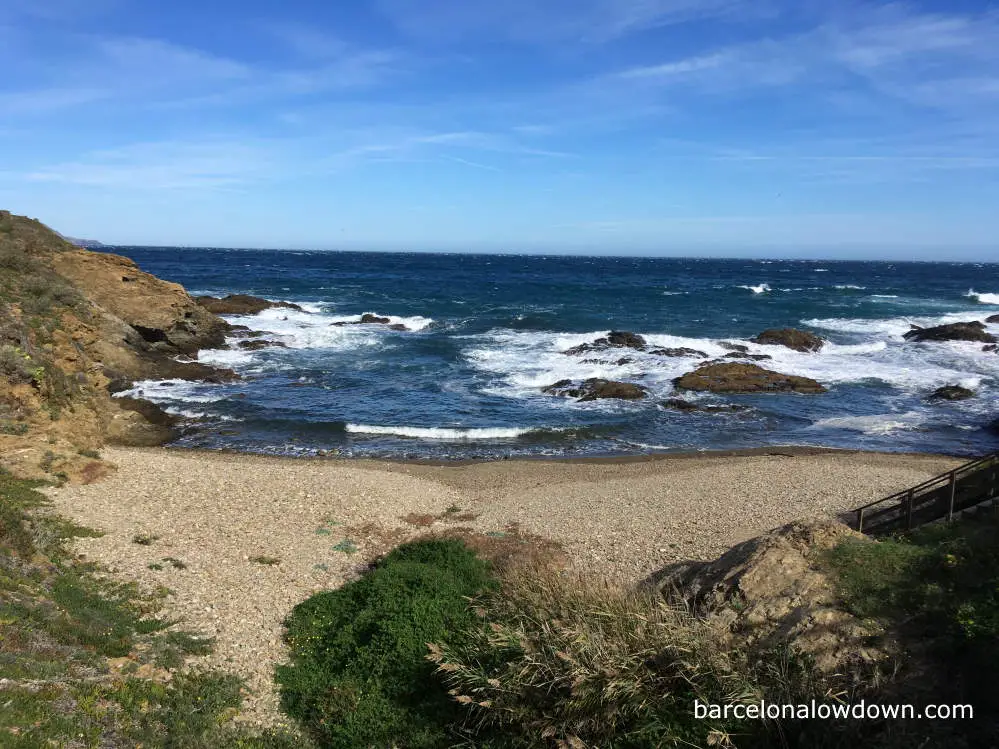 Other places to visit near El Port de la Selva
Cap de Creus Natural Park
Located at the north end of the Costa Brava and occupying an area of 13,886 hectares, Cap de Creus Natural Park is the easternmost point on the Iberian Peninsula.
Although the park includes a few very picturesque villages, most of the area is quite remote. Visitors to the park come in search of hidden beaches and rocky landscapes, which have been shaped by the strong winds that often blow in this area.
Cadaques and Portlligat
Approximately ten km southeast of El Port de la Selva, as the crow flies, Cadaques is one of the most picture-perfect villages in Catalonia.
In 1930, Salvador Dali purchased a fisherman's shack in nearby Portlligat, where he and his wife Gala lived and worked. The village is one of the apexes of the so-called Dali Triangle.
Figueres and the Dalí Theatre-Museum
Best known as the birthplace of Salvador Dalí and home to his most extensive work of surreal art, the incredible Dali Theatre Museum.
Figueres has a relaxed, small-town vibe and a historic town centre dotted with Art Nouveau buildings, picturesque plazas and a handful of fascinating museums.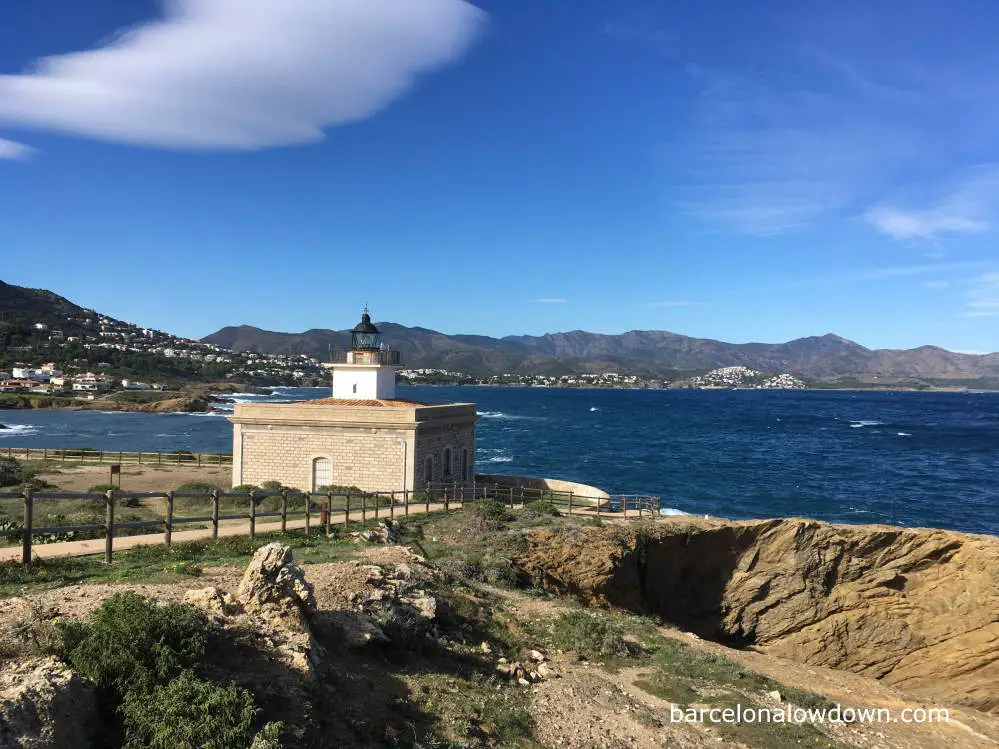 Peralada
With a population of fewer than two thousand people, Peralada is best known for its impressive fourteenth-century castle, which has been converted into a casino and stages open-air concerts during the summer. In addition to the castle, the town has an attractive medieval town centre with a couple of fascinating museums.
Roses
Located at the north end of the Bay of Roses, the town of Roses was first settled almost three thousand years ago. Best known for its pristine sandy beaches and long sweeping boardwalk, Roses also boasts an impressive seventeenth-century citadel.
Girona
Girona is home to one of Europe's most extensive and best-preserved Jewish quarters. Other sights include the medieval city walls, the Eiffel Bridge and the Sant Pere de Galligants monastery, which now houses an archaeology museum. The city is also known for its imposing Cathedral, which dates back to the eleventh century and is featured in series six of Game of Thrones.
Map of El Port de la Selva
Zoom in to see the places mentioned in this post.