Best known as the birthplace of Salvador Dalí and home to the Dali Theatre-Museum. Figueres has a relaxed small-town vibe and a historic centre dotted with Art Nouveau buildings, picturesque plazas and a handful of interesting museums.
Thanks to its strategic location near the French border, the town also boasts one of the largest bastion fortresses in Europe, the eighteenth century Castle of Sant Ferran.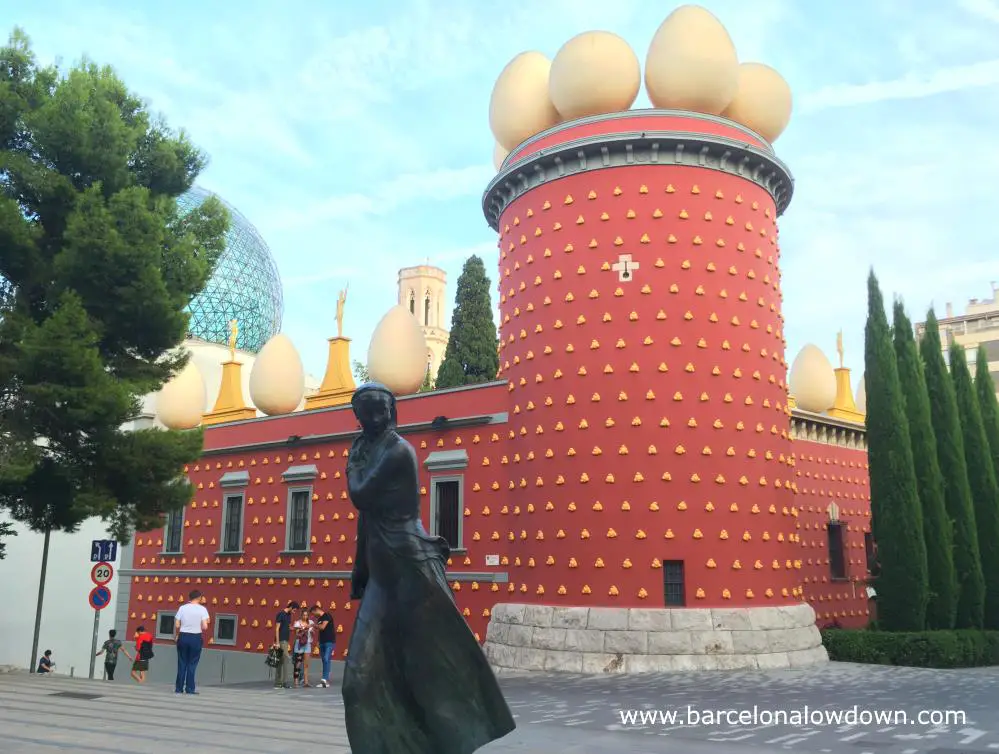 The Dalí Theatre-Museum
Unlike any other art gallery that you have ever visited, the Theatre-Museum was conceived by Dalí as a work of art in itself, the world's largest surrealist object.
Built on the site of the municipal theatre and incorporating the remains of the town's medieval defences. The red exterior walls are adorned with bread rolls and topped by giant eggs plus oversize versions of the Oscar statuette.
Once inside the museum, you are confronted by Dali's black Cadillac car which he brought with him when he returned from New York. From here you enter a series of labyrinthine corridors lined with paintings and sketches from all stages of the artist's career,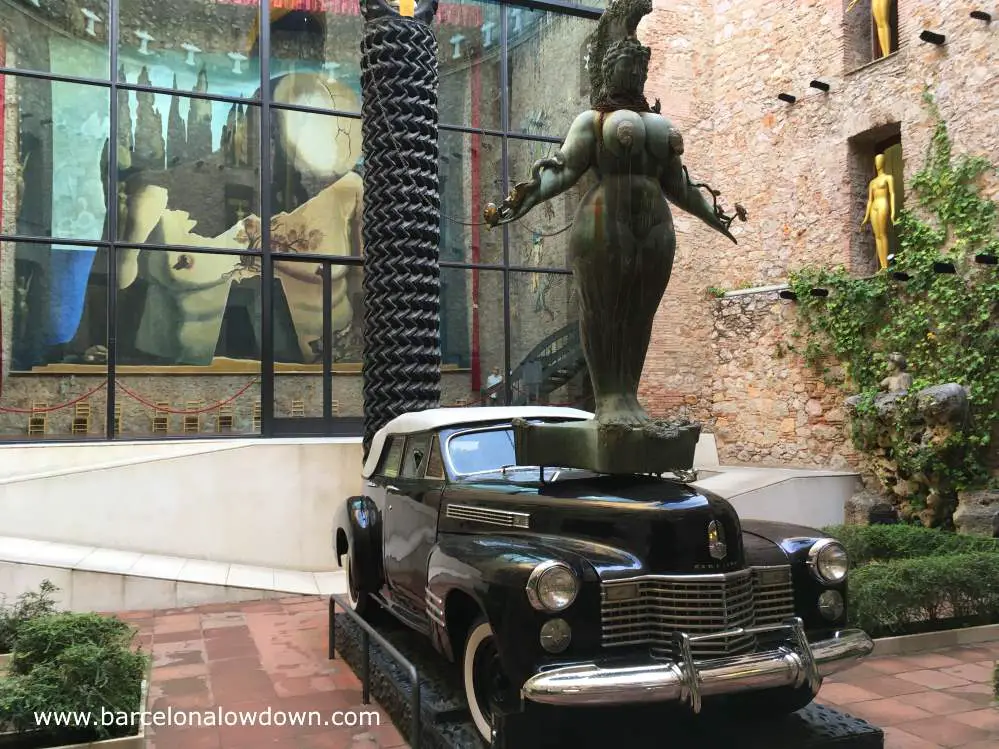 There are more than a thousand works of art on display, including The Spectre of Sex Appeal, Soft Self Portrait With Fried Bacon, Galeta of the Spheres, The Girl From Figueres, Port Alguer, and pieces from Dali's personal art collection.
Several larger pieces were created especially for the museum, including the May West Room, the Wind Palace Room, and Rainy Cadillac.
The Dalí Theatre-Museum receives approximately 3,500 visitors daily and is the second most visited museum in Spain.
The museum is busiest from 10 am until 2 pm so I recommend you try and visit either at 9 am when it opens or in the afternoon.
To ensure that you get your prefered time slot, it's best to book your tickets online a couple of days in advance.
The museum also contains a series of optical illusions and coin-operated mechanical sculptures. If you want to see all of them in motion you should bring the following change with you: Two one Euro coins, one fifty-cent coin and three twenty cent coins.
In addition to the Theatre-Museum, the ticket includes entry to the fascinating Dalí Jewels exhibition located next door to the museum.
Location: Plaça Gala i Salvador Dalí 5, Figueres
Entrance: €16 (Adults)
Time needed to visit: between one and a half and three hours.
Find out more and purchase tickets online >>
Theatre-Museum tours from Barcelona >>
Insider's guide to visiting the Dalí Triangle >>
The Castle of Sant Ferran
The Castle of Sant Ferran was built during the 18th century and is the largest fortification of its kind in Europe, covering 32 hectares (320,000 square metres).
Strategically located on a hilltop on the outskirts of town, the fort was designed to house 6,000 men and 500 horses. The castle's barracks and stables are protected by thick outer walls with massive pentagonal bastions.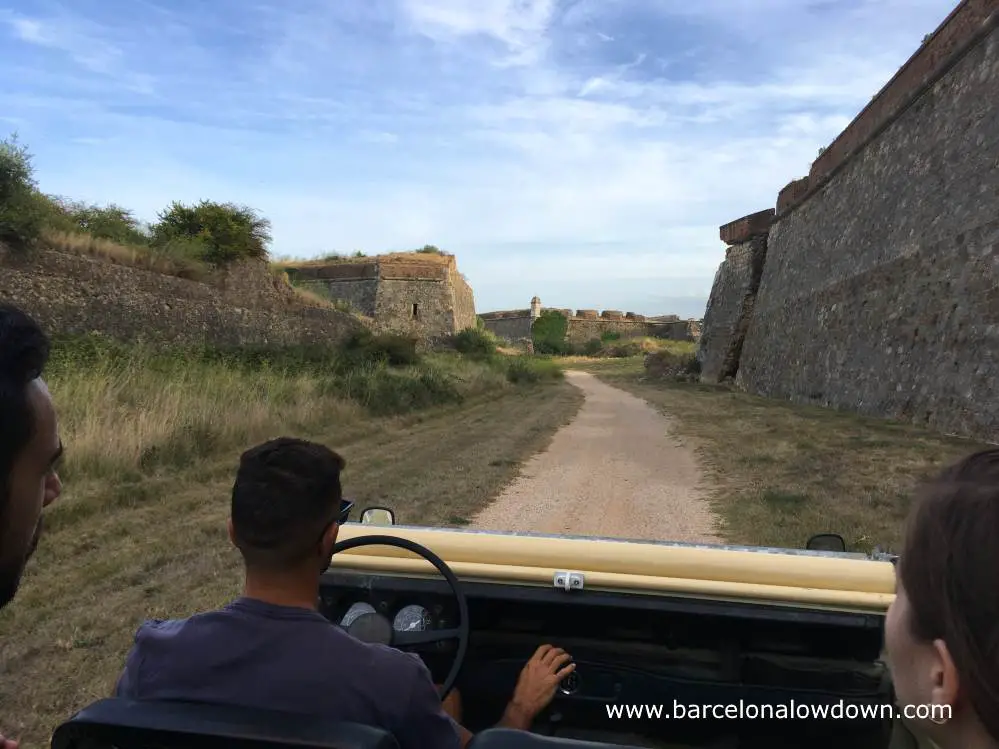 The Castle of Sant Ferran can be visited daily, either at your own pace following the map which is included with your ticket or as part of a guided tour.
If you have time I recommend you take the four-wheel-drive tour which includes a visit to the castle's large underground cisterns in an inflatable boat. Tours must be reserved in advance, more information on the castle's website which is linked to below.
It takes approximately twenty minutes to walk to the castle from the Dalí Theatre-Museum. If you have rented a car, there's a small free car park at the entrance.
Location: Pujada del Castell s/n, Figueres
Entrance fee: Castle only: €3.50 Castle plus 4WD tour and water cisterns: €15.
Time needed to visit: 2 hours (including 4WD tour which lasts an hour)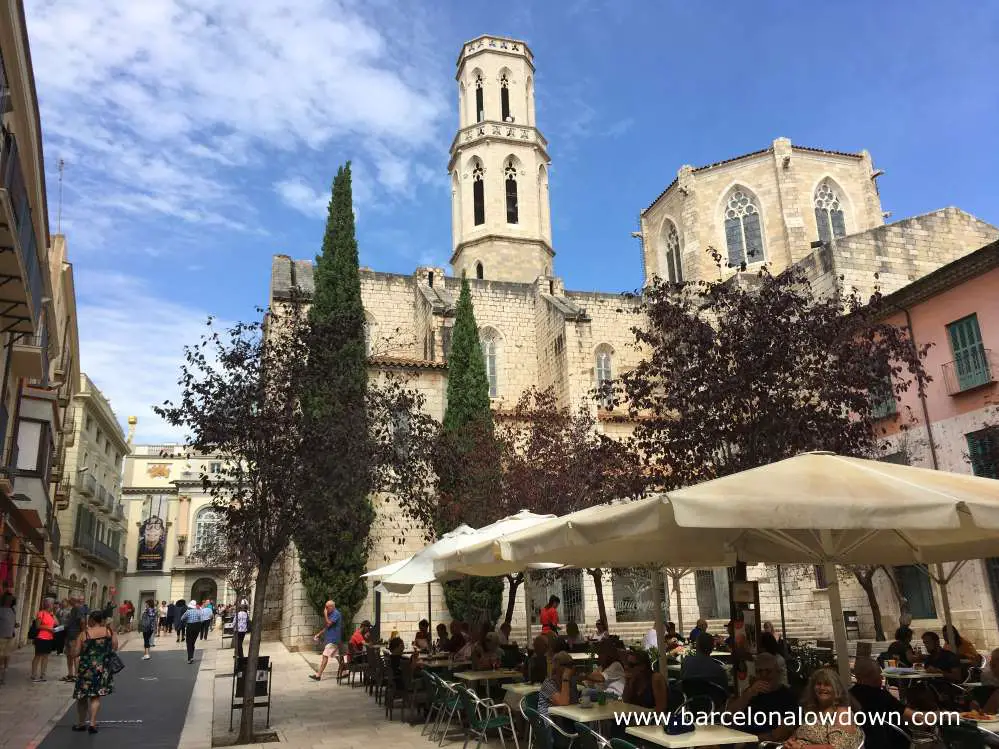 The Church of Sant Pere
The 14th Century Church of Sant Pere, located next to the Theatre-Museum, is the parish church where Dalí was baptised and attended communion.
Location: Carrer de Sant Pere, Figueres
Entrance: Free of charge.
Time needed to visit: 15 minutes.
Toy Museum of Catalonia
The Toy Museum of Catalonia contains more than 4000 toys and games, many of which belonged to famous people and public figures.
The collection includes Don Osito Marquina, a teddy bear that belonged to Salvador Dalí and his sister Anna Maria as well as other items from Dalí's childhood.
Location: Carrer de Sant Pere 1, Figueres
Entrance: €7 (Adults).
If you've already visited the Dalí Theatre-Museum or Micromundi (Besalú) you get a discount by showing your ticket.
Time needed to visit: 1 hour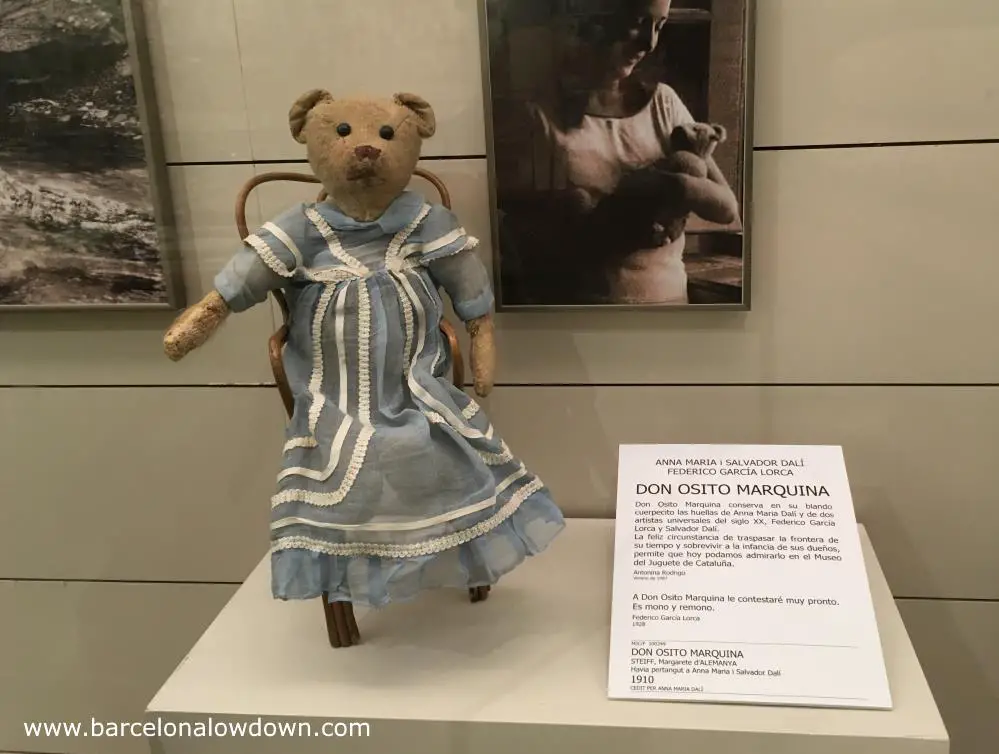 Casa de Puig
Located at Carrer de Monturiol 6, Casa de Puig is the birthplace of Salvador Dalí.
The artist's family lived in an apartment on the ground floor of the building which is currently being converted into a museum and is scheduled to open in 2023.
Location: Carrer de Monturiol 6, Figueres
Entrance: Not open to the public.
La Rambla and a Homage to Dalí
A common feature of Catalan towns, Ramblas are tree-lined pedestrianised boulevards, normally built on dried up river beds. La Rambla de Figueres is located in the historic town centre and is flanked by elegant buildings dating back to the early 20th century.
At one end of La Rambla, Café Astoria was one of Dali's favourite hangouts. Despite the fact that the café has been remodelled since Dalí was there, the large terrace is still a nice place to relax over a coffee or cold beer and watch the world go by.
At the other end of the Rambla, there's an unusual steel monument to Dalí and another more classical monument to Narcís Monturiol, inventor of the steam powered submarine.
Location: La Rambla, Figueres
Museum of the Empordà
This small museum highlights the art, history and culture of the Empordà region of Catalonia. The first two floors of the museum house temporary exhibitions which range from archaeology to gastronomy and contemporary culture.
The upper two floors contain the museum's permanent collection which includes paintings and sculptures by local and international artists who have lived in the area. There's also a small display dedicated to the life and work of Narcís Monturiol, inventor and political activist who was born in Figueres in 1819.
Location: La Rambla 2, Figueres
Time needed to visit: 30 minutes
Entrance: Free entry included with your ticket to the Dalí Theatre-Museum.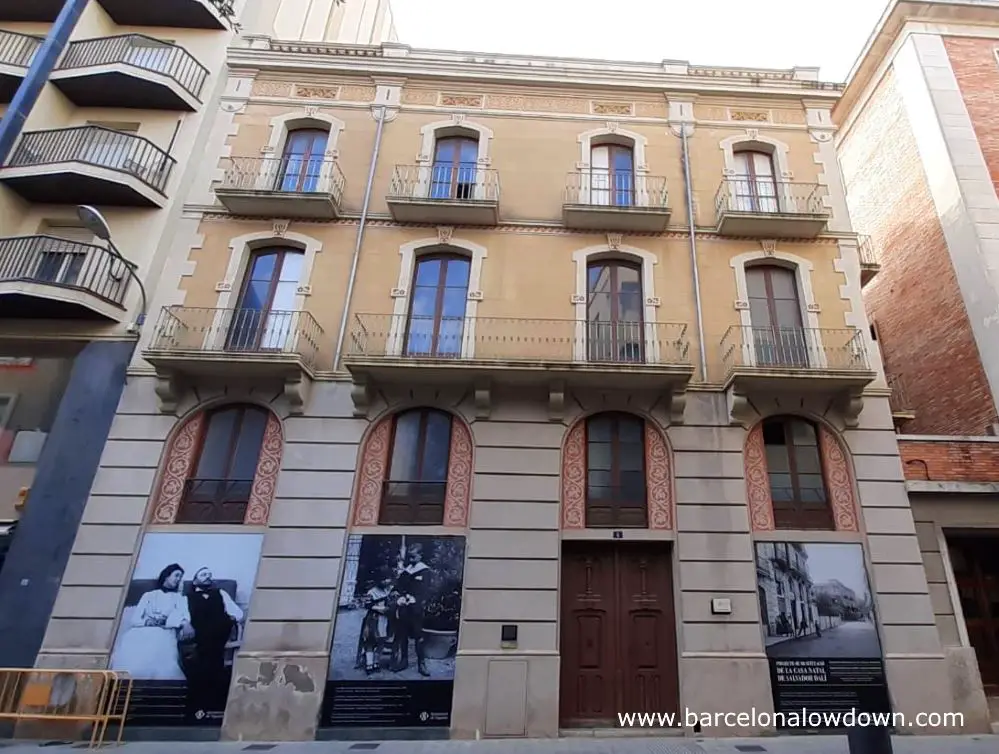 Where to stay in Figueres
Our favourite budget-friendly hotel in Figueres is Hotel Duran. Located near the Rambla, just 250m from the Dalí Theatre-Museum, this is where Dalí stayed while working on the museum during the 1970s.
The hotel has been fully refurbished and the air-conditioned rooms are comfortable, nicely decorated and spotlessly clean. Breakfast is served from 7:30 which leaves you plenty of to get to the museum before it opens at 9 am.
Check availability and prices >>
Vegetarian and vegan restaurants in Figueres
Figueres is home to one of the best vegetarian restaurants I've ever eaten in.
Integral is located near the Dalí Theatre-Museum at Carrer de la Jonquera 30. All food is freshly cooked right in front of you in the restaurant's open-plan kitchen and accompanied by locally produced organic wines (water and other drinks are also available).
Since 2020 the restaurant only opens at lunchtime when they serve a good value macrobiotic vegan set menu.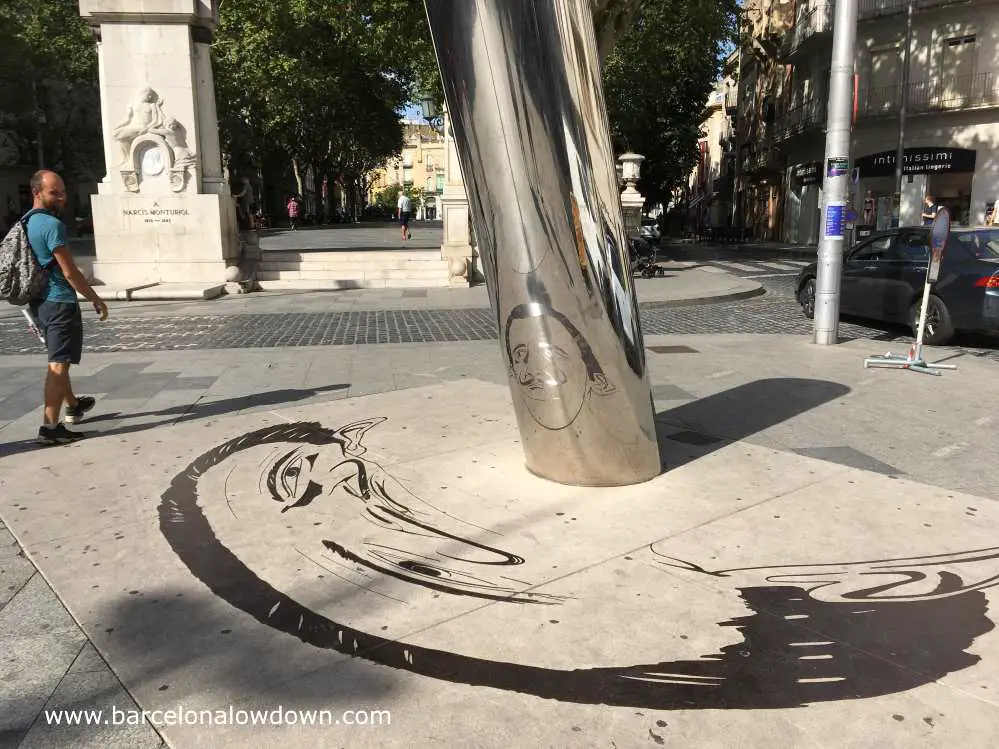 Other places to visit near Figueres
Cadaques
Approximately forty kilometres from Figueres, Cadaques is one of the most picturesque villages in Catalonia. In 1930, Salvador Dali purchased a fisherman's shack in nearby Portlligat where he and his wife Gala lived and worked. The village is one of the apexes of the so-called Dali Triangle.
Girona
The medieval walled city of Girona is home to one of the largest and best-preserved Jewish quarters in Europe. Other key sights include the city walls, the Eiffel Bridge and pastel-coloured houses on the banks of the River Onyar, Sant Pere de Galligants monastery and the city's imposing 11th-century Cathedral.
Roses
Situated at the north end of a large bay, Roses is one of the most popular tourist resorts on the Costa Brava. Best known for its long sandy, blue flag beaches, little remains of the original village which dates back to the eighth century BC. The town's large citadel was built during the sixteenth century.
Besalú
During the Middle Ages Besalú was an important regional capital. Nowadays the village is a popular day trip from Barcelona, famous for its Romanesque bridge, picturesque cobbled streets and well preserved Miqve.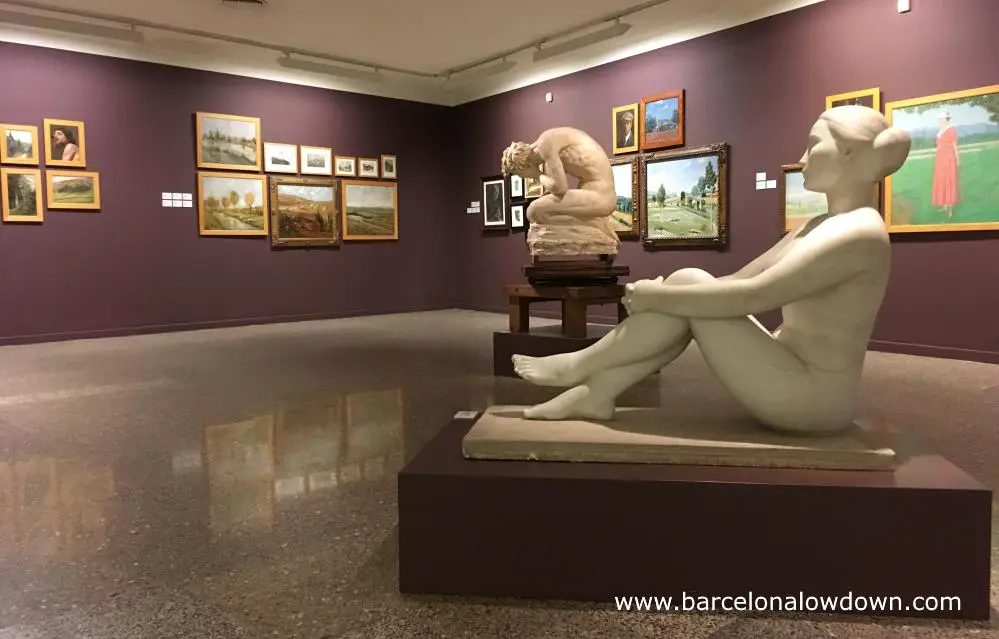 How to get to Figueres from Barcelona
By car
Figueres is approximately 140 km from Barcelona. The journey takes an hour and 45 minutes via the AP7 motorway (toll road).
There is a multi-storey car park next to the Dalí Theatre-Museum and a small free car park at the entrance to the Castle of Sant Ferran.
By train
There are several types of trains available to take you from Barcelona to Figueres.
AVE and AVANT high speed trains
The fastest trains are the AVE and AVANT high-speed trains which take fifty-five minutes from Barcelona Sants to Figueres Vilafant stations.
There are frequent buses which meet the trains and take approximately 10 minutes from the train station to central Figueres. Bus timetables here. The nearest bus stop to the Dalí Theatre-Museum is La Rambla.
High-speed train ticket prices vary depending on demand and how far in advance you book. More Information here >>
Middle Distance and Regional trains
Middle-distance trains take approximately one hour and fifty minutes from Barcelona to Figueres train station. Middle-distance trains stop at Barcelona Sants, Passeig de Gràcia and El Clot train stations in Barcelona. Figueres train station is a ten to fifteen-minute walk (one kilometre) from the Theatre Museum.
Regional commuter trains take between two and a quarter and three hours to complete the same journey. Timetable here.
By bus
The Sagales bus company run several buses daily from Barcelona to Figueres. Timetable here.
Tours
There are several organized tours available from Barcelona which visit Figueres, the Dali Theatre-Museum and other nearby towns including Girona, Púbol or Cadaques.
Map