Possibly the best known and most instantly recognisable artist of the 20th Century, Salvador Dalí was born in Figueres, 140km north of Barcelona.
Famous for his dreamlike surrealist paintings and eccentric public persona, Dalí spent most of his life in Catalonia. Many of his best-known paintings were inspired by the rocky landscapes and coastline between Cadaques and Cap de Creus.
Whether you're a fan of his art or just interested in finding out what made him tick. There's no better way to discover Dalí's universe than to retrace his steps, following a route known as the Dalinian Triangle.
Salvador Dalí, Figueres and the Costa Brava
Salvador Dalí grew up in Figueres and spent summers in his family's holiday home in Cadaques, which he described as the most beautiful village in the world.
In 1920 he attended art school in Madrid before travelling to Paris where he became part of the Surrealist movement, from which he was later expelled due to his political views.
While in Paris he met Gala (real name Elene Ivanovna Diakonova) who later became his lover, muse, wife and agent and is featured in several of his most famous paintings.
Dali's father didn't approve of Gala and famously contacted landlords and hoteliers, asking them not to rent a room to his son. Because of this, the couple purchased a fisherman's shack in Portlligat, a tiny bay to the north of Cadaques.
The couple lived in Portlligat for more than 50 years, during which time they slowly extended the shack, purchasing adjacent buildings and land. The end result is a rambling labyrinthine property that served as both home and studio.
In 1960 the mayor of Figueres asked Dalí if he would donate a painting to one of the town's museums. Dalí liked the idea and, never one to do things by halves replied that he would donate an entire museum.
The location chosen for the museum was the ruined municipal theatre which had been badly damaged during the Spanish Civil War. The theatre had special significance to Dalí since it was here that he had exhibited his earliest paintings.
Dalí conceived the Theatre-Museum as a large scale art installation, the world's largest surrealist object. More than just a museum, his intention was to give visitors the experience of walking into one of his paintings.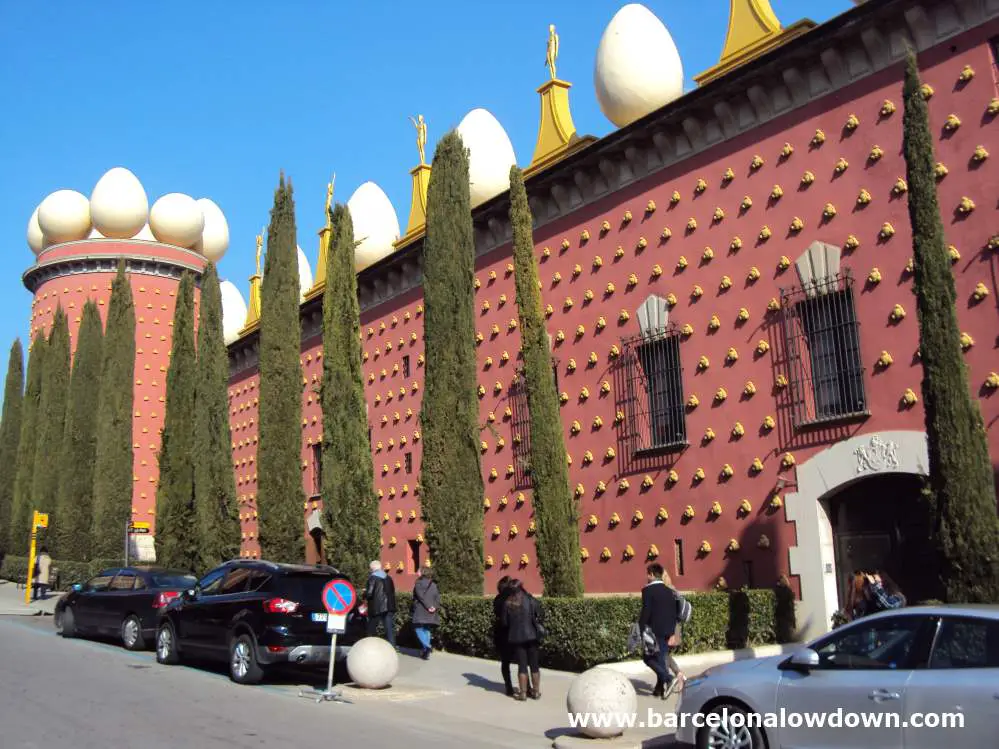 In 1969, Dalí gifted Gala a medieval castle that he renovated and decorated for her. The castle was Gala's refuge where she could do as she pleased and where Dalí could only visit by written invitation.
When Gala died in 1982 she was buried in a small mausoleum in the castle's basement.
After Gala's death, Dalí moved into the castle where he lived and worked until being injured by a fire that broke out in his bedroom.
After the fire, Dalí moved to the Theatre-Museum in Figueres where he died of a heart attack in 1989.
The Dalinian Triangle
The Theatre-Museum at Figueres, Gala and Dalí's home in Portlligat and the Gala-Dalí Castle in Púbol are the 3 vertices of an area known as the Dalinian Triangle or Dalí Triangle.
All three sights are open to the public and together they offer visitors a unique insight into the artist's life and work.
More than just visiting museums, a journey to the Dali Triangle gives you the chance to see how the artist lived and explore the rocky landscapes and coastline which appear in masterpieces such as The Persistence of Memory and The Great Masturbator.
You can also enjoy a meal at one of the bars and restaurants that Dalí used to frequent or even stay in the hotel where he stayed while working on the Theatre-Museum.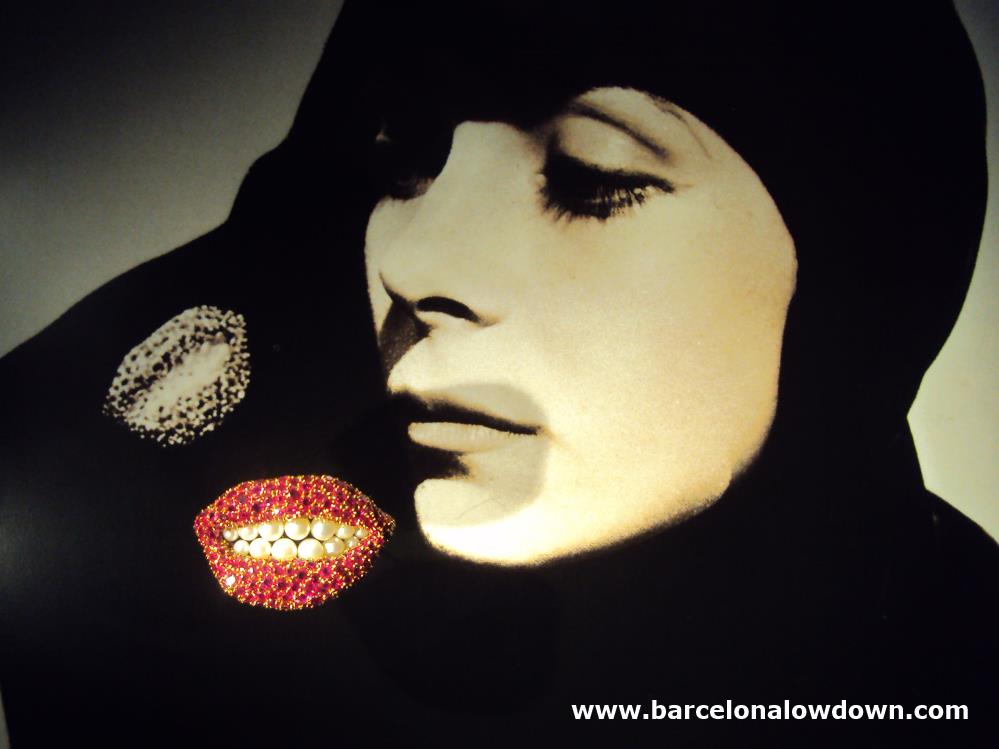 Dalí Theatre-Museum in Figueres
The Theatre-Museum contains more than 1500 pieces of Dalí's work, many of which were created specifically for the museum, plus a selection of paintings from his personal collection.
Built on the site of the municipal theatre and incorporating the remains of the town's medieval defensive walls. The building itself is a work of art. Red exterior walls adorned with bread rolls are topped by giant eggs plus oversize versions of the Oscar statuette. A large geodesic dome brings light to the main exhibition hall.
Dalí spent the last years of his life in Torre Galeta, the medieval tower adjoining the museum, and is buried in a small crypt below the stage of the theatre.
In addition to well-known surrealist paintings such as The Spectre of Sex Appeal and Soft Self-Portrait with Fried Bacon, there is also a diverse collection of paintings from all stages of his career.
Before I visited the Theatre-Museum for the first time, my limited knowledge of Dalí was that he was an eccentric showman who had created a few well-known works of art. By the time I left the museum, almost four hours later, I had begun to appreciate that he was a master technician capable of painting in any style and who had developed his own unique version of reality.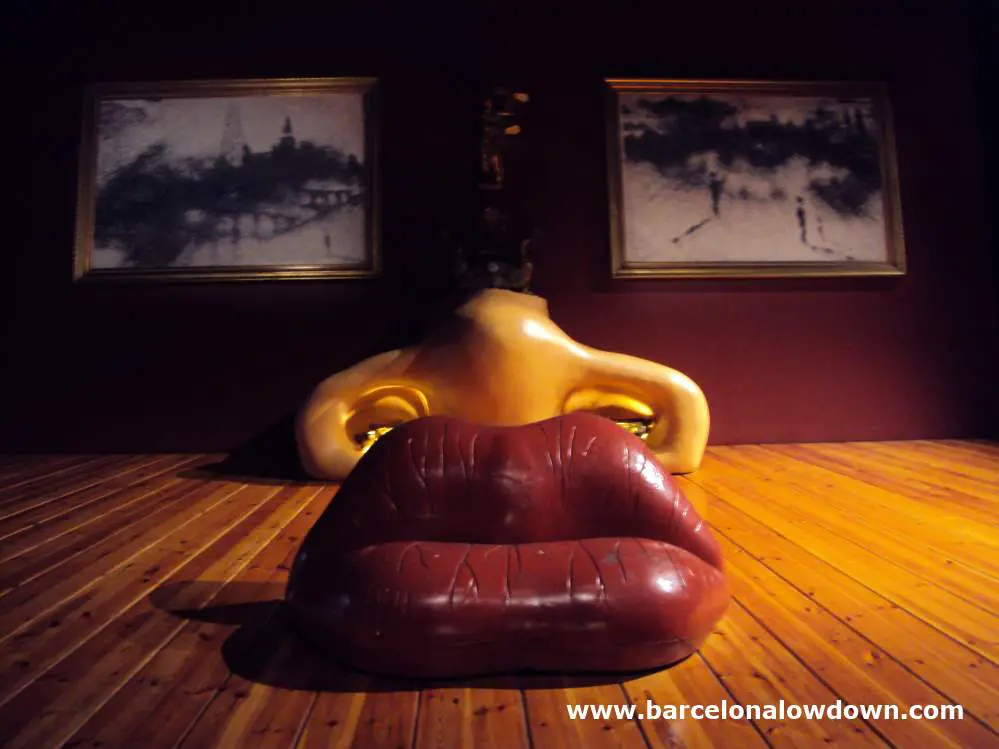 Salvador Dalí & Gala's House in Portlligat
Travelling along the winding road to Cadaques is like driving into Dalís universe. Dalí painted and sketched the village from different viewpoints and used the surrounding coastline as the backdrop for many of his best known surrealist paintings.
A visit to Dalí and Gala's house in nearby Portlligat, complete with olive grove gardens and phallic-shaped swimming pool, gives a unique insight into the couple's private life.
The house is maintained exactly as it was when the couple lived here, complete with stuffed a stuffed polar bear and swans which are part of the quirky decor.
To avoid overcrowding, visitors are shown around the house in groups of eight people. A group enters every 10 minutes and the visit lasts about an hour.
It is essential to reserve your tickets online since they often sell out days in advance (see links below).
Important: Despite the fact that you have reserved tickets in advance, you still have to collect your ticket from the ticket office 30 minutes before your visit is scheduled to start. If you arrive after the 30-minute deadline, your reservation will be cancelled and you may not be able to visit the house.
Late arrivals, and people who arrive without a ticket, have to wait around on the off chance that someone else doesn't show up on time!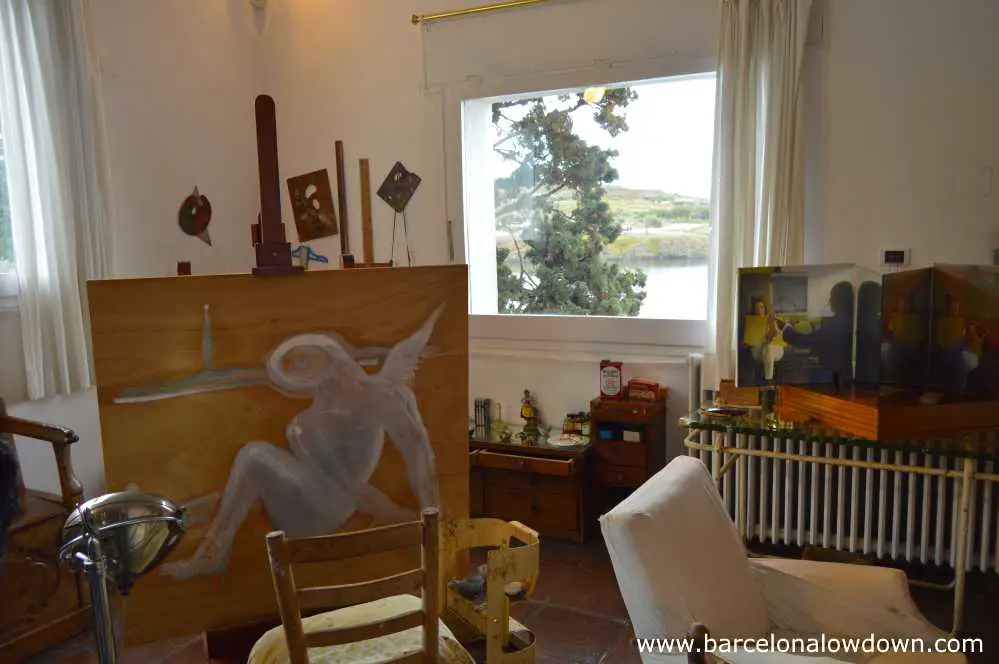 Gala-Dalí Castle in Púbol
The triangle's third vertex is marked by the Gala-Dali castle in Púbol, 25 km from Girona. Less well known than the other sites, the castle embodies Dalí's devotion to his wife.
When Dalí purchased the 12th-century castle it was a ruin which he set about restoring and decorating in accord with Gala's taste. In addition to inevitable surreal touches, such as iconic spindly-legged elephants in the garden and the stuffed white horse near the entrance, there are numerous references to the building's medieval heritage, including faux tapestries and a gilded bronze throne.
Open to the public since 1996, the castle contains a collection of Gala's designer dresses, personal belongings and works of art which Dalí painted for her.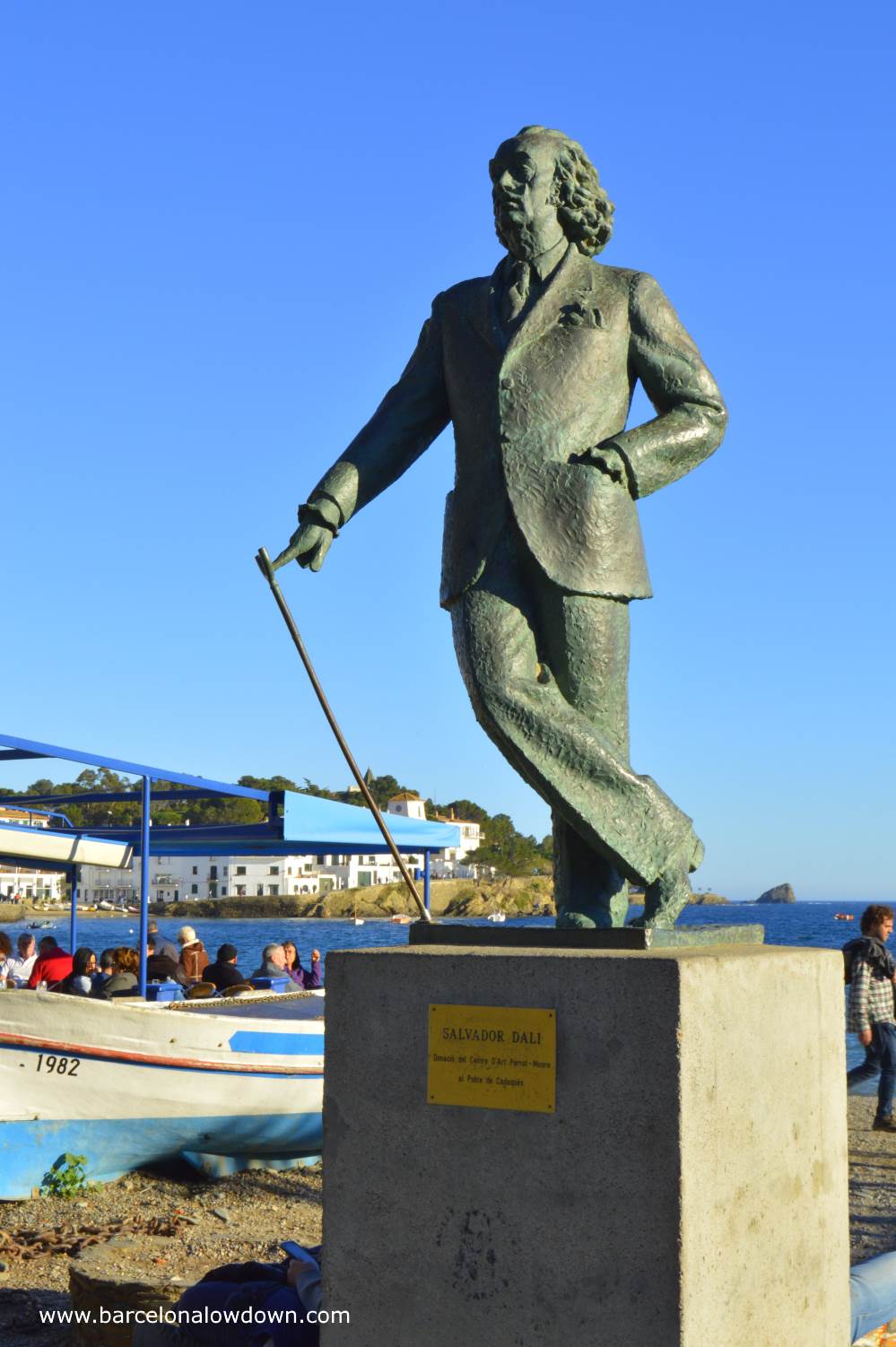 Tips for visiting the Dalinian Triangle
Is it possible to visit the Dalinian Triangle by public transport?
Yes, there are direct trains and buses from Barcelona to Figueres. Portlligat is a short walk or taxi ride from Cadaques which can be reached by bus from either Barcelona or Figueres. Púbol is 6km from Flaçà which is on the train line between Figueres and Barcelona. You can either take a taxi or walk from Flaçà to Púbol, more information in this post.
Having said that, I think it's best to rent a car. Not only does this free you from the constraints of bus and train timetables. It also allows you to see more of the surrounding countryside and coastline which inspired Dalí and visit nearby towns and villages.
How long does it take to visit the Dalinian Triangle?
Despite the fact that the museums are close together, I recommend that you allow at least 2 days to complete the route and stay the night in either Cadaques or Figueres.
If you have more time, you could spend a week exploring the area, visiting Girona, Besalú and other towns on the Costa Brava such as Tossa de Mar and Calella de Palafrugell.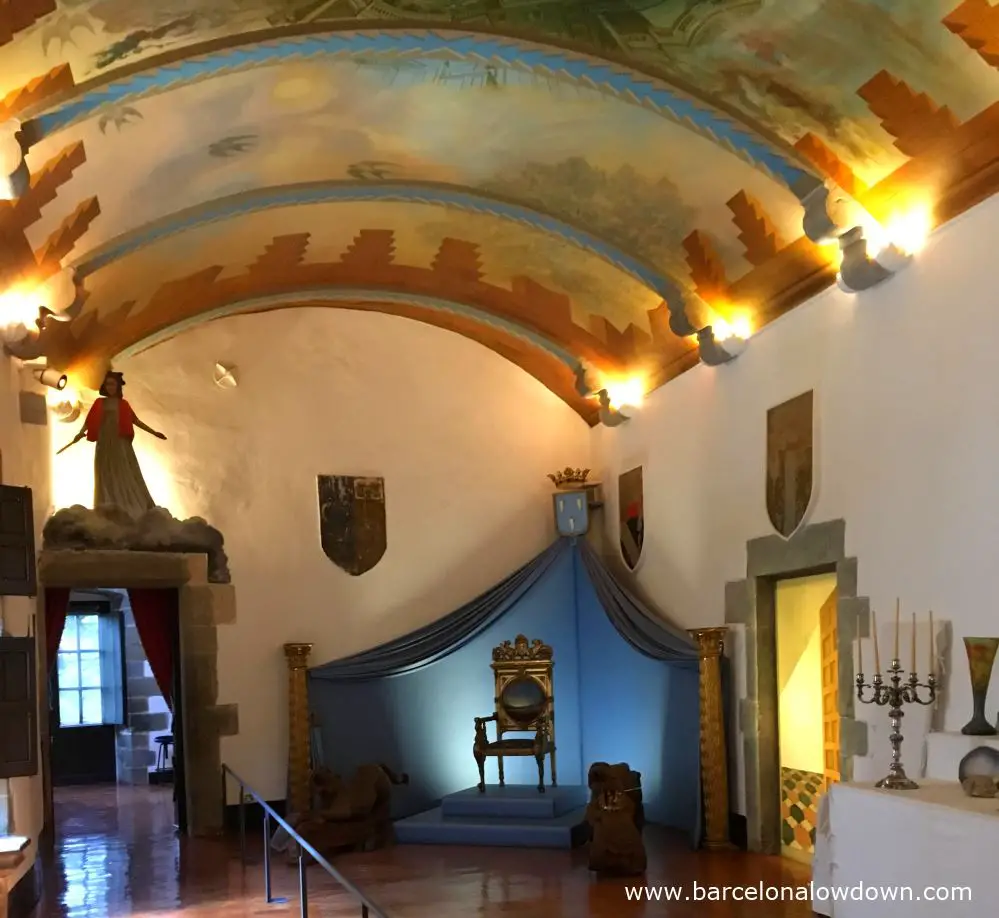 Which order to visit the Dalí Triangle?
If you've rented a car, I think it makes sense to visit the museums in chronological order. Starting at Dalí's birthplace in Figueres, then Portlligat and finally Púbol.
You shouldn't underestimate the time needed when driving on narrow windy roads, especially in the summertime when roads are extra busy.
If you will be visiting by public transport from Barcelona then it's more convenient to start in Cadaques and Portlligat.
Dalí Triangle itinerary by public transport
Day 1 Take an early bus from Barcelona to Cadaques, spend the day visiting Dalí's house in Portlligat and Cadaques before catching an afternoon bus to Figueres.
Day 2 Visit the Theatre Museum in the morning before catching a train to Flaça from where you can either walk or take a taxi to Púbol.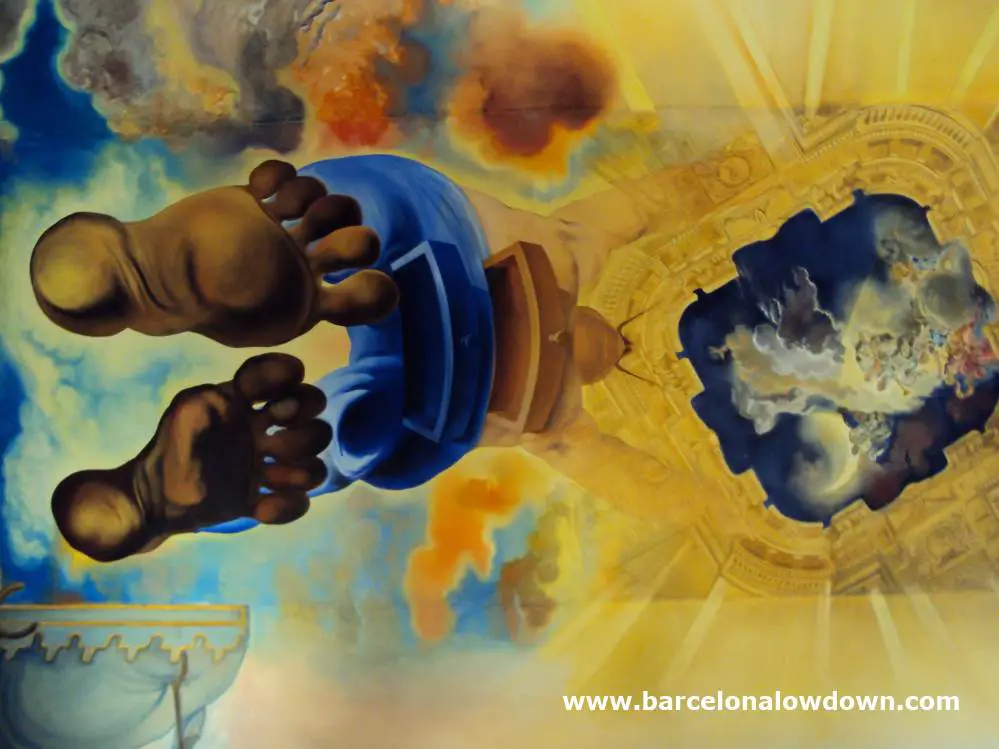 What are the opening times of the Dalí museums?
Opening times vary throughout the year, you can check times, prices and availability using the links below.
Should I book tickets in advance?
It's essential to book tickets in advance for Dalí's house in Portlligat since visitors are strictly limited.
Check availability and book tickets to Dalí's home in Portlligat>>
You can save time and queues by booking tickets in advance for the Theatre-Museum in Figueres, especially worthwhile if you will be visiting during the summer or at the weekend.
Check availability and book tickets to the theatre museum in Figueres>>
The Gala Dali Castle is less busy and doesn't usually sell out. If visiting by public transport, you should book your taxi in advance since there are very few taxis available (more information in this post).
Check availability and book tickets to the Gala Dalí Castle>>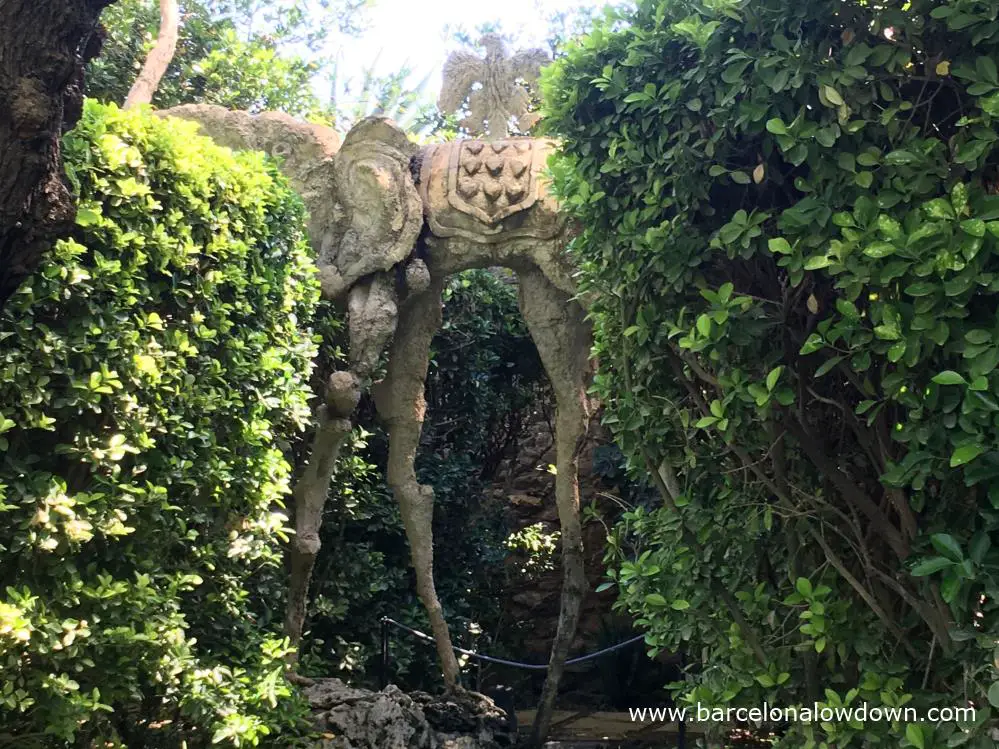 Where to stay in Figueres
When Dalí returned to Figueres to build the Theatre-Museum he stayed at Hotel Duran which is located just 250m from the museum. The hotel's comfortable, clean air-conditioned rooms have been modernized and are excellent value for money.
Where to stay in Cadaques
When we visit Cadaqués, we normally stay in Hotel Tarongeta. The hotel is a short walk from the town centre and beach and has a free car park for guests.
Where to stay in Púbol
Púbol is a tiny village when we visited we stayed in nearby Girona. If you prefer to stay in Púbol there are a few holiday cottages in the area including Las Moradas del Unicornio.
Visiting the Dalinian Triangle from the UK
Ryanair operates flights from several UK airports to Girona which is near to all 3 sites.
Alternatively, you can fly to Barcelona or Perpignan (France) which is just 55km from Figueres.
Map of the Dalinian Triangle
Did I miss anything? If you have anything to add, or if there's anything else you need to know, please leave a message in the comments section below.