The Joan Miró Foundation is a museum of modern art that exhibits the works of Barcelona-born artist Joan Miró. The museum opened its doors in 1975 and was designed in collaboration between Miró and architect Josep Lluís Sert.
In addition to an extensive collection of Miró's work, the museum also contains exhibits by other contemporary artists. The building itself is also pretty interesting, and the rooftop terraces offer excellent panoramic views of Barcelona.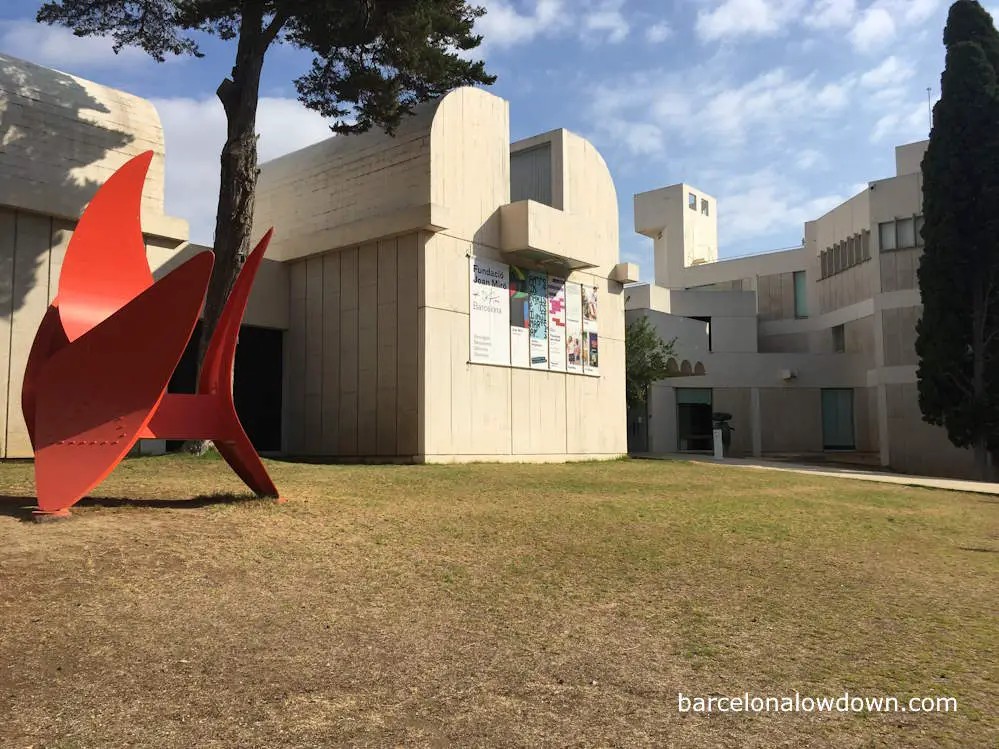 Joan Miró was born in Barcelona in 1893 and is considered one of the most important Spanish painters of the 20th century, alongside fellow artists Pablo Picasso and Salvador Dalí.
Miró is widely known for his surrealistic style, which often features his signature use of red, yellow, and blue. Additionally, his works are characterized by repeated stylistic motifs that can be observed throughout many of his pieces. Several of Miro's sculptures are on display in public spaces in Barcelona, plus he designed the logo for one of Spain's largest banks, La Caixa, which has offices on almost every street corner.
The Joan Miró Foundation houses more than 10,000 pieces of Miró's art, including sculptures, paintings and sketches. There are also temporary exhibitions by young artists and an area where children are encouraged to make their own creations inspired by what they have seen in the museum.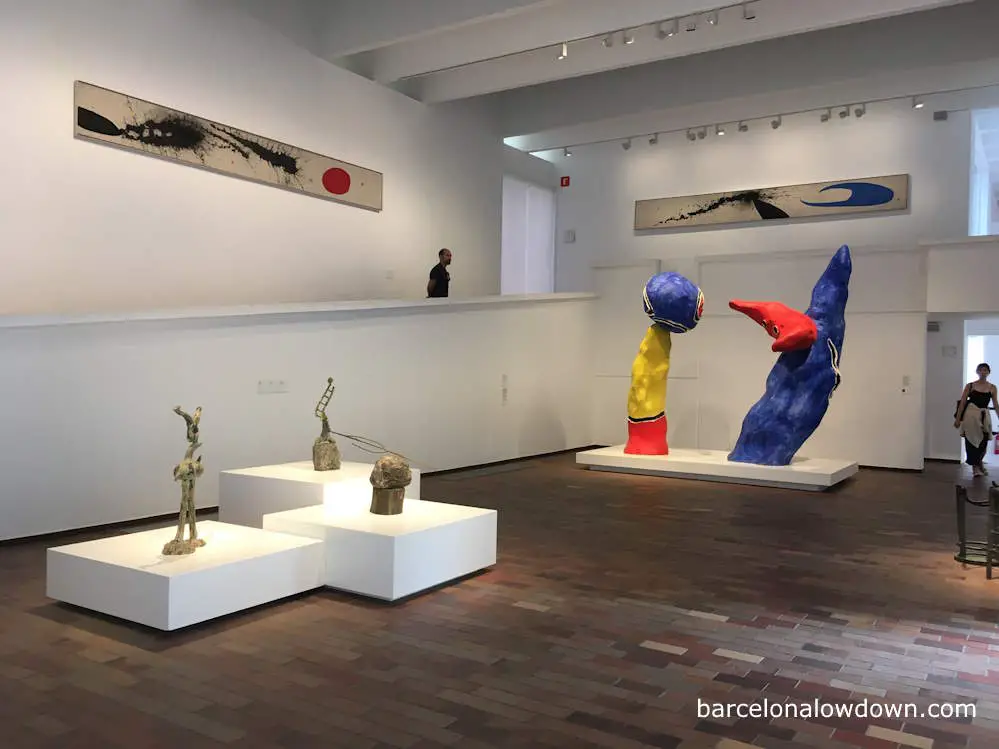 Visiting the Fundació Joan Miró
The museum has a well-designed and spacious layout that makes it easy for visitors to move around and view the paintings and sculptures which are on display. The interior is organized around a series of patios, with open terraces on the roof that feature more of Miró's sculptures and offer a panoramic view of Barcelona.
There is a small café on the ground floor where visitors can grab a bite to eat and an excellent museum shop selling posters, books and other souvenirs.
Outside the building, on the museum's grounds, there is a small park with a collection of sculptures that can be visited for free.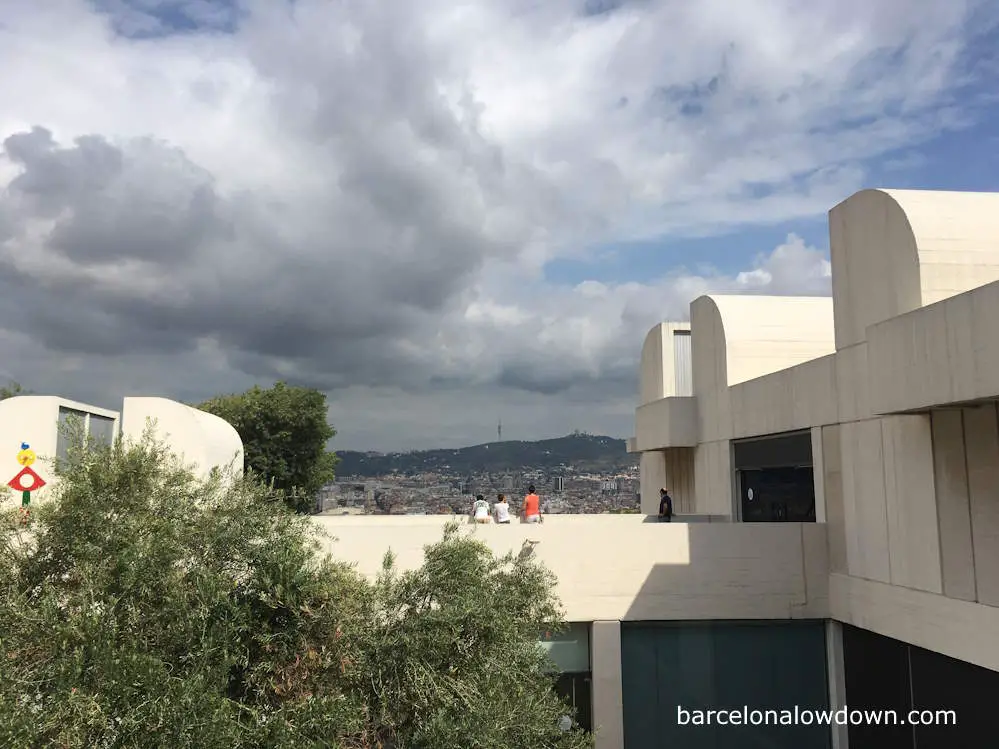 Time needed to visit the Fundació Joan Miró
You should allow between one hour and ninety minutes to visit the Fundació Joan Miró museum.
Information in English?
Yes, everything is labelled in English, Catalan and Spanish, and you can download a free English language audioguide to your telephone here. Don't forget to bring your headphones ;-)
Guided tours of the museum are available in English, French and Spanish.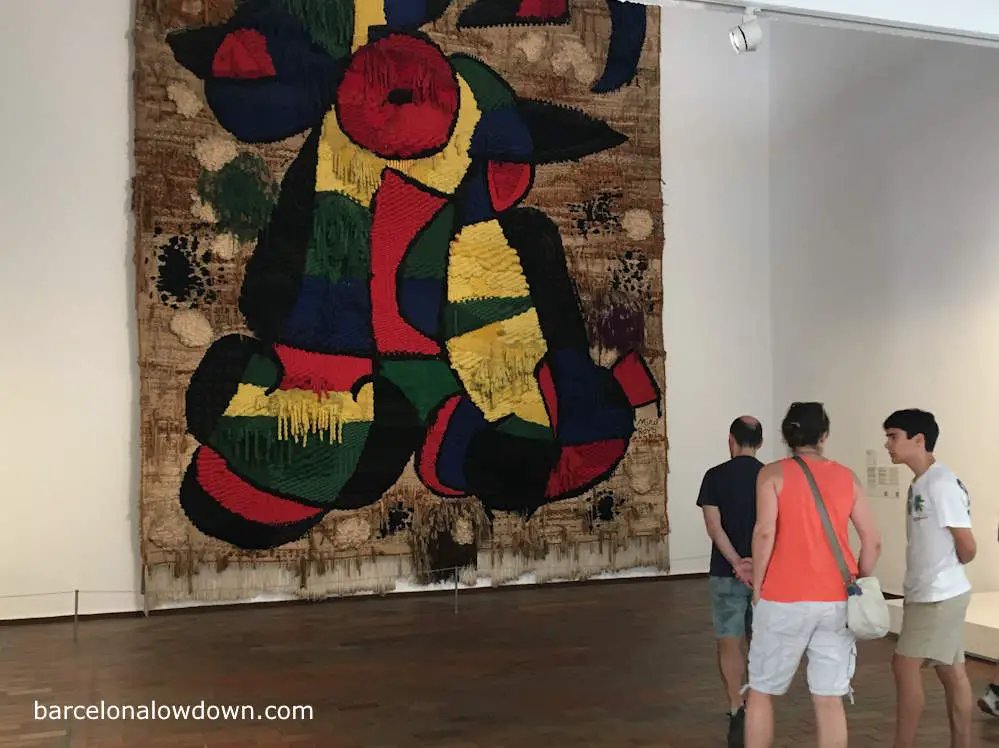 Location and how to get to the Fundació Joan Miró
The Miró Foundation is located on Montjuïc mountain, near the Laribal Gardens. The easiest way to get there is to take the Bus Turistic, which has a stop right in front of the museum.
If you also plan to visit the MNAC museum, you could walk from here to the Miró Foundation in about ten minutes. Alternatively, you can take buses 150 and 55 from Plaça d'Espanya. The upper station of the Montjuïc funicular is a five-minute walk from the Miró Foundation.
Opening times
| | |
| --- | --- |
| Day | Opening times |
| Tuesday – Saturday | 10 am – 8 pm |
| Sunday | 10 am – 6 pm |
| Monday | CLOSED* |
Fundació Joan Miró opening times
*Except for January 2nd, 10th and 24th April, 1st May, 5th June, 11th and September 25th.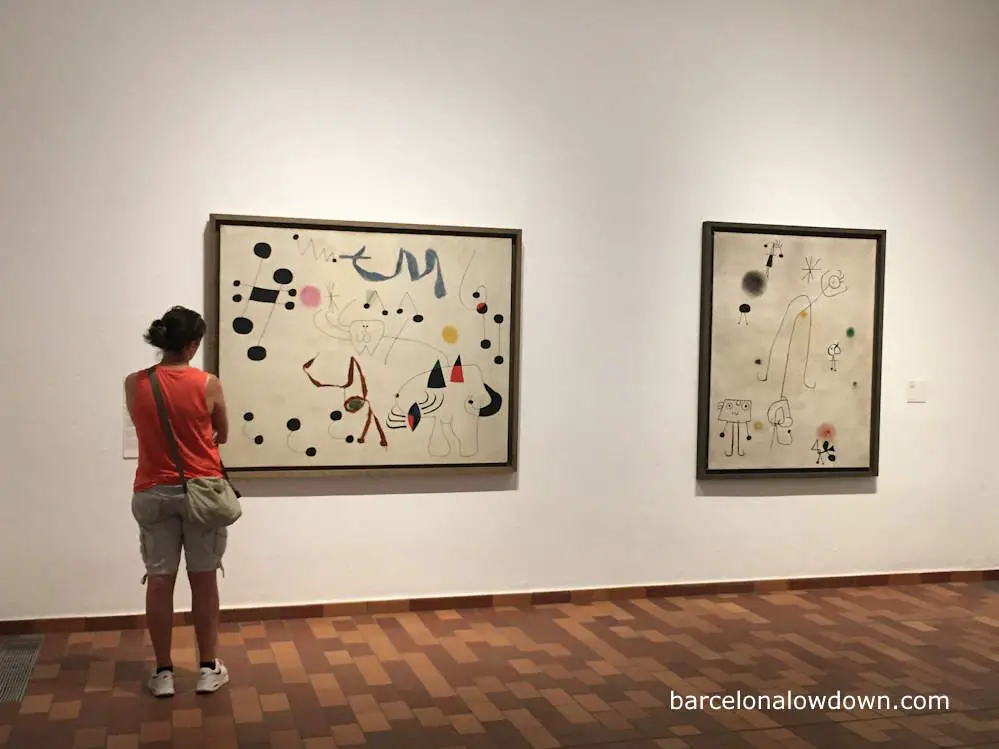 Tickets
| | |
| --- | --- |
| Ticket type | Price |
| Standard (purchased at the museum) | €15 |
| Online ticket (skip the line) | €14 |
| Reduced (Students & over 65) | €6 |
| Children (under 15) | FREE |
Fundació Joan Miró ticket prices
Articket (Barcelona Museum Pass)
If you plan on visiting three or more of the museums listed below, it will generally work out cheaper if you purchase the Articket, which includes skip-the-line entrance to all six museums for just €38.
Barcelona Card
The Fundació Joan Miró is also covered by the Barcelona Card, which gives free access to twenty-five of the city's best museums, unlimited journeys on public transport and discounts at many other attractions and activities.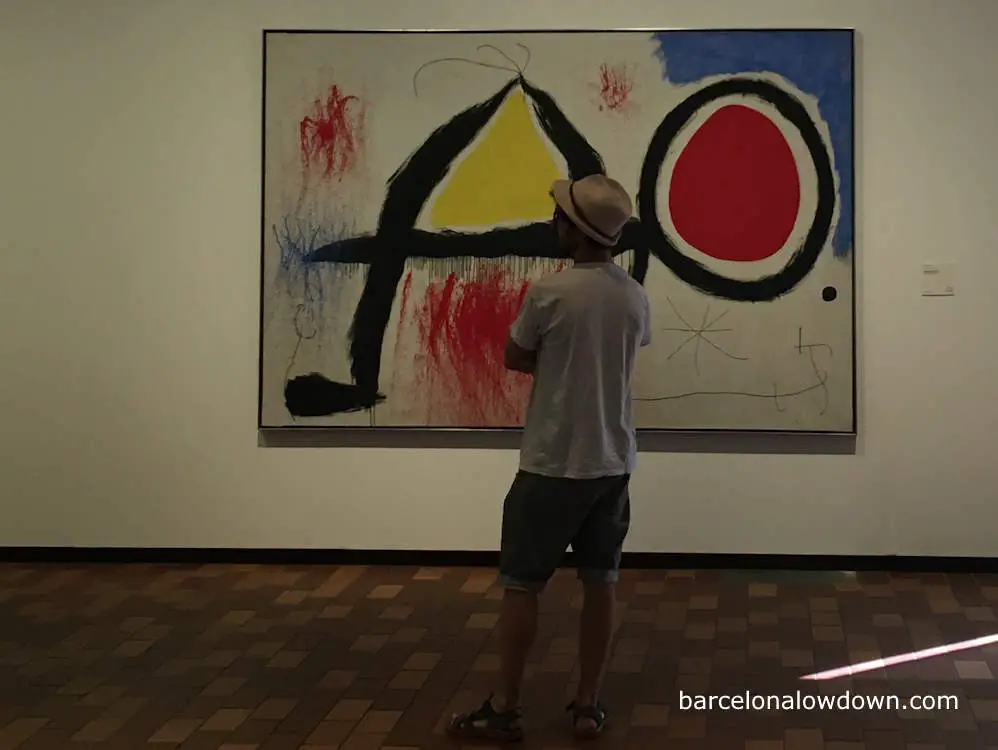 Other Attractions nearby
MNAC (Museu Nacional d'Art de Catalunya)
Montjuïc Castle
Poble Espanyol (Spanish Village)
Map