The Picasso Museum of Barcelona (Catalan: Museu Picasso de Barcelona) is one of the city's most popular tourist attractions and one of Spain's best-known art museums.
Founded in 1963 by Picasso's friend and secretary Jaume Sabartés, the museum contains more than four thousand paintings, the most extensive collection of Picasso's work anywhere in the world.
Initially, the museum's collection consisted of paintings that belonged to Sabartés and was housed in Palau Aguilar, a fifteenth-century Medieval palace in the La Ribera neighbourhood.
Since then, other collectors have donated paintings, including Barcelona city council and Picasso himself, and the museum has expanded into four adjacent buildings.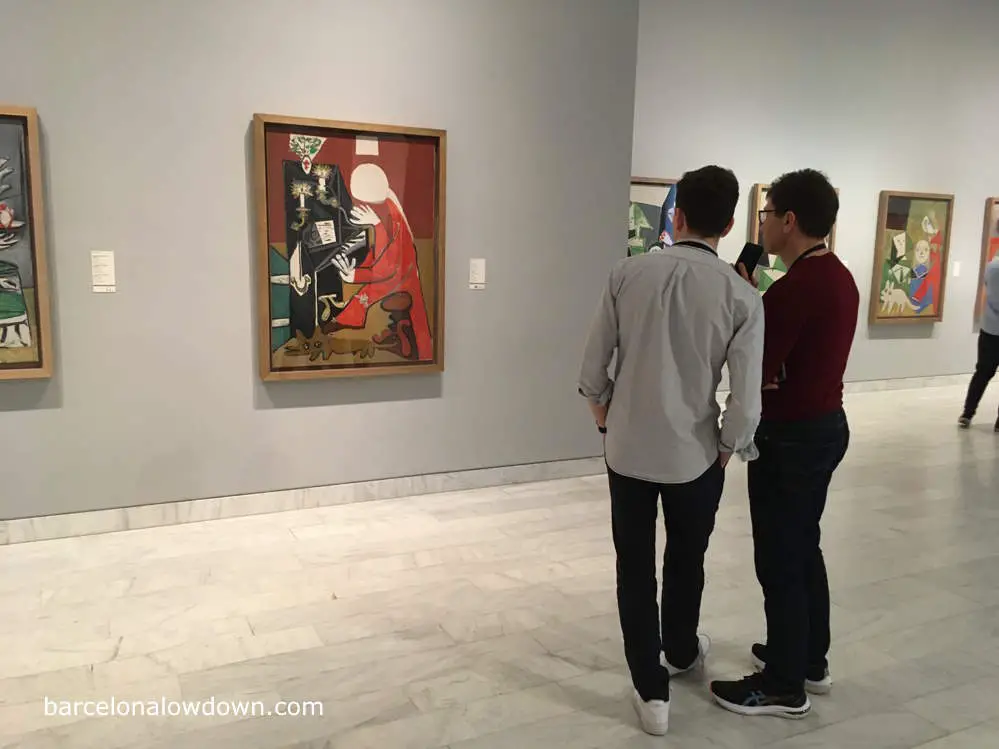 The museum's collection mainly contains work from the earlier stages of Picasso's career, when he lived in Barcelona and shortly after he moved to Paris. There are also a number of paintings from later in his career, including the Las Meninas series, which was painted in 1957.
This gives visitors an unrivalled opportunity to observe how Picasso's painting style developed from the realistic paintings of his youth, through the blue and pink periods, to cubism, the style which Picasso is famous for. The museum also explores Picasso's relationship with Barcelona and shows his influences in the form of paintings in the styles of Velázquez, El Greco, Monet, Cézanne and Matisse.
Picasso Museum Guide
The museum's collection is organized chronologically and thematically in twenty-three rooms.
| | | |
| --- | --- | --- |
| Room | Years | Theme/Location |
| 1 | 1890-1895 | Early years; Malaga & La Coruña |
| 2 | 1895-1897 | Barcelona & Malaga |
| 3 | 1897 – 189 | Madrid & Horta de Sant Joan |
| 4 | 1899-1900 | Barcelona |
| 5, 6 & 7 | 1900-1901 | Paris |
| 8 | 1901-1904 | Blue Period |
| 9 | 1905 – 1906 | Pink Period |
| 10 & 11 | 1917 | Barcelona |
| 12, 13 & 14 | | Las Meninas |
| B1 & B2 | | Ceramics |
| 15 | | Later Years |
| S | | Jaume Sabartés Room |
| G, G1, G2 & G3 | | Engravings |
| N | | Neoclassical Room |
| A1 – A4 | | Temporary Exhibitions |
Location
The Picasso Museum is located in the La Ribera neighbourhood, in an area called El Born.
Address: Carrer de Montcada, 15 – 23
The nearest metro station is Jaume I, on the L4, yellow line.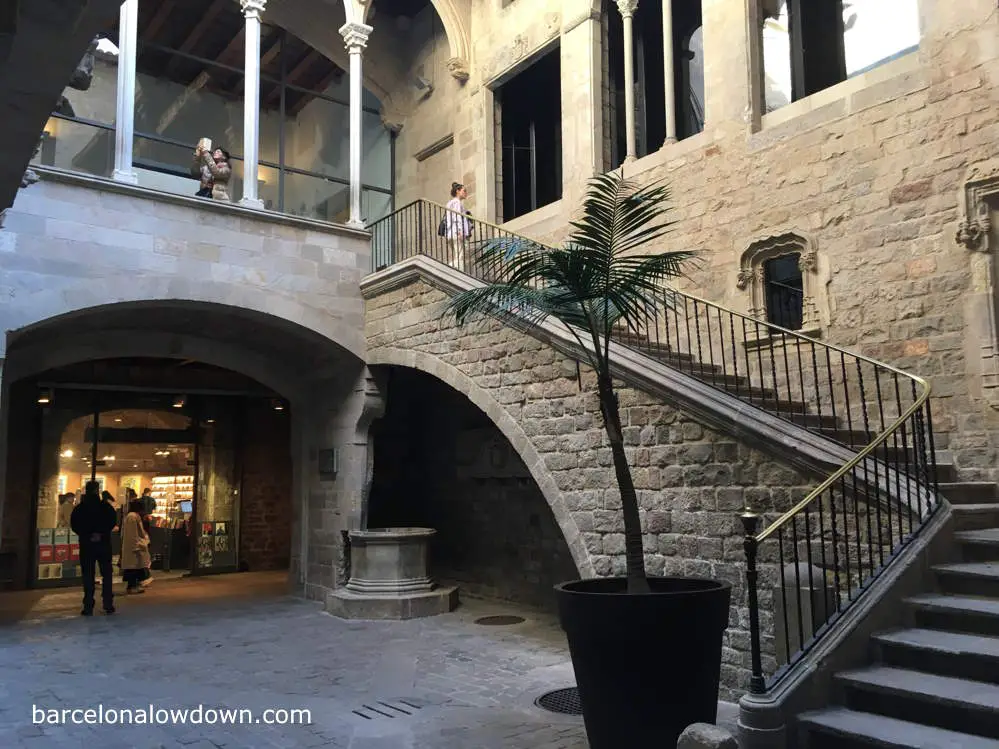 Opening times
The Picasso Museum opens from Tuesday to Sunday from 10:00 to 19:00. Last entry is thirty minutes before the museum closes.
The museum remains closed on Mondays and the following days: January 1st, May 1st, June 24th and December 25th.
Tickets
| | | | | |
| --- | --- | --- | --- | --- |
| Ticket | At the door | Online | Under 18 | 18 – 25, students and seniors |
| Picasso collection | €13 | €12 | FREE | €7 |
| Picasso collection + audioguide | €18 | €17 | €5 | €12 |
| Picasso collection guided tour | €19 | €18 | FREE | €13 |
| Temporary exhibits | €7.5 | €6.50 | FREE | €4.50 |
| Picasso Collection + Temporary Exhibits | €14 | €13 | FREE | €7.50 |
More information and tickets here >>
The Picasso museum is very popular, and I recommend that you buy your tickets and reserve a timeslot to visit the museum at least twenty-four hours in advance.
If you want to take a guided tour, then you should book sooner rather than later because there is limited availability, and they are often fully booked several weeks in advance. If no tours are available through the Picasso Museum website, you can normally still book an independently operated tour with a licensed guide, although they are slightly more expensive.
Another interesting alternative is to take a Picasso-themed walking tour, which includes skip-the-line entry to the Picasso Museum.
Articket (Barcelona Museum Pass)
If you plan on visiting three or more of the museums listed below, it will generally work out cheaper if you purchase the Articket, which includes skip-the-line entrance to all six museums for just €38.
Barcelona Card
Entrance to the Picasso Museum is also covered by the Barcelona Card, which includes free access to twenty-five of the city's best museums, unlimited journeys on public transport and discounts at many other attractions and activities.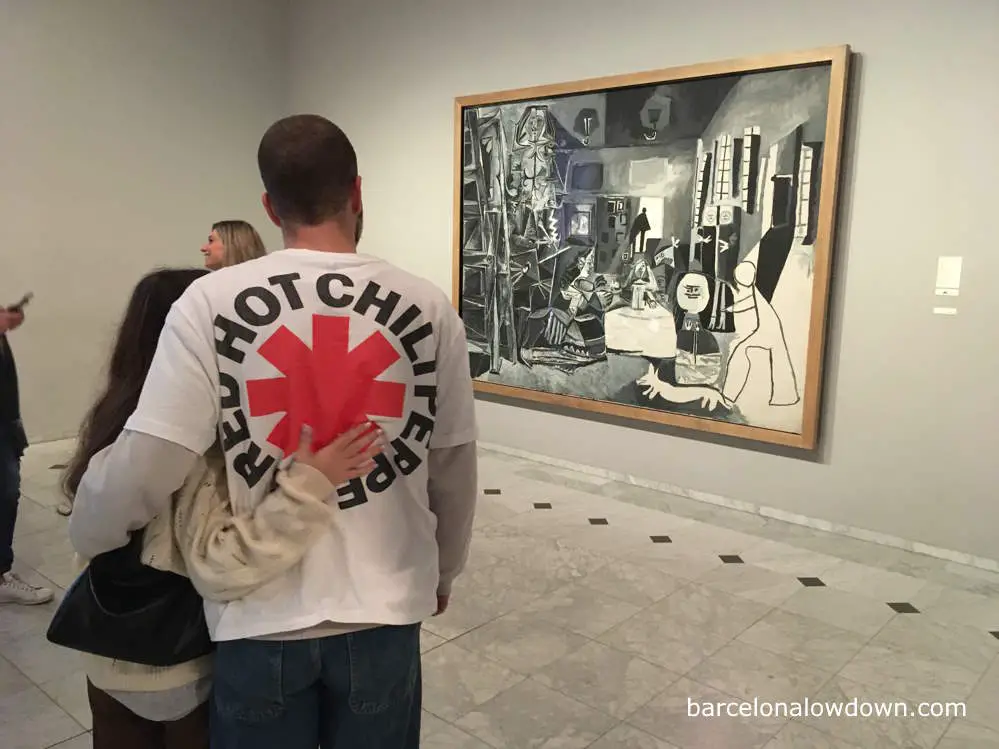 Other attractions nearby
Moco Museum Barcelona
The Museu Etnològic i de Cultures del Món
Palau de la Musica Catalana
Barcelona Cathedral
Map
Picasso Museum FAQs and Tips
How long do you need to visit the Picasso Museum in Barcelona?
You can expect to spend between ninety minutes and two hours at the Picasso Museum. The first time I visited, I spent one hour and forty-five minutes visiting the Picasso collection and then an additional forty minutes in the temporary exhibitions.

What is the best time to visit the Picasso Museum?
It's best to try and visit the museum either at ten in the morning, when it first opens or late afternoon, from around five pm onwards.

Do you need to buy tickets in advance for Picasso Museum?
The Picasso Museum is one of the most popular attractions in Barcelona. Although you can purchase tickets at the door, there's usually a long queue, and at peak times, there may not be any time slots available until later in the day.
I recommend purchasing your tickets online at least twenty-four hours in advance. You can then go directly to the e-ticket holders' entrance at Carrer de Montcada, 23.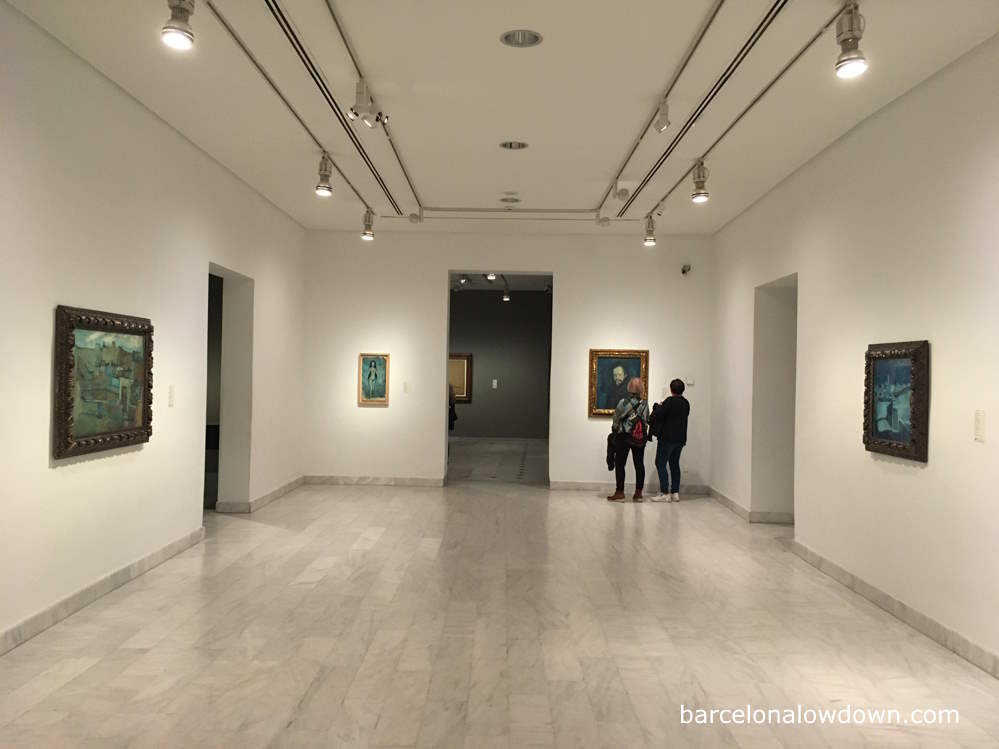 Is it worth paying for the audio guide at the Picasso Museum?
Yes, I think it's worth paying extra for the audio guide. The guide provides additional information about the paintings and Picasso's life in Barcelona and helps put everything into context.
Plus, the museum is quite busy, and I was surprised to find that listening to the audioguide helped me disconnect from the people around me and concentrate on the paintings.

What day is the Picasso Museum free?
You can visit the Picasso Museum free of charge on the first Sunday of each month and Thursday afternoons, from four pm until seven pm.
It is also free of charge on the following days: February 12th, May 18th and September 24th.
When visiting the Picasso Museum on free entry days, you must book a timeslot on the museum's website here.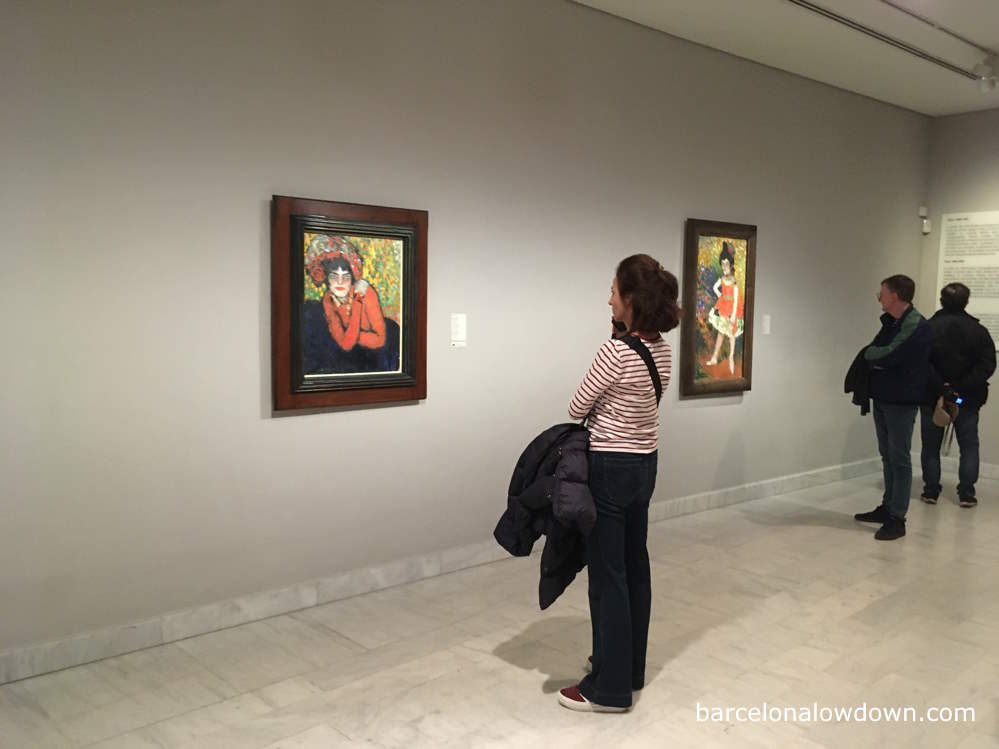 Can you take photos in Picasso Museum in Barcelona?
Yes, photography is allowed in the Museum, and you can take photos of the paintings as long as it is for personal, non-commercial use. Flash photography and the use of tripods is not allowed.

Are you allowed to sketch in the Picasso Museum?
Yes, you are allowed to sketch, including sketching the paintings, as long as you don't obstruct other visitors, at the discretion of the museum staff. You are not allowed to use other media, and easels etc., are not permitted.

Is Picasso Museum Barcelona worth it?
If you are visiting Barcelona, I think the Picasso Museum should be on your list of things to do. Entry costs €12, which isn't expensive plus there is a discount if you're under 25 and under eighteens can visit free of charge.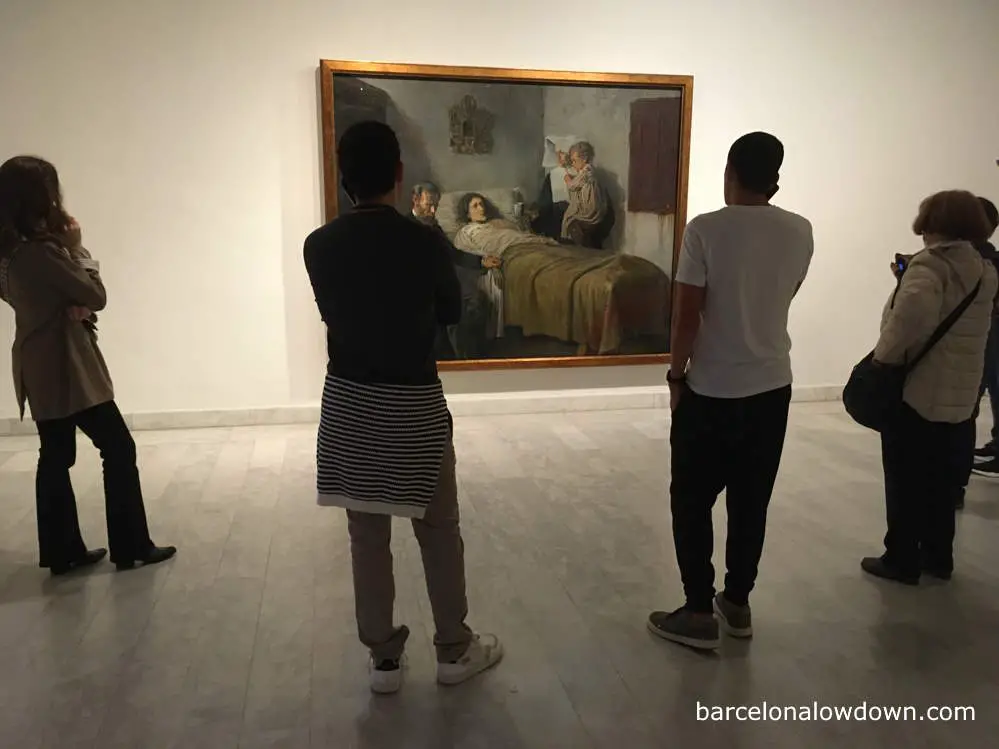 What is the most famous painting at the Picasso Museum in Barcelona?
The most famous painting at the Picasso Museum Barcelona is Science and Charity, which was painted in 1897 when Picasso was just fifteen years old. The painting depicts a sick woman being visited by a doctor and a nun, which is categorized as social realism, a popular style during the late nineteenth century.
Other well-known paintings on display include First Communion, L'Espera (Margot), Natura Morta and the Las Meninas series.

Which museum has the largest Picasso collection?
The Picasso Museum Barcelona has the most extensive collection of Piasso's work in the world, with 4,251 paintings and sculptures. The museum was founded in 1963, and many of the paintings were donated by Picasso himself.