Futbol Club Barcelona, aka Barça, is one of the best football clubs in the world, and their ground El Camp Nou is the largest football stadium in Europe. If you like football, no matter which club you support, then seeing Barça play at Camp Nou should be high on your list of things to do in Barcelona.
This post covers everything you need to know when planning your visit to Camp Nou, including; choosing a seat, buying tickets, getting to the ground, what to expect during the game, and where to celebrate after the match.
In a hurry? Here are my five top tips for seeing Barça play at Camp Nou:
Get the best seats by purchasing your tickets online in advance.
Stay an extra day in Barcelona in case the match is rescheduled.
Arrive at the stadium at least thirty minutes before the game starts.
Bring your passport or photo ID with you, or you may be refused entry to the stadium.
Check the weather forecast and dress accordingly.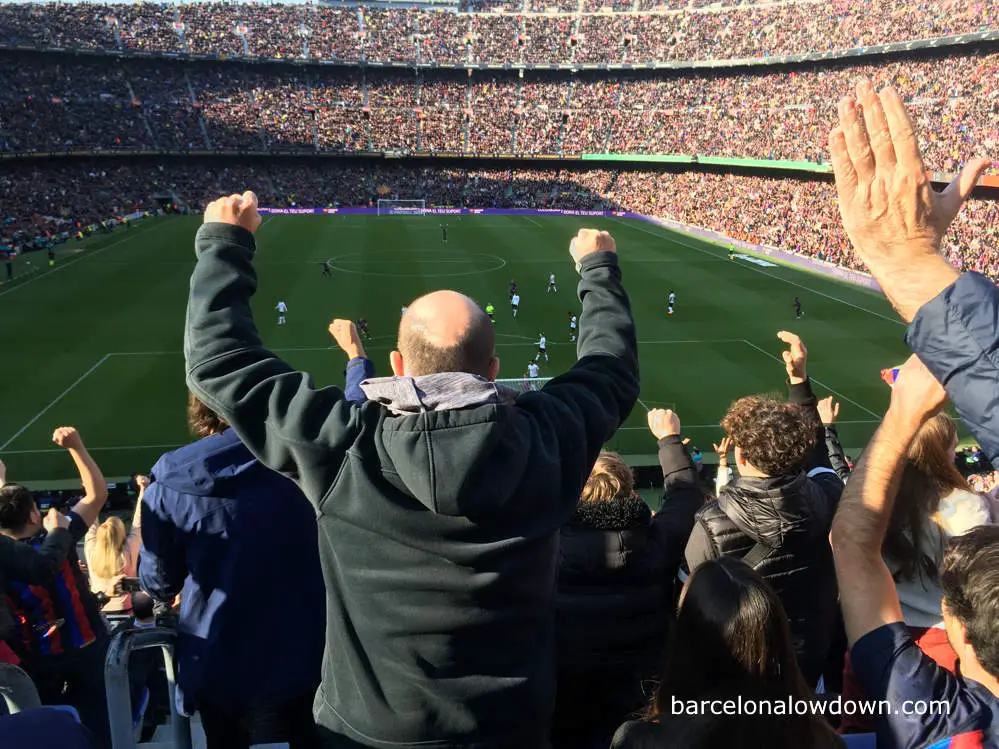 FC Barcelona and the Camp Nou Stadium
Barcelona Football Club was founded in 1899, and their original ground, located in the Les Corts neighbourhood, had a capacity for 30,000 people. During the 1950s, due to the club's success, they moved to a new ground with space for more than 90,000 spectators called El Camp Nou, or "the new ground" in Catalan. The stadium is currently being enlarged, and when the work has finished will have a space for 111,000 fans.
1. Getting tickets for the match
Scheduling and availability
Match scheduling and the availability of tickets for Barça matches can be a little confusing. This is due to a combination of factors:
Firstly, when the La Liga schedule is announced at the start of the season, the dates which appear on the league's official website are only provisional, and the time of kickoff appears as TBA (to be announced).
At this stage, the day on which the match is played may change by plus or minus one day. This is primarily due to the TV broadcasters and their advertisers, who are seemingly unable to plan things very far in advance.
A match may also be rescheduled because one of the teams is playing in another tournament, for example, the Champions League, and has another game in the same week.
Matches scheduled to take place at the weekend can theoretically be played at any time from Friday through to Monday. However, in practice, it's very unlikely that a weekend Barça match won't take place on either Saturday or Sunday.
Matches scheduled mid-week may also be played a day early or later than planned.
The time of kick off also varies and may be at any time between midday and about nine pm. Generally speaking, the more important matches are usually allocated the nine pm slot.
Usually, La Liga match dates and times are confirmed three weeks before they are due to be played. At this point, the kickoff time will be added to the schedule linked above. Once the fixture has been confirmed, barring exceptional circumstances, they won't usually change again.
The schedule for the Champions League, Europa League, Copa del Rey and other tournaments are typically announced shortly after the draw takes place. The dates for the later stage matches are announced as and when the participating teams qualify.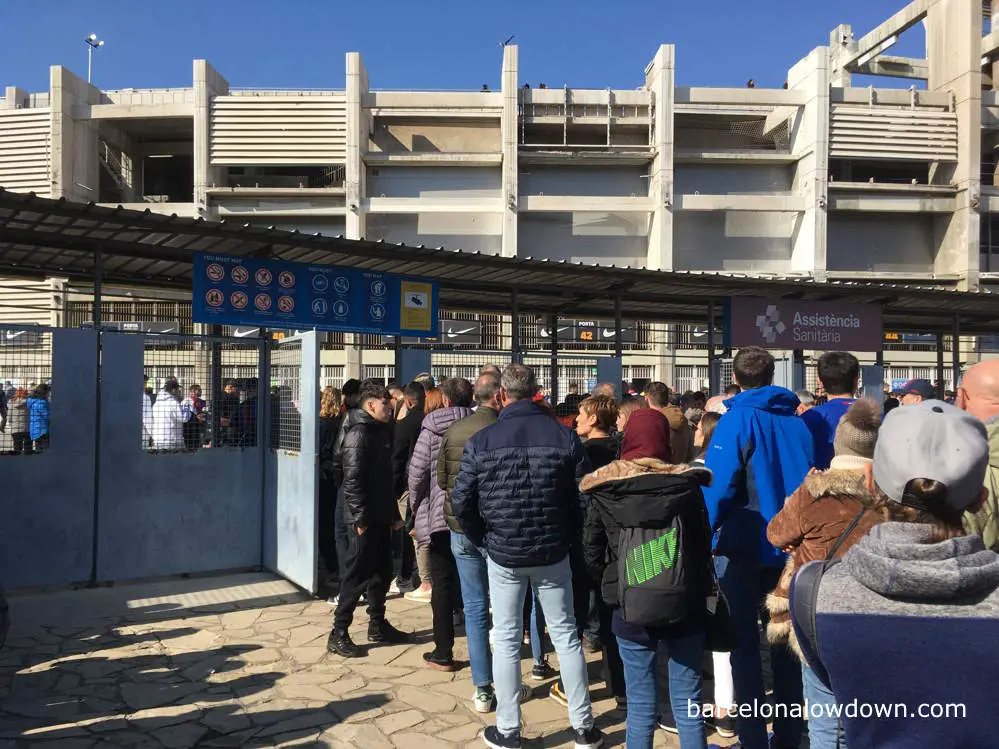 The other complication which you need to be aware of when buying tickets to see Barça is the fact that all seats in the stadium are owned by seatholders and are released in stages using a system called "Free Seats" (Catalan: Seient Lliure), whereby the club estimates how many of the seat holders will release their seat to be sold for any given match. This means that although initially, there may be no seats available for a given fixture, tickets are made available in waves as the match day approaches.
This also explains why, when you purchase your ticket, you can only select an area of the stadium and not a specific seat. This is because most seats aren't released for sale until forty-eight hours before the fixture takes place. At this point, the club allocates specific seats and sends tickets out via email.
Generally speaking, Camp Nou is a huge stadium, and matches rarely sell out completely. As long as you are patient, getting a ticket should almost always be possible. For league games against minor teams, especially earlier in the season, you can generally leave purchasing tickets until a few days before the match takes place.
For more important matches, and better rivals, it makes sense to book your tickets online in advance to ensure you get the best possible seats. This is especially true if you are purchasing several tickets and want to sit together. For matches against Real Madrid (El Clásico), if tickets are available and you can afford them, buy them now because you may not get a second chance!
Overview of the stadium and sections
As I said earlier in this post, Camp Nou is the largest football stadium in Europe and seats almost a hundred thousand people. It is well-designed, and wherever you sit in the stadium, you will have a good view of the pitch. Having said that, the higher seats are quite a long way from the pitch.
The stadium is divided into four main sections; Lateral, Tribuna (grandstand), Gol Sud (south goal) and Goal Nord (north goal).
Seats in the lateral and grandstand sections generally give a better overview of the match and are, therefore, more expensive than the seats behind the goals. Conversely, the goal sections give you a better view of the goals, but you don't get such a good view of the pitch as a whole.
Each of the four sections is divided into three levels. The first level is nearest to the pitch; the third level is high up in the stands. The second level is somewhere in between. The second and third sections are further divided into upper and lower areas.
Another section which I haven't mentioned yet is corner, which is a hybrid between the other sections and has some of the advantages and disadvantages of each.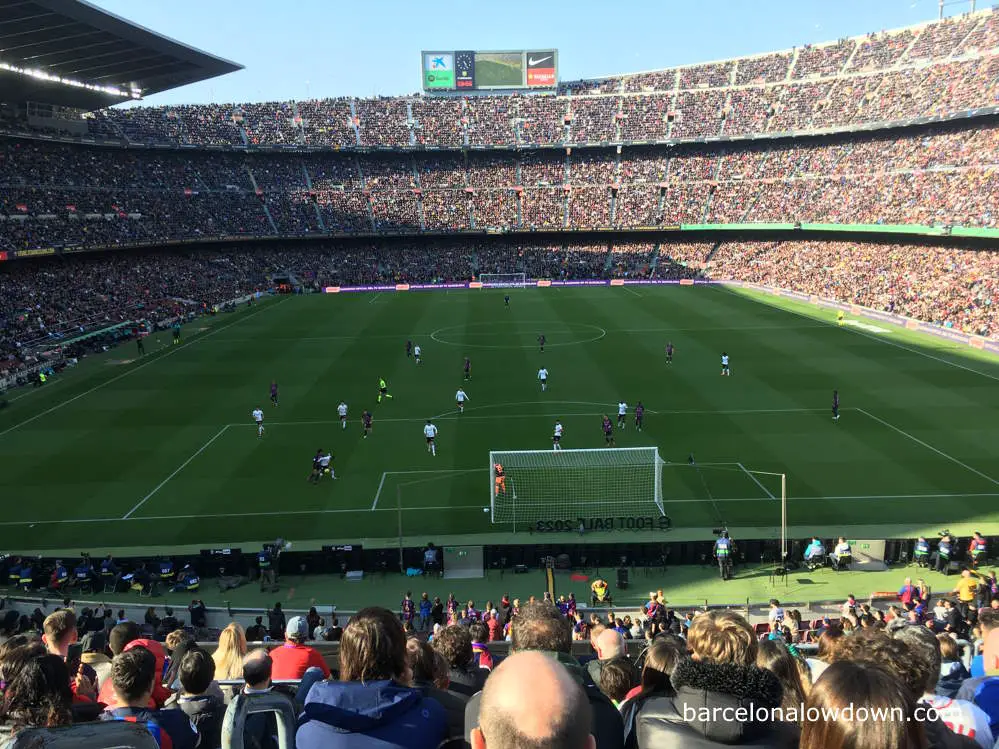 Choosing the best tickets for your budget and preferences
Generally speaking, seats in the lateral and grandstand sections give you a better overall view of the match and allow you to see what's going on tactically. They are also slightly more expensive.
Conversely, seats in the goal sections will give you a better view of the goals (duh), but you don't get such a good overview of the match because viewing the pitch lengthwise gives a distorted perspective.
Apart from the view, another thing to consider when choosing your seats is the atmosphere. Seeing Barça play live isn't the same as watching them on TV, and to me, the atmosphere is a major part of the experience.
Most die-hard football fans prefer to sit behind the goals, and this is where you will get the best atmosphere. This is especially true of Gol Nord, which is where the Grada de Animació is located, which is the area where the hardcore fans sit.
Whichever section you decide to sit in, the first level is closer to the pitch and gives you a better view of the players, whereas the second and third level gives you a better overview of the match.
One thing which isn't obvious from the seating plan is the fact that the seats further back on the lowest level are beneath the second level, which forms a roof over them and, depending on where you are seated, may obstruct the view of part of the pitch. Because of this, I generally recommend purchasing seats on the second level.
Personally, I think that seeing a Barça game live is more about atmosphere and action rather than appreciating the finer tactical points of the game. Because of this, I recommend buying seats in the lower part of the second level behind the goals.
To me, this is a good compromise between being fairly close to the action whilst still getting a decent view of the game. They are also fairly cheap seats and will typically cost somewhere between €50 and €100 per person for fixtures in La Liga. Slightly more if it's an important match, or a lot more if it's a Champions League fixture or "El Clásico".
Sitting together
When booking multiple tickets, the booking system will attempt to seat you together in pairs of seats. However, you need to be aware that the system counts seats in front and behind each other, plus diagonally and on either side of an aisle as "sitting together".
When you receive your tickets, the seat numbers won't be sequential. This is because the seats on one side of the aisle are even numbers, and on the other side are odd numbers. For example, seats 10 and 12 are next to each other.
Where to purchase tickets
I recommend that you purchase your tickets through one of the following official channels:
Online from the FC Barcelona website
Online from official ticket agents such as P1 Travel
At the box office at Camp Nou
At one of the official Barça Stores in Barcelona
For most league matches, you could probably wait until you are in Barcelona and purchase your tickets at one of the official Barça Stores two days before the match takes place. However, you would get a better seat if you purchased your tickets online in advance.
For more important league games, then you should definitely purchase tickets a week or two in advance.
You will probably find that you can't purchase tickets for Champions League and Europa League fixtures from the FC Barcelona website. This is because, in recent years, there has been a clampdown on the sale of tickets to visiting fans. In this case, you will either have to purchase tickets through the rival team's website or book a VIP package through P1 Travel.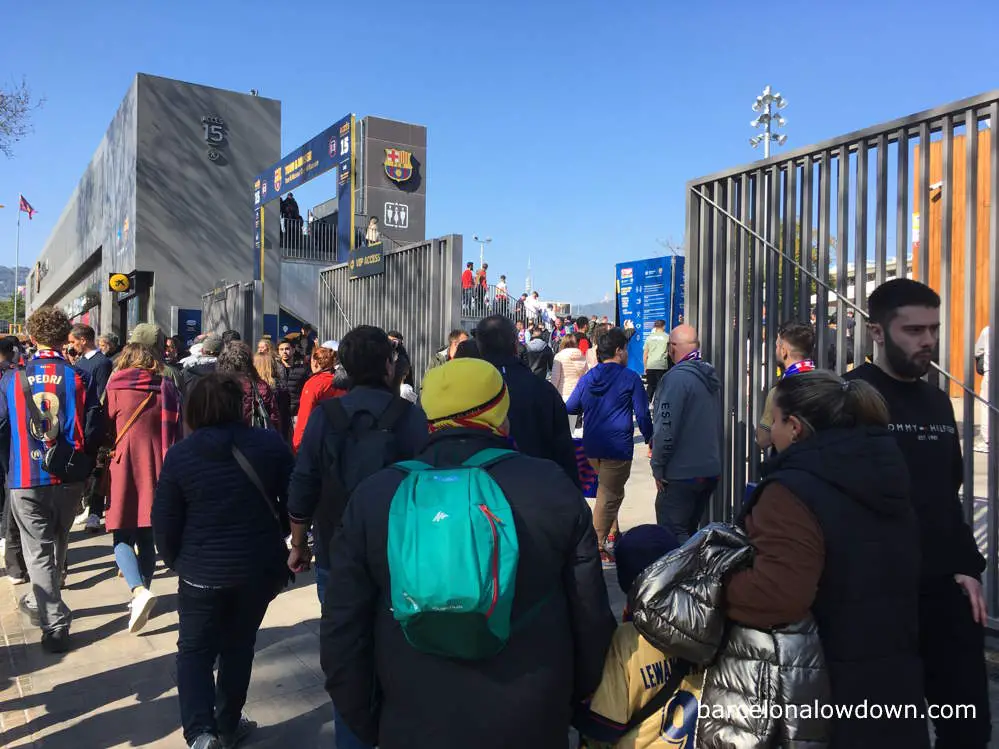 2. Getting to Camp Nou
Camp Nou is located in the Les Corts neighbourhood, which is about four kilometres from the city centre. The address of the stadium is Carrer d'Arístides Maillol, 12, 08028 Barcelona.
Public transport options
The cheapest and most convenient way to get to Camp Nou is by public transport. There are several options available, the most popular of which is to use the metro. Travel cards, such as the Hola Barcelona Travel Card, are valid for transport to and from the match.
(i) Metro
The easiest way to get to Camp Nou is by metro. There are four metro stations near the ground. Two of the stations are on the L5 (Collblanc & Badal), and three are on the L3 (Les Corts, Maria Cristina and Palau Reial). Which station you choose will depend on where you are travelling from, which will decide which line you arrive on and where your seat is, which will dictate which of the two stations on each line is nearest.
Getting to Camp Nou by metro is very easy. When you alight from the metro at your chosen station, you'll see a pictogram above the platform indicating the way to the stadium. If there's a match on and it's less than two hours until kickoff, you can safely assume that everyone will be going to the match and just follow the crowds to the stadium.
Speaking of crowds. Barcelona is a very safe city, but, like many other large European cities, it does suffer from pick-pockets who work in crowded places. Overcrowded metro cars crammed with football fans make for easy pickings, and you should be extra vigilant.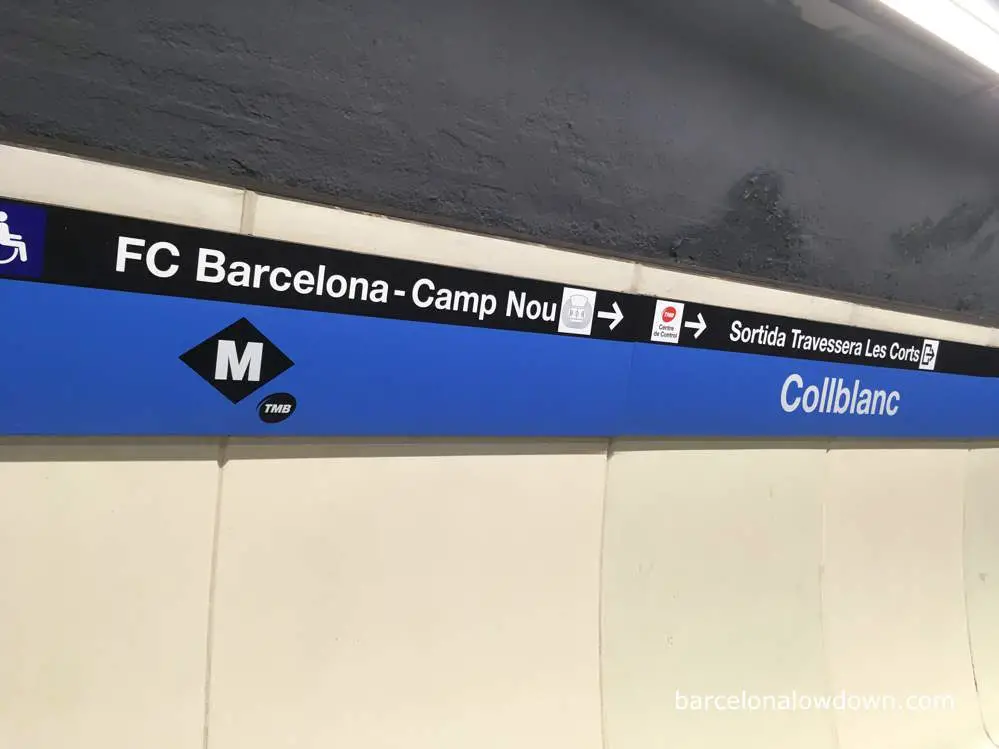 (ii) Tram
There are two tram stops close to the stadium, Pius XII and Avinguda de Xile, although the tram system isn't such a popular choice because it doesn't reach the centre of the city. Although, that will change soon as the lines are currently being extended.
(iii) Bus
There are fifteen bus routes which stop near Camp Nou and, if one of them happens to stop near your hotel, they can also be a good option although I personally prefer the metro because it's easier to understand.
(iv) Train
If you are travelling to Barcelona by train, it only takes about thirty minutes to walk from Barcelona's main train station, Barcelona Sants, to Camp Nou. Alternatively, both the L3 and L5 metro lines stop at the Sants Esatció metro station, which is linked to the train station.
Driving and parking near Camp Nou
If you're staying in Barcelona and have a car, I do not recommend that you drive to the stadium for the game. Driving's not a good way to get around at the best of times, with heavy traffic and few places to park, but on a match day, things are worse than normal, especially in the area which surrounds Camp Nou.
If you are travelling to the match from outside Barcelona, then there are several car parks located near the stadium where you can park your car during the match, although you do need to book a space in advance.
There is also a car park at the Camp Nou stadium, but parking spaces are allocated to season ticket holders and club members only. Non-members may only park in the Camp Nou car park up until four hours before the match.
To avoid traffic jams, it's a good idea to park your car several hours before the match starts. If you have time, I recommend you drive to Barcelona in the morning and spend the day visiting a few of Barcelona's top sights before returning to Camp Nou in time for Kick off.
| | | |
| --- | --- | --- |
| Car Park | Address | Distance |
| BSM Cotxeres de Sarrià | C. de Francesc Carbonell, 45B | 1.9km |
| BSM Flos I Calçat | Carrer de Flos i Calcat, 4 | 1.4km |
| BSM Tanitori Les Corts | Carrer de Menéndez y Pelayo, 8 | 500m |
| BSM Marquès de Mulhacén | C/ del Marquès de Mulhacén, 51 | 1.9km |
| Parc Cientific | Av. Dr. Marañón, 6 | 200m |
| Parking Riera Blanca | Carrer de la Riera Blanca, 17 | 700m |
| Parking Saba Carles III | Gran Via de Carles III 85 Bis | 1km |
| Parking Saba Joan Güell | Carrer de Joan Güell, 250 | 1.2km |
Car Parks near the Camp Nou stadium, Barcelona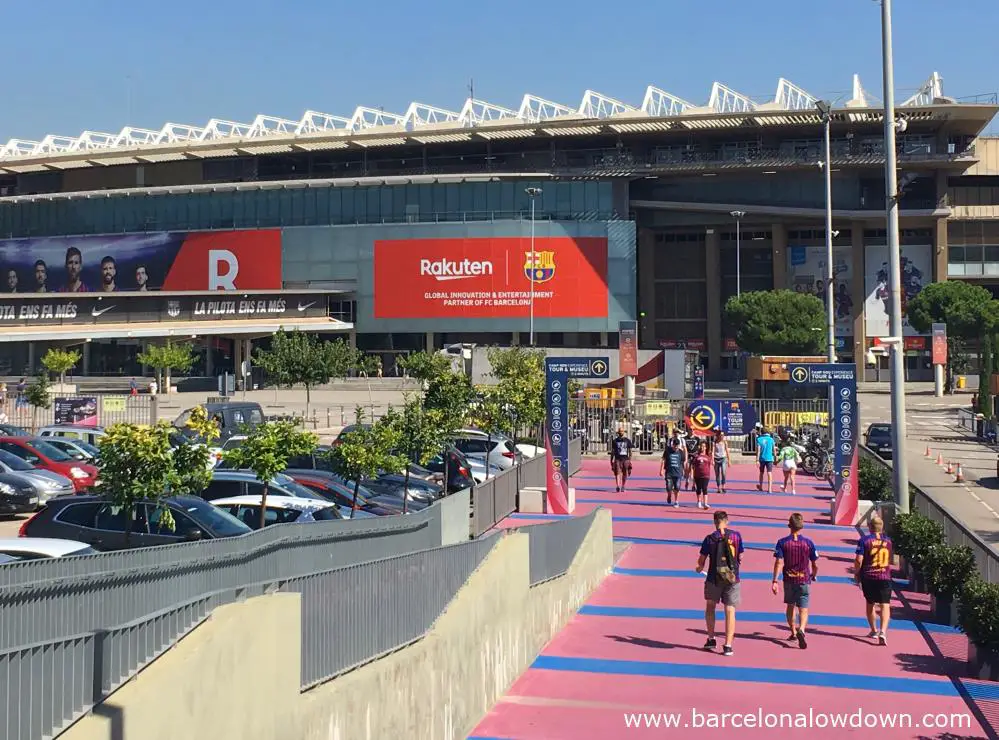 Hotels and the best area to stay to see a match at the Camp Nou
Camp Nou is in the Les Corts neighbourhood of Barcelona. Although there are several good hotels nearby, including the NH Barcelona Stadium and the Hotel SOPHIA Barcelona, it's not an area that I usually recommend. This isn't because Les Corts is a bad neighbourhood per se. It's just that apart from Camp Nou; there's not much else which is of interest to tourists in the area.
I normally recommend the area around Plaça de Catalunya as an ideal location for first-time visitors to Barcelona. This recommendation still holds if you will be seeing a match at Camp Nou. This very central location is close to many of Barcelona's top attractions and has direct public transport connections to both Barcelona Airport and Camp Nou.
If you decide to stay elsewhere, then I recommend you look for a hotel close to a stop on either the L5 or L3 metro lines in either the Eixample district or the Gothic Quarter. For more information, check out my in-depth guide to where to stay in Barcelona.
3. Pre-match atmosphere & preparation
What to wear to a Barça game
Most fans wear at least one item of clothing, which indicates their allegiance to their club and their favourite player, typically a Barça shirt or scarf. However, it's by no means compulsory, and you shouldn't feel that you have to purchase a shirt. Indeed, you'll see plenty of people at the match who aren't wearing any merchandise.
One thing which you do need to be aware of is that tickets sold by the cub and through official ticket agents are for seats in the area reserved for Barça supporters. It's forbidden to wear shirts, scarves or symbols of the rival team when seated in this area.
Although it's not uncommon to see rival fans sitting amongst Barça fans at La Liga games, the rules are more strictly enforced for matches against foreign teams.
Merchandising and fan etiquette aside, the thing which you really need to take into consideration when deciding what to wear is the weather. The stadium is open to the elements, and if it rains, in most seats, you will get wet. Thankfully it doesn't rain too often in Barcelona, but in winter, you will need to wrap up warm, especially for nine pm kickoffs. I recommend that you check the forecast before going to the ground and dress accordingly.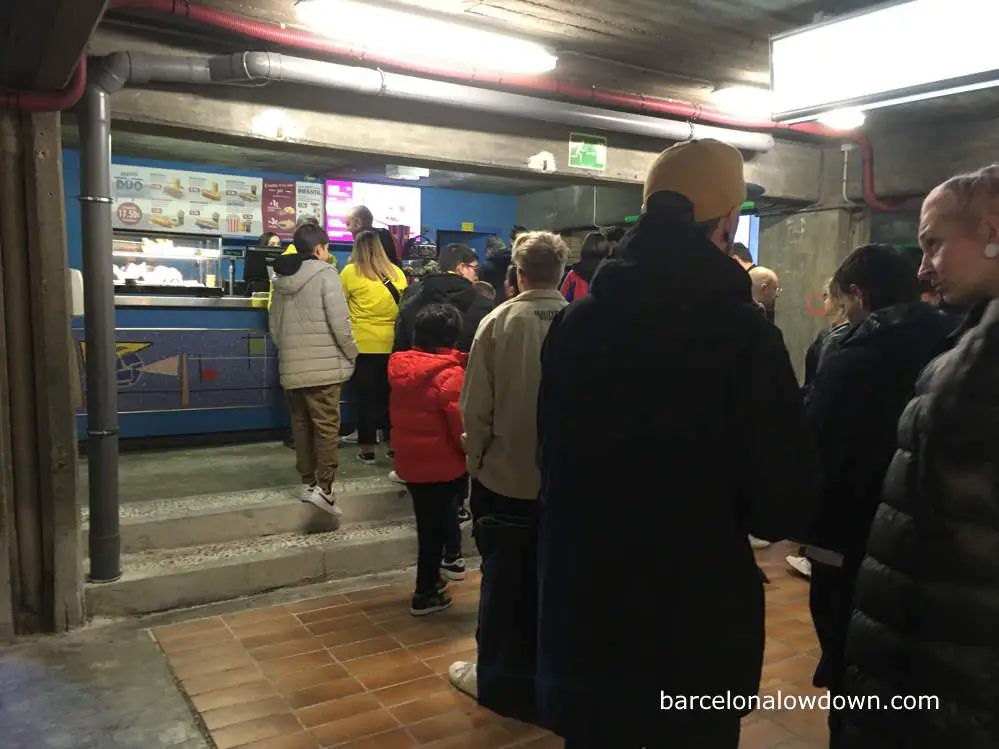 Where to eat and drink near Camp Nou
There are plenty of bars and restaurants in the streets surrounding Camp Nou which cater to football fans, many with tables on the street where you can eat and drink outside.
If you want a pre-match beer and tapas, then Taller de Tapas (Travessera de les Corts 64) comes very highly recommended, as does Bodega Montferry (Passatge de Serra i Arola, 13).
My favourite vegetarian restaurant in the area is La Riera (Carrer del Regente Mendieta 15), or for more upmarket cuisine; you could reserve a table at Can Fusté (Gran Via de Carles III, 50-52).
There are also a couple of tapas bars located inside Camp Nou, although when there's a match on, you either have to arrive early or wait for a table.
Finally, there are fast food stands that sell the ubiquitous "bocatas" (sandwiches made with baguettes), fries, popcorn and soft drinks, including alcohol-free larger.
Purchasing Barça merchandise
Barçelona shirts, scarves and other merch is widely available throughout the city. Official men's shirts cost around ninety euros and can be purchased from Barça Stores, department stores and sporting goods shops. The Barça Stores also sell so-called players edition shirts, which are replicas of the actual shirts worn by the team and currently cost around €160.
If you can't run to the price of an official shirt, then you'll see knockoff copies at slightly lower prices in souvenir shops and at street stalls outside the ground. Prices and quality of the non-official shirts vary, and you should be wary of shops which don't display prices.
If you can't justify spending ninety-odd euros on an official shirt but don't want to buy a fake. The Barça stores also sell pre-match shirts and vintage-style shirts, which cost between fifty and sixty euros, which is about the same as the souvenir shops charge for the fake shirts.
The best place to shop for Barcelona merchandising is at the megastore at Camp Nou or at one of the Barça Stores near the city centre. If you left it to the last minute, then there are also Barça Stores at the airport.
| | |
| --- | --- |
| Barça Store | Address |
| Barça Store Camp Nou | C. d'Arístides Maillol s/n |
| Barça Store Ronda Universitat | Ronda de la Universitat 37 |
| Barça Store Passeig de Gràcia | Passeig de Gràcia 15 |
| Barça Store Canaletes | La Rambla 124 |
| Barça Store Sagrada Familia | Carrer de Mallorca 406 |
| Barça Store Maquinista | C/ de Potosí 2, Local B103 |
| Barça Store La Roca Village | La Roca Village Local 98 |
| Barça Store Aeroport Barcelona T1 | T1 Aeropuerto de Barcelona-El Prat s/n |
| Barça Store Aeroport Barcelona T2 | T2 Aeropuerto de Barcelona-El Prat 18 |
List of Barça Stores in Barcelona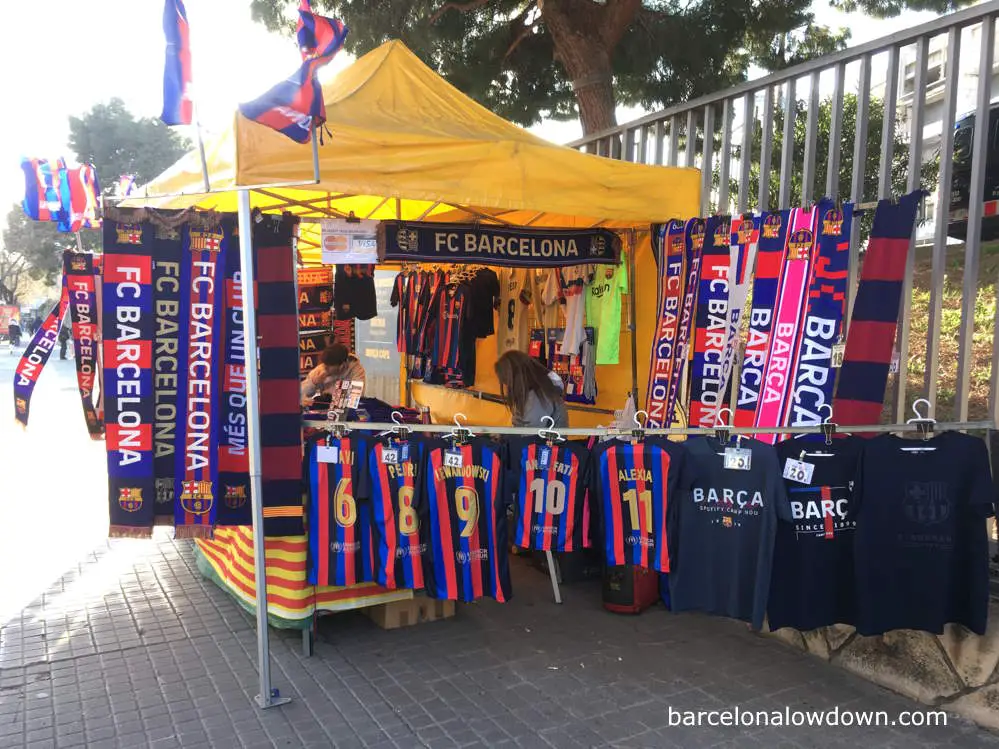 4. Inside the stadium
Rules for entering the Camp Nou stadium
The following rules appear in the email with your tickets to the match:
Once purchased, tickets cannot be changed, upgraded or refunded.
FC Barcelona reserves the right of admission.
FC Barcelona is not responsible for any ticket that has not been purchased through official channels.
If the ticket is damaged, torn or shows signs of forgery, FC Barcelona can forbid the bearer access to the premises.
Items not allowed to enter the premises include; alcoholic beverages, weapons or any kind of item that could be used as such. Flares, fireworks or any kind of flammable object. The introduction and exhibition of banners, symbols, emblems or slogans that might incite violence.
Ticket holders will not be allowed entrance to the stadium while; Being under the sanction forbidding entry to any kind of sports facilities. Being under the effects of alcoholic drinks, narcotics, psychotropic drugs, stimulants or similar substances.
This ticket cannot be used for promotional purposes, nor can it be resold without the explicit permission of FC Barcelona.
Please note that all spectators – including children under the age of eight – must have a valid ticket.
Standing in the stands is forbidden. Please remain in your allocated seat.
In order to guarantee safety within the stadium and to comply with the regulations in force, FC Barcelona may deny access to the stadium to fans wearing clothing or emblems of the rival team.
Fans of the rival team have to purchase tickets by contacting their respective club.
Showing your tickets
Match tickets include a QR Code, which is scanned by the turnstiles at the gates of the stadium. You can either print your ticket out or show it directly from your phone.
Personally, I like to save my tickets to Google Drive. That way, if something happens to my phone or the battery runs out, I can still access my tickets from a friend's phone. Another alternative, when traveling as part of a group, is to share your tickets via email or WhattsApp.
Finding your seats
The position of your seats in the stadium is defined by ACCESS, GATE, BOCA, ROW and SEAT.
ACCESS refers to the point of access to the grounds around the stadium from the street outside. There is usually a short queue here as everyone entering the stadium is searched by security guards looking for prohibited items.
GATE is the entrance to the stadium itself, where you have to scan the QR code on your ticket, and your ID may be checked. At this point, you enter the concrete superstructure of the stadium and climb some stairs up to the stands.
BOCA is the gate out to the stands, where the seats are. As you come out of the "boca" and walk down the aisle between the rows of seats, there are metal plaques with the row number at the end of each row.
Seat numbers alternate so that all of the even number seats of a row are to one side of the aisle, and all of the odd numbers are to the other side. This means that if you've purchased a pair of seats on the same row, they should both either be even or odd numbers. The only exception will be if they are on either side of an aisle.
Food and drink inside the stadium
You are allowed to bring your own food and drink into the stadium. The only restriction is that drinks must be non-alcoholic, in plastic bottles and not more than 500ml.
You will be searched at the entrance to the stadium, and any alcohol, oversized plastic bottles, glass bottles or cans will be taken from you and disposed of.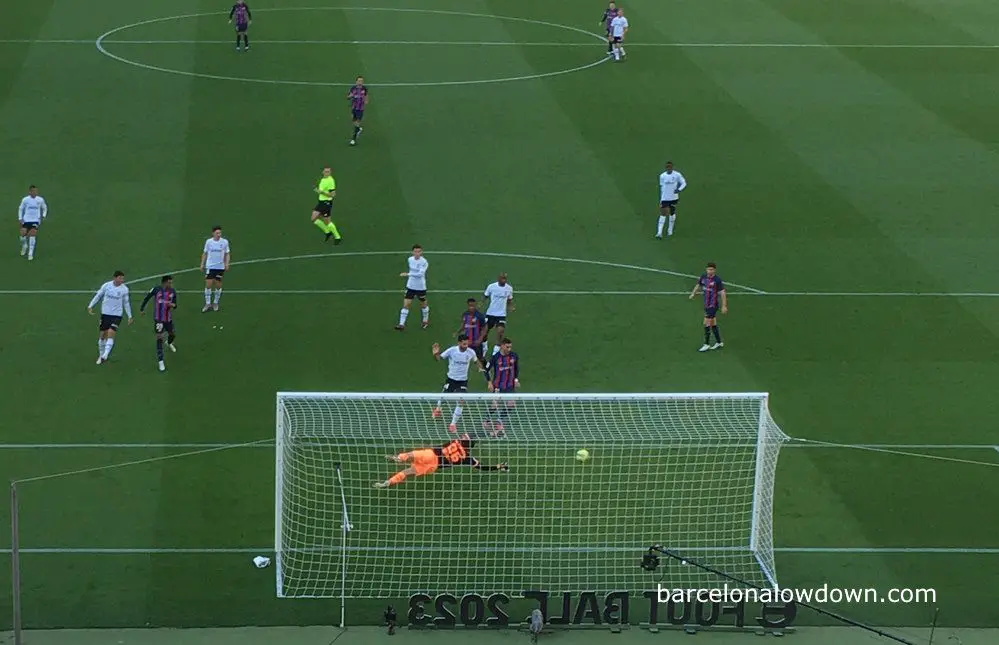 Chants, songs and traditions
Barça fans are called Culers, which is derived from the Catalan word for backside. The name dates back to before Camp Nou was built when the club played in a smaller stadium. Apparently, when the ground was full, fans used to sit on the perimeter wall, and as you approached, you'd see a row of backsides hanging over the wall.
When Barça play at home, the club's anthem is played over the tannoy system shortly before kickoff. The anthem was written during the nineteen seventies and is basically a statement of unity and encouragement for the players. I've included the lyrics below, but even if you don't have time to learn the words, you can still join in with the crowd shouting "Barça, Barça, Bar-ça" at the end of each verse.
Tot el camp
és un clam
som la gent blau-grana.
Tant se val d'on venim
si del sud o del nord
ara estem d'acord, estem d'acord,
una bandera ens agermana.
Blau-grana al vent
un crit valent
tenim un nom
el sap tothom:
Barça, Barça, Barça!
Jugadors
Seguidors
tots units fem força.
Són molts anys plens d'afanys,
són molts gols que hem cridat
i s'ha demostrat, s'ha demostrat,
que mai ningú no ens podrà tòrcer.
Blau-grana al vent
un crit valent
tenim un nom
el sap tothom:
Barça, Barça, Barça!
Throughout the game, you'll hear fans chanting to encourage the players; this is especially true if you are seated at the northern end of the pitch where the die-hard fans sit. This video from YouTube includes thirty of the most popular fan chants with English subtitles.
5. After the match
Leaving the stadium & catching the metro back to your hotel after the game
Camp Nou is a relatively modern stadium, and despite the high capacity, there are plenty of gates, and things are organised in such a way that the crowd can leave the stadium quite quickly.
The bottleneck comes when the crowd reaches the metro system. As I said above, the metro really is the best way to get to a match, and prior to the match, although the metro is more crowded than usual, things still go quite smoothly. This is because fans arrive progressively during the two-hour period leading up to the game. However, when the match finishes, up to a hundred thousand fans descend on four metro stations; the metro stations and trains are therefore very crowded.
There are two possible ways to avoid the crowds;
Leave the match five minutes before it finishes.
Remain in the stadium for half an hour after the match finishes.
Whichever option you choose, if you are using the metro to return to your hotel, I recommend you walk to the stop prior to Camp Nou and catch the metro from there. That way, you'll board the train before it gets crowded.
If you are catching the L3 green line, you should walk to the Zona Universitaria metro station.
If you are catching the L5, blue line, walk to Ernest Lluch.
By walking an extra five minutes, you should avoid the crowds at the metro stations, although many locals use the same trick so you won't be alone.
Where to celebrate with other Barça fans
After the match, fans traditionally celebrate at the Canaletas Fountain, which is an old cast iron fountain at the end of the La Rambla near Plaça de Catalunya.
This tradition dates back to the 1930s when a local newspaper had its headquarters in front of the fountain. In an era before TV, fans who weren't at the game used to wait outside the newspaper's offices to hear the results.
If you don't want to wait until you get to the Canaletas Fountain to celebrate, then you'll find plenty of bars in the streets surrounding the ground where fans congregate to watch the match and celebrate the club's victories.
Other Barça related things to see and do in Barcelona
If you're in Barcelona to see a match, then you'll undoubtedly want to see some of the city's most popular sights, such as the Sagrada Familia, Park Güell and the Gothic Quarter. Here are a few ideas for other Barça related sites which you can visit:
1. The Camp Nou Experience & FC Barcelona Museum
Even when there isn't a match on, Camp Nou is one of the most popular attractions in Barcelona. The Camp Nou Experience gives access to the changing rooms, the pitch, the dugout, press boxes and the FC Barcelona museum, which is home to Barça's impressive collection of trophies and explains the club's history.
Although you can visit the museum up until three hours before kickoff, the tour of the stadium isn't available on match days, so I recommend you visit the day before. That way, you can learn more about the club and buy any last-minute merch at the Barça Store.
Read my full article about the Camp Nou museum and tour here >>
2. Canaletas Fountain
The Canaletas Fountain is a relatively unobtrusive cast iron fountain located on Las Ramblas, near Plaça de Catalunya. This is where Barça fans congregate to celebrate the club's victories, a tradition which dates back to the 1930s.
Tradition has it that anyone who drinks from the Canaletas Fountain is sure to return to the city.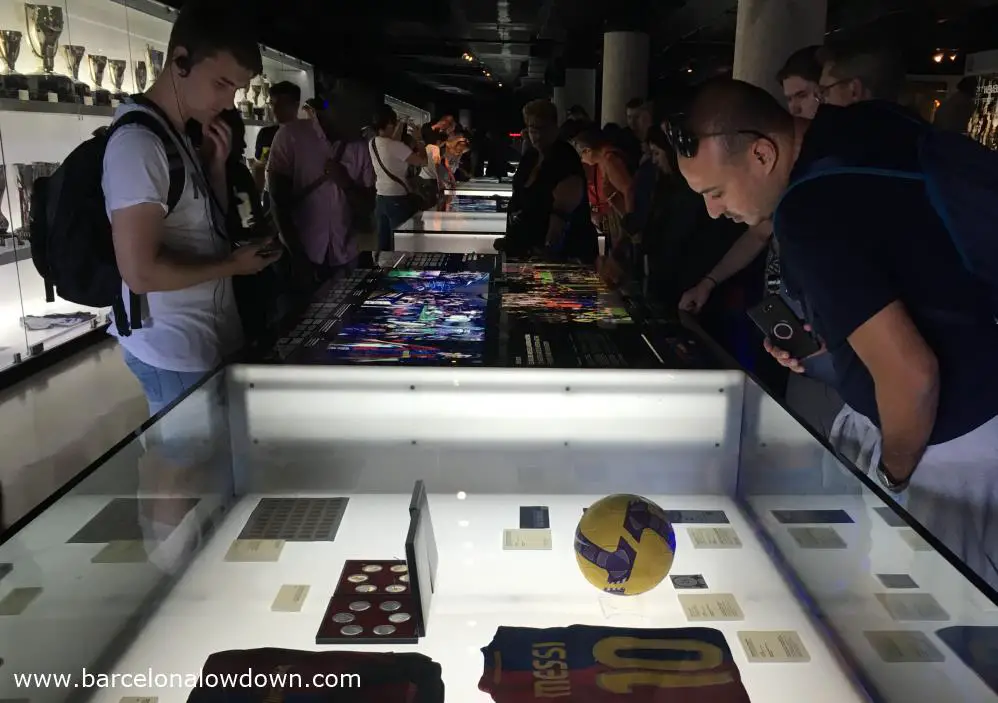 Other places to watch Barça play in Barcelona
If you haven't got a ticket to see the match at Camp Nou, if Barça is playing when you're in Barcelona, I highly recommend that you watch the match with the locals in a bar.
It's an overused stereotype, but football really is much more than just a game in Barcelona, and when there's a match on, the city's bars set up TV screens and fill with people watching their team play.
I recommend you choose a bar close to your hotel and enjoy the game with the locals. If it's an important match, you should arrive early to secure a seat, and even then, you may find that the best seats have already been reserved by regulars.
If you prefer to watch the game with other English speakers, then there are plenty of Irish Pubs and Sports Bars, all of which show football on large screens.
---
Did I miss anything? As always, if you've any questions, leave a comment below, and I'll get back to you as soon as I can.