If you found this post whilst searching for a list of the best places to eat brunch in Barcelona, you may want to click the back button now! Let's face it, as much as I enjoy hash browns, French toast, huevos rancheros or broccoli and cheese frittata. The truth is, the majority of Barcelona residents don't do brunch.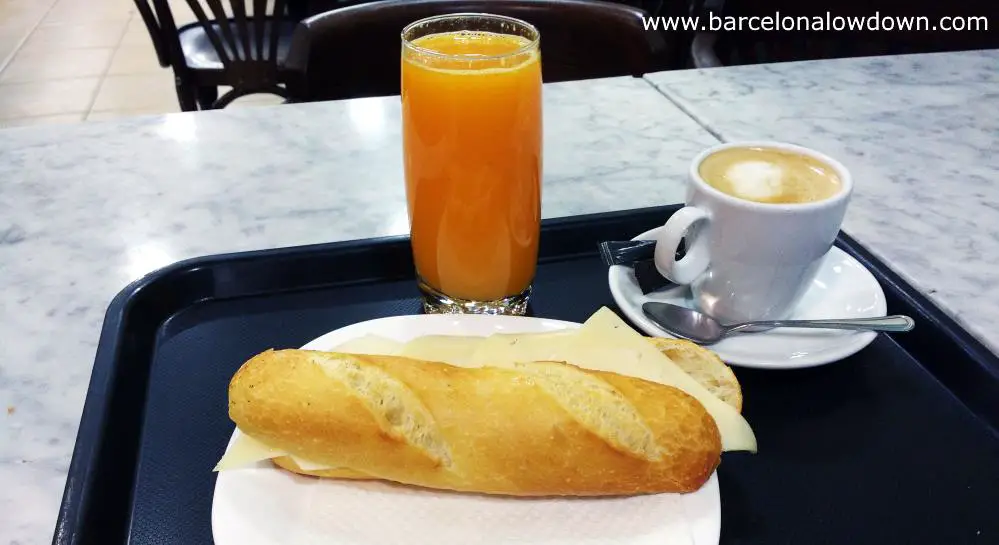 How to Eat Breakfast Like a Local in Barcelona
Most people start the day with a cup of coffee, either at home or in a bar on the way to work. Later in the morning, at around 10 o'clock, they stop whatever they're doing to eat a second more substantial breakfast.
This second breakfast typically consists of a pastry or a small baguette sandwich accompanied by coffee and perhaps a glass of freshly squeezed orange juice. Other popular breakfast items include bikini (a toasted cheese and ham sandwich), pa amb tomàquet (bread rubbed with tomato, garlic and a drizzle of olive oil) or a slice of Spanish omelette.
At the weekend, you might go to a Granja or Xocolateria and have a cup of thick hot chocolate (xocolata desfeta) accompanied by melindros (sponge fingers) or churros. You could also try a suís, which is hot chocolate topped with a generous cap of whipped cream.
The best known granjas in Barcelona are Dulcinea, Xocoa and Granja la Pallaresa, all located on Carrer de Petrixol.
Alcohol at breakfast time is also perfectly acceptable in Barcelona. While not exactly the norm, it's not uncommon to see someone enjoying a glass of beer, a cigaló (coffee with brandy) or a shot of anís for breakfast.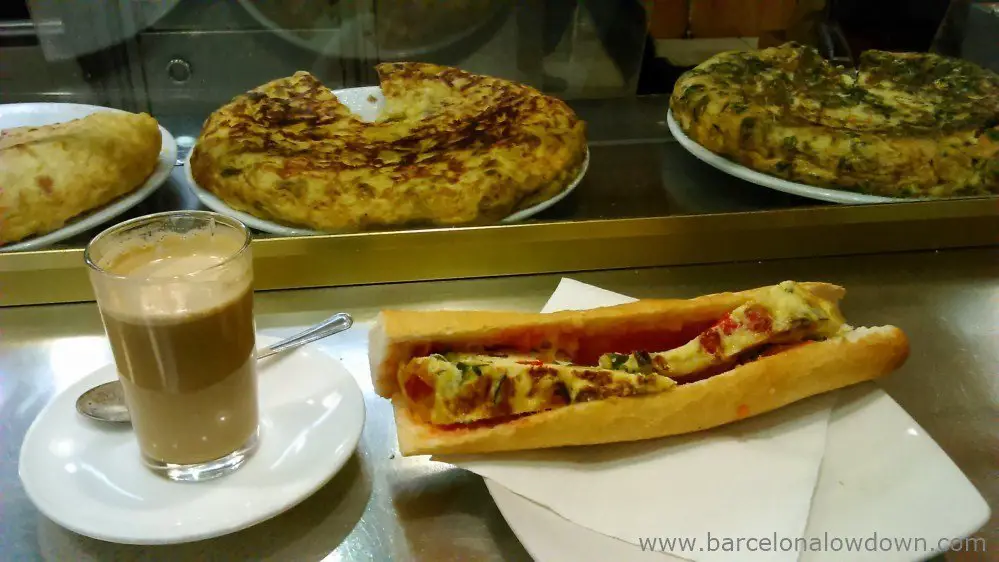 Know your coffee
Coffee is the mainstay of any Spanish breakfast and comes in several varieties. Most visitors are familiar with café con leche, which is the milky white coffee commonly drunk at breakfast. In fact, there are half a dozen different ways to get your daily dose of caffeine:
1. Cafè Sol (Spanish: Café Solo)
A cafè sol (or simply cafè) is a single espresso coffee, which is commonly consumed at any time of day and in all situations. Coffee in Spain is of good quality and quite strong.
2. Tallat (Spanish: Cortado)
A tallat is an espresso with a dash of milk and is commonly drunk after meals or in the afternoon.
3. Cafè amb Llet (Spanish: Café con Leche)
Cafè amb llet is white coffee made with a double dose of coffee and an equal quantity of milk. Commonly drunk for breakfast, the waiter will generally ask you whether you want the milk hot or at room temperature. As you travel around Spain, you will discover that the amount of milk added varies from region to region.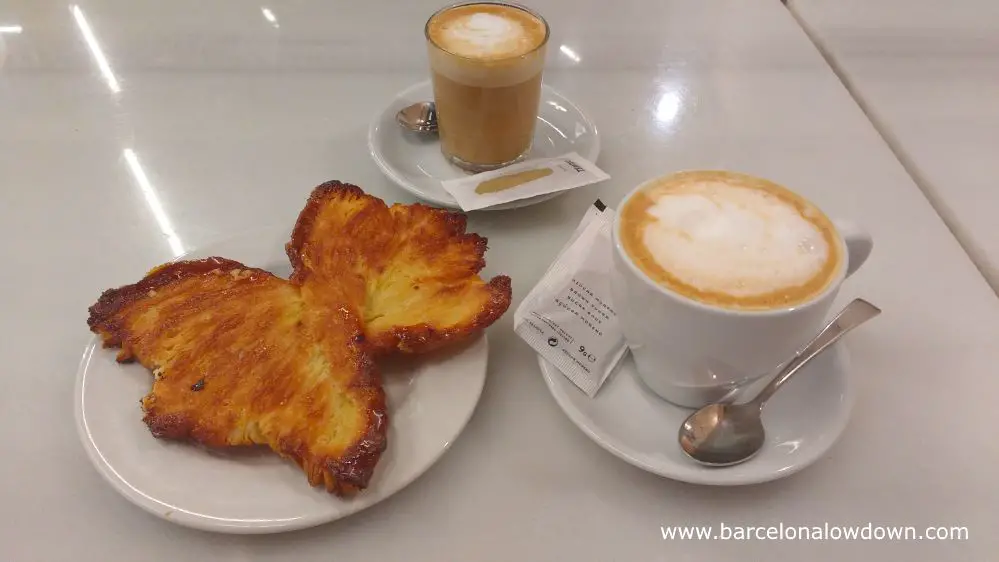 4. Cafè bombó (Spanish: Café bombón)
Sometimes called simply coffee with condensed milk, Café Bombón is just that. Too sweet and sickly for some, it's typically served in a small glass so that you can see the condensed milk, which settles to the bottom of the glass. You stir the two parts together before drinking.
5. Cafè amb Gel (Spanish: Café con Hielo)
Popular during the hot and humid months of summer, and best enjoyed sat in one of Barcelona's charming plazas. Cafè amb gel is served in two glasses, a small glass with a hot cafè sol and a second larger glass with one or two ice cubes.
The idea is that you stir the sugar into the hot coffee before pouring it over the ice in the larger glass. You might expect the ice to melt, leaving a tepid and insipid mess but, due to the laws of physics, the coffee gets very cold while the ice cube(s) remain almost intact.
6. Cigaló (Spanish: Carajillo)
Cigaló is an espresso topped up with alcohol, usually brandy, commonly drunk for breakfast, although it can be ordered at any time of day. Not for the faint-hearted; it's typically drunk by old men sitting at the bar.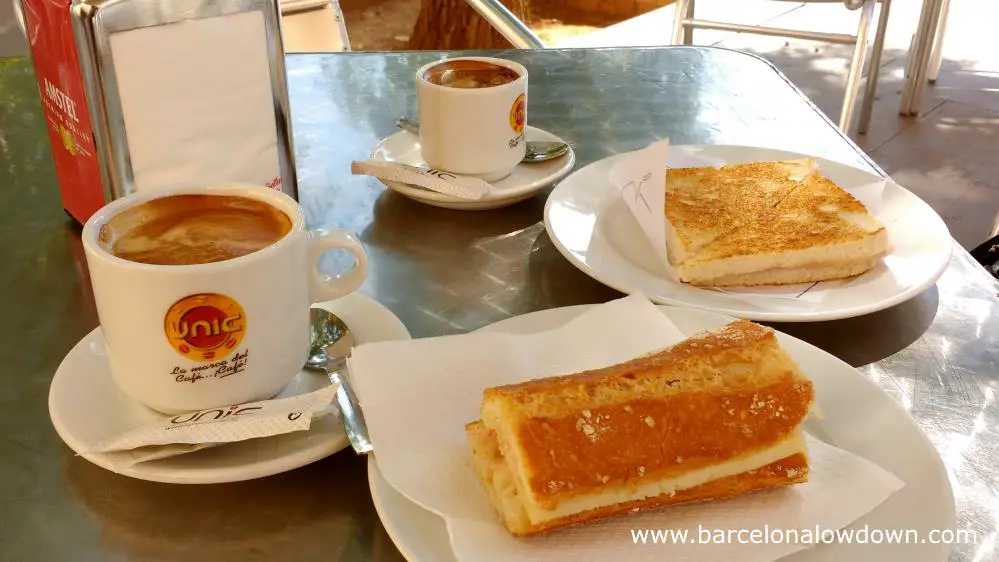 Where to Eat Breakfast Like a Local in Barcelona
The best way to enjoy breakfast like a local is to eat breakfast with the locals.
For this reason, instead of listing my favourite places, I'm going to recommend that you eat breakfast in one of the small bars or restaurants close to your hotel or apartment. If you see that one of them is frequented by locals – go there!
Alternatively, you could head to one of Barcelona's many charming plazas and enjoy an alfresco breakfast as you watch the world go by.
Best Brunch Spots in Barcelona
Not convinced? If you prefer a more gourmet or gastronomically extensive breakfast, check out these lists of the best places to eat brunch in Barcelona, compiled by some of my favourite Barcelona foodie and travel blogs.