Most shops and supermarkets in Barcelona don't open on Sunday, which is good news for people who work in shops, but not so great for tourists, especially for visitors who arrive in Barcelona on a Sunday or simply weren't organised enough to get the beers in on Saturday.
Fortunately, there are exceptions, and whether you're renting an apartment and want to buy a few beers to put in the fridge or fancy a nice bottle of wine to accompany a picnic, this post will help you find somewhere to purchase alcohol in Barcelona on Sunday.
On Sunday, you can buy alcohol in Barcelona at Condis Express and SuperCOR Expres supermarkets and innumerable smaller convenience stores. Several food delivery apps will deliver beer and wine on Sunday and in popular tourist areas, you'll encounter street vendors selling cans of beer.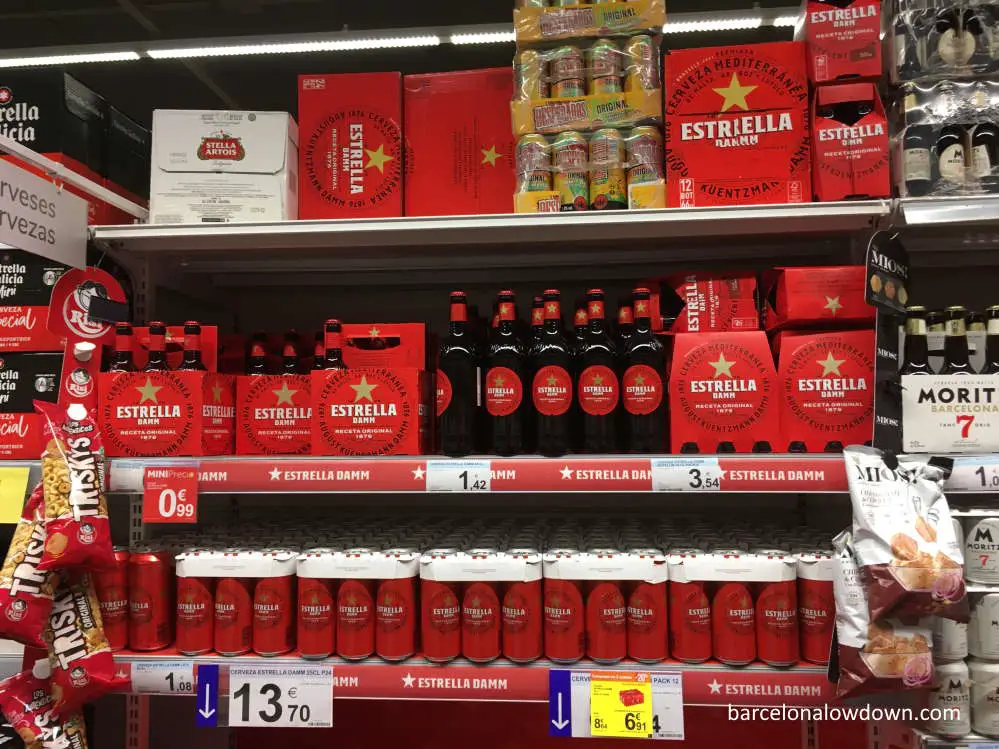 Opening hours and legalities
Most supermarkets in Barcelona are open from nine or ten am until nine in the evening. Smaller supermarkets and convenience stores stay open later, but they aren't legally allowed to sell alcohol after eleven o'clock in the evening.
Drinking in public places in Barcelona
Although binge drinking and the associated bad behaviour are uncommon in Spain, the Spanish do like to party. In addition to bars and nightclubs, which stay open until after dawn, the Spanish have evolved a unique drinking tradition known as "botellón".
A botellón is an impromptu party, where young people gather in a park, plaza, at the beach or other public places and drink beer and spirits which they've brought with them from home or purchased in a nearby supermarket.
During the early 2000s, these open-air parties became so common in some areas of Barcelona that residents began to complain about the noise. In 2012 Barcelona city council passed a new law making it illegal to drink alcohol in public spaces.
The law is principally intended to prevent large gatherings and drunken stag dos. As long as you behave in a civilised manner and don't make a nuisance of yourself, it's highly unlikely that you will be fined for having a few beers on the beach with friends. Likewise, you shouldn't be concerned about having a couple of beers or a bottle of wine with your picnic in the park. As long as you behave yourself, the police will usually turn a blind eye.
Street hawkers & beach vendors
The popularity of botellóns, combined with the fact that supermarkets aren't allowed to sell beer after ten, have given rise to street vendors specialising in selling beer. At night, beer sellers can be found throughout the Gothic Quarter and the Raval neighbourhood selling cans of beer to revellers.
Needles to say, the beer sellers aren't licensed, and it's illegal to purchase beer from them. During the day, the very same beer sellers patrol the beach, selling cold water, beer, soft drinks and snacks to sunbathers.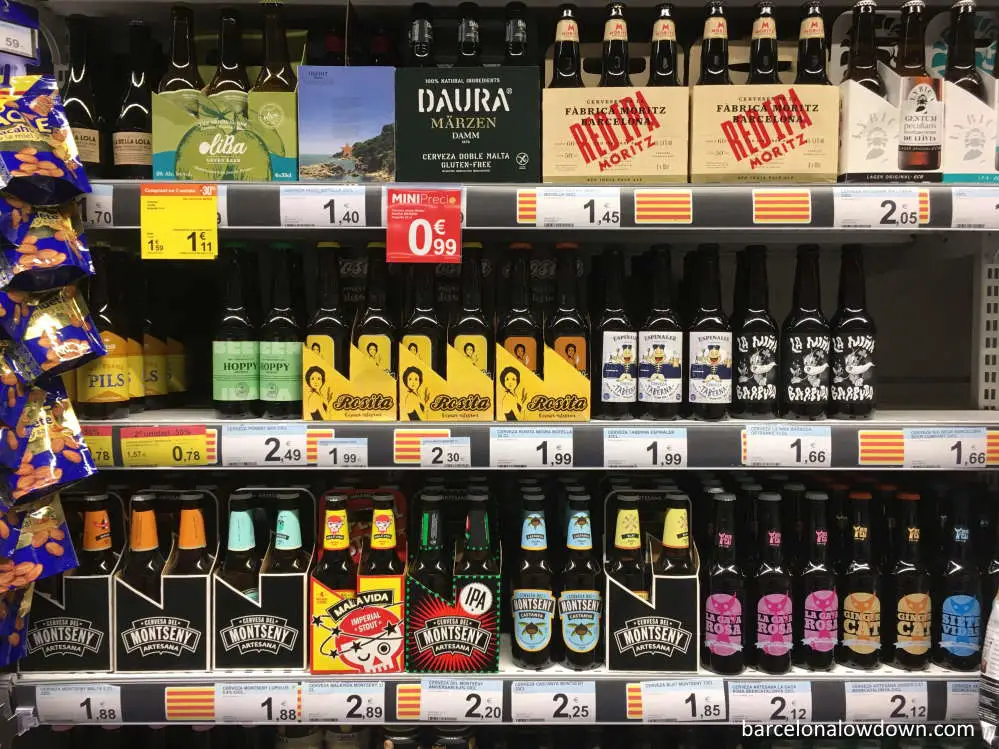 Food delivery apps
Another option for purchasing alcohol in Barcelona on Sunday is to have your beverages delivered to your apartment using a food delivery app.
The most popular delivery apps in Barcelona are Glovo, Justeat, Deliveroo and Ubereats. When you purchase drinks through an app, the rider does your shopping for you and the app charges a commission.
How much does beer cost in Barcelona?
The price of a 33cl can of beer in a Barcelona supermarket ranges from around fifty-five cents for typical Spanish lagers such as Estrella Damm or San Miguel to approximately €2.50 for a bottle of craft beer. Convenience stores usually charge about fifteen to twenty cents more than supermarkets.
At the time of writing, an eight pack of Heineken purchased via Glovo costs €7.29 plus a €2.99 surcharge for orders under €20. Street vendors ask between €1.50 and €2.50 for a can of Estrella Damm.
Supermarkets which sell alcohol on Sundays
There are more than fifty Condis Express supermarkets in Barcelona. There's a complete list with addresses on their website here.
SuperCOR has a dozen SuperCOR Expres supermarkets in Barcelona. You'll find a list of the stores and their addresses on the company's website here.
Map of supermarkets in Barcelona that sell alcohol on Sunday
I've marked the sixty-plus Condis Express and SuperCOR supermarkets that sell beer, wine and spirits on Sundays on the map below. You can also zoom in and search for convenience stores, most of which sell alcohol and are open on Sunday.