If you visit Barcelona during the summer, the chances are, you'll want to spend some time on the beach. The city boasts over 4km of sandy coastline, and Barcelona's beaches are great places to relax after spending the morning visiting the city's many cultural attractions or after a long night partying at one of the city's many nightclubs.
If you plan to spend more than an hour or so on the beach, then you'll want to get yourself a beach umbrella to provide some shade. Although there are several places that hire out beach umbrellas and sun loungers, they're pretty expensive, and it will almost certainly work out cheaper to buy your own.
Beach umbrellas, beach towels and other beach accessories can be purchased from department stores and larger supermarkets. If you only plan to use them for a few days, you can pick up a cheap beach umbrella for as little as €15 from one of the ubiquitous Chinese Bazaars found throughout Barcelona. A beach towel will cost between five and ten Euros.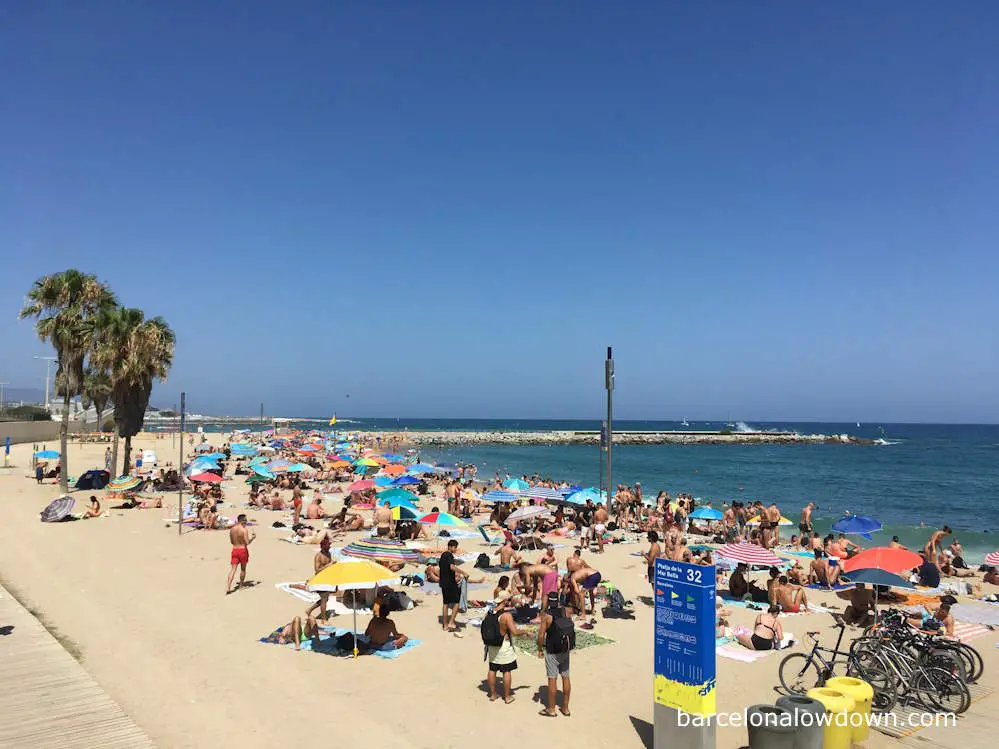 What to take to the Beach in Barcelona
I recommend you take as little as possible to the beach, and you should undoubtedly leave your valuables locked away safely at your hotel. Barcelona is a very safe city, but there are pickpockets on the beaches that prey on unwary sunbathers who fall asleep or careless swimmers who leave their valuables unattended.
Having said that, if you're going to be spending a few hours on the beach, then you'll want to go equipped with a beach umbrella, beach towel, sunscreen (factor thirty or higher) and a large bottle of water to keep yourself hydrated.
Water and other drinks can be purchased at the beach bars or from the hawkers who walk the beach selling beer and other beverages. However, it's considerably cheaper to buy snacks and bottled drinks from the supermarket and bring them with you.
Likewise, beach umbrellas and sun loungers are available for hire on some stretches of the beach, but they're quite expensive. Obviously, parasols and sun loungers are bulky items and it's unlikely that you'll be able to fit them into your luggage. Fortunately, there are plenty of places where you can purchase cheap beach umbrellas, folding chairs and other accessories in Barcelona.
Even beach towels take up quite a lot of suitcase space, and most hotels don't like guests taking their freshly laundered towels to the beach. Luckily beach towels and mats are also available cheaply.
Where to buy a beach umbrella, beach towel and other accessories in Barcelona?
There are plenty of places to purchase beach equipment in Barcelona.
1. Chinese Bazaars
Chinese Bazaars are a common feature of all Spanish cities. They're privately run shops that sell a wide range of products at very low prices, most of which has been imported directly from China.
Although privately owned and not a franchise, most of the stores sell a similar range of products at about the same price. During the summer, they all sell a range of cheap beach accessories. The quality of the products reflects the low prices but is generally OK for occasional use, and they should last for at least the duration of your holiday.
There are so many Chinese Bazaars in Barcelona that it would be impossible to list all of them.
To find the nearest one to your hotel, type "Basar Xinès" into Google Maps, and it should throw up a selection of shops in the area. Alternatively, I've included a few of the shops which are nearest to the beach in the map below.
Approximate prices:
| Description | Approximate price |
| --- | --- |
| Beach umbrella | €15 to €25 |
| Beach towel | €5 |
| Folding chair | €15 to €25 |
| Sun lounger | €30 |
| Beach mat | €3 |
| Inflatable mattress | €15 |
| Inflatable unicorn pool toy | €15 |
| Picnic cooler | €10 to €25 |
2. Large Supermarkets
During the summer months, most large supermarkets and hypermarkets in Barcelona also stock a range of beach equipment.
Larger stores from the Carrefour chain, for example, stock a range of beach equipment at different price points. At the low end of the scale, the price and quality are similar to the products sold in the Chinese bazaars. If you prefer to spend a little more, they also do stock better quality items at only slightly higher prices.
You can check out the full range and prices on the Carrefour website although you shouldn't expect to find the full selection shown on the web in store. The smaller Carrefour Market and Carrefour Express stores mainly sell food, drinks, personal hygiene and cleaning products and don't normally stock beach equipment.
The Carrefour stores listed below are ones which I've personally visited and checked that they do stock beach umbrellas, beach chairs and towels.
Carrefour Les Glories
Calle Les Glories, esquina Calle Llacunna, 155
Centro Comercial Les Glories
08018 Barcelona
Carrefour Gran Vía L´Hospitalet
Avenida Gran Vía, 75-93
L´Hospitalet del Llobregat, 08908 Barcelona
Other supermarket chains which are worth checking out include Alcampo and Lidl.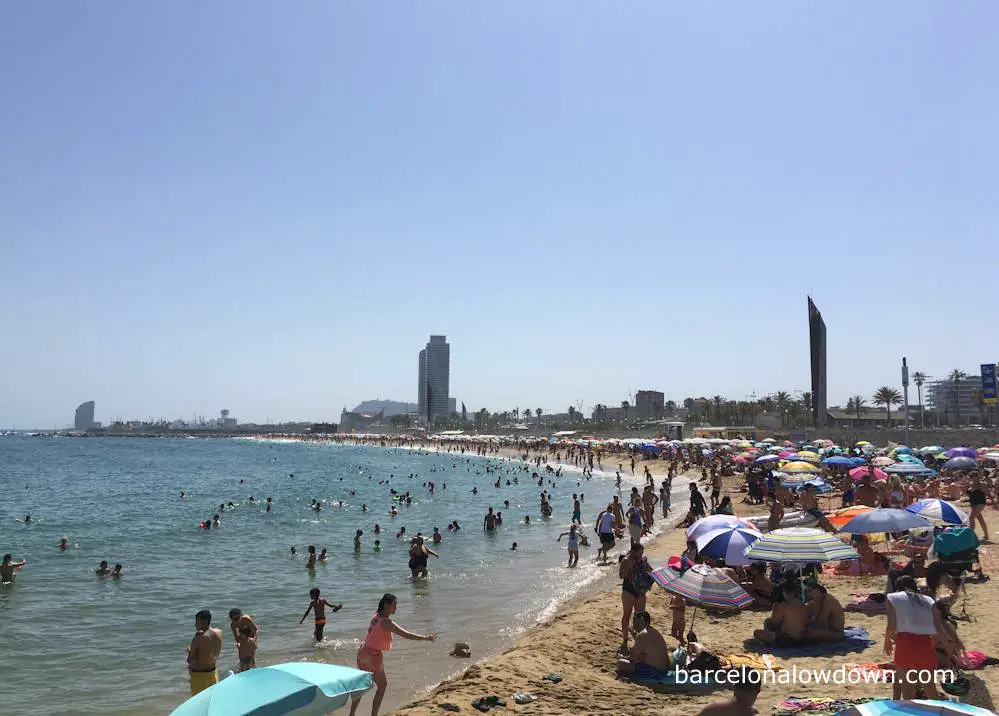 3. Sports and leisure stores
The French-owned sports and leisure equipment chain Decathlon also has several Barcelona stores that sell a range of own-brand beach accessories and beachwear.
Prices and quality are similar or slightly better than the products sold in the Chinese bazaars.
You can check out the full range of products on the Decathlon website and order online for in store pickup.
Decathlon Ramblas Barcelona
Carrer de la Canuda, 20
08002 Barcelona
Decathlon Gràcia Barcelona
Carrer Gran de Gràcia, 54
08012 Barcelona
Decathlon l'Illa Barcelona
Diagonal, 557
08029 Barcelona
Decathlon Diagonal Mar
Avinguda Diagonal, 3
08019 Barcelona
4. Department stores
El Corte Inglés is by far the largest department store chain in Spain, with almost a hundred stores that famously stock pretty much everything you could possibly need. In fact, they sell mostly clothing plus items for the home, although the larger stores do include a supermarket, DIY, books, music, games, restaurants and even a travel agency.
There are seven El Corte Inglés stores in Barcelona which stock a mixture of own label and top brand products. El Corte Inglés has a reputation for being expensive, primarily because they stock a lot of expensive brands such as Tomy Hilfiger, Armani, Ralph Lauren, etc.
Having said that, their own brand products are good value for money, and they have sales twice a year (winter and summer), often with significant discounts where you can pick up a bargain.
The largest El Corte Inglés store in Barcelona is in Plaça de Catalunya.
Expect prices to be higher than in supermarkets and Chinese bazaars, but the quality is generally considerably better. You can check current prices on the El Corte Inglés website. A handy feature of the website is that it shows you which store stocks each of the items listed. They also offer click and collect.
El Corte Inglés Pl. Catalunya
Plaça de Catalunya 14
El Corte Inglés Portal de l'Ángel
Av. Portal de L'Àngel 19
El Corte Inglés Diagonal
Av. Diagonal 617
Map