Barcelona is a shopper's paradise with an abundance of department stores, boutiques, flea-markets and artisan shops where you can pick up a unique and authentic memento of your trip.
With so many options to choose from it can be hard to know where to start. Add to that the fact that holiday time is short and suitcase space limited. For one reason or another, we often find ourselves shopping for souvenirs at the airport.
Fortunately, Barcelona airport boasts a wide range of stores where you can pick up that last-minute souvenir or gift for friends and family back home.
From Barcelona themed fridge magnets and keyrings to jewellery and high-end fashion, there's something to fit all budgets and tastes.
To help you make the most of the time before you board your flight, I've compiled a helpful list of the best souvenirs and gifts that you can buy at Barcelona airport.
Food and Drink
Whenever I travel back to the UK I always pack a few gifts for friends and family. Top of the list are Vermouth, Cava (sparkling wine similar to champagne), Turrón (Spanish nougat) and other locally produced sweets.
Vermouth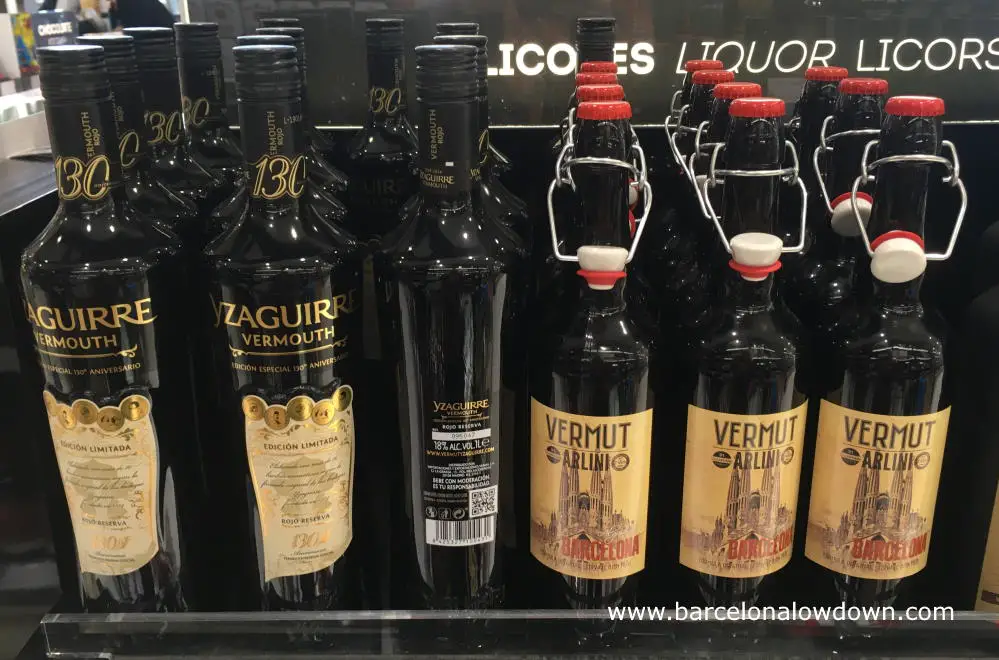 Vermouth is a popular aperitif that is drunk as an appetiser before lunch, normally accompanied by olives or other snacks.
The drink is so much a part of Barcelona life that it's actually spawned a verb (fer el vermut) which means meeting with friends at a bar to have a drink (not necessarily vermouth) before lunch.
You can get a taste for the fortified wine at bars and bodegas throughout the city.
There are several brands available at the airport. My favourite is Yazzaguire Vermouth which is brewed to a traditional recipe in Reus (Tarragona).
What to buy
Yzaguirre Vermouth
Where to find it
Express Duty-Free
---
DIY Paella Kit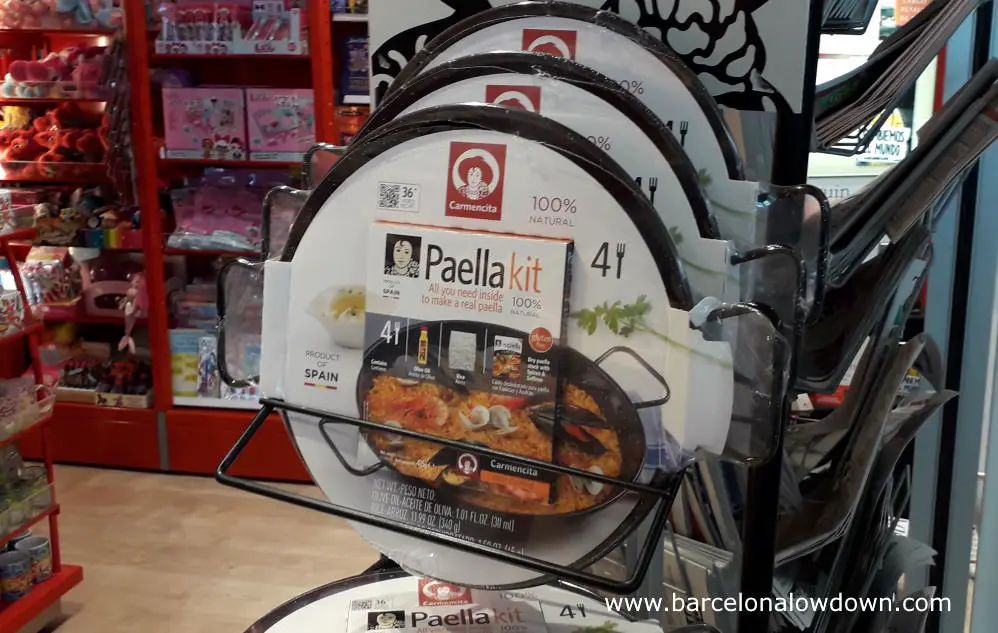 The Spanish rice dish Paella originates from Valencia and is very popular throughout the country. There are plenty of restaurants in Barcelona that specialise in paella, many of which are located near the beach in the Barceloneta neighbourhood.
This handy kit contains almost everything you'll need to make authentic paella when you get back home including a paella (the pan from which the dish takes its name), arròs bomba (round grain rice), olive oil, and paella seasoning. The only things missing are vegetables, seafood and/or meat.
Note: Despite what Jamie Oliver and Gordon Ramsay would have you believe, chorizo is not commonly included in paella recipes in Spain.
What to buy
Paella Kit
Where to find it
Relay (serves 4) or Express Duty-Free (serves 2)
---
Catànies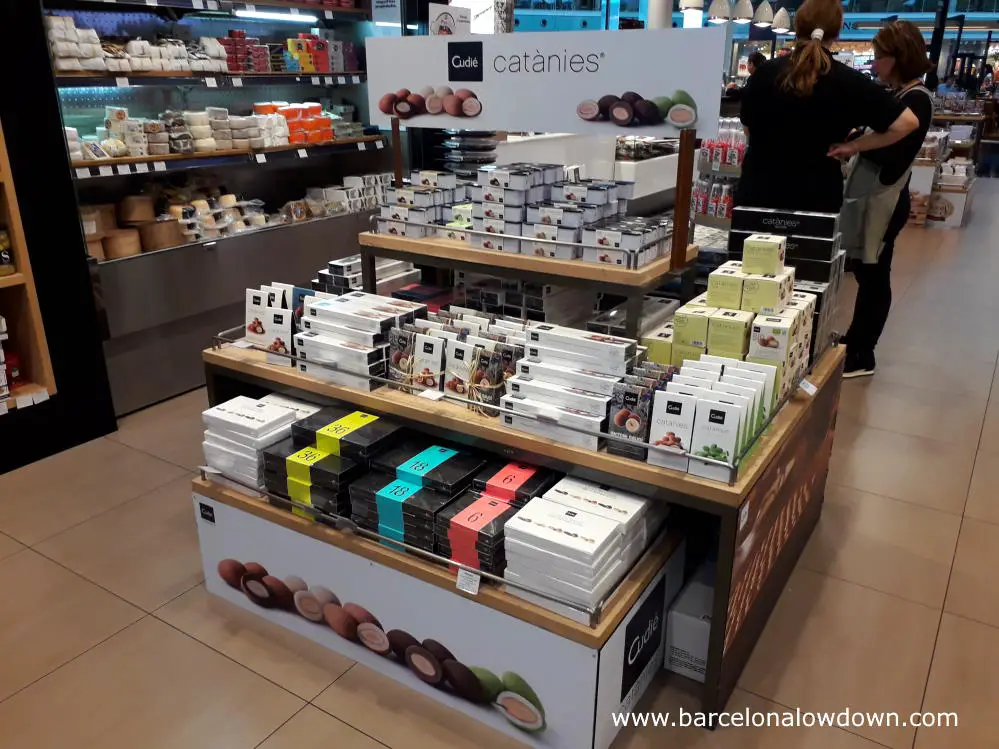 Cataniès are a traditional sweet which originates from Vilafranca del Penedès, just outside Barcelona. They are made from caramelized almonds coated with chocolate and dusted with cacao. Considered an ideal accompaniment for cava, Catànies are a popular gift at Christmas time
What to buy
Catànies
Where to find it
Sibarium Delicatessen
---
Fashion and Acessories
Barcelona is synonymous with fashion and there are plenty of high-end boutiques where you can shop for luxury clothes, bags and accessories.
Silk scarves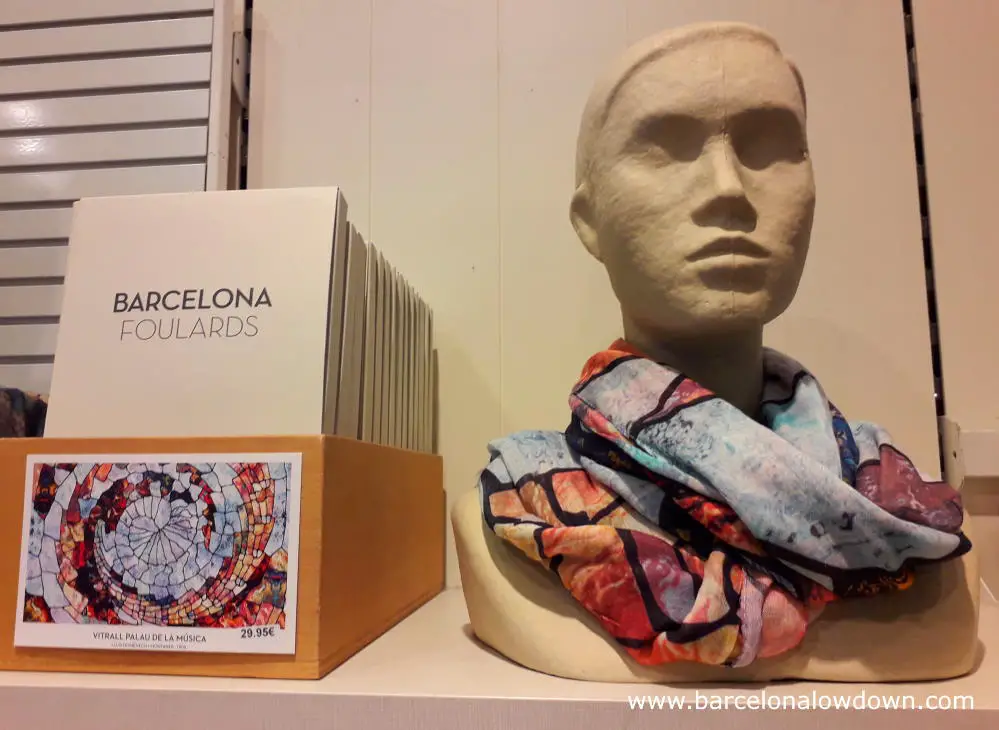 These lightweight silk scarves printed with designs inspired by some of Barcelona's best-known landmarks make an original souvenir or gift.
What to buy
Foulard scarf inspired by iconic buildings (Palau de la Musica, Sagrada Familia etc.)
Where to find it
La Mallorquina
---
Desigual, Barcelona Fashion and Accessories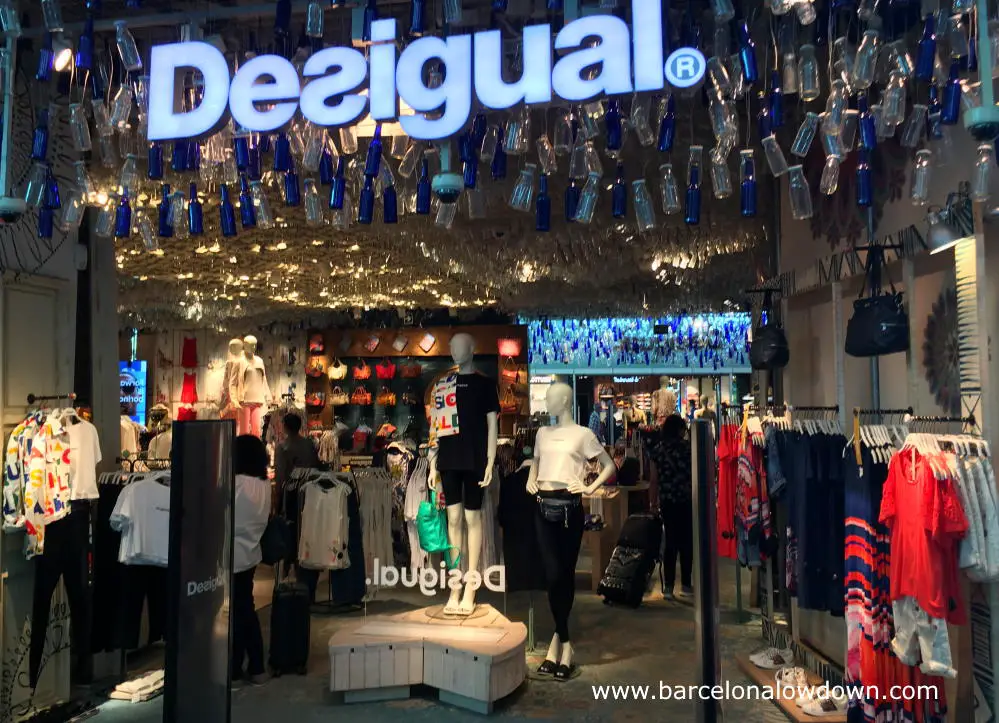 Originally from Ibiza, the Spanish fashion brand Desigual has its headquarters in Barcelona and stores throughout the city.
The combination of unconventional, colourful designs and affordable prices have become very popular. Their stylish, long winter coats are a staple of Barcelona women's wardrobes.
If there's space in your hand luggage, there are Desigual stores at both terminals of Barcelona airport.
What to buy
Desigual coat or handbag
Where to find it
Desigual
---
Barcelona Socks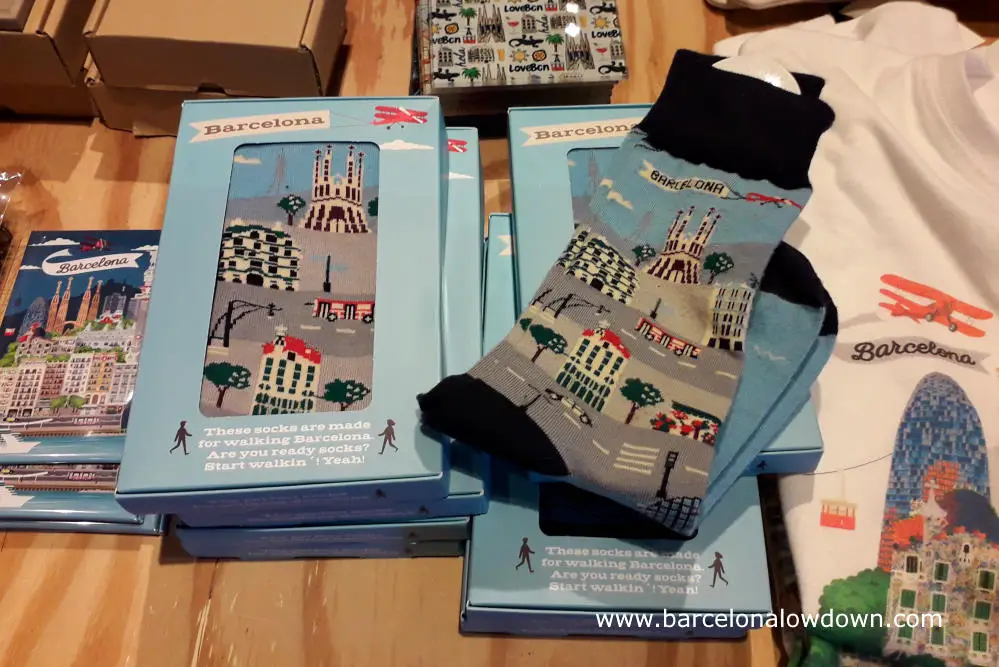 Looking for a gift for the man or woman who has everything? How about a pair of colourful Barcelona souvenir socks?
The slogan on the box is like a mission statement for Barcelona visitors:
These socks are made for walking Barcelona. Are you ready socks? Start walkin' Yeah!
What to buy
Barcelona socks
Where to find it
Natura
---
Gifts and Novelties
Caganer Figurines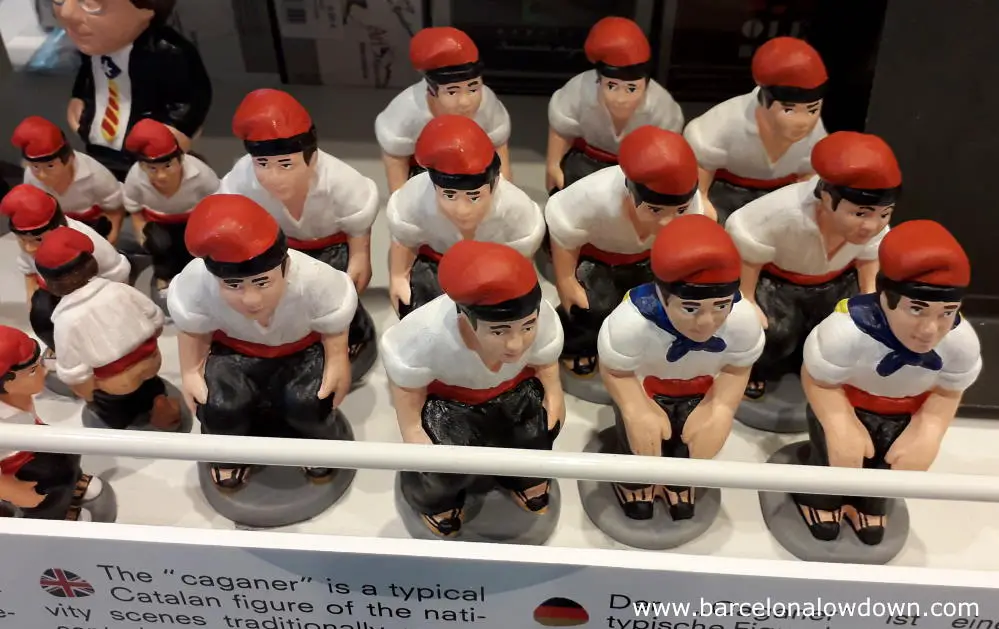 The caganer (literally: shitter) is a popular figure that adds a touch of humour to Catalan nativity scenes.
Classic caganers are portrayed dressed in Catalan national dress; a red sock cap, sash and espardenyas. In recent years they have been joined by celebrity caganers portraying politicians, celebrities and sportspeople.
Traditionally sold at Christmas markets during the run-up to Christmas. The cheeky figurines can be found at souvenir shops in Barcelona and at the airport throughout the year.
What to buy
Caganer
Where to find it
Thinking Barcelona
---
FC Barcelona Shirts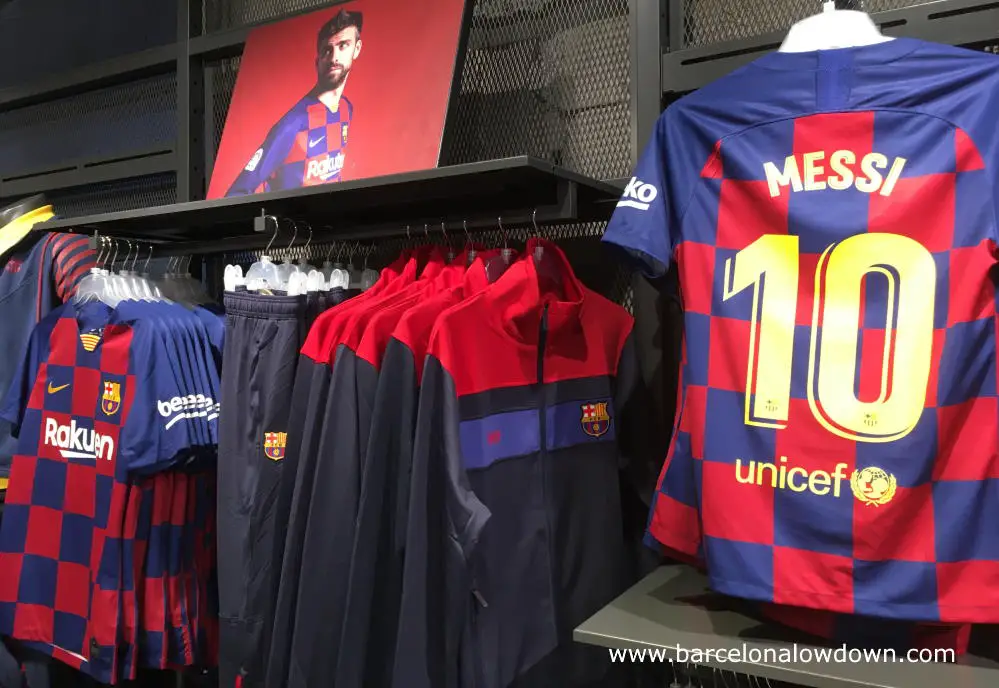 Another classic Barcelona souvenir, Barça shirts and strips can be purchased from official FC Barcelona stores at the airport.
There's a selection of other Barça branded items available including tracksuits, scarves, key-rings, pencil cases and caps, any of which would make an excellent gift for the football fan in your family.
What to buy
FC Barcelona Shirt
Where to find it
FC Barcelona Store
---
Flamenco Dress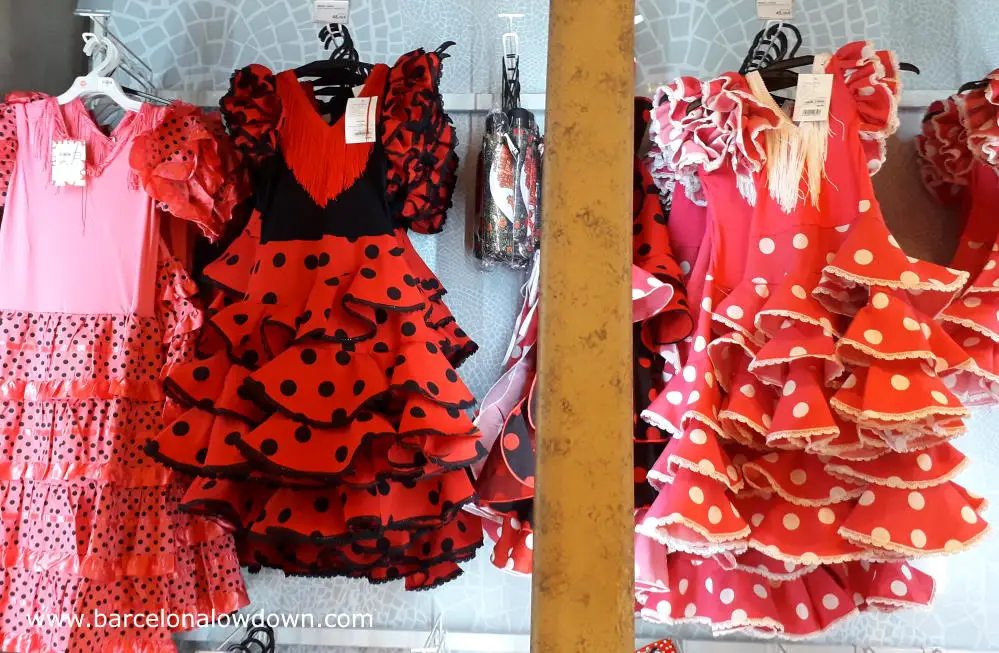 Flamenco originates from the south of Spain and is typically associated with Andalusian cities such as Seville, Jerez and Granada rather than Barcelona.
Authentic or not, if your daughter, niece or granddaughter is at the age where she loves dressing up then a frilled flamenco dress is sure to be a hit.
The dresses sold at Express Duty-Free cost €15, those at Thinking Barcelona are better quality and cost €45.
What to buy
Flamenco dress
Where to find it
Thinking Barcelona or Express Duty-Free