The Costa Brava, or Wild Coast, is the stretch of coastline which runs from Blanes, sixty kilometres northeast of Barcelona, to the French border. The area is known for its good weather, good food and pristine sandy beaches, and is one of the most popular holiday destinations in Spain.
The Costa Brava is served by two Spanish airports; Girona Costa Brava Airport (GRO) and Barcelona Airport (BCN). Although Girona Costa Brava Airport is closer and was purpose-built to serve Costa Brava resorts, such as Lloret de Mar and Tossa de Mar, Barcelona Airport is much larger and receives more flights. For this reason, it's often more convenient to fly to Barcelona Airport. This is especially true when travelling outside the peak holiday season.
This post covers how to transfer from Barcelona Airport to the Costa Brava. We compare various options so that you can make the best choice for your individual needs.
In a hurry?
Local bus company MOVENTIS operate a shared transfer service from Barcelona Airport to hotels and resorts on the Costa Brava with a large fleet of air-conditioned coaches and minibuses. An affordable compromise between convenience and price, for many visitors, this is the best way to get to the Costa Brava from Barcelona Airport.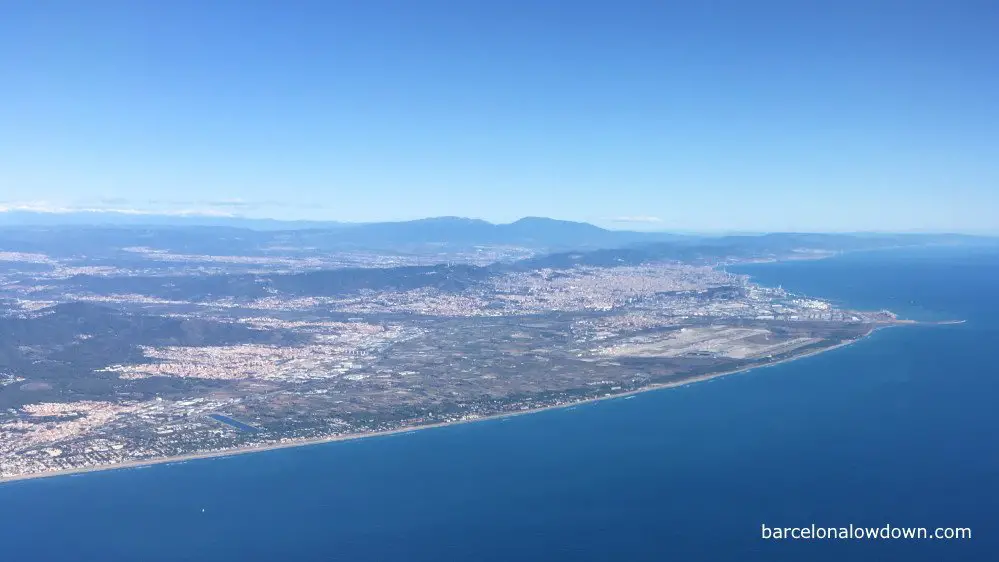 How to get from Barcelona Airport to the Costa Brava
From Barcelona Airport to the Costa Brava by train
There are no direct trains from Barcelona airport to the Costa Brava. In fact, the only train stations on the Costa Brava are Blanes at the southern end and Portbou to the north. Generally speaking, train travel to the Costa Brava involves taking the train to either Girona or Figueres and then catching a bus to your final destination.
The advantage of taking the train, followed by a local bus, when compared to taking a bus directly from the airport is twofold. Firstly, trains and local buses are more frequent than intercity buses; this is especially true if you will be travelling outside the main holiday season. Secondly, some of the smaller towns and villages on the Costa Brava don't have direct bus services, so you will have to change buses anyway.
If you want to transfer from Barcelona Airport to the Costa Brava by train, first you need to take the R2 Nord regional service from the airport (Terminal 2) to Barcelona Sants train station, in the city centre. The journey takes about twenty minutes, and there are departures every half an hour. There's more information about the airport train in this post.
If your flight lands at Terminal 1, there is a free shuttle bus connecting from Terminal 1 to Terminal 2. The shuttle buses depart every five minutes and take about fifteen minutes. There's more information in the post linked above.
High-speed AVE and AVANT trains run from Barcelona Sants to Girona and Figueres Vilafant train stations. Both of these cities are travel hubs with frequent bus and coach services to the Costa Brava.
It takes just under forty minutes to travel from Barcelona Sants to Girona by high-speed train. From Barcelona to Figueres Vilafant takes approximately fifty-five minutes.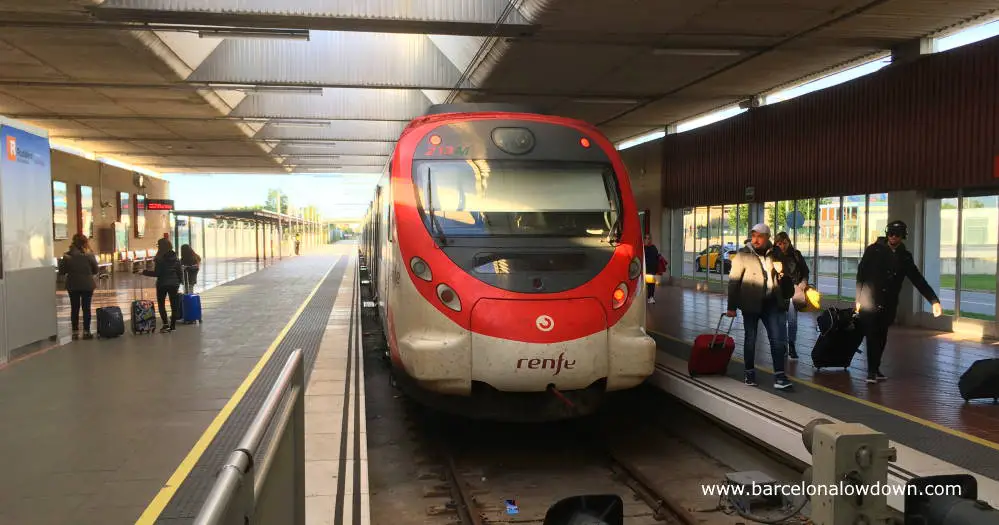 Tickets can be purchased online from the RENFE website up to two months in advance and are generally slightly cheaper when purchased shortly after they go on sale. Some readers of the blog have reported having trouble purchasing tickets from the RENFE site, so I've written an in-depth guide which will help you avoid the most common pitfalls.
Girona bus station is located right next to the train station, and it only takes a couple of minutes to walk between the two. If you are travelling via Figueres, you will need to take the bus from Figueres Vilafant station to the bus station, which takes approximately fifteen minutes.
If you are travelling from Barcelona Airport to Blanes, Tossa de Mar or Lloret de Mar, then it's best to take the R1 regional train, which runs along the coast from Barcelona to Blanes.
First, you need to catch the R2 Nord train from Barcelona Airport (Terminal 2) to Barcelona el Clot station, where you change trains and catch the R1 to Blanes, which departs from platform 4. Buses to Lloret de Mar and Tossa de Mar meet the trains at Blanes train station.
Tickets for regional trains aren't available online. You can purchase a combined ticket at the airport train station, which covers both trains and the bus and is slightly cheaper than purchasing the tickets separately.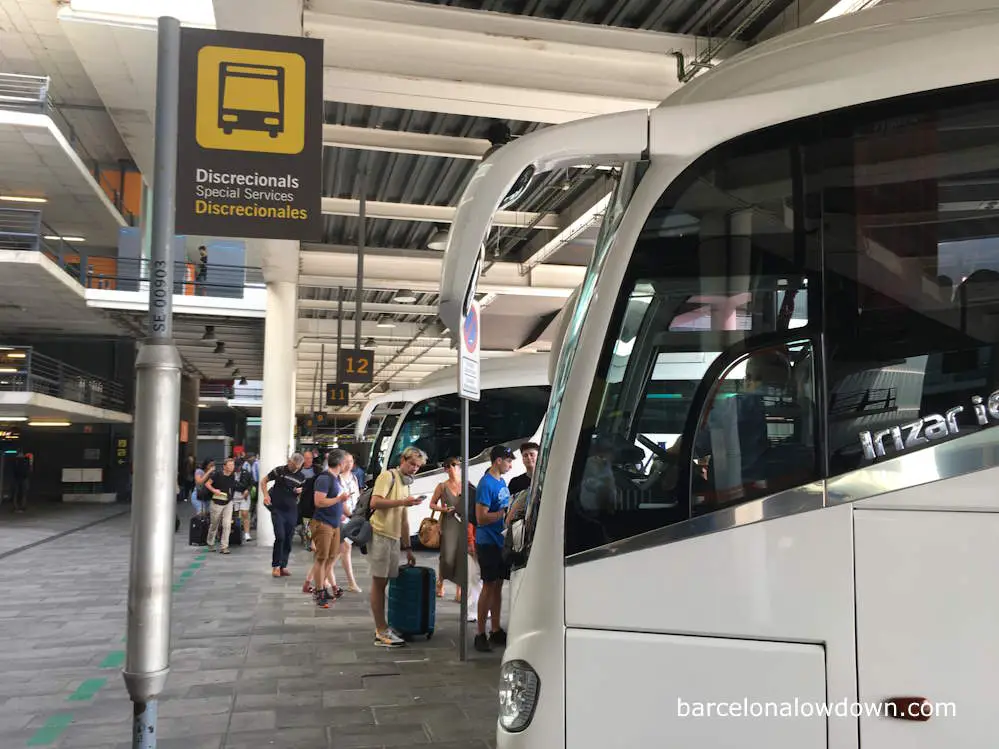 From Barcelona Airport to the Costa Brava by bus
There are also buses from Barcelona Airport to the Costa Brava, although they are not as frequent as the trains and generally take longer due to the multiple stops along the way.
Another alternative is to take a taxi or public transport from the airport to Barcelona Nord bus station and catch a bus from there. Barcelona Nord is the main bus station for the Costa Brava, and more buses depart from here than from the airport, not to mention the fact that most, if not all, of the buses from Barcelona Airport to the Costa Brava also stop here.
The main bus companies operating services to the Costa Brava are SARFA and SAGALÉS. To help you plan your trip, I've prepared the table below that lists the main destinations along with the relevant website links. The number of daily departures varies widely depending on the time of year, so it's important to check the timetables for the exact dates of your visit. In low season, there may only be one or two buses per day.
There's more information about where the bus stops are located and how to purchase tickets in this post >>
Bus Company
Destinations
SARFA
Lloret de Mar
Tossa de Mar
Platja d'Aro
Palamós
Palafrugell
Begur
Pals
L'Escala
Empuriabrava
Roses
Cadaqués
El Port de la Selva
SAGALÉS
Blanes
Bus services from Barcelona Airport to the Costa Brava
For information about departures from Barcelona Nord bus station, click here.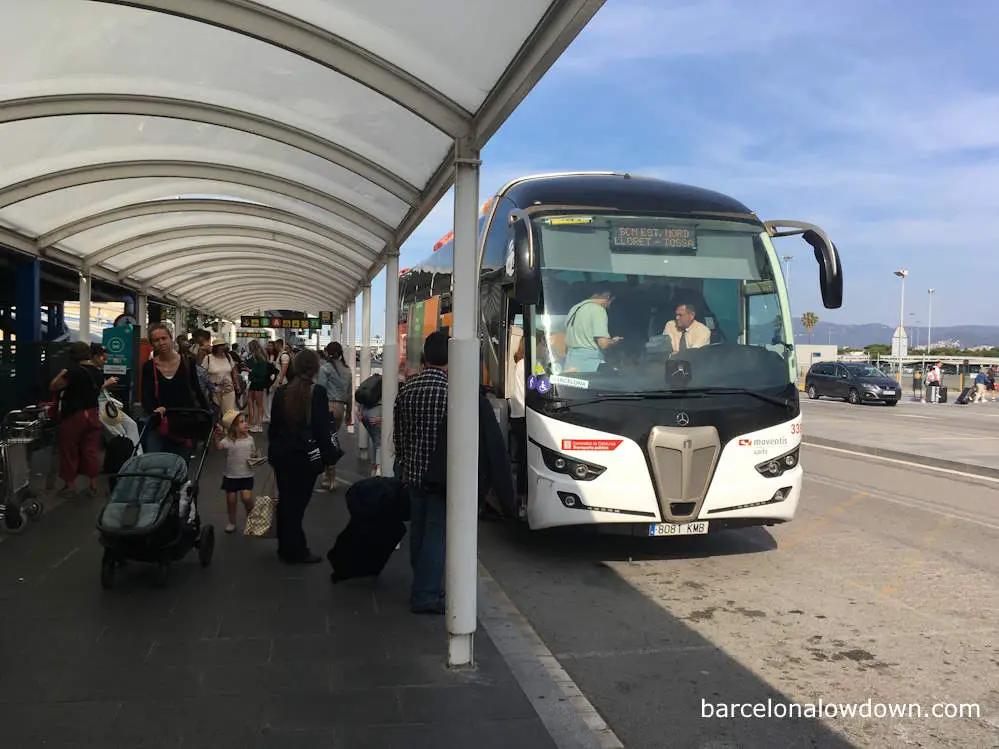 From Barcelona Airport to the Costa Brava by shared transfer
As we've seen above, although it is possible to travel from Barcelona Airport to the Costa Brava by public transport, it's not that convenient because there are multiple stops along the way, and you usually have to change trains or buses at least once.
Local transport company Moventis operates a direct shared transfer service from Barcelona Airport to the main resorts on the Costa Brava. The service, which is only slightly more expensive than a regular bus, has three key advantages:
Flexible schedule, which is adapted to fit your arrival time.
It goes directly to the town where you are staying, with no intermediate stops.
Drops you outside your hotel or at a dropoff point nearby.
Unlike regular bus and coach services, which run on a fixed timetable, Moventis schedules transfers according to their customers' arrival times. To ensure minimal delays, they adapt the type of vehicle used based on demand. At peak times, they use luxury coaches, and during less busy periods, they use air-conditioned minibuses.
When booking your transfer, you indicate your flight time and which hotel you are staying in. Upon arrival at Barcelona Airport, you are met by a Moventis staff member or agent who takes you to your vehicle.
Moventis currently runs shared transfers to the following destinations on the Costa Brava: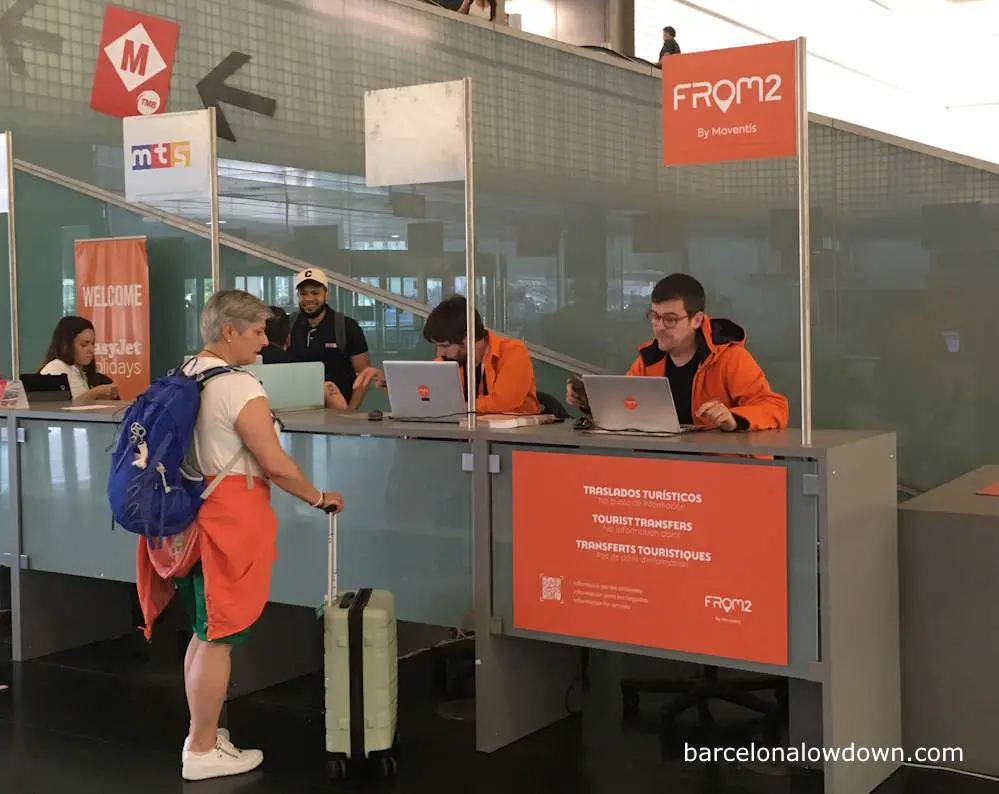 From Barcelona Airport to the Costa Brava by taxi
There are taxi ranks at both terminals of Barcelona Airport and, no matter when you're flight arrives; there are always plenty of taxis available. Most taxis have space for up to four people, and there are also larger minivan-style taxis which can carry up to six passengers and their luggage.
Taxis in Barcelona are metered, and you will pay the price shown on the meter when you arrive at your destination, plus an additional fee for airport pickups, more than four passengers and additional luggage.
As a rough guide, you can expect to pay from €150 to €200 for the journey from Barcelona Airport to the Costa Brava, although this will vary widely depending on your exact destination, the time of day and how much traffic you encounter.
All Barcelona taxis carry card readers and accept most major credit cards, although it's best to check with the driver to make sure before setting off. Visa and Mastercard are the most widely accepted.
There's more information about airport taxis and where the taxi ranks are located in this post >>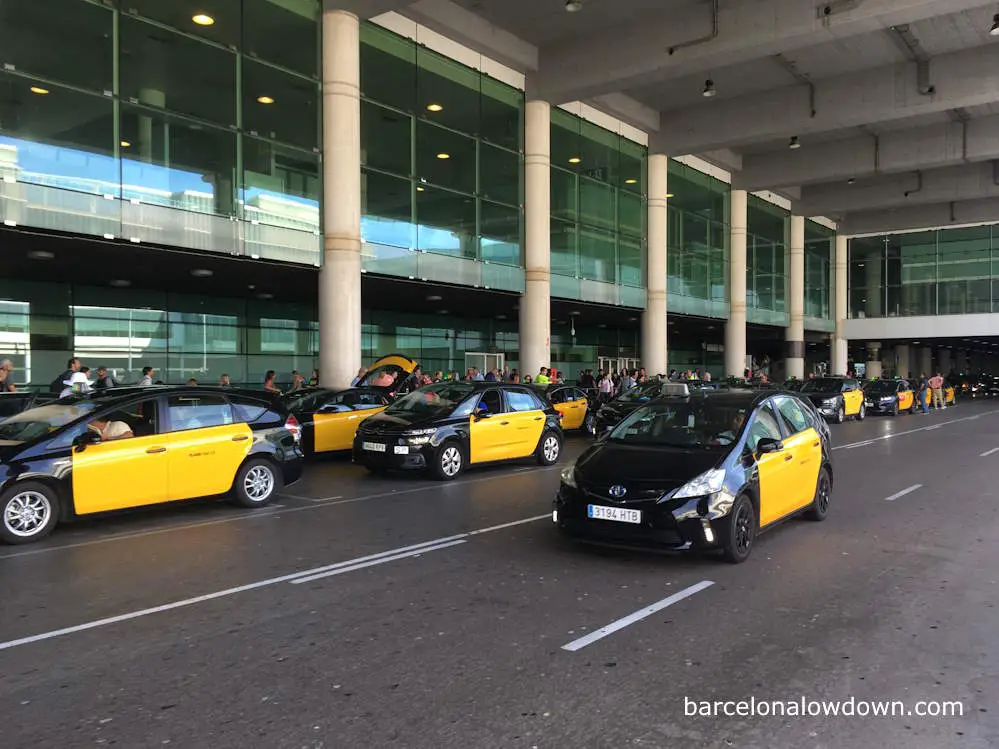 From Barcelona Airport to the Costa Brava by private transfer
If you prefer to have someone waiting for you when your flight arrives, then you may like to pre-arrange a private transfer with Book Taxi Barcelona.
By booking your transfer in advance, you benefit from a fixed fare which is paid up-front via Paypal or credit card. Your driver will then track your flight and wait for you in the arrivals area holding a board with your name on it.
Click here for more information and to book your private transfer >>
From Barcelona Airport to the Costa Brava by rental car
Although public transport is available on the Costa Brava, it's not very frequent, and if you plan to visit the smaller towns and beaches, you will often find that you have to travel via either Girona or Figueres. Because of this, if you plan to spend your holiday exploring the Costa Brava region, it's a good idea to rent a car.
Please keep in mind that most car rental companies charge an additional fee for airport pickups. Choosing to pick up your rented car from their offices in downtown Barcelona will usually be more economical. Before making your decision, I recommend comparing prices online at DiscoverCars.com.
It generally takes about an hour and a half to drive from Barcelona to Costa Brava. The exact duration will vary, depending on your destination and the time of day on which you are travelling. In most cases, after leaving Barcelona, you take the AP7 motorway towards Girona. This used to be a tool road, but the fees were lifted a few years ago, and it's now free. For route planning, I recommend using ViaMichelin, which, in addition to showing the best routes, also calculates fuel and toll costs.