Tucked away in the labyrinthine heart of Barcelona's Gothic Quarter, Plaça de George Orwell was created in 1989, when an entire block of housing was simply torn down. The creation of this, and other similar plazas, was conceived as a way of opening up the Gothic Quarter and presumably went hand in hand with the generalized beautification of the city, which took place during the years leading up to the Barcelona Olympics of 1992.
For the first six years after its creation, the plaza didn't have an official name, and the locals started calling it Plaça del Tripi in reference to the surrealist monument by Leandre Cristòfol, which stands in the middle of the square. The word "Tripi" is Spanish slang for a tab of acid, which is supposedly what the artist was on when he created the statue.
The monument, which bears the rather unimaginative title of Monument, is a scaled-up version of a smaller piece that Cristofòl created in 1935, which is on display in the MNAC museum on Montjuïc. The statue, which is made of steel, concrete and wood, is supposed to represent a woman, although you'd be hard-pushed to see the resemblance. Little wonder then that the locals decided to rename it El Tripi.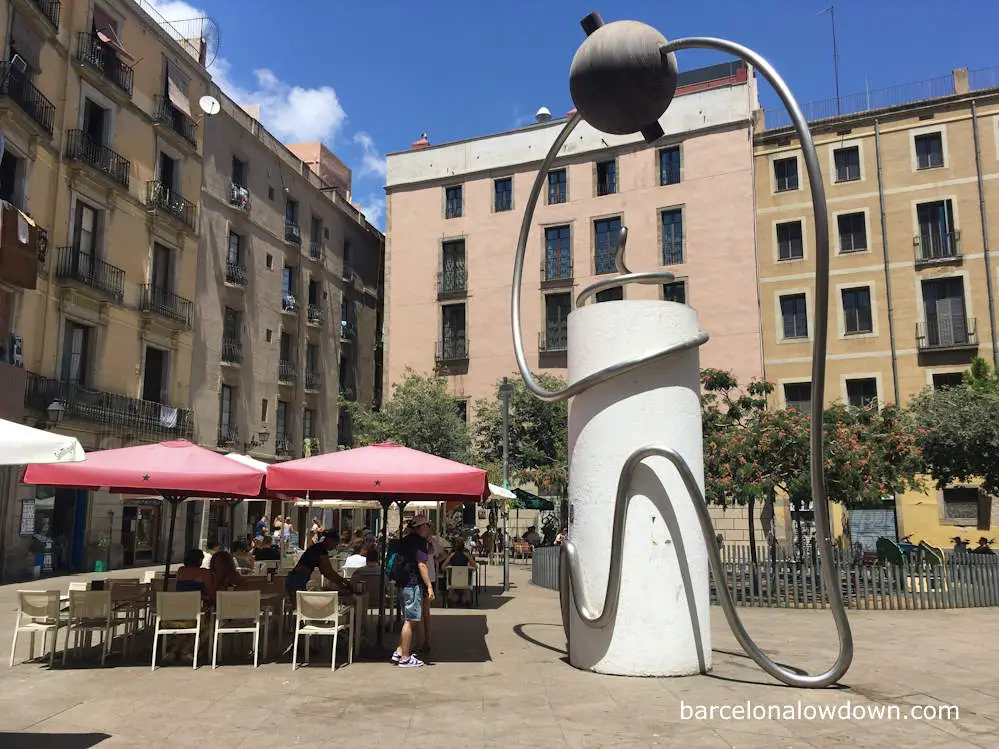 Why is there a plaza named after George Orwell in Barcelona?
Barcelona has several squares and parks which are named after foreigners. Some of them, such as Plaça de John Lennon or Jardins de Ghandi, seem to have been named simply due to the person's status or perceived importance on the world stage. In contrast, others are named as a homage to someone who is somehow associated with or connected to the city. Plaça de George Orwell clearly falls into the second camp.
Born in India in 1903, George Orwell, real name Eric Arthur Blair, studied at the famous British public school Eton College before training as a policeman and finally becoming a writer.
Best known for literary works such as "1984" and "Animal Farm". He was also a journalist and wrote several non-fiction works and essays. Most of his novels reflect his left-wing political views, and in 1936, shortly after the onset of the Spanish Civil War, Orwell moved to Barcelona, where he joined the POUM (Partido Obrero de Unificación Marxista) with the intention of fighting fascism.
He left Barcelona in 1937 after being shot in the neck and badly injured while fighting in Aragon. After returning to England, Orwell wrote Homage to Catalonia, which narrates his experiences in Barcelona and describes how a Communist power struggle almost derailed the Republican cause.
After Hommage to Catalonia, Orwell's career went from strength to strength. In 1949, he published the seminal novel 1984, which tells of a totalitarian government that controls society through non-stop surveillance. Ironically, in 2001, Plaça de George Orwell had the dubious honour of being the first public square in Barcelona to be fitted with surveillance cameras.
Where is Plaça de George Orwell Square, Barcelona?
Plaça de George Orwell is located in Barcelona's Gothic Quarter at the intersection of Carrer dels Escudellers and Carrer d'Arai, not far from Plaça Real and La Rambla.
How to get there
The nearest metro stops are Liceu on the green line (L3) and Jaume I on the yellow line (L4).
Things to see and do in Plaça de George Orwell Square, Barcelona
Despite the unusual monument, Plaça de George Orwell is pretty unremarkable and certainly isn't anywhere near making it onto my list of the most picturesque plazas in Barcelona. Having said that, it is home to a handful of bars and restaurants, which makes it worth stopping by.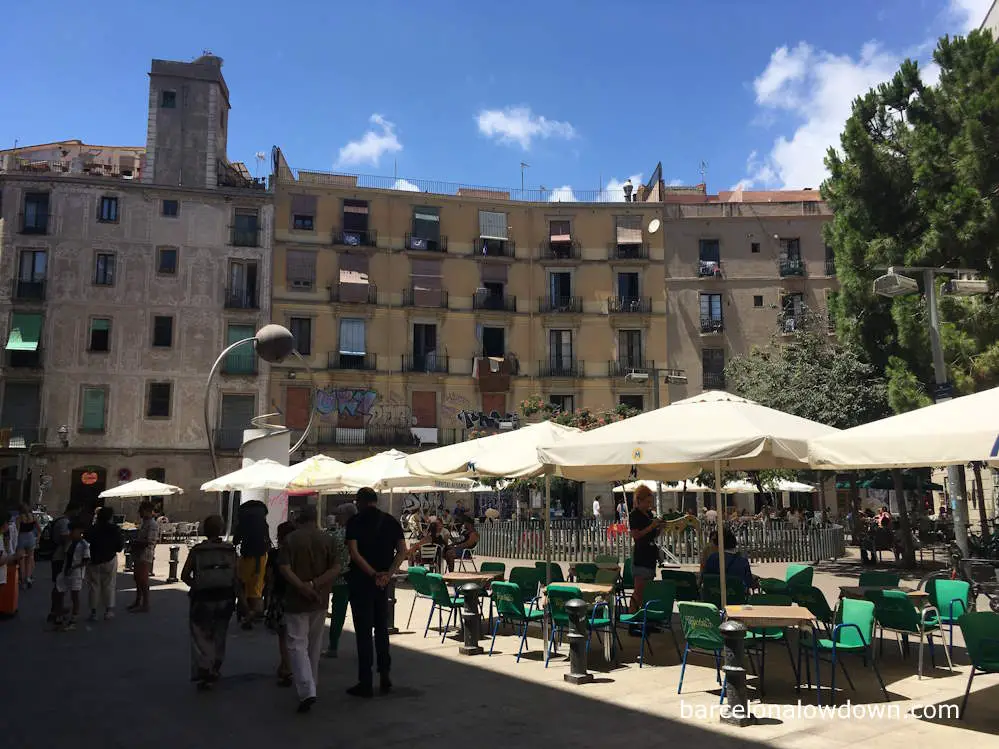 Vegetalia
Located at Cerrer dels Escudellers, 54, Vegetalia is one of two vegetarian restaurants owned by the organic food company of the same name. Both restaurants serve the same menu and are open daily from 1 pm to 11 pm. You can read more about them in my post about vegetarian and vegan restaurants in Barcelona.
El Buen Bocado
Located just off the plaza at Carrer dels Escudellers, 58 el Buen Bocado serves the best falafels in Barcelona. My meat-eating friends assure me that the Döner Kebabs, or Schawarmas as they're called in Spain, are also very good. If you're looking for an inexpensive and filling snack before, after or during a night out, then Buen Bocado is a good choice.
Bar Mariatchi
Bar Mariatchi, better known as "el Bar de Manu Chao", is a small and colourful bar with a laid-back atmosphere just off Plaça George Orwell at Carrer Codols, 14. When I moved to Barcelona back in 2001, Manu Chao's music was everywhere, and legend had it that Bar Mariachi was Manu's favourite bar in Barcelona, although I've never seen him there on the occasions that I've visited.
Other attractions nearby
Plaça Reial
La Rambla
Palau Güell
Map