Free WiFi is widely available in Barcelona. In 2011 the city council launched Barcelona WIFI and installed antennas throughout the city. You can also get online for free in shopping centres, bars & restaurants and at the airport.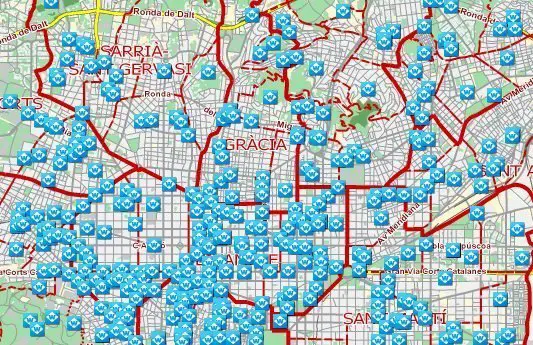 Barcelona WiFi
Barcelona WiFi is one of the largest networks of free internet in Europe. The transmitters or hotspots are located throughout the city in libraries, museums, civic buildings, markets and at the beach. There are also antenas mounted on street signs and lampposts. There are currently 1,970 hotspots in the network, meaning that you can get online for free in most parts of the city.
In 2015 free wifi was installed in the city's buses, at metro stations and most public parks. There are also plans to increase the number of wireless access points installed in municipal markets and at the port.
Getting online is easy, you just need to switch on Wi-Fi, select Barcelona WIFI, open your browser and accept the terms and conditions. The connection speed is currently limited to 256 kbps and some sites which are deemed to be unsuitable are blocked. More information
Shopping Centres
Free Wi-Fi is also available in Barcelona's shopping centres (malls). Diagonal Mar, Gran Via 2, Glories, Maremagnum and Las Arenas all offer free internet connection.
Bars, Cafes and Reastaurants
Many of Barcelona's bars, cafés and restaurants offer free WIFI. Some of them use third party internet providers and others just let you use their internet connection. Look out for signs offering "WIFI gratis". Even if a bar doesn't have a sign up saying that they offer free wi-fi, it's still worth asking the barman. Strictly speaking it's not completely free since you are normally expected to buy at least a cup of coffee !
Barcelona-life have compiled this useful list of bars and restaurants which offer free WIFI.

Free Wi-Fi at Barcelona Airport
You can also get online for free at Barcelona airport. The service is provided by KubiWireless and there are access points located at most of the restaurants and bars in both terminals. If you want more bandwidth then there is also a paid premium rate service available. If you decide to upgrade to the premium service you can either pay online via credit card or purchase pre-paid vouchers at newsagents within the airport.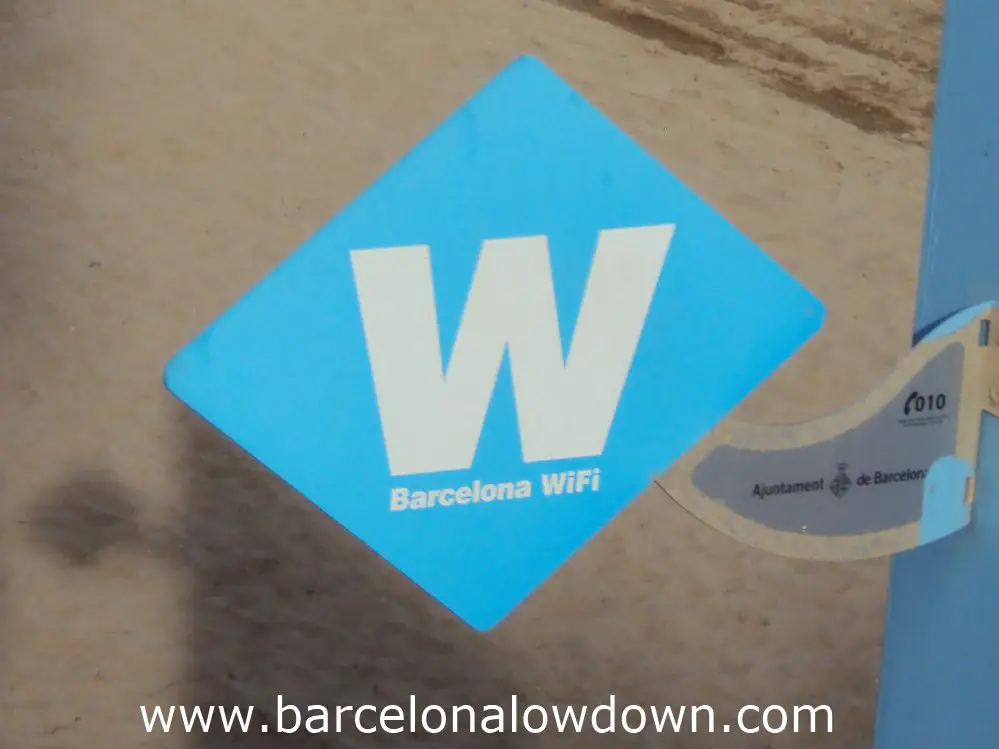 Public WiFi security
Here's a few steps that you should follow to stay safe online.
Most free WIFI connections are "open" which means that the data you send and receive could theoretically be viewed by other people who are connected to the network. Because of this you should never use online banking or make credit card transactions when connected to a free internet connection.
If you really need to send and receive sensitive data using a public internet connection you should think about using a Virtual Private Network or VPN.
Other precautions you should take when connecting to free WIFI:
If using Windows make sure you select the public network security setting when connecting.
Make sure all programs and especially your anti-virus are up to date.
Make sure you have a fire wall installed and active. I use Norton Internet security which includes anti-virus and firewall.
Personal WIFI Hotspots
Although Barcelona's free wifi network is pretty good, it has its limitations. The bandwidth is limited to 256 kbps and as mentioned above, it isn't a secure connection. You might prefer to activate roaming and use the 5G mobile network.
Alternatively, you could buy a Spanish SIM card at Barcelona airport or rent a personal wifi hotspot. At just €6.29 per day for up to 10 devices, a WIFI hotspot is an ideal solution for families or groups of friends, especially if you will be travelling outside of Barcelona where free wifi isn't so readily available.