Since moving to Barcelona I have found that I suffer less from hay fever than when I lived in the UK. I believe that this is because Barcelona is a large coastal city and there is generally less airborne pollen than in smaller cities or towns surrounded by countryside.
The only time of year that I take antihistamines is when London Plane trees (Platanus x acerifolia) are in bloom. Known locally as Plataners, they very common in Barcelona and line most of the city's streets and avenues. They are easily identified by their bark which has a distinctive camouflage pattern.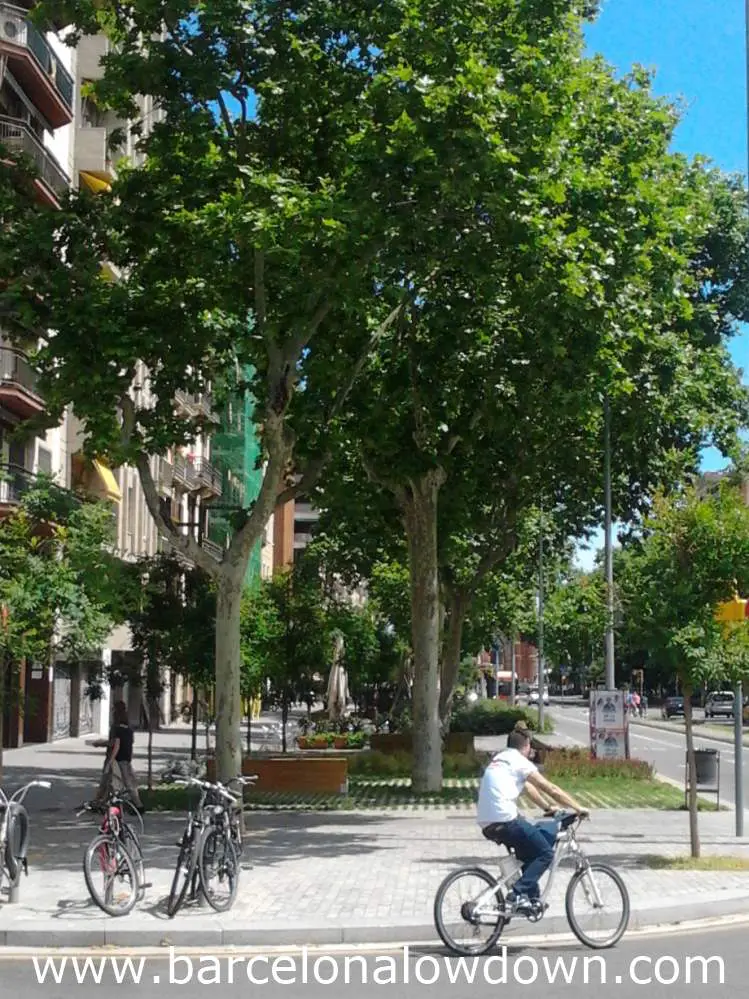 London Plane Trees
London Plane trees produce 2 irritants which affect people who suffer from allergies, hay fever and asthma. In addition to pollen, the leaves have small hairs which they shed as they grow. I find that I am affected from shortly after the trees sprout new leaves until they produce pollen. The exact dates vary slightly from year to year but roughly from mid April until mid June. On windy days during May you can often see flowers and pollen surrounding the trees or blowing down the street!
Hay Fever Medicine
Antihistamines are available in pharmacies without a prescription and cost around 4 Euros a packet. You probably won't find the brand names that you are familiar with so if you're here for a few days it's a good idea to bring your medicine from home. Alternatively take note of the active ingredients before you travel. Pharmacies in Barcelona will be able to attend you in English so you don't need to worry about the language barrier.
Barcelona Pollen Forecast
The Autonomous University of Barcelona (UAB) maintains a very useful website for hay fever sufferers. The site includes a 7 day pollen forecast for Barcelona and 8 other Catalan cities. Instead of an overall pollen count, the site has separate forecasts for each species.
There is also an annual calendar based on previous years.
---
IMPORTANT: I am not a doctor or medical professional and have received no medical training. This article is based on my personal experience as a hay fever sufferer who has lived in Barcelona for more than 10 years. If you suffer from hay fever, asthma or any other medical condition I recommend that you consult your doctor. For more information please read the general disclaimer.
---