The Camí Ral is an old Medieval road connecting the cities of Vic and Olot in central Catalonia. The road was originally built during the middle ages to transport wood from the forests of the La Garrotxa region to the Royal Shipyards in Barcelona.
The forty-five-kilometre section between the towns of Vic and Olot was recovered during the early 2000s and follows a series of footpaths through the Plain of Vic, past the spectacular Collsacabra mountain range, and through the Vall d'en Bas to Olot.
This post covers everything you need to know before walking all, or part of the Camí Ral, including suggested itineraries, where to stay and how to get there by public transport.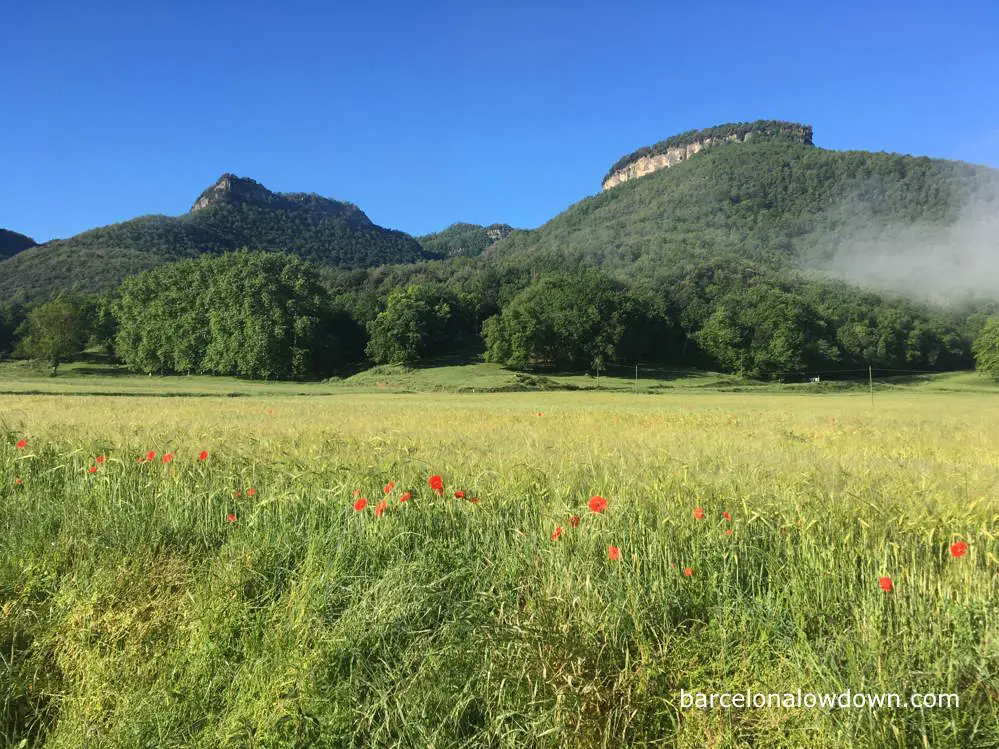 Walking the Camí Ral from Vic to Olot
The Camí Ral is approximately forty-five kilometres long and takes around eleven hours of non-stop walking to complete. The trail mostly follows footpaths and tracks through farmland, although there are a few short tarmac sections. In some parts, you are walking on the original medieval paving stones, which were excavated about twenty years ago.
If you are fit and accustomed to long-distance walking, it is theoretically possible to hike the entire trail in one day. This Wikiloc trail of the route includes photographs and timings, giving you a good idea of what to expect.
As you will see, the people who recorded that trail arrived in Olot after dark, which isn't ideal. Personally speaking, I prefer to take things a bit more steadily and enjoy the scenery. If you have time, walking the Camí Ral over two or even three days makes much more sense.
Although most people seem to walk from Vic to Olot on the premise that the uphill sections are more gradual. I think it's better to start in Olot. That way, there's one fairly steep uphill section after you leave els Hostalets d'en Bas, followed by a long downhill stretch towards Vic.
If you decide to break the hike down into two or three stages, there are two towns with accommodation, shops and restaurants where you can break the journey between Olot and Vic; Sant Esteve d'en Bas, approximately eight kilometres from Olot and L'Esquirol, twenty kilometres from Vic.
If you have limited time, the most scenic section is the stretch between els Hostalets d'en Bas and Cantonigrós, which takes about five hours to walk, although you would need to arrange transport to get to and from both villages.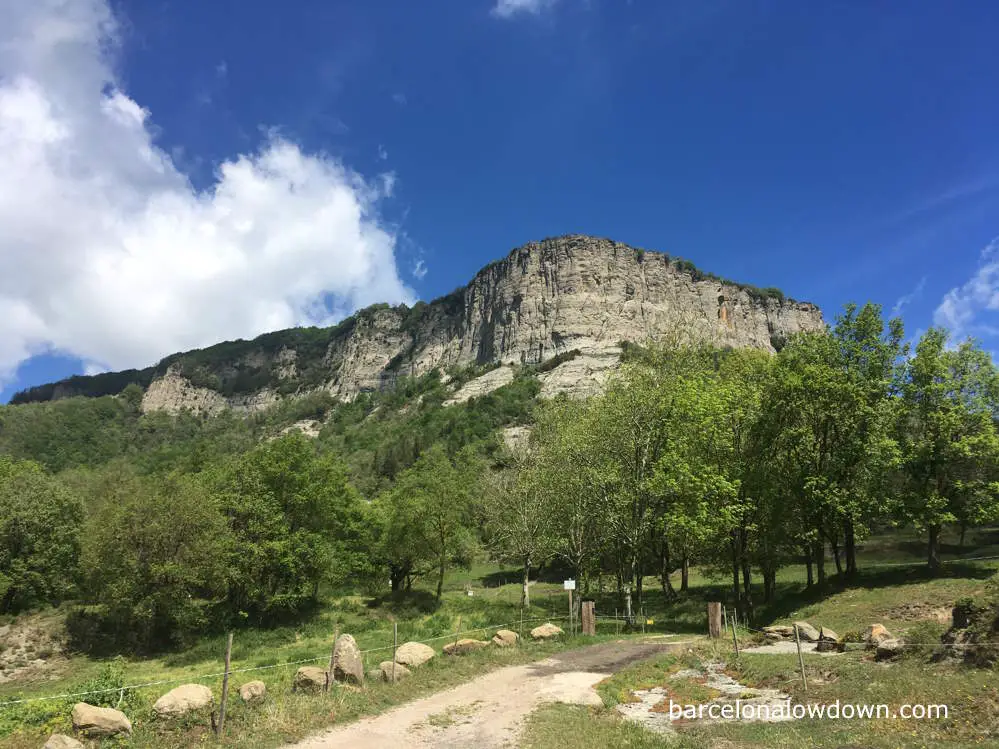 Walking the Camí Ral from Olot to Vic
There are nine buses daily from Barcelona to Olot. The journey takes about two and a half hours and departs from the Teisa bus company's office in central Barcelona (this is not a bus station).
The earliest bus gets you to Olot at about midday, which, in my opinion, is a bit late in the day for starting the twenty-nine-kilometre hike to L'Esquirol. Bus timetables here.
This leaves you with two options: Option 1: Spend the rest of the day visiting Olot and then start the hike the next morning. Option 2: Walk the first eight kilometres to Sant Esteve d'en Bas in the afternoon and spend the night there, leaving you a very scenic twenty-one-kilometre hike the next day. Both options are equally valid.
For information about things to do in Olot, check out my Olot travel guide >>
The first section of the hike, from Olot to Sant Esteve d'en Bas, is along a greenway called El Carillet, which used to be an old narrow-gauge railway line. As it leaves the city, the footpath starts in an area of parkland and then follows alongside the C-152 past Les Preses. Although you are walking on a footpath alongside a fairly busy road at this stage, it doesn't last long, and there are good views of La Vall d'en Bas and the mountains up ahead.
After about ninety minutes of walking, you come to the village o Sant Esteve d'en Bas, where there are a couple of small supermarkets, two restaurants, and a Xanascat youth hostel. If you don't fancy staying in a youth hostel, there is a very competitively priced four-star hotel just outside the village.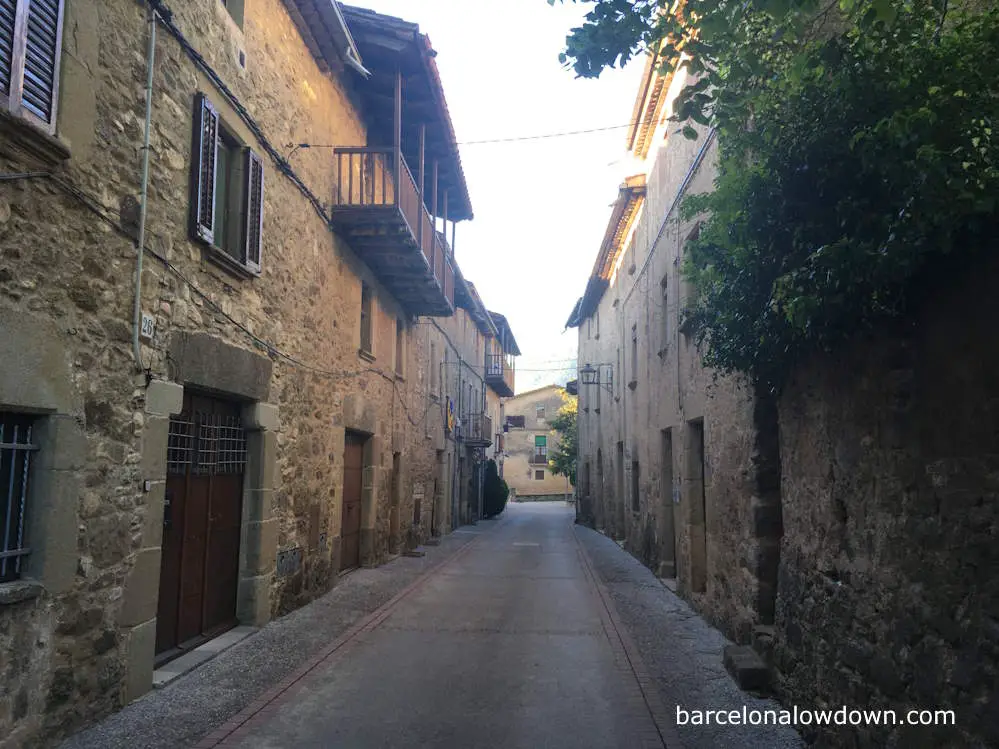 Leaving Sant Estev d'en Bas behind us, we follow farm tracks and footpaths for approximately two kilometres to the picturesque els Hostalets d'en Bas. Despite its diminutive size, the village is quite touristy and has several restaurants. I can vouch for the French bread sandwiches and coffee in Can Llonga, opposite the village church.
Departing els Hostalets d'en Bas, we continue walking along country lanes and farm tracks along the valley floor for about a kilometre before turning off onto the Camí Ral.
Next, we start our ascent through woodland following the original cobblestone Medieval road. After about two kilometres, we come to the Font de les Marades, which is a natural spring. Shortly after the spring, the path zig-zags up a series of stone stairs called Les Marrades dell Grau which were built during the eighteenth century.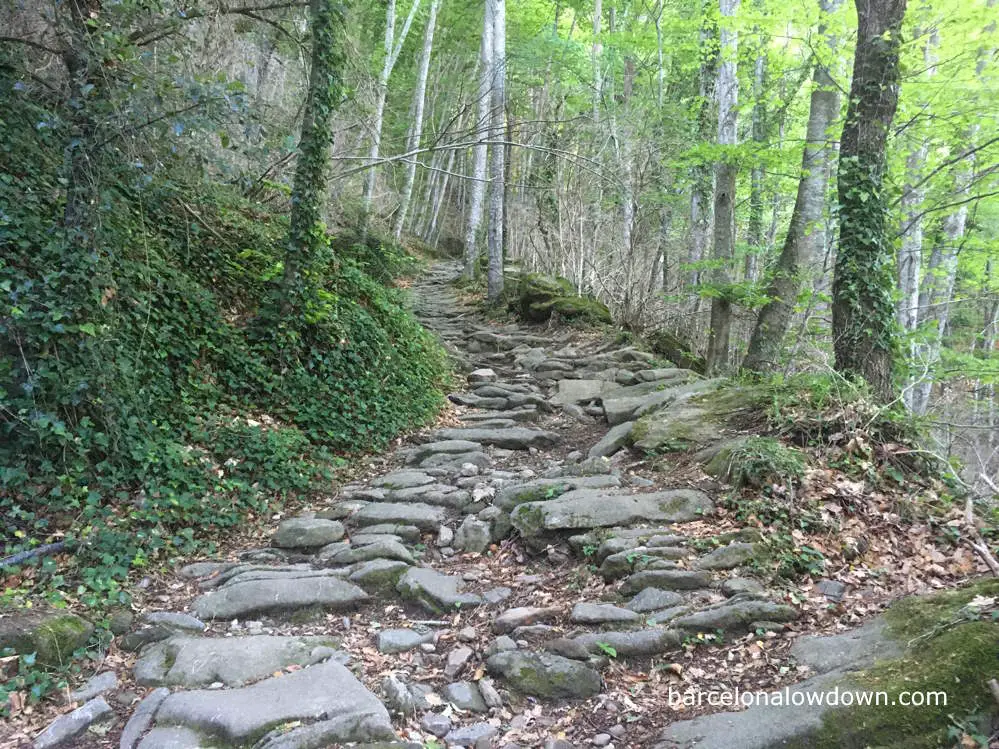 From here, we continue ascending through woodland until we pass l'Hostal de Grau, an old inn from when this was the main road to Olot. After passing the inn, we come to a small meadow before the path takes us back into the woods once again.
When we emerge from the woodland, we follow country lanes through an area I would describe as alpine. A mixture of mountains, forest and meadows with cattle. Here we get our first views of the Collsacabra mountain range ahead of us, as well as the Vall d'en Bas behind us and the rest of the La Garrotxa region.
The following eight kilometres, all the way to Catonigròs, is absolutely idyllic. The footpath is easygoing, and the views are absolutely spectacular. A mix of woodland and lush green farmland and a backdrop of rocky cliffs and mountains in all directions.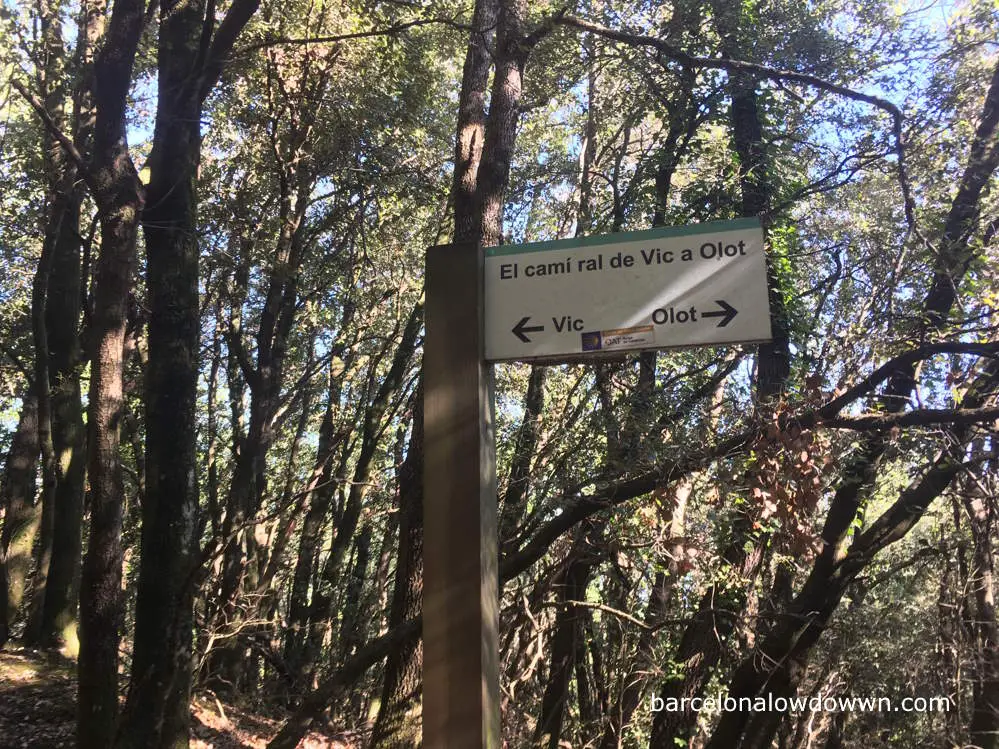 Shortly before arriving at Cantonigròs, the footpath follows alongside the C-153 for about half a kilometre. Cantingròs is a fairly touristy village, and, once again, despite its small size, there are several restaurants. I can vouch for the restaurant of Hostal Cabrerès, which serves an excellent lunchtime set menu with several vegetarian options. Or at least there was the day which I visited.
From here, as we leave Cantonigròs, we begin the gradual descent towards Vic. After about four kilometres, we come to the town of l'Esquirol (aka Santa María de Corcó), where there is a budget hotel called Hostal Collsacabra, which is geared towards walkers and mountain bikers, two small supermarkets and a few restaurants.
There are several buses per day between l'Esquirol and Vic run by the Sagalès bus company. If you're short of time, you could take the bus to Vic, followed by the train back to Barcelona, which would take two and a half hours in total, depending on connections.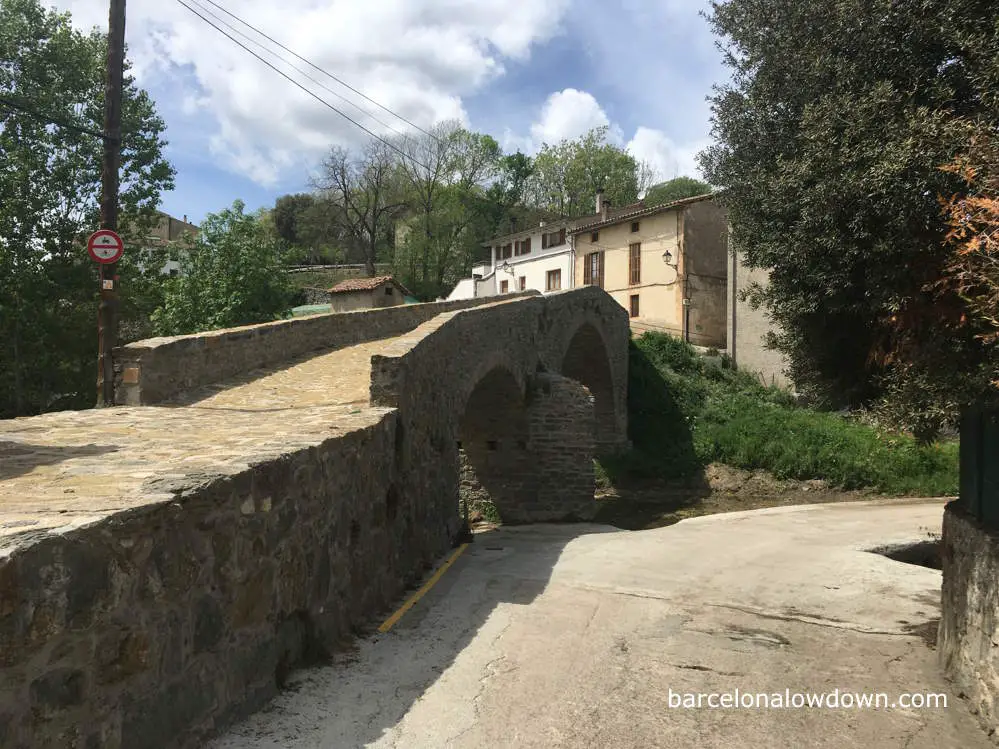 The nineteen kilometres from L'Esquirol to Vic mostly follow tracks through farmer's fields, and there are sections where you are walking on the large, flat stone slabs which paved the original Medieval road.
After the spectacular scenery of Collsacabra, the hike across the Plains of Vic, although not unpleasant, is a bit monotonous. Eight kilometres after leaving l'Esquirol, we come to Roda de Ter, where we cross the River Ter before continuing towards Vic.
Shortly before we arrive at Vic, we cross a footbridge over the C-25 motorway before continuing through some more farmland. On the city's outskirts, there's a small park where we cross a medieval stone footbridge called El Pont d'en Bruger, which leads us to the city's modern suburbs and the Medieval city centre.
For more information about things to see and do in Vic, check out my in-depth Vic travel guide.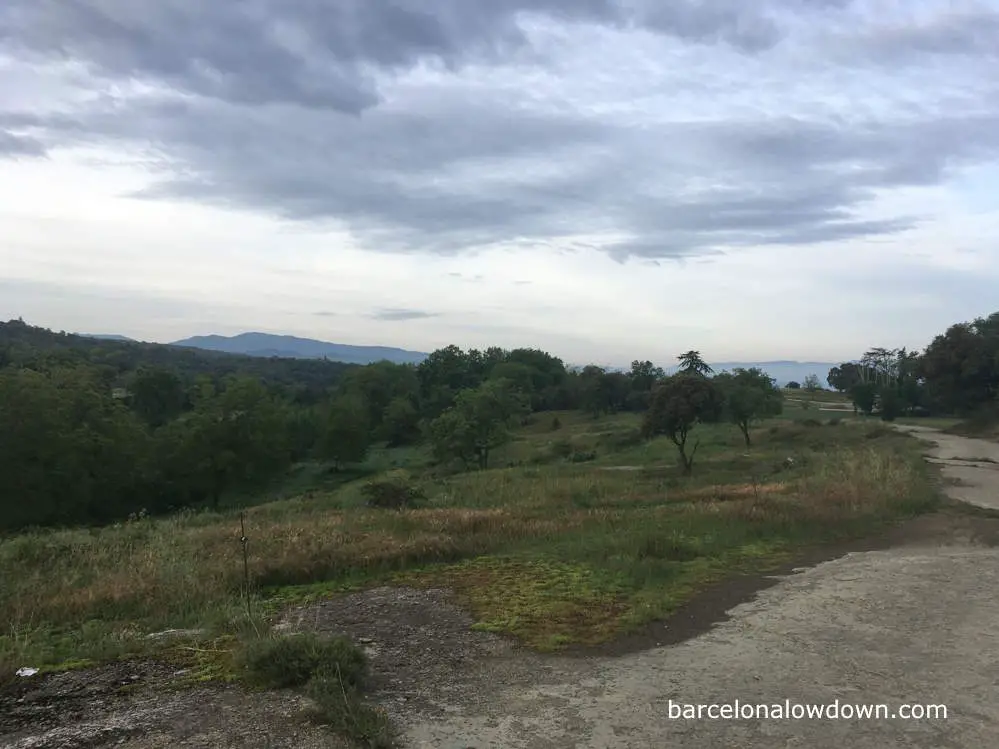 Practical information
Here's all the information you need for hiking the Camì Ral from Vic to Olot or vice versa:
As always, if you've any questions, comment below, and I'll get back to you as soon as possible.