Antoni Gaudí was the architect behind many of Barcelona's best known and most iconic buildings. From the groundbreaking design of Casa Milà to the spectacular beauty of the Sagrada Familia, there's no denying that he left his mark on the city.
But Gaudí didn't limit himself to designing palaces and churches; he also worked on lesser-known and more mundane projects. In fact, as you explore Barcelona, you'll come across street lights, gates, fountains, toilet blocks, and even paving stones which Antoni Gaudí designed.
One such project is the gateway and perimeter wall for the estate of Barcelona businessman Hermenegild Miralles. The so-called Portal Miralles in the Sarrià neighbourhood of Barcelona.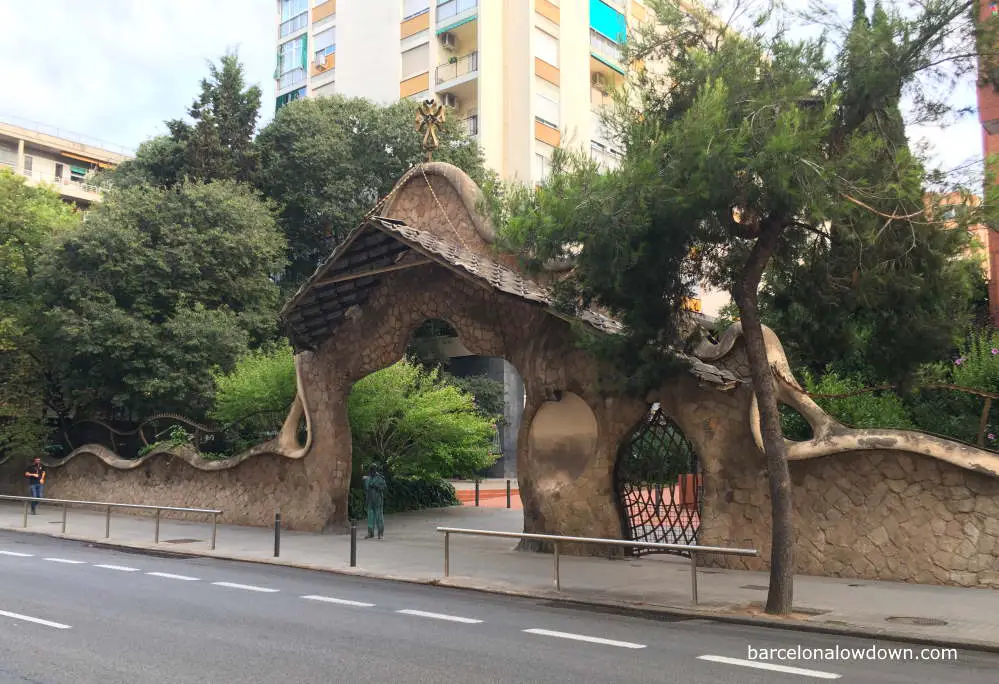 History of the Portal Miralles gateway
Hermenegild Miralles was an industrialist who produced materials for the construction industry and collaborated on several projects with Gaudí. Apparently, he also let Gaudí use some of the machines in his factories to test the strength and integrity of components.
In 1901 Miralles purchased a plot of land in Sarrià, one of Barcelona's more expensive neighbourhoods, to build himself a luxurious new home and engaged Gaudí to design and build the perimeter wall. The house itself was built by Domingo Sugrañes.
Gaudí designed an undulating, almost reptilian wall with stones that look like scales topped by a cast-iron grille. Like most of Gaud's work from this period, there's hardly a straight line in sight. Even the gateway leading into the property is bulbous and curved.
The gate is sheltered by two large canopies made of cast-iron bars covered by fibre cement tiles that Gaudí designed especially for the gateway. The original tiles were made of "cartró pedra", a material similar to papier mâché, and were produced in one of Miralles own factories.
The arch above the entrance is crowned by a three-dimensional cross, one of Gaudi's trademark motifs that can be seen decorating several of his buildings. In fact, the cross is a replica; the original can be seen in Casa-Museu Gaudí in Park Güell.
Today the house is long gone, and all that remains of the estate is Gaudi's gateway and a section of the wall which runs alongside Passeig de Manuel Girona. The gateway now leads to a narrow pedestrianised avenue flanked by seven-storey apartment buildings that were constructed in 1968.
The gate was last restored in 2000 when a life-sized bronze statue of Gaudí by Joaquim Camps was installed at the entrance to the estate.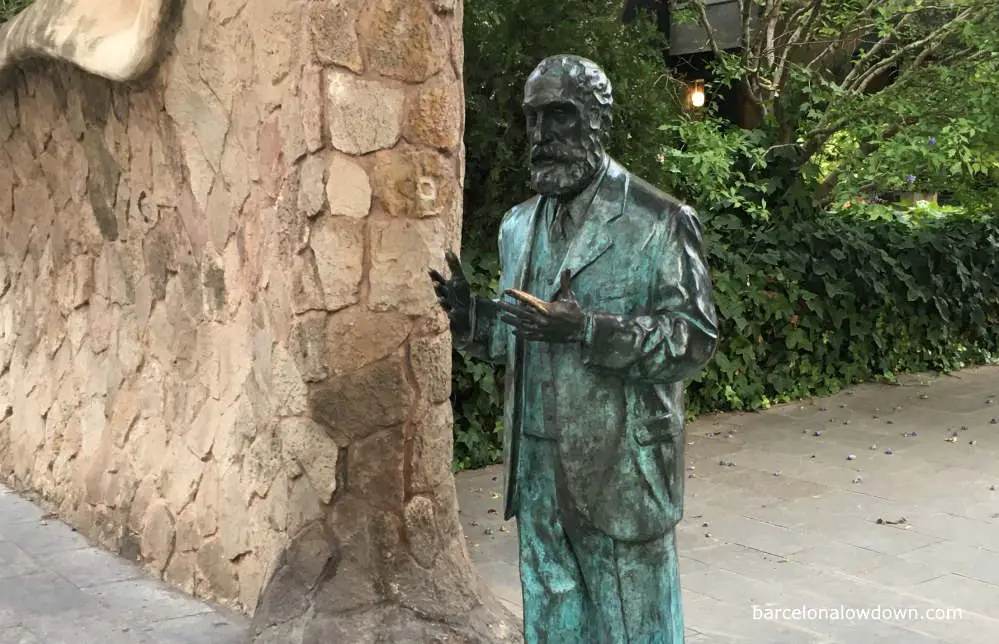 Location
The Portal Miralles gateway is located at Pg. de Manuel Girona, 55 a short walk from Pabellons Güell (the Güell Pavilions).
How to get there
The nearest metro station is Maria Cristina on line L3 (yellow line). Tramlines T1, T2 and T3, as well as the Bus Turistic also stop nearby.
Other attractions nearby
Pabellons Güell
Pedralbes Palace Gardens
The Hercules Fountain (Gaudí fountain)
Cervantes Park
Camp Nou Football Stadium
Map