If you're visiting Barcelona for longer than just a weekend, chances are you'll want to go beyond the city limits and take a day trip.
There's no shortage of awesome destinations for a quick road trip, from blue flag beaches and medieval castles to extinct volcanoes and picturesque villages. If you don't fancy hiring a car, there's plenty of places that are easy to get to by public transport in less than two hours.
In this post, we take a look at some of the best day trips from Barcelona with direct rail or bus connections.
1. Dalí Theatre Museum & Figueres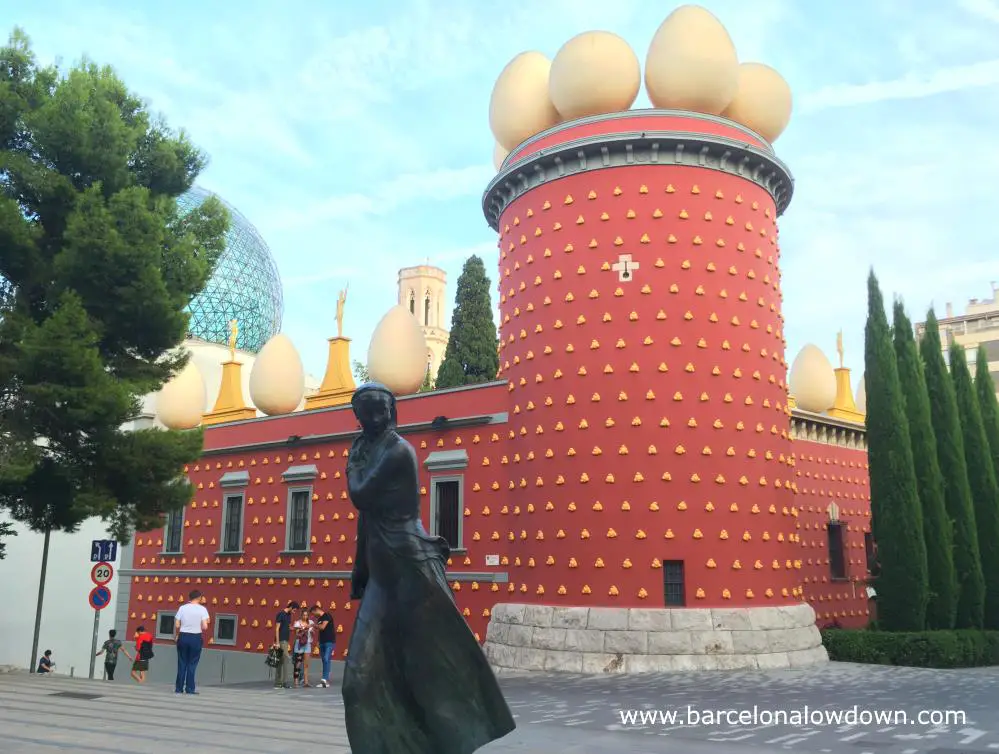 Possibly the most popular day trip from Barcelona, Figueres is best known as the birthplace of Salvador Dalí. Most visitors go to see the fabulous Dalí Theatre-Museum but, if you have time, the town does have a few other sites which are well worth seeing.
Dalí built the museum in the remains of the town's ruined municipal theatre. Said to contain the world's largest collection of surreal art, the Theatre Museum is a work of art in itself. Apparently, Dalí wanted to give visitors the experience of walking into one of his paintings.
A short walk from the museum, The Castle of Sant Ferran is the largest bastion fortress in Europe. The castle runs guided tours in 4WD vehicles which include a tour of the castle's cisterns in an inflatable boat. If you don't fancy the tour, you can also visit at your own pace on foot.
The Toy Museum of Catalonia has a large collection of toys, including a teddy bear that once belonged to Salvador Dalí and his sister.
Dalí fans can also check out the house where he was born (due to open to the public sometime in 2020) and have a meal at Dali's favourite restaurant, Hotel Duran.
What to see in Figueres in one day
Salvador Dalí Theatre Museum
Sant Ferran Castle
Church of Sant Pere
Toy Museum of Catalonia
La Rambla and Figueres old town centre
Casa Puig (Birthplace of Dalí)
How to get there by public transport
High-speed AVE and AVANT trains take 55 minutes from Barcelona Sants train station to Figueres Vilafant. Timetables and prices here.
Buses meet the trains and take just 10 minutes to transfer to central Figueres, close to the museum. Bus timetables here.
Tips
Don't miss the Dalí Jewels exhibition which is included with your ticket to the Dalí Theatre-Museum.
The Dalí Theatre-Museum is busiest in the morning between 10 am and midday. You can save time by purchasing your tickets online in advance.
AVE and AVANT high-speed train tickets go on sale 60 days before the date of travel and can be purchased online from the RENFE train company website.
Prices vary according to availability; generally speaking, they are cheapest when purchased as soon as they go on sale.
Middle Distance trains take 1 hour 40 minutes and are cheaper than high-speed trains. They also stop at other stations within Barcelona.
Read our in-depth guide to Figueres >>
2. Tarragona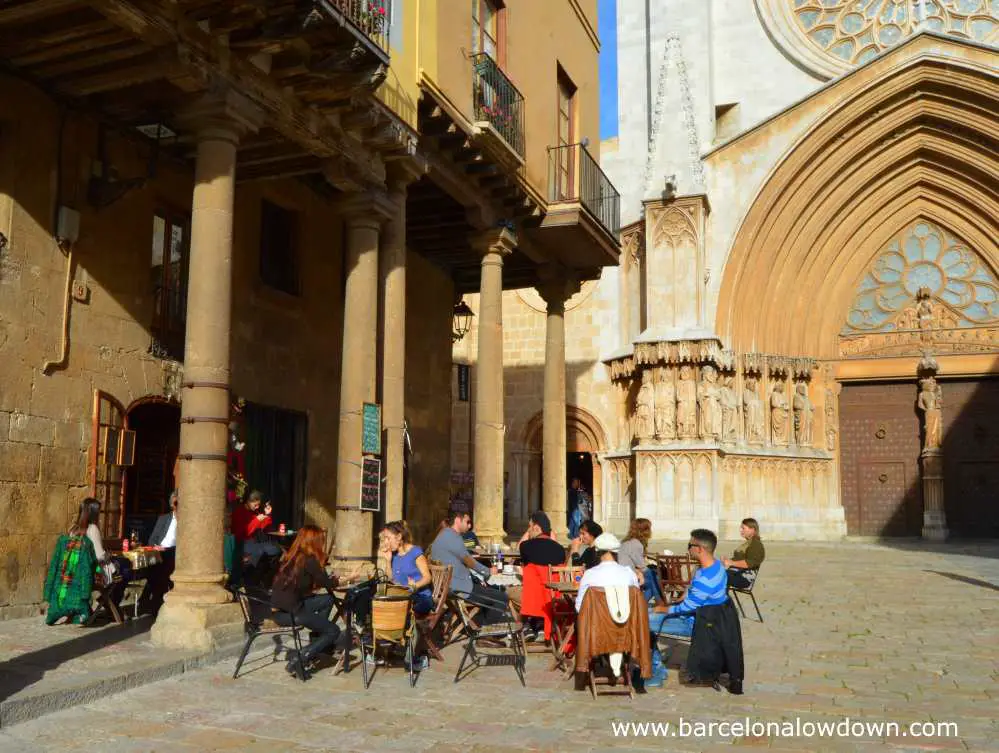 The city of Tarraco was founded by the Romans in 218 BC. Two centuries later, Emperor Augustus arrived and transformed what was essentially a military encampment into one of the most important cities in the Roman Empire. A kind of mini Rome complete with an amphitheatre, temples and palaces.
The remains of the Roman city have been excavated and restored and were awarded UNESCO World Heritage Site status in 2000.
Tarragona's best-known attraction is the magnificent Roman Amphitheatre which overlooks the beach. Other Roman sites include the Circus, Praetorium, two forums, burial grounds and the city's Roman walls. If you have the time, it's also worth visiting the archaeological museum, which houses a large collection of Roman artefacts.
In addition to the Roman sites, the city also boasts an impressive medieval cathedral which took two hundred years to complete and is a mix of Romanesque and Gothic styles.
Most of the historical sites are located close together in an area called la Part Alta, a ten-minute walk from the train station.
What to see in Tarragona in one day
Roman Amphitheatre
Roman Circus and Praetorium
Tarragona Cathedral
Archaeological Walk
Plaça de la Font and the medieval city centre
Local Forum
El Balcó del Mediterrani
How to get there by public transport
Regional Express trains take between one hour and an hour and a half to travel to Tarragona from Barcelona.
Lines R15 and R16 stop at Tarragona. Train timetables here >>
Tips
Tarragona's Roman sites, the archaeological museum, and some other historic sites are managed by the MHT (Museum of History of Tarragona).
Tickets can be purchased individually or grouped in discount passes available at the ticket desk of participating attractions.
There are also high-speed AVE trains that stop a Camp de Tarragona station, but they are not a good choice since that station is 15km from the city and buses into the city are slow and infrequent. The direct regional trains work out faster and cheaper.
Read our in-depth guide to Tarragona >>
3. Girona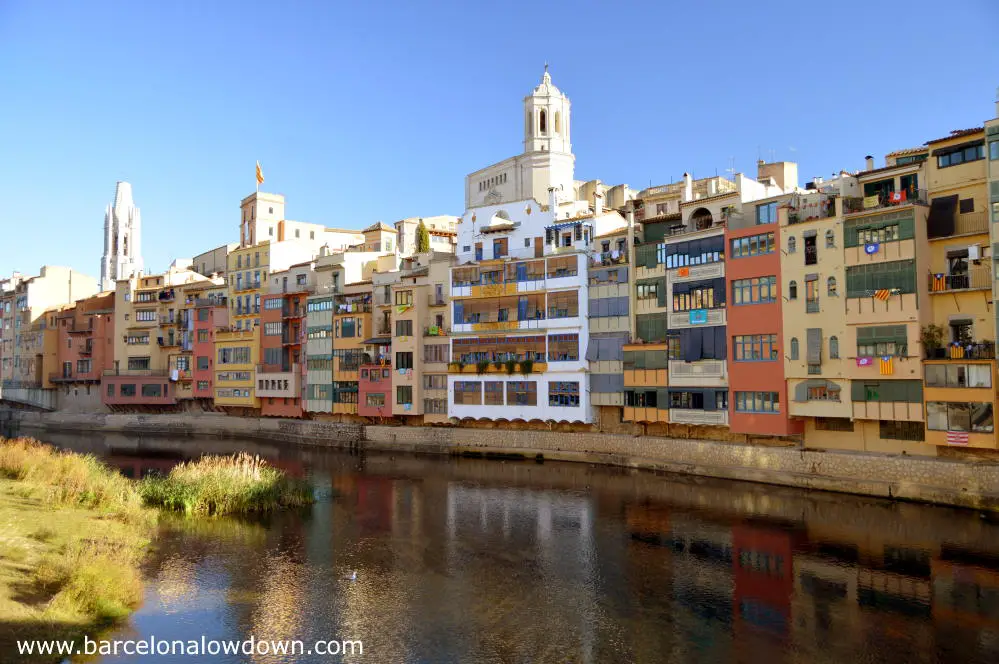 Another highly popular day trip from Barcelona, Girona boasts one of the world's largest and best conserved Jewish quarters. The old town is a maze of cobbled streets, stairways and medieval buildings surrounded by ancient stone walls that afford excellent views of the city.
Perhaps the most iconic view is of the pastel-coloured buildings that line the River Onyar and the iron bridge designed by Gustave Eiffel.
The old town centres on the cathedral, which stands imposingly atop a wide stone staircase and dates back to the eleventh century. Girona Cathedral appeared in Game of Thrones series six when Jaime Lannister rode his horse up the steps. Scenes from Bravos, Oldtown and Kings Landing were filmed in different parts of the city centre.
Other notable medieval buildings include the Arab baths, the Church of Sant Feliu, and the Monastery of Sant Pere de Galligants, which houses an archaeological museum.
Girona's most unlikely tourist attraction is el cul de la lleona, a small stone statue of a lion that dates back to the twelfth century. Legend has it that whoever kisses the lion's bottom will return safely to Girona. The ritual is so popular that the lion has been replaced several times due to wear and tear. The original is in Girona's art museum (Museu d'Art de Girona).
What to see in Girona in one day
Girona Cathedral
Old Town & Jewish Quarter
Medieval city walls
Arab baths
Monastery of Sant Pere de Galligants (archaeology museum)
Painted houses on the River Onyar
Eifel Bridge
Casa Masó
Museum of Jewish History
Film Museum
How to get there by public transport
High-speed AVE and AVANT trains take 38 minutes from Barcelona Sants train station to Girona. Timetables and prices here.
The train station is a ten-minute walk from the Old Town.
Middle Distance trains take 1 hour and 10 minutes are slightly cheaper than high-speed trains. They also stop at other stations within Barcelona and might be worth considering depending on where you are staying.
4. Montserrat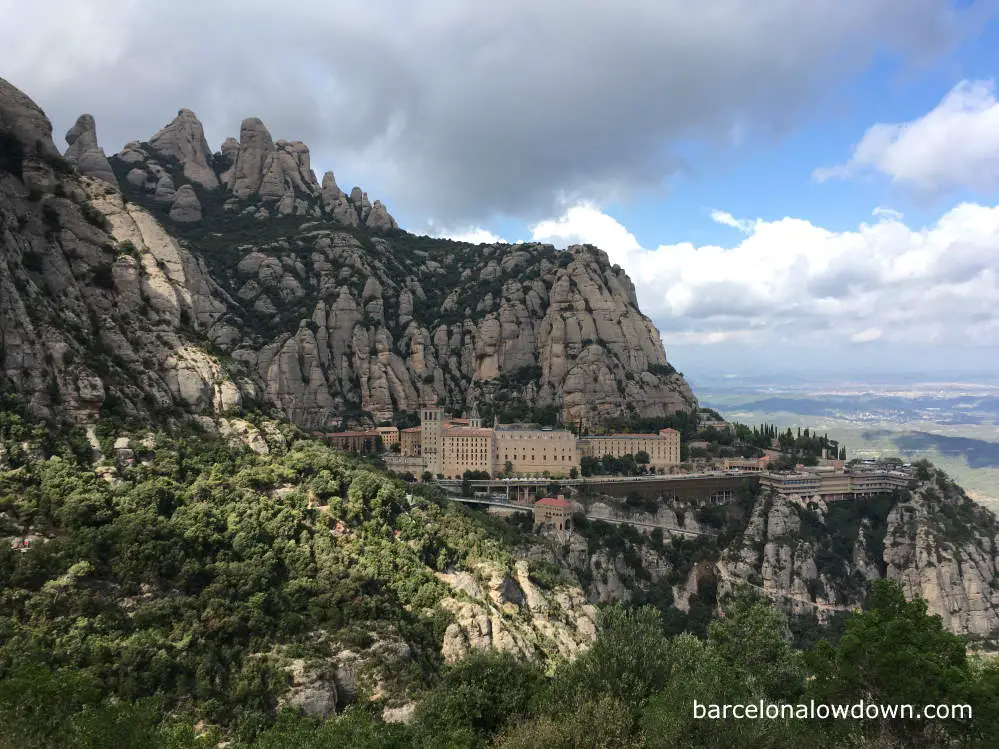 The jagged, otherworldly peaks of Montserrat have been attracting visitors since 880 AD when a statue of the Virgin Mary known as La Moreneta was allegedly discovered in a small cave on the mountainside.
The Santa Maria de Montserrat monastery dates back to the eleventh century and was built to house the statue. It is also home to the famous Escolania de Montserrat boys' choir, which performs twice daily except Saturdays.
Montserrat is just fifty kilometres from Barcelona, and if you are flying into Barcelona airport, you'll probably catch a glimpse before coming into land. It takes about an hour to get to the foot of the mountain by train. From here, you can either take the cable car or the rack railway up to the monastery. It's also possible to walk up.
Once you've visited the monastery (free entry) it's time to hit the trails. There are two funicular railways that take you further up the mountain. One goes to the Santa Cova chapel, the other climbs to the top of the mountain.
There are a dozen marked routes on the mountain, which take between one and approximately three hours to complete. All of the routes offer spectacular views of Montserrat and the surrounding countryside. More information about the walking routes here.
What to see at Montserrat in one day
Montserrat Monastery and La Moreneta
Cable car and rack railways
La Santa Cova
Stairway to heaven monument
Walking trails
Museum of Montserrat
Espai Audiovisual (museum)
How to get there by public transport
The journey to Montserrat is spectacular, and you can choose between taking a cable car or a funicular railway up the mountain. I prefer the cable car although the funicular also has good views.
Take the R5 train from Plaça d'Espanya towards Manresa. The cable car departs from Aeri de Montserrat station, the funicular departs from Monistrol de Montserrat.
Combined round-trip tickets, including the train plus cable car or funicular railway, are cheaper than purchasing tickets separately.
For most people, the best value option is the Trans Montserrat ticket which includes:
Return ticket for the metro to Plaça d'Espanya
FGC train to Montserrat (return ticket)
Sant Joan funicular (unlimited journeys)
Santa Cova funicular (unlimited journeys)
Entry to the Espai Audiovisual museum
Tips
If you will be visiting Montserrat in the winter, check the weather forecast and take suitable clothing since temperatures at Montserrat are cooler than in Barcelona. Likewise, in the summer, if you plan to do some trekking, you should wear sun protection and carry water.
Read our in-depth guide to visiting Montserrat here >>
5. Besalú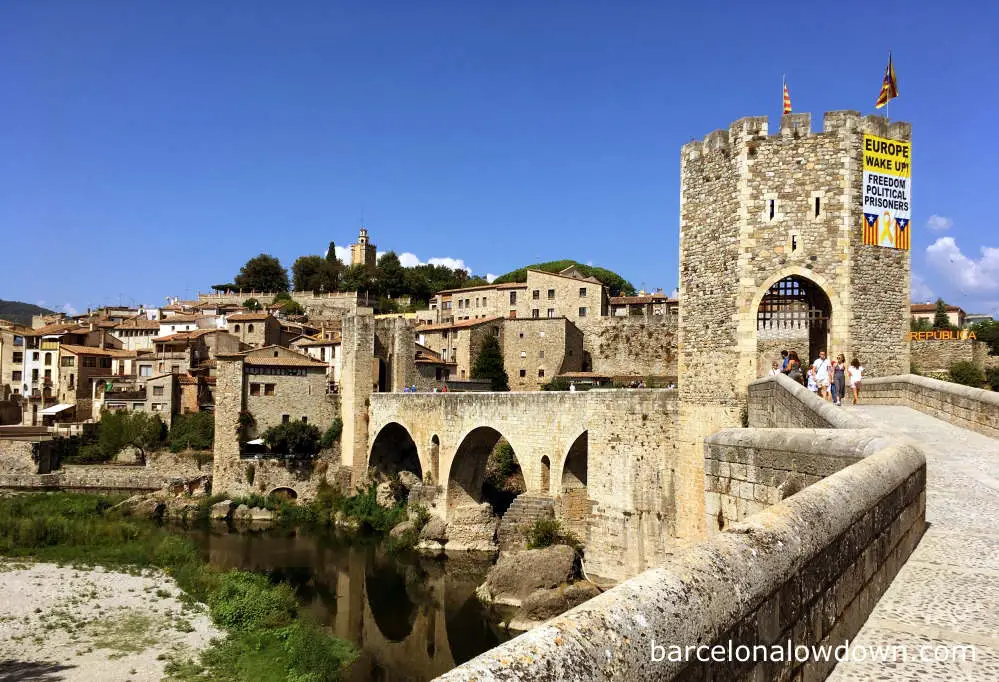 Most visitors come to Besalú to see the medieval bridge which was built during the eleventh and twelfth centuries and has been rebuilt numerous times after being destroyed by battles or floodwaters.
Once across the bridge, you enter the narrow cobbled streets of the village itself. Huddled around the picturesque Plaça de la Llibertat square, Besalú's other attractions include the Mikveh (Jewish baths and synagogue), the Church of Sant Vicenç and the Sant Pau Monastery.
The Mikveh can only be visited as part of a walking tour which you can book at the tourist information office next to the bridge. If you plan to take a tour it's best to reserve in advance. Contact details here. Tours are conducted in English as well as other languages.
Besalú is also home to the quirky Micromundi miniatures museum, which houses an eccentric collection of microscopic dioramas that you have to peer through magnifying glasses to see. The museum's quite small and doesn't take long to visit, but it's well worth the entrance fee. If you also visit the Toy Museum in Figueres, make sure you hang on to your ticket because it entitles you to a twenty per cent discount.
What to see in Besalú in one day
Romanesque bridge
Medieval town centre
Mikveh baths & Jewish Quarter
Micromundi
Sant Pere Monastery
How to get there by public transport
There are four buses daily between Barcelona and Besalú, the journey takes around 1 hour 45 minutes. The route is operated by Teisa and departs from the company's offices at Carrer de Pau Claris 117. Please note that this is NOT a bus station. Bus timetable and prices here.
Tips
Besalú is a small village, and it doesn't take long to see the attractions. If you arrive on the first bus from Barcelona, you could spend the morning visiting Besalú and then spend the afternoon in Girona. Besalú – Girona bus timetable here.
Read our in-depth guide to Besalú >>
6. Sitges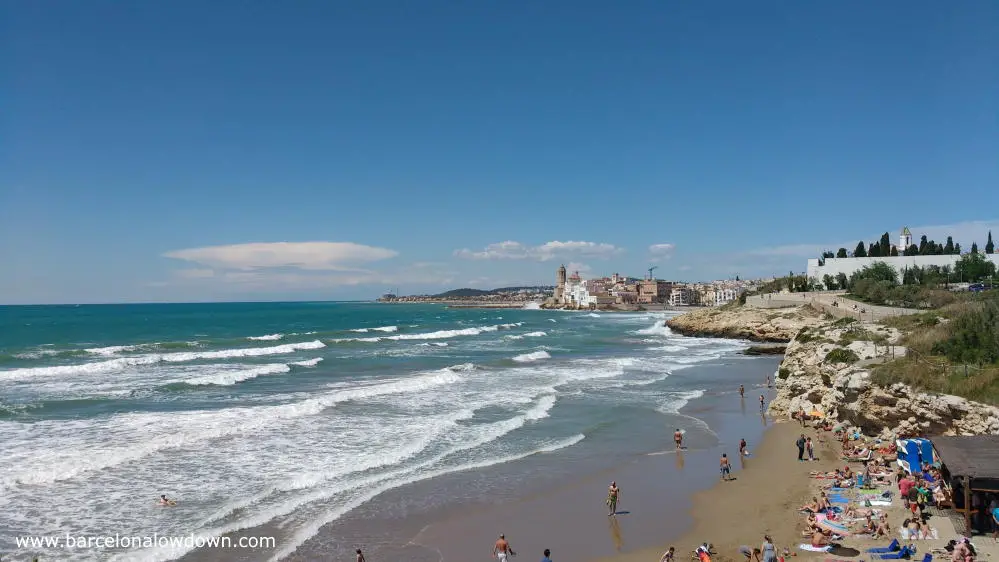 Sitges is famous for its beaches, nightlife, annual horror film festival and for being the most LGBT-friendly town in Spain.
In addition to the sandy blue flag beaches, beautiful palm-lined promenade and lively nightlife, the town's other attractions include a handful of small museums and the whitewashed houses of the old town.
Sitges is a popular day trip among Barcelona residents, who come for lunch and a wander along the beach. A footpath heading south from the end of the promenade takes you past secluded coves which are only accessible by boat or on foot.
What to see in Sitges in one day
Beaches and waterfront
Sitges old town
Museu Cau Ferrat
Museu de Maricel
Casa Bacardí
How to get there by public transport
Take the R2 Sud train from any of the following train stations in Barcelona: Estaçio de França, Passeig de Gràcia and Barcelona Sants.
Tips
Sitges in ATM zone 3, if there are several of you travelling together you can save money by sharing a 3 zone T-familiar. More information in this post.</p
Read our in-depth guide to Sitges >>
7. Tossa de Mar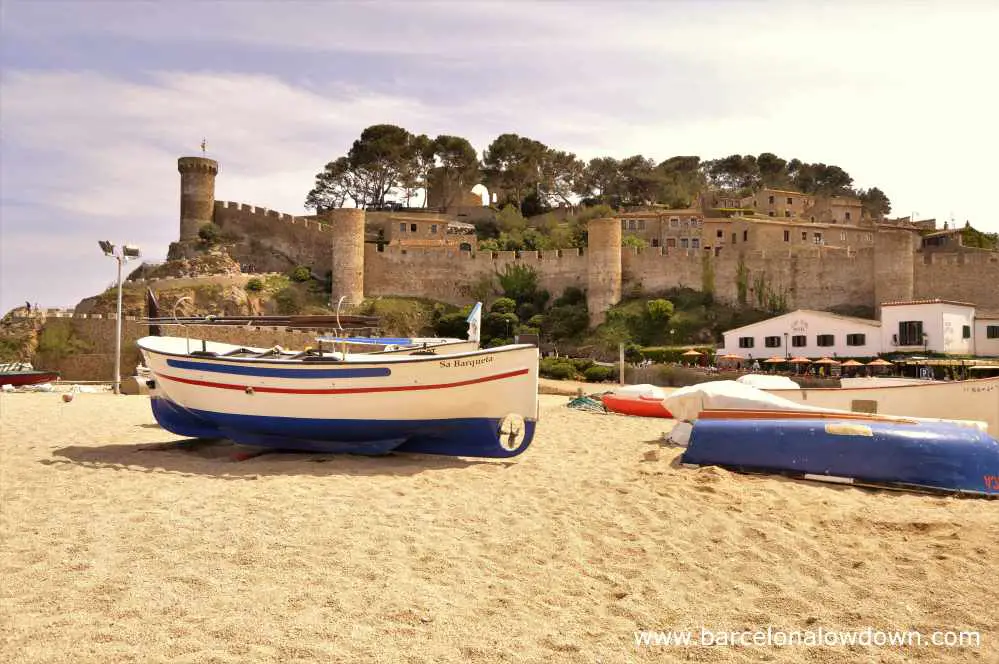 The Costa Brava is dotted with picturesque towns and villages, many of which are popular excursions from Barcelona. Unfortunately, public transport in the area isn't great so, if you don't want to rent a car or take a tour, it's not really practical to visit them as a day trip.
Luckily there are a few exceptions including picture-perfect Tossa de Mar, ninety minutes from Barcelona by bus.
Tossa's main draw is the fortified old town which stands on a rocky headland at the south end of the bay. Built during the twelfth century, the Villa Vella is the only remaining medieval fortified town on the Catalan coast.
Other historic sites include the ruins of the Church of Sant Viçenc, the Can Magi watchtower and El Ametllers, the remains of a Roman Villa dating back to the first century AD.
The town also boasts a long sandy beach lined with restaurants serving mostly traditional Catalan food with an emphasis on seafood and Paella.
If you don't fancy sunbathing, Tossa is on the Camí de Ronda coastal path and you can pick up a free leaflet from the tourist office with a map and descriptions of 5 marked walking routes that take between 1 hour and 4 hours to complete. Download leaflet here >>
What to see in Tossa de Mar in one day
Fortified old town (Villa Vella)
Can Magí tower
Roman Villa
Beaches and boat trips
Tossa Lighthouse
Camí de Ronda
Municipal museum
How to get there by public transport
Bus company SARFA run direct buses from Barcelona Estacio del Nord bus station to Tossa de Mar. The journey takes 1 hour and thirty minutes and during the summer there are 12 departures per day. Outside the high season, the frequency drops, in winter there are only 3 buses per day.
Alternatively, you can take the R1 train to Blanes and then catch a bus from the train station to Tossa de Mar. Buses are coordinated to meet the trains and the entire journey takes approximately two hours and fifteen minutes.
Tips
Combined tickets are available which cover the train and bus and are slightly cheaper than individual tickets. More information here.
If you have time, the train journey is more scenic since for much of the journey the railway line runs along the coast, often right next to the beach.
Read our in-depth guide to Tossa de Mar >>
8. Cardona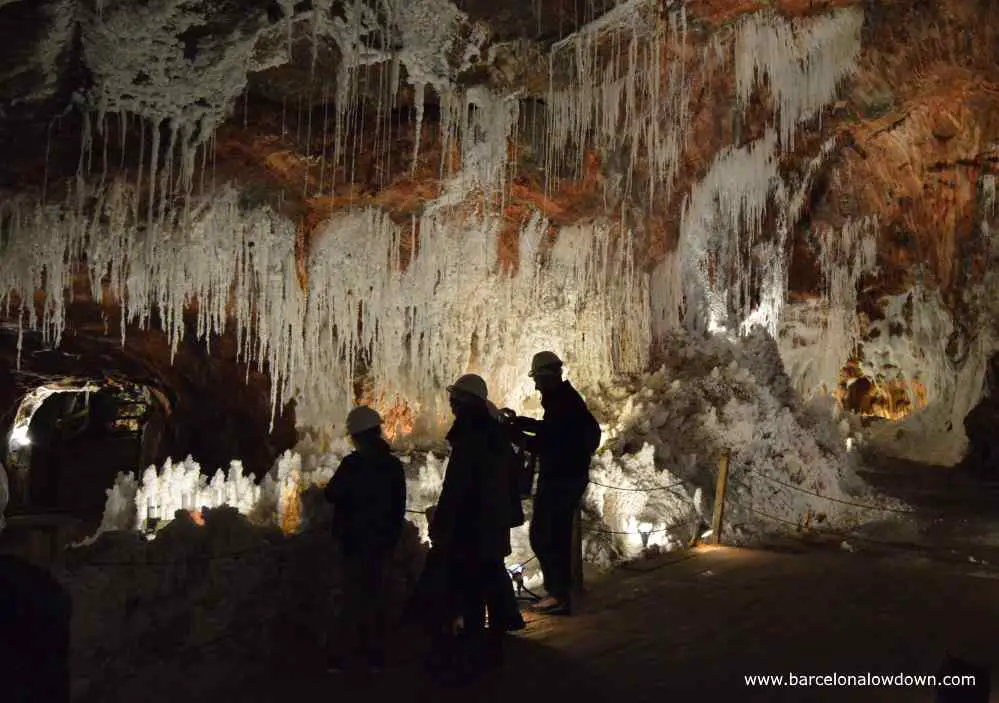 Cardona owes its existence to the mountain of salt which was pushed to the surface by tectonic activity approximately two million years ago.
Salt has been mined here since Roman times and Cardona Castle was built to defend the mines by the Count of Barcelona during the ninth century. The castle was extended during the seventeenth century and was the last castle to be taken by the troops of Philip V at the end of the War of the Spanish Succession.
During the 19th century, the town settled into a more peaceful period until the discovery of potash when the mountain of salt was sold to the La Unión de Explosivos Rio Tinto Company who exploited the mine from 1929 until 1990.
Nowadays the town is a popular day trip for Spanish families who come to visit the salt mines and castle. Tours of the mines are conducted every half hour in Catalan and Spanish. English language audio guides are also available.
What to see in Cardona in one day
Cardona castle
Salt mines
Cardona old town
How to get there by public transport
There are 2 buses per day to Cardona from Barcelona Estació del Nord bus station run by ALSA.
To visit Cardona as a day trip you should catch the bus which leaves Barcelona at 6:30 am and the return bus which leaves Cardona at 5:15 pm.
This gives you plenty of time to visit the Salt Mines, castle and the medieval town centre.
Check timetables here.
Tips
The return bus departs from the same stop which you arrived at in the morning (on the same side of the road).
Since it's a very early start, it makes sense to have breakfast in Cardona while you wait for the castle and salt mines to open. We had breakfast at Bar Avenida which is near the bus stop.
Read our in-depth guide to Cardona >>
9. Terrassa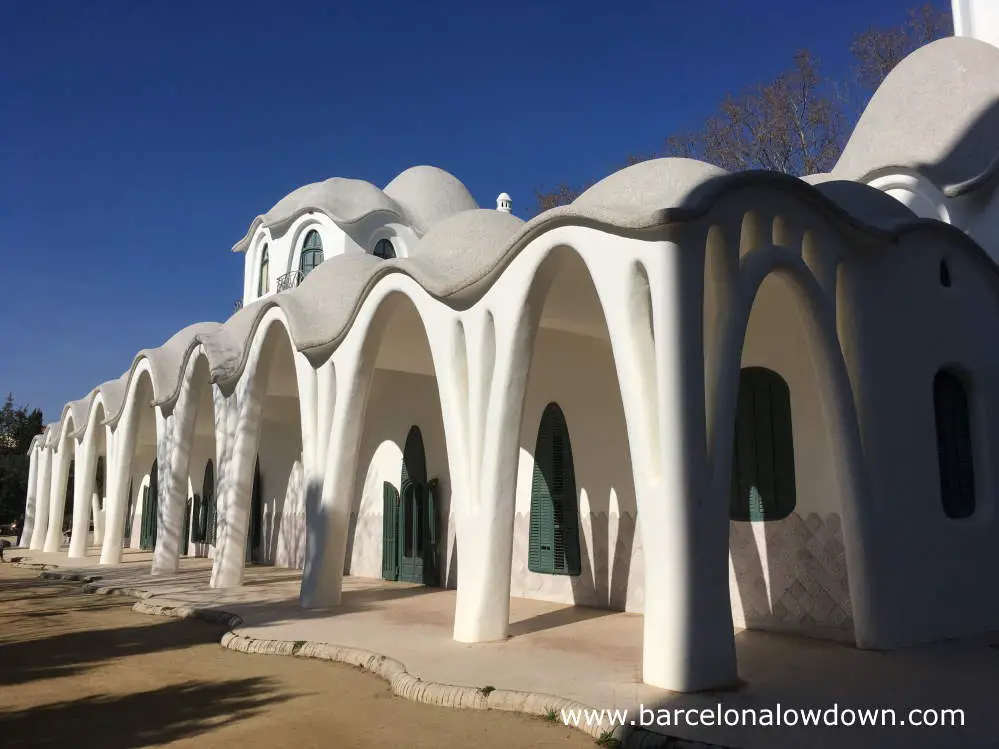 Just thirty kilometres from Barcelona, Terrassa is possibly the least visited destination on this list.
During the Industrial Revolution Terrassa was a major centre for textile production with more than forty large factories and mills, most of which were located in what is now the town centre.
Nowadays the town centre has been cleaned up and pedestrianised and several of the Art Nouveau style factory buildings and houses have been restored and converted into museums, cultural centres, shops and restaurants.
You can pick up a free map from the Tourist Office which lists a total of 28 Art Nouveau buildings, several of which are open to the public.
In addition to the industrial heritage, Terrassa is also home to one of the best-preserved Visigoth temple complexes in Europe: La Seu d'Ègara which dates back to the fifth century and is made up of two small churches and a mausoleum.
What to see in Terrassa in one day
La Seu d'Ègara
Masia Freixa
Catalan Museum of Science and Technology
La Casa Alegre de Sagrera
Vallparadis Castle
Torre del Palau
How to get there by public transport
RENFE and FGC run frequent train services from Barcelona to Terrassa, the journey takes approximately 45 minutes.
If travelling on RENFE trains you should alight at Terrassa train station. Travelling by FGC you can choose between; Terrassa Rambla, Vallparadís Universitat and Terrassa train stations
Tips
Terrassa is in travel zone 3 and if there are several of you travelling together you can save money by sharing a 3 zone T-familiar. More information in this post.
Read our in-depth guide to Terrassa >>
Map of Easy Day Trips From Barcelona by Public Transport