Better known by his pen name Serafí Pitarra, Frederic Soler was a Catalan playwright who wrote over a hundred plays as well as several books of poetry. The white marble monument which was erected in his memory stands directly opposite Barcelona's oldest theatre, Teatre Principal.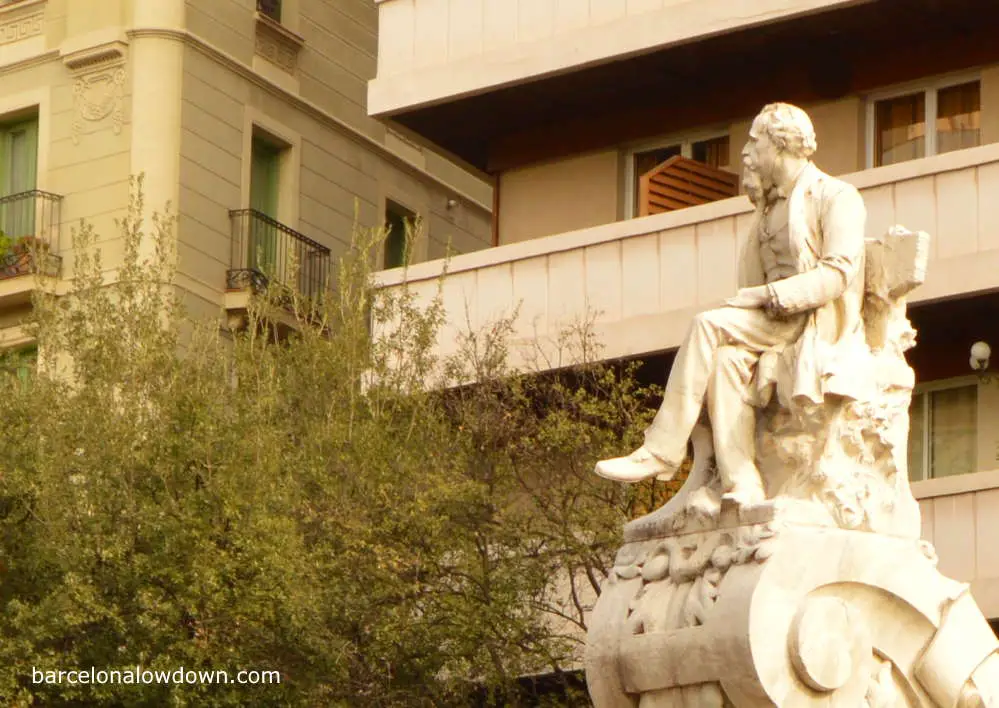 Biography of Frederic Soler
Frederic Soler i Hubert was born in the La Ribera neighbourhood of Barcelona in 1839. Son of a carpenter, his love of the theatre began at an early age. Apparently, when he was a child he played with a toy theatre with puppets made from offcuts of wood.
Both of Soler's parents died before he was ten years old and he grew up living with his uncle. When he was fourteen he began an apprenticeship in his uncle's workshop while acting and writing plays in his free time.
As his work became better known, Soler started using the pseudonym Serafí Pitarra and held frequent gatherings which were attended by artists and free thinkers including Anselm Clavé y Valentí Almirall.
Soler's early plays were satires such as Don Jaume el Conqueridor, L'Esquella de la Torratxa, and El Castell dels Tres Dragons. In 1863 he met his future wife Albina Bergnes and in addition to comedies, began writing romantic dramas.
In 1865 he formed a theatre company that only performed plays in Catalan. At around the same time he became more conservative in both his politics and playwriting, producing historical plays and melodramas and advocating the restoration of the monarchy. In 1888 he received an award from the Real Academia de la Lengua, presented by Queen Maria Christina.
Soler died of a heart attack at the age of fifty-five and was buried in the Cemetery of Poblenou, in the same pantheon as Anselm Clavé. In the 1960s his remains were moved to the Cemetery of Montjuïc.
Monument to Frederic Soler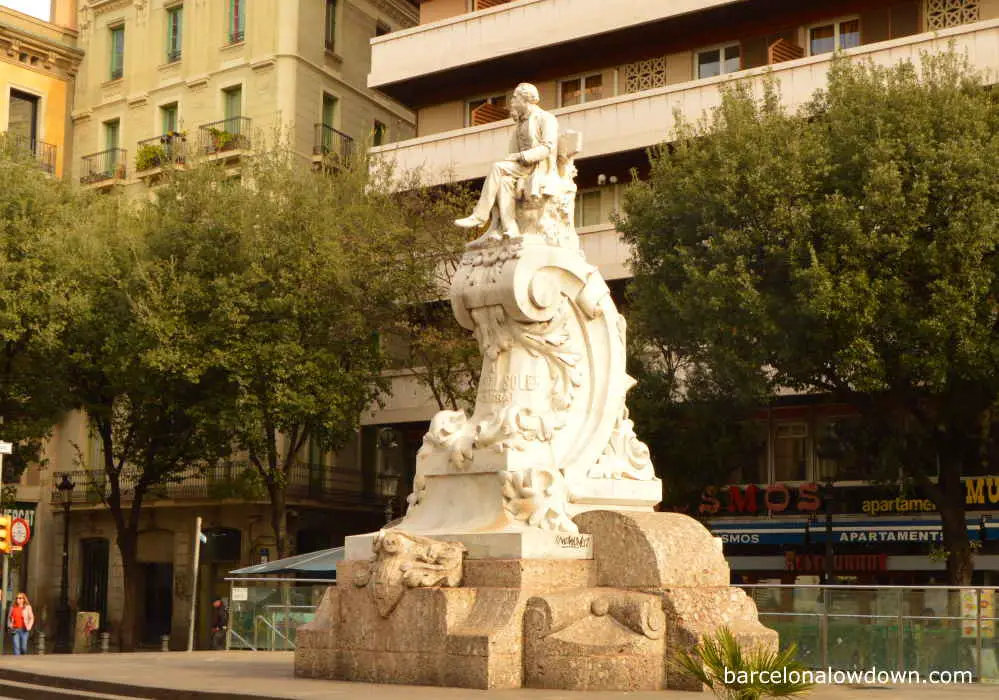 Inaugurated in 1906, the monument portrays Soler sat cross-legged on a bench which is decorated with the masks of Comedy and Tragedy. The white marble statue by Agustín Querol sits on top of an impressive pedestal designed by Pere Falqués.
Location
Plaça del Teatre, La Rambla, Barcelona
How to get there
The statue is located on the lower part of Las Ramblas, directly opposite Teatre Principal. The nearest metro stops are Liceu and Drassanes on the green line (L3).
Other attractions nearby
Las Ramblas
Palau Güell
Liceu Opera House
Columbus Monument
Port Vell Harbour
Map