Barcelona is well known for its public art. Wherever you go in the city, you will see statues and monuments decorating plazas, parks and other public spaces. Designs range from classically styled monuments and busts to more unusual, modern and even surreal creations.
One of Barcelona's most unusual and quirky statues is the Monument to Santiago Roldán, which was unveiled in 1999 and is commonly referred to as The Ass Monument (Catalan: Monument al Cul).
The seven-metre-high bronze statue, which portrays the stylised lower half of a woman viewed from behind, was created by Spanish pop artist and sculptor Eduardo Úrculo, who lived and worked in Oviedo (Asturias) where there is a similar monument called Culis Monumentalibus.
Who was Santiago Roldán, and why is his monument shaped like an ass?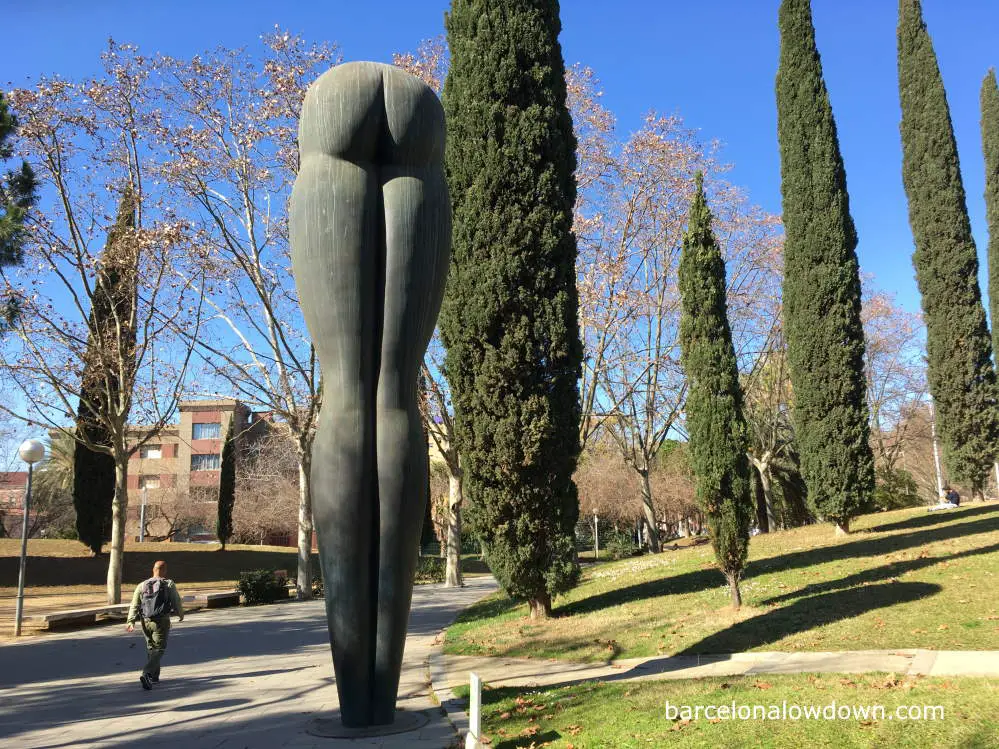 When someone has a monument dedicated to them, you can assume that they are either rich, famous, have done something noteworthy, or a combination of all three.
Santiago Roldán was a university professor who became the president of Holding Olímpico SA, the association that designed and built the 1992 Barcelona Olympic Games infrastructure.
When Roldán died in 1997, the city council decided to dedicate a monument to him and commissioned Eduardo Úrculo to create a bronze statue which would be installed in one of the parks and public spaces which were created in preparation for the games.
Úrculo began his career as a cartoonist whose creations have been categorised as Socialist Realism or Social Expressionism (source). He later painted in the Expressionist and Surrealist styles before discovering Pop Art.
During the nineteen seventies, in what is referred to as his erotic period, Úrculo began concentrating on the female form, of which the Ass Monument and its sister statue Culis Monumentalibus are the best-known examples.
It's not clear why the artist decided to create such an abstract monument in homage to Roldán, but the two men were friends, so you can assume that Úrculo thought that he would have approved. Apparently, Roldán's widow Maria Antònia Monés was delighted with the statue.
During the inauguration ceremony, Úrculo said of the monument:
I decided on this ass with airs of a Greek column, that evokes the Mediterranean and its hedonistic culture, and that is in tune with Santiago's way of being. Moreover, I see the ass as a global homeland that dissolves borders between the masculine and the feminine. As far as I know, Barcelona will be the first western city to have a monument to the ass.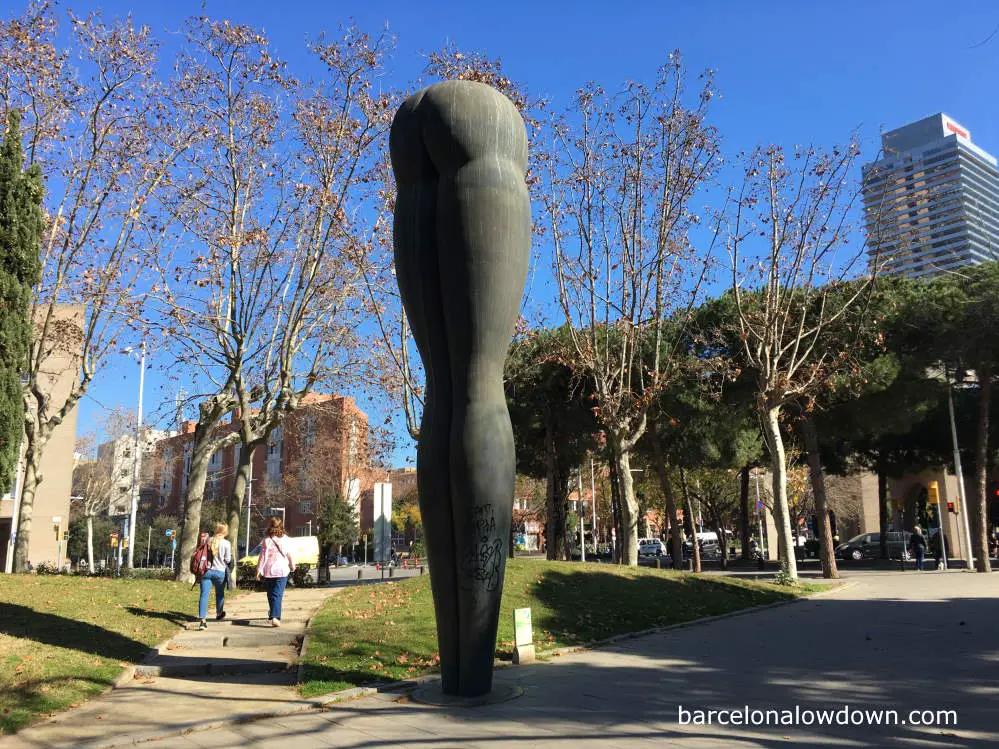 Location
The Ass Monument (A Santiago Roldán) is located in the Parc de Carles Primer at the intersection between Av. Icaria and Carrer de la Marina.
If you search for the monument on Google maps, you will find that it is somewhat confusingly referred to as the Olympic Statue, a name which is used to refer to a number of statues in Barcelona.
How to get there
The nearest metro station is Ciutadella | Vila Olímpica, on the yellow line (L4). Bus numbers 59, 136, V21 and V27 also stop nearby, as does the T4 Barcelona tram line.
Other attractions nearby
El Parc de la Ciutadella
The Olympic Marina
Map