Taxis are a quick and easy way to get around in Barcelona. The distinctive black and yellow cabs operate twenty-four hours a day, seven days a week, and in most areas, you will only usually have to wait a minute or two to flag one down in the street.
Alternatively, there are more than two hundred taxi ranks at key locations throughout the city, where you will usually find a line of taxis waiting.
This post contains all the information you will need when taking a taxi in Barcelona, including; fares, how to hail a cab, how to recognise an official Barcelona taxi, the best taxi apps and information about transfers to and from Barcelona airport and cruise ship terminals.
How to recognise an official Barcelona taxi
Barcelona taxis are easy to recognise thanks to their distinctive black and yellow colour scheme and an illuminated sign with the word TAXI on the roof.
When the taxi is available for hire, the sign on the roof has a green lamp illuminated on the driver's side. There will usually also be a sign on the front windscreen with the word "LLIURE" or "LIBRE" ("Free" in Catalan and Spanish).
All Barcelona taxis have a taximeter in a position where it is visible to the passengers, generally in the middle of the dashboard. There will also be a large yellow and black sticker on one of the rear side windows with the current tariffs.
A label on the dashboard displays the taxi license number and the maximum number of passengers which may be carried. The driver's photo ID should also be displayed, typically located in the bottom right corner of the windscreen.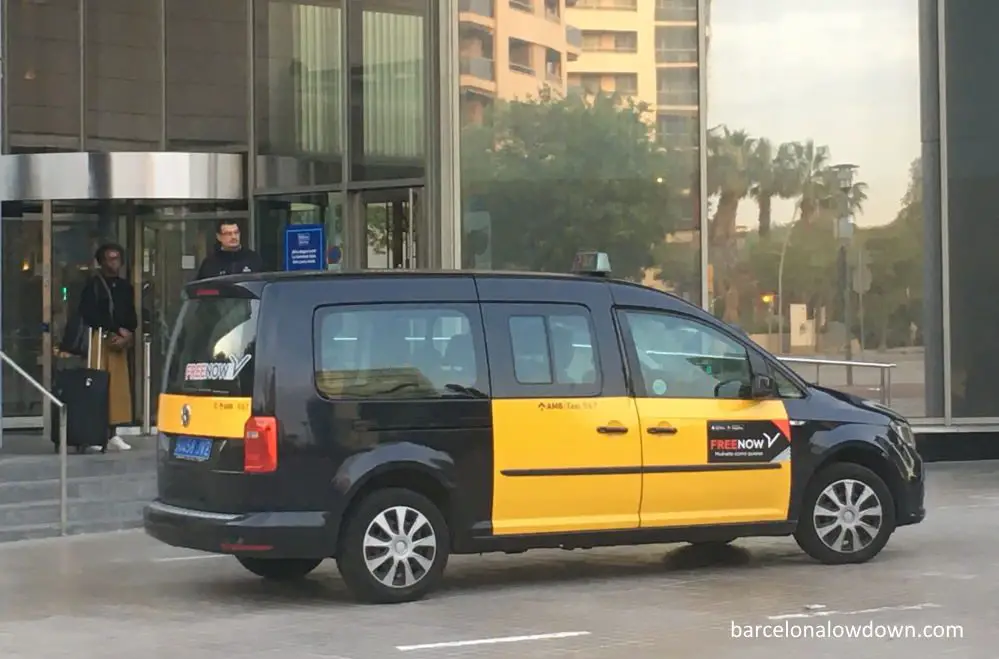 Barcelona taxi prices 2022
All taxis in Barcelona are metered, and the drivers are required to use the meter whenever they are carrying a passenger.
There are two exceptions to this rule.
When you pre-book a taxi using an app or from a website, in which case they may apply a fixed fair which is agreed upon in advance.
When travelling from Barcelona airport to the Moll Adossat Cruise Ship Terminal, there is a fixed fare.
When you board the taxi, the taxi driver will select the correct tariff and start the meter, which will then display a base cost. As the journey continues, a price per kilometre will be added to the fare.
Any applicable supplements will be added at the end of the journey, including a supplement for trips to/from the airport, additional passengers, etc. The tables below list the applicable supplements and minimum fares.
Taxi fares in Barcelona are calculated based on four tariffs:
T1: Weekdays from 8:00 to 20:00.
T2: Weekdays from 20:00 to 08:00, weekends and public holidays.
T3: Tariff used when booking a fixed price taxi through an app. In this case, the mileage calculation uses a sliding scale.
T4: Fixed fare journey from Barcelona airport to the Moll Adossat cruise ship terminals.
| | | | | |
| --- | --- | --- | --- | --- |
| | T1 | T2 | T3 | T4 |
| Base fare | €2.30 | €2.30 | 3.34 | €39.00 |
| Price per km | €1.21 | €1.45 | 1.50 – 1.87 | n/a |
| Price per hour (waiting) | €23.4 | €23.40 | n/a | n/a |
Barcelona Taxi Prices 2022
| | |
| --- | --- |
| Airport Surcharge | €4.30 |
| Minimum fare T3 | €7.00 |
| Minimum fare to/from the airport | €20.00 |
| Pick up from cruise ship terminal surcharge | €4.30 |
| Pickup from Barcelona Sants train station | €2.50 |
| Pickup from L'Hospitalet Exhibition Centre | €2.50 |
| 5 – 8 passengers surcharge | €4.30 |
| Special nights (23-24 June, 24-25 Dec & 31 Dec – 1 Jan) | €3.10 |
Minimum fares and surcharges
The tariff selected by the driver is displayed on the illuminated sign on the roof of the cab. This is to prevent unscrupulous drivers from choosing a more expensive tariff.
If you want to estimate how much a journey will cost, there's a handy calculator on the official ATM website. Although the price stated is only an estimate and doesn't consider current traffic conditions, I've found that it's usually fairly accurate.
How to hail a taxi in Barcelona
The easiest way to hail a taxi in Barcelona is to flag one down in the street.
Find a street where the traffic travels in the direction you want to go. Stand on the pavement in an area where there aren't any parked cars. Near an intersection is a good choice because there's more space, and you can also stop a cab driving on the other street.
When you see a taxi approaching with the green light illuminated, indicating that it's free, hold one hand up with your arm outstretched and look purposefully at the driver. Once you've made eye contact and the taxi has started to slow down, you can put your hand down and pick up any belongings ready to board the cab.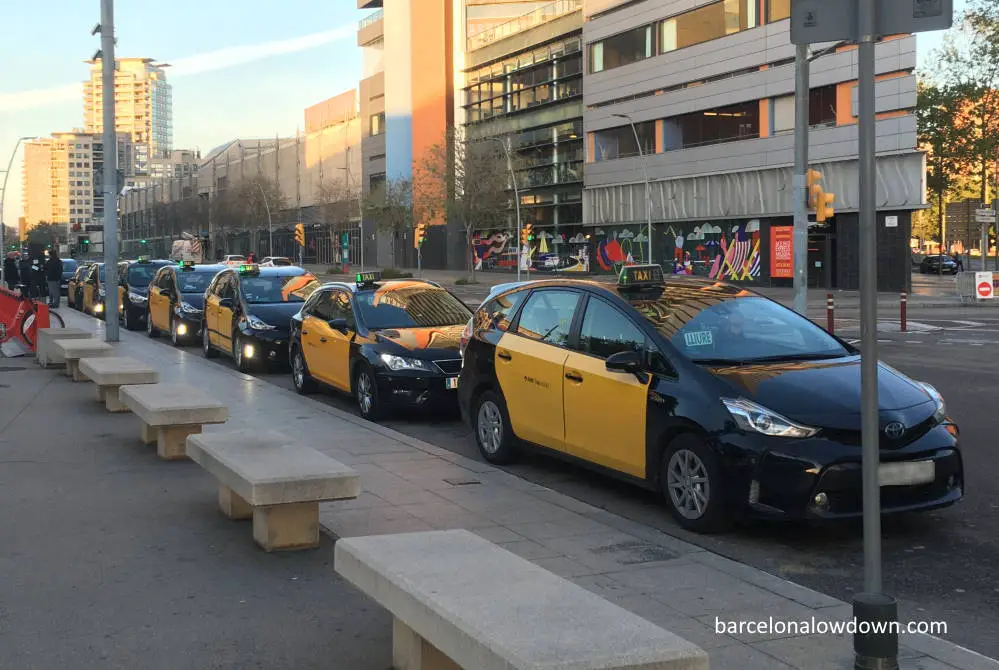 Taxi ranks
There are more than two hundred taxi ranks in Barcelona. Most of which are at busy locations such as train stations, bus stations, hospitals, shopping centres and outside large hotels and major tourist attractions.
Taxi ranks are indicated by a square blue sign with the word Taxi. There will typically be a queue of taxis waiting at the rank to pick up passengers.
When boarding a cab at a taxi rank, you have to take the taxi at the front of the queue. If, for example, you are a group of five people travelling together and the first two taxis are only licensed to carry four passengers, whereas the third taxi is licensed to carry six passengers, you either have to take the first two taxis or wait until other passengers have taken the other taxis before taking the third taxi.
You cannot flag down a taxi in the street within fifty metres of a taxi rank.
There's a map of taxi ranks in Barcelona here.
How to book a taxi in advance in Barcelona
Although taxis are plentiful in Barcelona, there are occasions when you may want to book a cab in advance.
Common examples of when it's a good idea to pre-book a cab include:
When going to the airport early in the morning or late at night.
When travelling from locations in the suburbs.
When travelling in a group of more than four people.
Taxis can be booked by telephone or via the web. There are also several taxi apps which use official Barcelona taxis.
How to call a taxi in Barcelona
When you pre-book a taxi by telephone, the taxi will already have the meter running on arrival.
Here are the phone numbers of a few popular Barcelona taxi companies.
| | |
| --- | --- |
| Barna Taxi | +34 933 222 222 |
| Taxi Ecològic Barcelona | +34 932 783 000 |
| Taxi Mès | +34 933 300 300 |
| Tele Taxi Barcelona | +34 932 134 131 |
| Taxi 24 BCN | +34 935 16 00 27 |
Barcelona taxi phone numbers
Although most telephone operators do speak English, they are not obliged to do so, and you will need to be able to pronounce the name of your hotel or the address of your apartment correctly. If in doubt, it's usually easier to ask the receptionist at your hotel to call a taxi for you.
Barcelona Taxi Websites
The most convenient way of pre-booking a taxi in Barcelona is to use a website. Here are a few of the most popular taxi websites in Barcelona.
Barcelona Taxi Apps
There are also several taxi-hailing apps in Barcelona which use official, black and yellow Barcelona Taxis. The advantage of using an app to call a taxi is that it uses your phone's GPS to get your location, and you can track your journey as you go.
Free Now (My Taxi)
Free Now (previously My Taxi) is the app with the largest fleet of taxis in Barcelona. You can also use the app to hire electric scooters or motorbikes.
Free Now works like Uber. You download the app to your phone, create an account, and add your payment details, and you're ready to go.
To hail a cab, you open the app and select your destination. The app gives you a list of taxis available for your journey and tells you how long you will have to wait to be picked up. It allows you to choose between a fixed price and using the taximeter.
Free Now is available for both Android and IOS.
Uber
The popular ride-sharing app operates in Barcelona using a fleet of official Barcelona taxis. Although Uber does have fewer taxis than Free Now, if you already have Uber installed on your phone, it saves you from having to install another app and set up an account.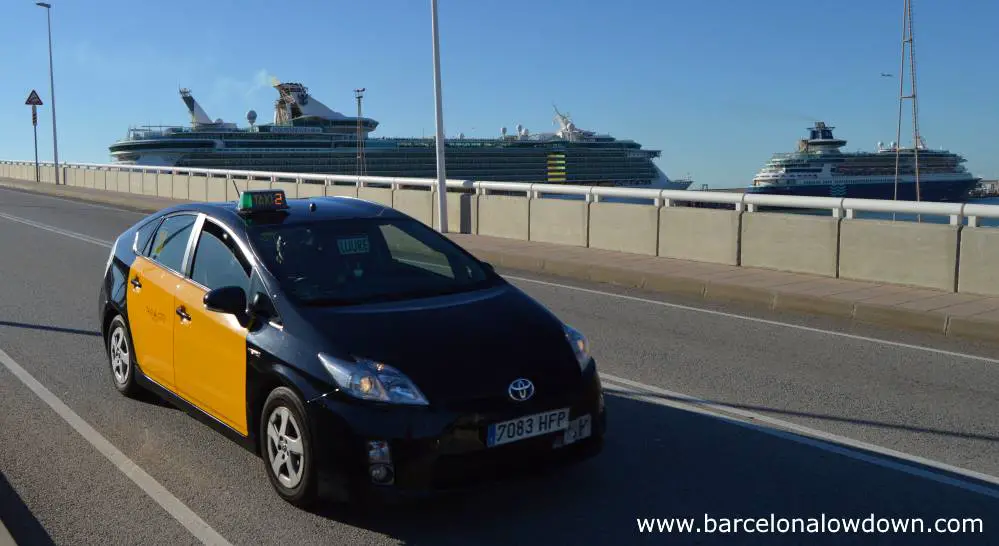 Ride-hailing apps in Barcelona
In addition to taxi apps, which use official Barcelona Taxis, there are also a few ride-sharing apps which operate in Barcelona using fleets of private hire vehicles.
Cabify
The most widely available ride-hailing app in Barcelona which uses private hire vehicles is Cabify. The Cabify app is similar to Uber, except that the first time you hail a car in Barcelona, you will have to wait fifteen minutes. This is due to a local bylaw which restricts the use of private hire vehicles. There is no restriction for subsequent journeys.
The main advantage of Cabify is that, when travelling with children, you can book a vehicle with a child seat.
Pre-booked transfers in Barcelona
If you want to book your transfer in advance, I recommend Book Taxi Barcelona. I've been recommending them to my readers since 2014 and have never received any negative feedback.
Their tariffs are slightly higher than hailing a taxi on the street, but with the advantage that you can book and pay for your transfer online and don't have to worry about changing money or whether your credit card will work in Spain.
In addition to regular taxis, Book Taxi Barcelona also operates a fleet of van taxis, minibuses, and coaches in addition to regular taxis. If travelling with children, you can also book a car with one or more child seats.
Barcelona Taxi receipts
Whenever you travel by taxi, it's a good idea to ask for a receipt. Barcelona taxis carry small printers which print a receipt with the following information:
Name and VAT number of the driver
Taxi license number
Vehicle registration number
Date of journey
Time of start of the journey
Time of end of the journey
Distance travelled
Tariff applied
Price of the journey
Additional charges
Total price charged to customer
Lost property telephone number
If you think you may have been overcharged, you can use the receipt to dispute the fare via the official ATM website.
If you leave any of your belongings in the cab, you can use the information from the receipt to track down your lost property.
Barcelona Taxis FAQs
This section answers some of the most common questions about taxis in Barcelona.
How much does a taxi from Barcelona airport cost?
There is no standard taxi fare from Barcelona airport to the city centre. All Barcelona taxis are metred, and you are charged the fare shown on the meter at the end of the journey. A taxi from Barcelona airport to the city centre, near Plaça de Catalunya, will typically cost around €35. Prices vary depending on which terminal you landed at, exact location, arrival time, and any supplements.
The only exception is if you will be taking a taxi from Barcelona airport to the cruise port. In this case, there is a standard fare which, at the time of writing, is currently €39.
The taxi driver asked me which way he should go. Is this a scam?
Occasionally, when you board a taxi after you tell the driver where you want to go, he will ask you which route you want him to take. Sometimes he may offer you a couple of choices. The first time this happened to me was on the way from the airport, and I assumed that the driver was trying to work out whether I knew where I was going, presumably trying to decide whether he could earn more money by taking me on a detour.
Since then, I've realised that this is not a scam. There are often several ways of getting to a given destination, and sometimes the less direct route may be faster. However, traffic in Barcelona is unpredictable, and, although some routes may usually be better, you never know when you're going to encounter a traffic jam. Because of this, taxi drivers often ask their passengers which route they prefer. Far from being a scam, this is their way of allowing you to participate in the decision-making process.
What are the common taxi scams in Barcelona?
After more than twenty years of living in Barcelona, I can honestly say that I don't think that I've ever been scammed by a Taxi in Barcelona.
Taxi drivers are often accused of taking a longer route than needed in order to bump up the fare, and on occasions, I have wondered why a driver chose a particular route. However, when this has happened, it invariably turns out to be a better route than the one I'd thought of myself.
If you think that you have been scammed somehow, you should ask for a receipt. You can then use the receipt to dispute the fare via the official ATM website.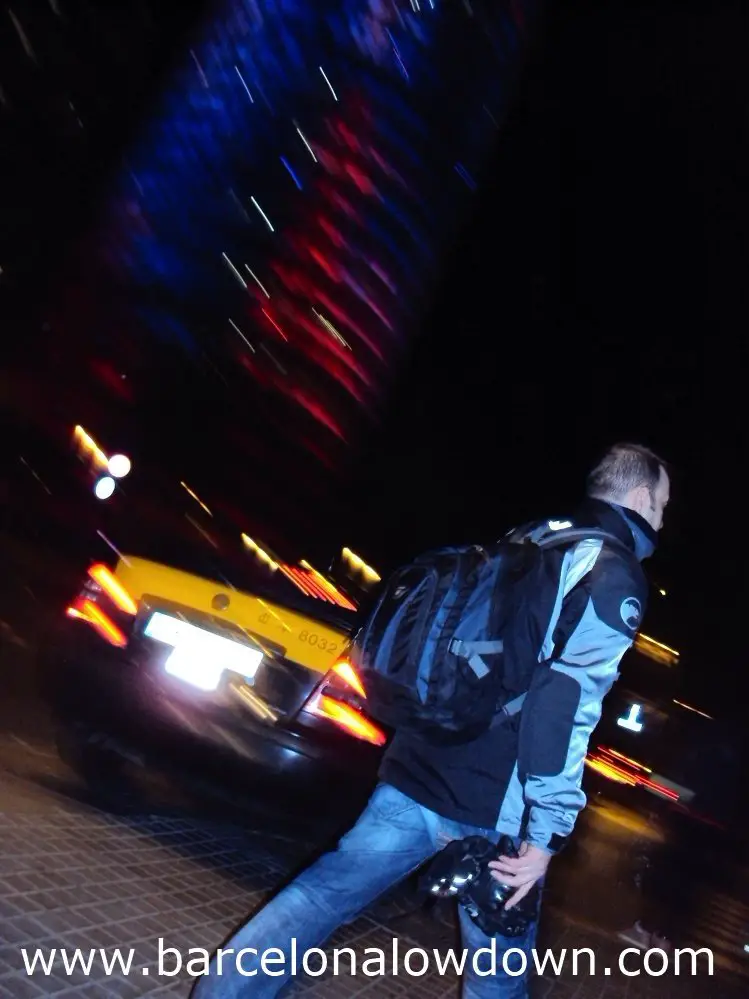 Can I take my dog or cat in a taxi in Barcelona?
Taxis in Barcelona are obliged by law to allow guide dogs (Seeing Eye dogs) and other assistance dogs to travel with their owner. Other dogs, cats, and animals may be carried at the driver's digression.
Is there Uber in Barcelona?
Uber operates a fleet of more than three hundred cars in Barcelona. All vehicles are licensed Barcelona taxis, and the app allows you to choose in advance between paying a fixed rate for the journey or the price displayed on the meter at the end of the trip.
Can taxis in Barcelona carry wheelchair users?
Taxi Amic operate a fleet of adapted vehicles which can carry up to five people, including one person in a wheelchair.
You can book an adapted taxi by calling (+34) 934208088
Do taxis in Barcelona carry child seats?
Children are legally allowed to travel in taxis in Spain without using a child seat. Because of this, most taxis in Barcelona don't carry child seats, and infants are expected to travel on their parents' laps.
If you are visiting Barcelona with children, for taxi journeys within the city, I recommend you book a car using Cabify, which allows you to select a vehicle with a child seat.
When arriving at Barcelona airport, you can tell the marshals at the taxi rank that you need a cab fitted with a child seat, and they will typically be able to find one for you, although you may have to wait for a few minutes.
Alternatively, you can pre-book a transfer with Book Taxi Barcelona, which allows you to reserve up to two child seats, booster seats or infant seats per vehicle.
Do taxis in Barcelona take credit cards?
Taxis in Barcelona are obliged by law to accept credit cards and all cabs carry a contactless payment terminal. However, not all credit and debit cards are accepted, and visitors from overseas have reported that they had problems when trying to pay with their cards.
The most commonly accepted credit cards in Barcelona are Visa, MasterCard and Maestro. If you don't have one of these cards, I highly recommend taking out some cash at the airport before boarding your cab.
If for whatever reason, you are unable to pay with your credit card and don't have enough money, the driver will take you to an ATM so that you can withdraw some money.
Do taxis in Barcelona accept payment using a mobile phone?
All taxis in Barcelona carry contactless payment terminals and accept payment using credit cards added to apps such as Google Pay, Apple Pay and Samsung Pay. However, as explained in my post about contactless payment in Barcelona, not all credit cards are accepted.
Can you pay with cash in Barcelona taxis?
Taxis in Barcelona will happily accept cash payments in Euros. However, they are only obliged to carry enough cash to change twenty euro notes, and, although most drivers will be able to give change for a fifty Euro note, they are unlikely to accept larger bills.
Do Barcelona taxi drivers speak English?
Taxi drivers in Barcelona are accustomed to dealing with foreign tourists, and most of them can speak at least basic English, although they aren't obliged to do so.
To avoid confusion, it's a good idea to show the driver the name and address of your destination on your phone or written on a piece of paper. Some Barcelona street names are quite difficult for English speakers to pronounce correctly, and what might sound right to you may be incomprehensible to a local.
How many people can travel in a Barcelona taxi?
The majority of Barcelona taxis are licensed to carry up to four passengers. Larger cabs can accommodate up to six passengers, although they are only usually available at the airport or via one of the taxi apps mentioned above.
Do you tip taxis in Barcelona?
Barcelona residents don't usually tip taxis, and your driver won't expect a tip. If you feel that a taxi driver has been especially helpful, you are of course welcome to give a tip. In most cases a two or three Euro tip will be considered generous.
Can I use US dollars to pay for a taxi from Barcelona airport?
The official currency of Barcelona is the Euro, and taxis, even airport taxis, won't accept US dollars. There are currency exchange counters at the airport where you can change US dollars for Euros as well as ATMs.