Barcelona is one of the most family-friendly destinations in Europe, and you can be sure that your kids will enjoy visiting just as much as you do.
This post contains everything you need to know when planning a family holiday in Barcelona, including; what to do in Barcelona with kids, when to visit, where to stay and how to move around the city.
Fifteen fun things to do in Barcelona with kids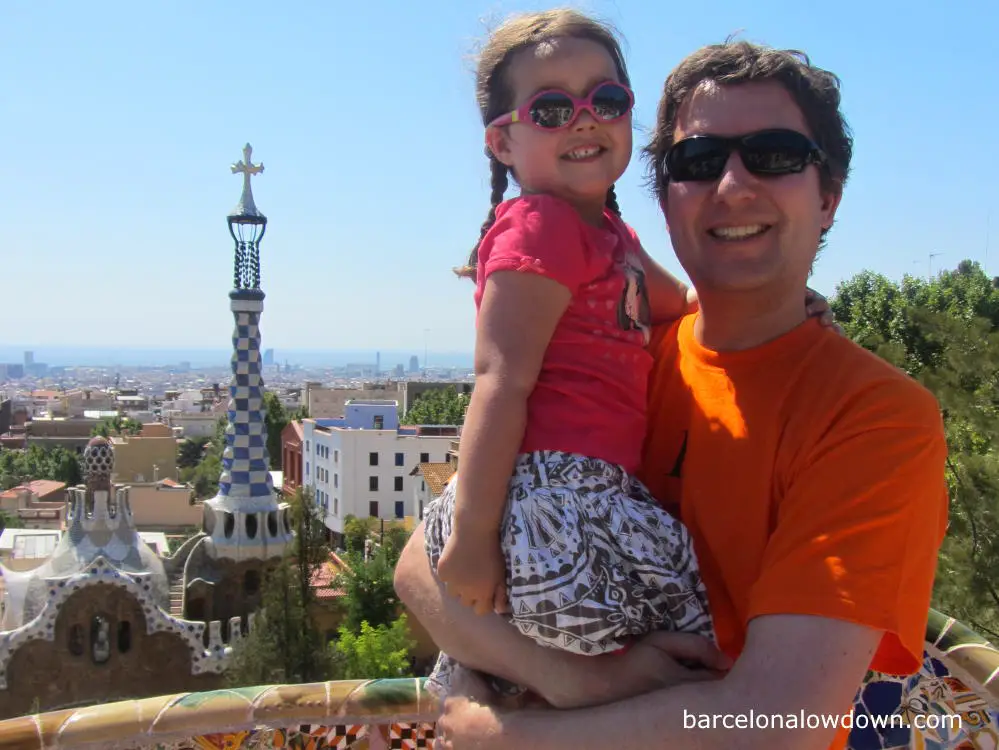 1. Have fun exploring Park Güell
Park Güell was initially conceived as an exclusive housing development on the outskirts of the city. Originally there were plans for forty houses, but only one of them was ever built. Apparently, the area was so exclusive that it was impractical to live there, and none of the plots were ever sold.
Before the project was abandoned, Catalan architect Antoni Gaudí had created one of the most beautiful and unusual parks in Europe. Kids of all ages will enjoy exploring the park and seeing its fanciful buildings, including the Hansel and Gretel styled gatehouses, the Salamander staircase and the vast plaza, surrounded by undulating mosaic benches with spectacular views across Barcelona.
Check prices and availability here >>
Tip:
If your kids enjoy arts and crafts, why not follow your visit to the park with a trencadis workshop where they can make their own Gaudí style mosaic?
2. Marvel at the sharks at Barcelona Aquarium
L'Aqùarium de Barcelona is the largest aquarium in Europe dedicated to Mediterranean species, with fourteen large tanks and pools.
The aquarium's main draw is a thirty-six-meter shark tank with a glass tunnel where you and your family can get up close to sharks, manta rays and other large marine species.
There's a large children's area with touch pools and an underwater cave that they can go inside. Younger children will love searching for Nemo in one of the aquarium's smaller tanks and watching the jellyfish in their tank illuminated by UV light.
Check prices and availability here >>
3. Come face to face with giants at Casa dels Entremesos
I always recommend that anyone planning a visit to Barcelona should check whether a neighbourhood festival will take place during their stay. These local festivals take place throughout the year and are a great way to immerse yourself in the city's vibrant culture.
Most festivals include live music, human towers, fireworks, correfocs (fire runs) and carnival-like processions where giants and other mythical creatures dance and twirl their way through the streets to the sound of music.
When not appearing in festivals, the giants are stored in La Casa del Entremesos (aka the Giants Museum), where they can be visited from Tuesday to Sunday. In addition, at the weekend there are often puppet shows.
Entrance to the museum is free of charge, although a small donation is appreciated. The puppet shows cost approximately €3.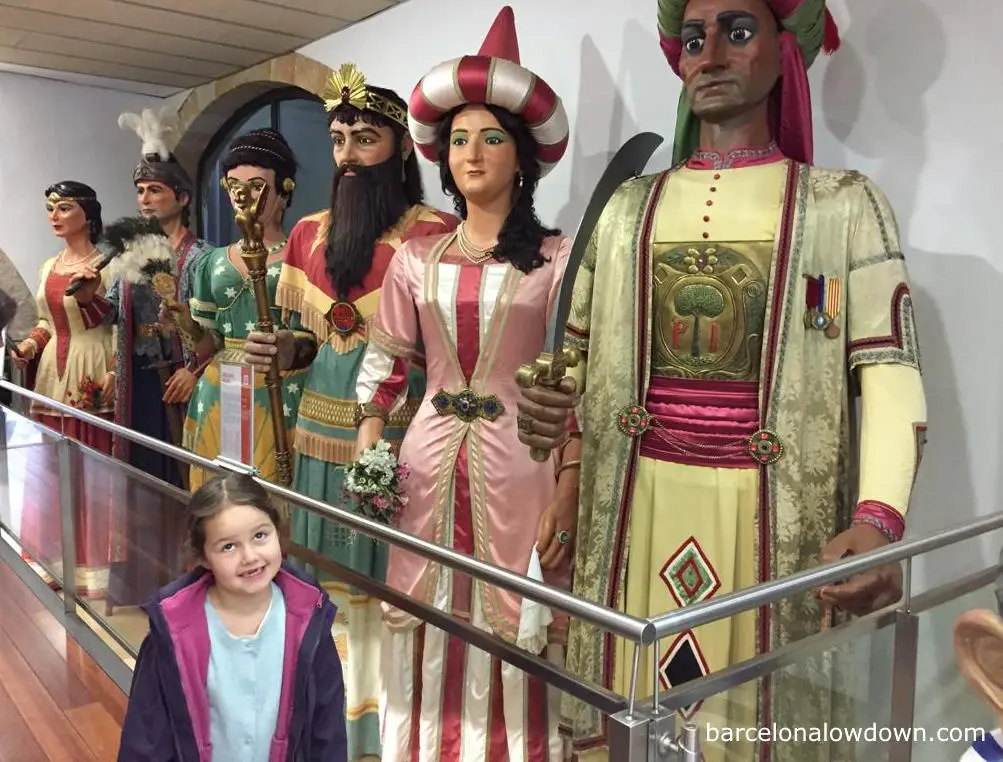 4. Enjoy the view from Barcelona's cable cars
There are two cable cars in Barcelona; the historic Port Cable Car which runs from the beach, across the harbour to Montjuïc and the modern Telefèric de Montjuïc, which continues the journey up to the top of the mountain.
Both cable cars offer fantastic views of the city and are a lot of fun. If you fancy combining the two, read this post which shows how to transfer from one cable car to the other since the stations are approximately two hundred metres apart.
In the summer months, the queues to purchase tickets for The Port Cable car are pretty long, so it's best to buy tickets online. On the other hand, the lines at the Teleferic de Montjuic are usually relatively short, so there's no need to purchase tickets in advance, although there is a ten per cent discount if you purchase them online.
Check prices and times for The Port Cable car here >>
Check prices and times for the Teleferic de Montjuïc here >>
If you decide not to ride on The Port Cable car, there's a funicular railway which runs from Paral·lel to the Telefèric de Montjuïc.
Bus number 150, which runs from Plaça d'Espanya to Montjuïc Castle, also stops next to the station.
More information about Barcelona's cable cars here >>
5. Go boating and feed the ducks in the Parc de la Ciutadella
The seventy-acre Parc de la Ciutadella is a great place for an impromptu picnic and escape the hustle and bustle of the city centre. Located just north of the El Born neighbourhood, the Ciutadella is the oldest of Barcelona's city parks and home to the Catalan houses of Parliament.
There's plenty of space for your kids to run and play, including a small lake where you can rent a rowing boat (currently €9 for four people). During the summer, you can hire four-seater bikes similar to rickshaws and cruise around the park.
Near the north entrance to the park, there are several table-tennis tables (bring your own bats and ball) and a life-sized statue of a woolly mammoth where kids can pose for photos sitting on her trunk.
The Parc de la Ciutadella is also home to Barcelona's zoo. I'm not a fan of zoos and have never visited, but it's said to be quite good and does a lot of research and conservation work.
6. Swim and play in the sand on Barcelona's beaches
Barcelona boasts four kilometres of sandy beaches, which run from the harbour at the end of Las Ramblas to El Park del Forum. From Easter weekend until the end of September, there are chiringuitos (beach bars) where you can buy cold drinks and snacks.
The most centrally located beach is the Barceloneta, which tends to be very crowded during the summer and at weekends. However, heading further north, the beaches get steadily less congested and more suitable for families.
The most family-friendly beach in Barcelona is La Platja de Bogatell (Bogetell Beach) which is less crowded and more suitable for swimming, although the water does get deep quite quickly.
There is a sizeable pyramid-shaped climbing frame at one end of the beach, plus a small park (El Parc del Poblenou) and a good-sized skate park nearby where your kids can play. If you fancy trying your hand at sailing or paddle surf, you can take lessons at the Base Nautica.
The four-kilometre boardwalk, which runs the length of Barcelona's beaches, is popular with walkers, runners and cyclists. Several companies rent bikes, but if there's space in your luggage, why not bring your kids' skateboards or inline scooters with you?
To get to Bogatell Beach from the city centre, catch the L4 metro to Llacuna, which is a fifteen-minute walk from the beach.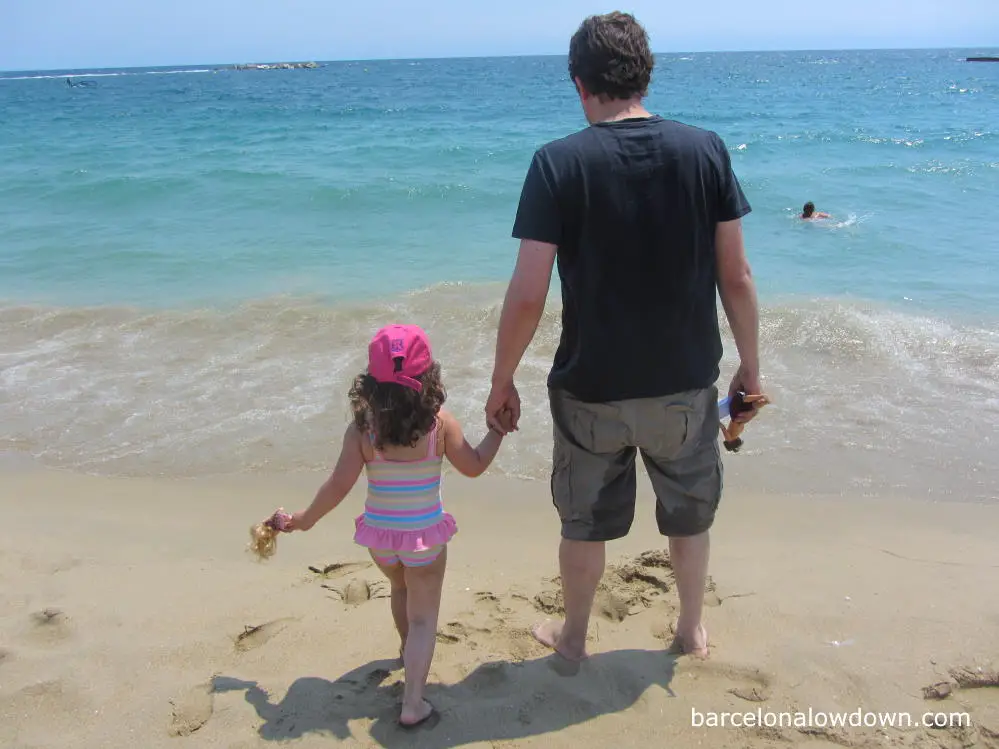 7. Visit the Camp Nou and have a photo taken with the players
If your kids love football, then a visit to the Camp Nou stadium should be high on your list of things to do in Barcelona.
The Camp Nou Experience is a self-guided tour of the stadium, which gives access to the pitch, dugout, stands, changing rooms, press box, the club's museum and an impressive collection of trophies and cups.
There are three photo opportunities set up along the route where the whole family can pose with one of the club's trophies and, thanks to a green screen and a bit of photoshop magic, have a photo taken with their favourite Barça player. At the end of the tour, you're given the opportunity to purchase some or all of the photos. There's no hard sell, and you don't have to buy the photos if you don't want to.
Check prices and availability here >>
8. Feast on churros and hot chocolate at Carrer de Petrixol
If your kid's like chocolate, they're going to love Barcelona!
Spanish hot chocolate is much thicker and more chocolaty than the hot chocolate you get at home. Most bars and restaurants serve hot chocolate but for a real treat you should head to Carrer de Petrixol (Petrixol Street) where there are three restaurants that specialise in hot chocolate.
Hot chocolate is typically accompanied by churros (tubes of batter similar to long thin doughnuts) or melindros (sponge fingers). For an extra treat and even more calories, a "Suís" is a hot chocolate topped with whipped cream.
While on the subject of chocolate, Barcelona has an entire museum dedicated to the stuff and which runs activities for children.
9. Explore the city in an open top bus
Barcelona's Hop On Hop Off buses follow three routes that cover the entire city and are a great way of seeing the city without having to plan too much or worry about getting lost.
The open-top double-decker buses include an audio guide in seven languages and free Wi-Fi, ideal for keeping in touch and sharing photos with friends and family back home.
Tickets are available for one or two days and are valid on all three routes.
Get a 10% discount by purchasing tickets online >>
10. Visit the fairies in The Fairy Forest
El Bosc de les Fades (Passatge de la Banca, 7) is a quirky bar near Las Ramblas, which is popular among families with children during the day.
As its name suggests, the bar has been transformed into a fairy forest, complete with overhanging trees and a fairy grotto.
To make things even more interesting, now and again, the lights dim, and a storm sweeps through the forest, complete with the sound of thunder and lightning (fortunately, there's no rain).
Tip:
When you pay for your drinks, make sure you keep the receipt which has a six-digit number on it that is the code to get into the toilets (downstairs).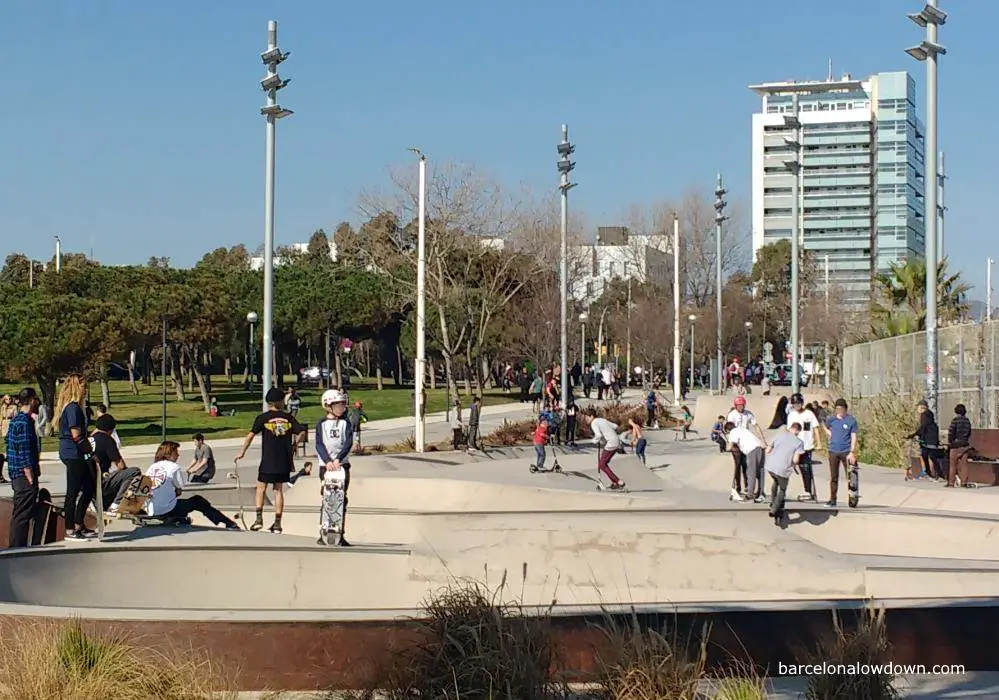 11. Ooh and ahh at the Magic Fountain Show
The Magic Fountain of Montjuïc is a spectacle that definitely shouldn't be missed when visiting Barcelona with kids. The historic fountain sprays an impressive display of powerful jets of water high into the air accompanied by a soundtrack of popular and classical music.
The show is free of charge and lasts for approximately twenty minutes. Shows start every thirty minutes following the timetable below.
Magic Fountain Timetable
| | |
| --- | --- |
| February 19th – March 31st | Friday and Saturday 7 pm – 9 pm |
| April 1st – May 31st | Friday and Saturday 9 pm – 10:30 pm |
| June 1st – August 31st | Thursday – Sunday 9 pm – 11 pm |
| September 1st – October 31st | Friday and Saturday 9 pm – 10:30 pm |
| November 1st – January 6th | Friday and Saturday 7 pm – 9 pm |
To get to the fountain, take the metro (L1 & L3) to Plaça d'Espanya and then walk 500m along Av. De La Reina Maria Cristina towards the Palau Nacional.
12. Have fun learning about science at the CosmoCaixa museum
The CosmoCaixa science museum is one of the best museums in Barcelona, with a wealth of interactive displays and experiments suitable for children of all ages, from toddlers to teens and young adults. There's also a planetarium and a recreation of an Amazonian rainforest complete with arapaimas, piranhas, turtles and snakes.
You should expect to spend between two and three hours here, but you could easily stay for much longer. Look out for the "Toca Toca" sessions where your kids can get to touch snakes and lizards and learn about their habitat.
The CosmaoCaixa museum is quite a long way from the city centre. To get there by public transport, you can either take the FGC L7 from Plaça de Catalunya to Av. Tibidabo which is approximately 500m from the museum (uphill), or catch bus number V13 from Plaça de Catalunya to Av Tibidabo-Bosch i Alsina (stop number 1258).
A taxi from the city centre will cost around €16 and take twenty minutes. The Hop On Hop Off Bus (blue route) also stops nearby at Av. Tibidabo.
Check prices and opening times here >>
13. Ride the rollercoaster at the Tibidabo theme park
The Tibidabo Amusement Park is the oldest of its kind in Europe and features a mixture of vintage and modern rides including rollercoasters, a big wheel and a traditional carousel.
Although not anywhere near as big as Port Aventura World (see below), it's still a lot of fun, especially for smaller children, and boasts fantastic views of the city. While here, you can also visit the Church of the Sacred Heart.
To get to the park, catch the "Tibibus" from Plaça de Catalunya (in front of the Desigual clothes store). The journey takes thirty minutes and is included with the entrance fee.
Check prices and opening times here >>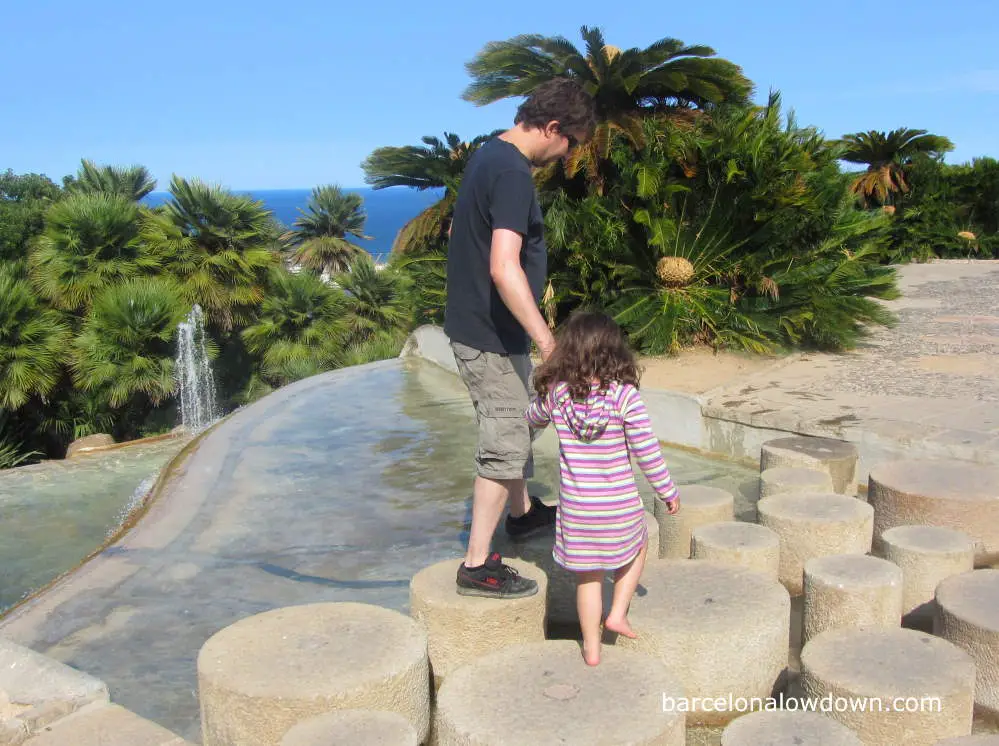 14. Explore the castle at the top of Montjuïc
Montjuïc Castle is a large bastion fortress that was built during the seventeenth century. The castle is fun to explore, but the best thing about visiting is the views from the ramparts and the journey up the mountain by cable car to get here (more information above).
Once you've finished visiting the castle, you can walk downhill through the parks surrounding the castle, where there are slides and other things for your kids to play on (free of charge).
If you don't want to take the cable car up to the castle, the HOHO bus stops here (red route), or you can take bus number 150 from Plaça d'Espanya.
15. Take a boat ride around the harbour and along the coast
There are several companies offering boat trips from near the Columbus Monument at the end of Las Ramblas. The longest-standing company is Las Golondrinas who have been running boat trips from this location since 1888.
They currently offer two different tours:
Harbour Tour
The forty-five-minute long harbour tour explores the historic Port Vell before heading out to see the cruise ships in the newer part of the harbour. Tours of the harbour are run in vintage boats and are a good choice when visiting with smaller children or if the sea is choppy.
Coastal Tour
The longer coastal tour follows the same route around the harbour and then goes along the coast past the Barceloneta to the Olympic Marina before turning around and returning to Port Vell. The coastal tours are run in modern twenty-five metre, twin-hulled boats.
Check prices and availability here >>
Five family friendly daytrips from Barcelona
1. Catalunya En Miniatura
Catalunya En Miniatura combines a model village with scale models of famous buildings from across Catalonia with an adventure park with zip lines and rope bridges. There's also a picnic area and a miniature railway.
Catalunya en Miniatura can be reached by train from Plaça d'Espanya, where they sell combined tickets, including entry to the park.
2. Cardona salt mines and medieval castle
Ninety-five kilometres inland from Barcelona, Cardona is a popular day trip for local families who come to explore the medieval castle and visit the nearby salt mine.
Salt has been mined in Cardona since the times of the Roman Empire and during the ninth century, Wilfred the Hairy built Cardona Castle to protect the mine. Salt continued to be mined in Cardona until the nineteen nineties when the mine was closed.
The mine has now been reopened as a tourist attraction and can be visited daily in small groups.
Check out my guide to visiting Cardona Castle and the Salt Mines here >>
3. Port Aventura World and Ferrari Land
Located on the Costa Daurada, 100km south of Barcelona, Port Aventura World is the largest and theme park in Spain and boasts the highest and fastest rollercoaster in Europe.
The park is divided into six themed zones; Wild West, Mexico, Mediterraneo, China, Polynesia and Sesamo Adventure, plus Ferrari Land.
When visiting Port Aventura World from Barcelona, you can get good deals, including coach transfer to and from the park.
Check prices and availability here >>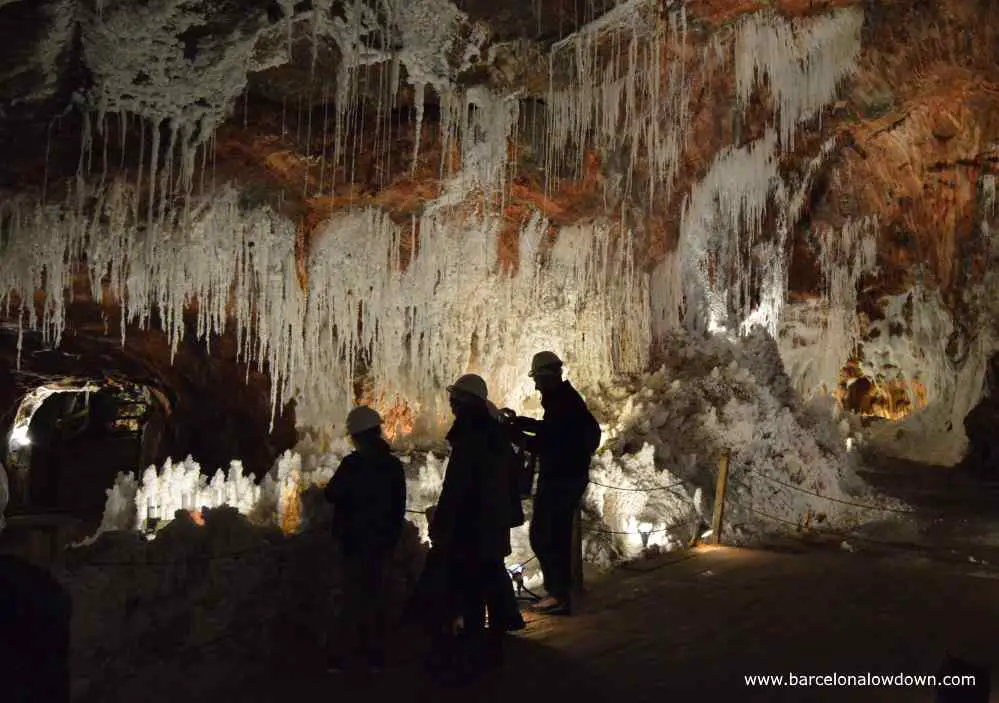 4. Tossa del Mar
Tossa del Mar is a quaint town on the Costa Brava with an impressive medieval castle that overlooks the beach.
Apart from the beach and castle, you can take boat rides to visit rocky coves or walk the Cami de Ronda; an old smugglers route along the coast.
To get to Tossa del Mar from Barcelona, take the R1 train to Blanes and then catch a bus from the train station to Tossa del Mar. Buses are coordinated to meet the trains, and the entire journey takes approximately two hours and fifteen minutes.
Check out my detailed guide to Tossa del Mar here >>
5. Illa Fantasia Water Park
Illa Fantasia is a large water park located just a few miles from Barcelona in Villasar de Dalt.
The park includes three giant swimming pools and twenty-two water slides, as well as plenty of places to eat and drink, a picnic area and a small supermarket.
Illa Fantasia opens from June to mid-September, and buses number C3/4 take approximately twenty minutes to get there from Barcelona.
Check prices and availability here >>
Transport and getting around Barcelona with children
Public transport
Barcelona has an excellent public transport system which includes buses, metro, urban trains and a tram. All four modes of transport have areas reserved for transporting buggies and wheelchairs.
All buses have ramps for access, and it's easy to get on and off the metro and tram with a buggy or pushchair. Most metro stations are accessible and have lifts down to the platforms, but there are a few exceptions.
Children under four travel for free and don't require a ticket to travel on public transport in Barcelona. Older children pay the full adult fare, which is currently €2.40.
You can save money by purchasing either the Hola Barcelona travel card which covers unlimited journeys by public transport or the Barcelona Family Card which also includes entry to many of the attractions mentioned in this article.
Alternatively, if you will only be using public transport a few times during your stay, you could purchase the T-familiar, which can be shared between up to eight people.
Taxis
Children can legally travel in taxis without a child seat or booster seat within Barcelona city limits. However, because of this, most Barcelona taxis don't carry child seats and expect children and infants to travel on their parents' laps.
When travelling within the city, it's a good idea to hail a taxi using the Cabify app, which allows you to select a cab with one child seat.
When arriving at Barcelona airport, you can pre-book a taxi with one or more child seats from Book Taxi Barcelona.
Airport transfer with children
I've written a very detailed post covering all the transport options available at Barcelona airport.
The only additional information I want to mention here is that, if you're travelling with a lot of luggage or pushchairs, avoid transferring from the train to the metro at Barcelona Sants since there isn't an elevator. Instead, you'll have to negotiate a flight of stairs.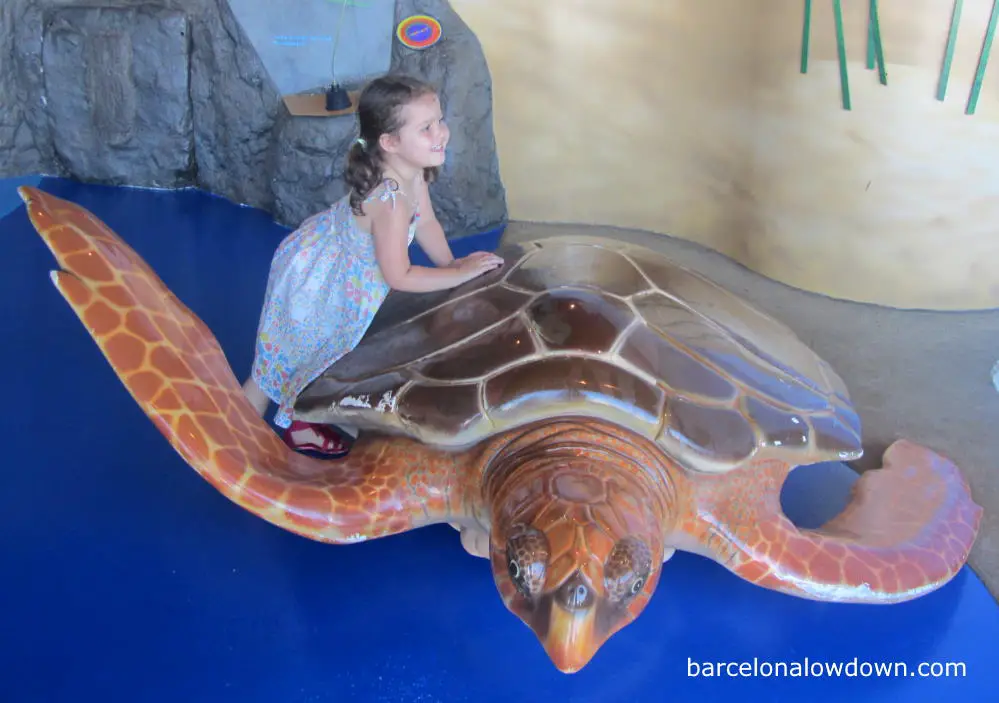 Sightseeing passes and travel cards for families in Barcelona
Barcelona is a very family-oriented city, and you won't be surprised to hear that there is a tourist pass designed for families with children.
The Barcelona Family Card covers many of the attractions listed above, plus unlimited journeys by public transport.
More information and prices here >>
For more information about Barcelona sightseeing cards and travel passes check out this post.
Where to stay in Barcelona with children
If this is your first visit to Barcelona, I recommend you book a hotel near Plaça de Catalunya which is close to many of Barcelona's main attractions and easy to get to from the airport.
Popular family-friendly hotels in this area include Hotel Jazz, a three-star hotel with family rooms that sleep three, and Hotel Regina, a boutique hotel in the same area with family rooms that sleep up to four people.
There are also plenty of hotels to choose from in the Gothic Quarter, l'Eixample and El Born neighbourhoods which are also central. Alternatively, if you want to stay near the beach, you could look for a hotel in the Barceloneta or Poblenou neighbourhoods.
For more information and advice, I recommend you read my full where to stay in Barcelona guide.
Where to eat in Barcelona with kids
You'll have no trouble finding somewhere to eat with your kids in Barcelona. The Spanish are very family-oriented, and you'll see families with children eating out in restaurants at all hours, even quite late at night.
You may be surprised to learn that most restaurants don't have a children's menu, and children are generally expected to choose from the regular menu.
I always recommend that visitors eat their main meal at lunchtime, when most restaurants serve "menu del día", which is a set price meal that normally includes three courses and a drink, with four or five dishes to choose from for each course.
Most restaurants that serve a "menú del dia" also offer a "mig menú" (half menu) whereby you can eat just a main course plus dessert or starter plus dessert for a reduced price; ideal for younger children. In addition, in some restaurants, children under four years old eat free of charge.
Most restaurants will have a few familiar dishes such as pasta, soup or pizza on the menu. If your kids don't fancy Spanish food, there are also plenty of Italian, Chinese and Indian restaurants in Barcelona, as well as KFC, McDonald's and Burger King. For better quality fast food look out for branches of Timesburg (a local burger chain) and Maoz (falafels). Another good choice for kids is "bocatas", which are sandwiches made with baguettes; served at most bars. For a quick snack, why not stop by the colourful La Boqueria market where your kids can feast on fruit and smoothies?
Most restaurants in Barcelona don't have high chairs, and in smaller restaurants, you might have to fold up your stroller due to lack of space. On the other hand, nearly all restaurants have at least a few tables outside where larger groups can pull together a couple of tables and eat together (ask the restaurant staff first).
Restaurants with children's menus in Barcelona
The following restaurants are especially suitable for families with children.
La Plaça Gastro Mercat
La Plaça Gastro Mercat (Pl. de Catalunya, 14) is a self-service restaurant where you and your kids can choose what you fancy from the wide range of food on display. Located on the top floor of the El Corte Inglés department store at Plaça de Catalunya, the restaurant has a children's play area and views of the plaza.
Aguaribay
Aguaribay (Carrer del Taulat, 95) is the only vegetarian restaurant in Barcelona with a children's menu. Located in the Poblenou neighbourhood, it's a good choice if you'll be spending the day on Bogatell Beach which is nearby.
If there's a vegetarian or vegan in your family, check out my post about my favourite vegetarian restaurants in Barcelona.
Pudding
Pudding (Carrer de Pau Claris, 90) is a child themed café in the Eixample district where you can enjoy a coffee and a slice of cake while your children have fun in the play area. They also organize birthday parties.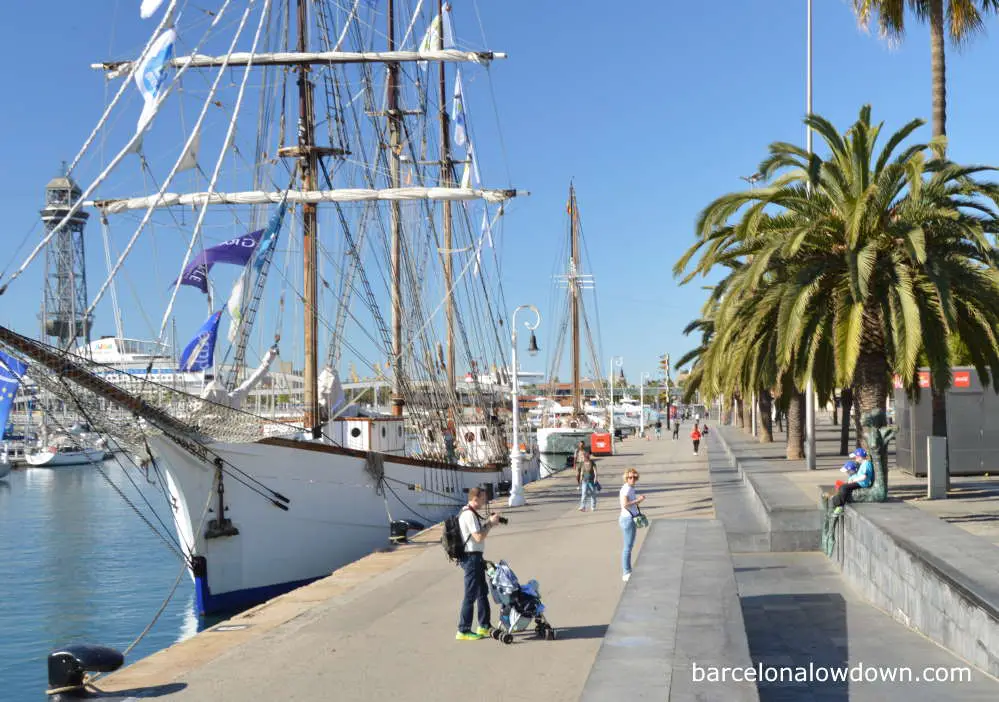 Best time of year to visit Barcelona with children
The best time for visiting Barcelona with children is from April to June and September to October. The city is slightly less busy at this time of year than the high season, and the weather is still warm and sunny.
If you are visiting during September, try to coincide with La Mercè, which is one of the city's main fiestas and includes plenty of events that are suitable for children.
Barcelona is also a good destination for February and October half-term holidays. February is the coldest month of the year in Barcelona but the weather is still usually considerably better than back home. Also, half term often coincides with the Festes de Santa Eulalia celebrations which take place during the weekends before and after the twelfth of February. Santa Eulalia was a child and the majority of the activities which take place are aimed at children.
I've written more about when to visit Barcelona in this post >>
Barcelona with families and children FAQ
Where can I rent a stroller, buggy or child seat in Barcelona?
Several companies hire out buggies, strollers, pushchairs and child seats in Barcelona. Backpack Baby will deliver a stroller or buggy to your chosen location anywhere in Barcelona and collect it at the end of your holiday.
Even if your child no longer needs a stroller at home, you might consider hiring one during your visit because Barcelona is a very walkable city and you will probably walk a lot more than you do at home.
Alternatively, if you want to purchase a buggy or baby carrier, there are several stores near Plaça de Catalunya, including El món d'en Dadà (Carrer de Petritxol, 6) Prenatal (Ronda de Sant Pere, 5) and El Corte Inglés; a large department store at Plaça de Catalunya that sells just about anything.
Where can I purchase nappies, baby food and formula in Barcelona?
Most supermarkets sell nappies, baby food and wipes. Popular brands include Dodot (nappies), Hero (food & formula) and Nestlé (food & formula). Some larger supermarkets also stock their own brands.
If you're staying near Plaça de Catalunya, there's a Carrefour supermarket on Las Ramblas at Rambla de Estudis 13.
Where can I buy children's clothes in Barcelona?
There are plenty of shops in Barcelona which sell children's clothes. In the city centre, head to Portal de l'Angel, where you'll find branches of Benetton, El Corte Inglés and Mango, all of which have children's clothes.
Spanish fashion company Zara has several stores called Kiddy's Class, which only sell children's clothes.
For lower-priced children's clothes, there are branches of C&A and Primark at several of Barcelona's malls. Near the city centre, there's a branch of C&A at Carrer de Pelai, 54, a five-minute walk from Plaça de Catalunya.
For sun hats, sunglasses, swimming costumes and beachwear, there are several branches of Decathlon, including one at Carrer de la Canuda, 20, which is right next to Las Ramblas.
Do restaurants in Barcelona have children's menus?
Most restaurants in Barcelona don't have children's menus. In most restaurants, you'll be able to order your children two starters or a starter and a dessert instead of a three-course meal. In some restaurants, children under four eat free of charge.
Highchairs and baby changing areas are also uncommon in Barcelona restaurants.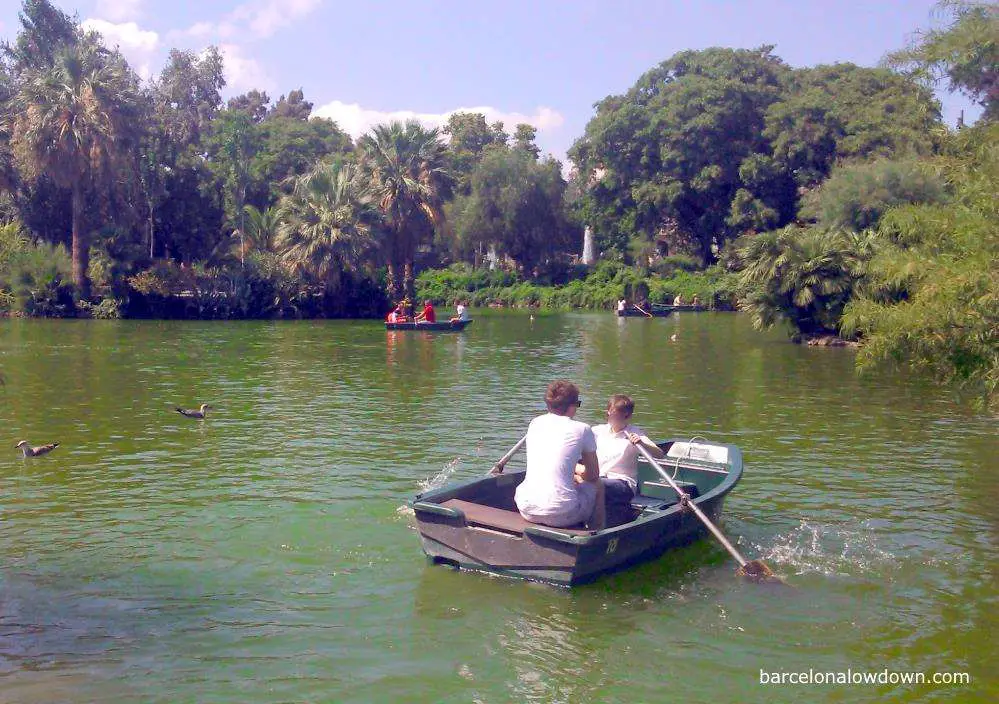 Are there child fares on public transport in Barcelona?
Children under four travel free of charge on public transport and don't need a ticket. If your child is four years or older, you will have to purchase him/her a full-price ticket which then needs to be validated before travelling.
Do taxis in Barcelona carry child seats?
The majority of taxis in Barcelona don't carry child seats. When travelling within Barcelona, you can use the Cabify app and select the kids' option, which includes one child seat. When arriving at Barcelona airport, you can pre-book a taxi with one or more child seats from Book Taxi Barcelona.
What should I do if my kids get ill in Barcelona?
For minor issues such as upset stomachs, cuts and scrapes, head to the nearest pharmacy. Don't worry if you can't speak Spanish; the staff will be able to attend to you in English.
Most pharmacies open from 10 am until 9 pm and are easy to spot because they display an illuminated green cross outside. If the nearest pharmacy is closed, there will be a sign near the door with the address of pharmacies that are open.
This website has a list of twenty-four-hour pharmacies in Barcelona.
For more severe health issues and illnesses, you should call 061, which is attended by medical professionals who will be able to recommend whether you should visit a doctor or go to a hospital. If necessary, they will send an ambulance.
Most doctors and pharmacists in Barcelona can speak English, but there is a list of English speaking doctors on the UK government website.
For medical emergencies, you should call 112.
If you are resident in an EU country, you should apply for an EHIC card before travelling. The EHIC card covers treatment by the Spanish Health Service.
If you are visiting from outside the EU, you should purchase travel insurance and contact the insurers who will tell you how to proceed if one of your family becomes ill or is injured during your stay in Barcelona.
---
Any questions? I'm here to help, ask away in the comments section below.
---