For most visitors, the best time of year to visit Barcelona is from early April through to mid-October. Throughout this period the weather is generally warm and sunny. It's also when most of the city's many vibrant festivals take place.
This doesn't mean that you shouldn't visit at other times of the year. In fact, if you plan to spend most of your time sightseeing, you might want to avoid July and August when temperatures and humidity are at their highest. It's also when the city is busiest, hotel prices are highest, and budget accommodation gets booked up early.
Budget-conscious travellers can make their money go further by visiting Barcelona outside of the primary tourist season. Winter temperatures are mild, and spring arrives early in Barcelona, meaning that if you aren't bothered about sunbathing, you can save money and avoid the queues by visiting in March and October.
Winter is also a good time for visiting Barcelona. During the festive season, the city is decorated with Christmas lights. Winter festivals like La Festa de Santa Eulalia and El Nit de Reyes see carnival-like processions in the city centre.
This post takes a month-by-month look at what's going on in Barcelona and what the weather's like. We've also included tips that will help you decide when to visit and what to do when you get here.
Barcelona weather (temperatures & rainfall)
Located on the Mediterranean coast, 60km south of the Costa Brava, Barcelona enjoys a mild climate year-round.
During the summer months of July and August, mid-day temperatures are often around thirty degrees centigrade (86º Fahrenheit). Although this is significantly cooler than Madrid and cities in the South of Spain, high humidity makes it hot and sticky. If visiting at this time of year, it's best to make sure that your hotel or apartment are equipped with Air Conditioning.
September and October are the rainiest months in Barcelona. Unlike the UK, where rain falls as an interminable drizzle, rain in Barcelona usually arrives in heavy downpours that can generally be escaped by heading indoors for an hour or so. The table below shows average temperatures and the number of days of rain per month throughout the year.
April showers are also commonplace in Barcelona. If you are visiting in August, you may experience brief summer downpours that usually occur during the afternoon and are a relief from the summer heat.
Keen photographers should take note that during the summer, high humidity often means hazy skies. For panoramic photos with clear blue skies, it's best to visit in spring, autumn or even winter.
Winter in Barcelona is mild, and temperatures seldom drop as low as freezing point. Daytime temperatures are usually between 10 and 15ºC, and it is often sunny.
During the winter months, restaurants and bars set up propane heaters on their terraces, meaning that you can still enjoy a beer or a coffee outside while making the most of the winter sun. Even during February, which is usually the coldest month in Barcelona, you can often be outside with just a light jacket at mid-day. The secret is to dress in layers and adjust accordingly.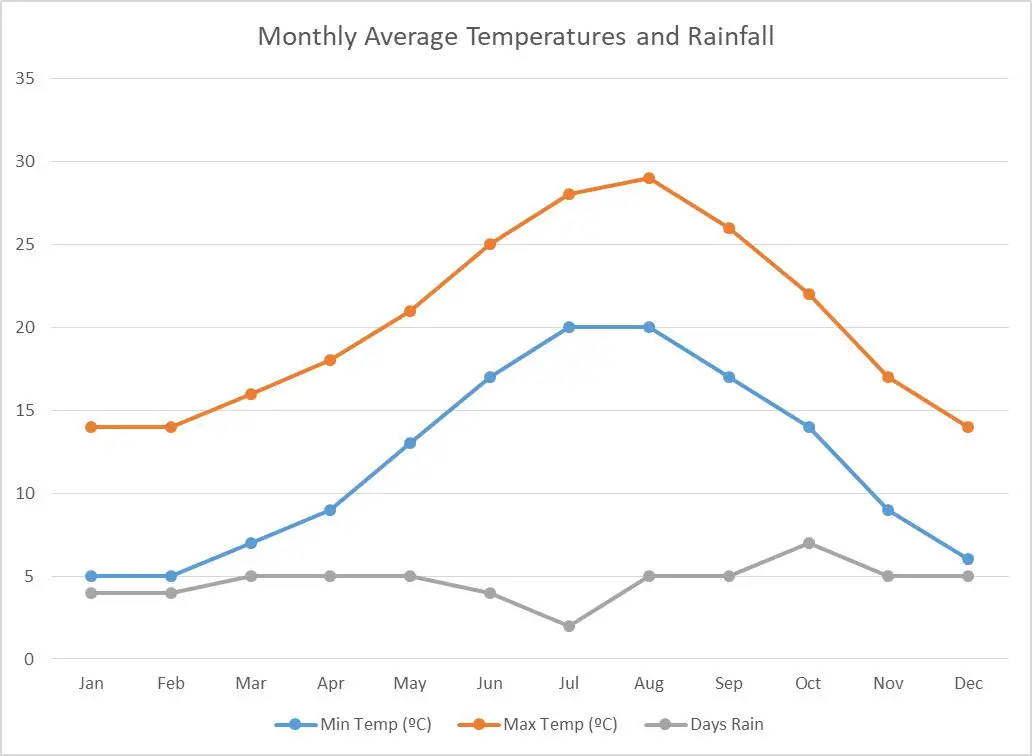 Music festivals, trade fairs and fiestas
Barcelona plays host to some of Europe's best known outdoor music festivals from late spring to summer.
The festival season usually kicks off in May with Primavera Sound, which is the city's best known and most international music festival and is regularly attended by an audience of around 200,000. Other major music festivals include Sónar, Barcelona Beach Festival, Cruïlla, Brunch in the Park, BAM (Barcelona Acció Musical), Rock Fest Barcelona, and Barcelona Guitar Festival.
In addition to music festivals, there are also many traditional neighbourhood festivals throughout the year. Every neighbourhood stages its own Festa Major, which typically includes processions, Correfocs (fire runs), human tower competitions (castells), music and food.
The best known and liveliest of the city's fiestas include La Merce, which takes place in September, La Festa Major de Gràcia (August) and La Festa de Santa Eulalia (February). In June, La Fest de Sant Juan sees people heading to the beach to celebrate the beginning of summer with fireworks and parties, which often carry on until after daybreak.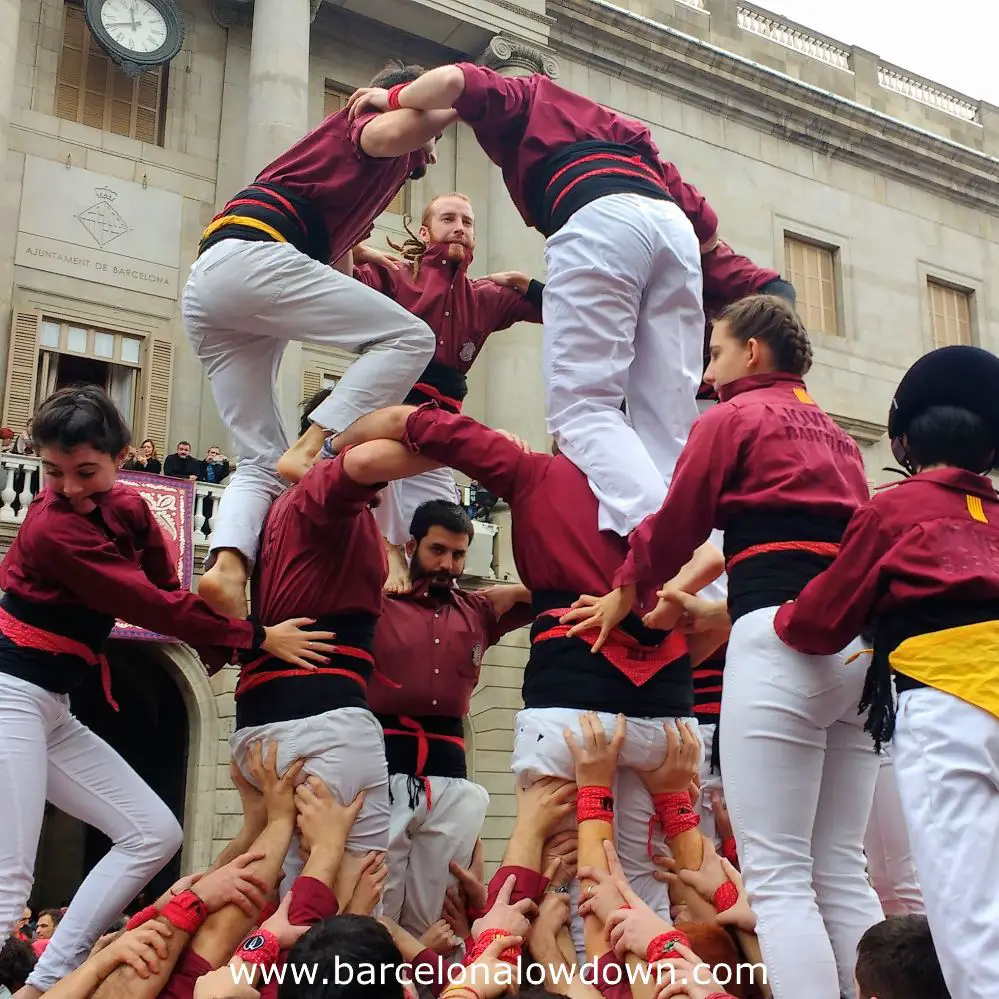 Barcelona also plays host to large trade fairs, which are staged in conference centres near Plaça d'Espanya and L'Hospitalet. The largest of the trade fairs is the Mobile World Congress, which occurs at the end of February. The fair brings hundreds of thousands of people to the city, all of the city's hotels get booked up months in advance, and prices skyrocket.
Insider's tip:
When planning a trip to Barcelona, you should always check hotel prices and availability before purchasing flights.
Trade fairs like the MWC and other events and festivals can push the price of accommodation up. If you aren't attending the event in question, you can save money and avoid crowds by booking a different date.
I prefer to use Booking.com, which offers a wide choice of hotels and other accommodation in Barcelona, many of which offer free cancellation until the day before arrival.
Barcelona Travel Seasons
High season
Barcelona's high season runs from April to September and is when you can expect to pay most for accommodation. Public holidays such as Christmas, New Years and Easter are also high season but, as mentioned above, prices may also be driven up by other events which take place in the city.
Shoulder season
The months of March, October and November are mid-season, aka the shoulder season. Hotel prices are slightly lower, and the weather is still pretty good. You may not be sunbathing or swimming in the sea, but the weather is still pleasant for visiting the city.
If you plan to visit as many of Barcelona's attractions as possible and aren't bothered about going to the beach, this is an excellent time to visit. Flights and accommodation will be cheaper, and you don't usually need to book attractions in advance at this time of year. The only exceptions are the Sagrada Familia and the Picasso Museum, which you should always book in advance, whatever time of year you visit.
Low season
January, February and early December are low season in Barcelona and are also an excellent time to visit. Even though this is the low season and hotel prices are cheaper, Barcelona is still open for business, and there's plenty to see and do.
Temperatures are cooler, and you won't be swimming in the sea, but Barcelona's weather during winter is way better than in the UK or Northern Europe. It's also warmer than other popular Spanish cities, including Madrid, Toledo and Bilbao. The winter is an ideal time for experiencing Barcelona without the crowds of tourists and for enjoying the city like a local.
If you are looking for snow and winter sunshine, the Pyrenees Mountains are less than two hours from Barcelona and can easily be visited as a day trip. There are buses and even trains to nearby ski resorts, including La Molina, La Masella and Andorra.
Insider's tip:
If hotel prices are higher than expected, try checking one week before or after your intended dates.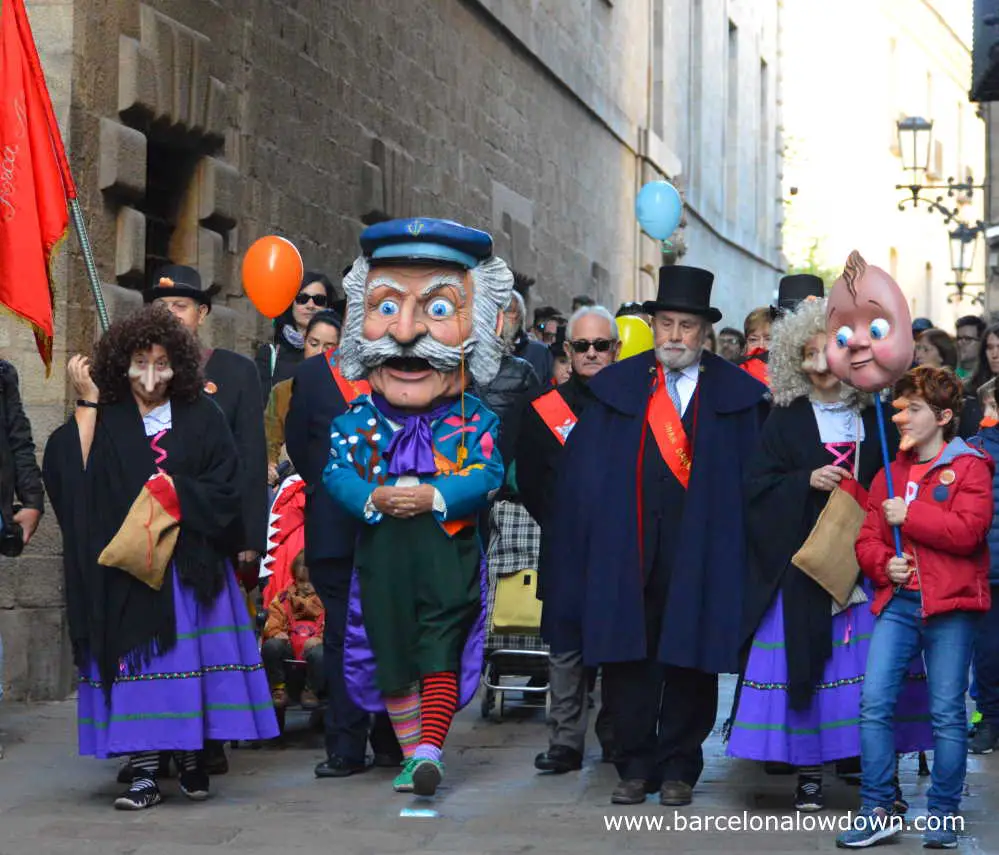 Barcelona month-by-month guide
Festivals and events take place in Barcelona throughout the year. The list below includes most of the city's best-known music festivals, local neighbourhood festivals and other significant events and holidays.
Please note that the dates of many of the events vary from year to year, and I strongly advise you to check this year's dates before making plans or booking flights.
If you've any questions or think I've missed anything, please tell me about it in the comments section below. I enjoy reading all your questions and try to answer as quickly as possible.
Festivals and events in Barcelona during January
| Event | Description |
| --- | --- |
| New Year's day | Public holiday – shops closed |
| Fira de Reis | Market selling presents |
| Three Kings Parade | Parades throughout the city |
| Epiphany | Public holiday – shops closed |
| Winter Sales | Starts Jan 7th |
| Festa Major de Sant Antoni | Neighbourhood fair (Sant Antoni) |
| Tres Tombs Parade | Horse parade |
Festivals and events in Barcelona during February
| Event | Description |
| --- | --- |
| Winter Sales | Some stores continue sales during Feb. |
| Fira de la Candelera | Gastranomic fair (Molins de Rei) |
| Festa de Santa Eulàlia | Neighbourhood festival (Citywide) |
| Llum Barcelona | Light festival |
| Carnaval | Street parades and music |
| Barnasants | Music and poetry festival |
| Mobile World Congress | Trade fair |
Festivals and events in Barcelona during March
| Event | Description |
| --- | --- |
| Festa de Sant Medir | Neighbourhood festival (Gràcia) |
| Barcelona Marathon | Marathon |
| Barcelona Beer Festival | Beer Festival (L'Hospitalet) |
| Sitges – Barcelona Vintage Car Rally | Vintage car rally |
| Festes de Sant Josep Oriol | Neighbourhood festival (Gothic quater) |
Festivals and events in Barcelona during April
| Event | Description |
| --- | --- |
| Easter (Holy Week) | Public holiday (dates vary) |
| Comic Barcelona | Comic fair |
| Cursa dels Bombers | Charity fireman's race |
| Feria de Abril | Andalusian style April fair |
| Día de Sant Jordi (St Georges Day) | Catalan version of Valentines day |
| Feast of Our Lady of Montserrat | Religious celebration (Montserrat) |
| Moto GP | Moto GP |
Festivals and events in Barcelona during May
| Event | Description |
| --- | --- |
| May Day | Public holiday – shops closed |
| Fira de Sant Ponç | Herbal medicine fair |
| Barcelona Modernist Fair | Art Nouveau fair |
| International New Rose Festival | Flower festival |
| International Museums Day | Some museums stay open at night |
| Ciutat Flamenco | Music festival (Flamenco) |
| Primavera Sound | Music festival (Pop & Indie) |
Festivals and events in Barcelona during June
| Event | Description |
| --- | --- |
| Summer sales | Summer sales |
| Spanish Grand Prix | Formula 1 (Montmeló) |
| Brunch in the Park | Music festival (House & Techno) |
| Music in the Parks | Music festival (Jazz and Classical) |
| Holi Festival Barcelona | Festival of colours |
| Festival Jardins de Pedralbes | Music festival (Varied styles) |
| Tast a La Rambla | Food festival (La Rambla) |
| International Classic Bus Rally | Vintage bus rally |
| Music in the Parks | Music festival (Jazz and Classical) |
| Sónar | Music festival (Electronic) |
| Gay Pride | Gay Pride |
| Festa de Sant Pere, Santa Caterina i la Ribera | Neighbourhood festival (El Born) |
| l'Ou Com Balla | Dancing Eggs (Corpus Christi) |
| Sant Joan's Eve | Beach party |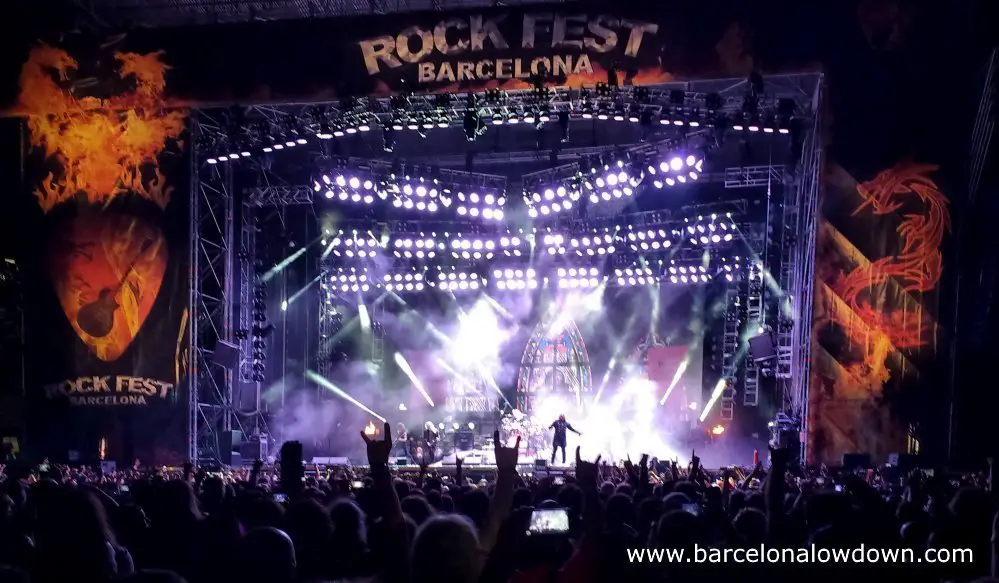 Festivals and events in Barcelona during July
| Event | Description |
| --- | --- |
| Summer sales | Summer sales |
| Rock Fest Barcelona | Music festival (Hard Rock & Heavy Metal) |
| Brunch in the Park | Music festival (House & Techno) |
| Festival Grec | International performing arts |
| Sala Montjuïc | Open air cinema the Montjuïc castle |
| Cinema Lliure a la Platja | Open air cinema at the beach |
| Music in the Parks | Music festival (Jazz and Classical) |
| Cruïlla – Barcelona Summer Festival | Music festival (Varied styles) |
| Music in the Parks | Music festival (Jazz and Classical) |
| Barcelona Beach Festival | Music festival (Dance & House) |
| Festa Major de Poble Sec | Neighbourhood festival (Poble Sec) |
| Festa Major del Raval | Neighbourhood festival (El Raval) |
Festivals and events in Barcelona during August
| Event | Description |
| --- | --- |
| Brunch in the Park | Music festival (House & Techno) |
| Circuit Festival | Gay festival |
| Cinema Lliure a la Platja | Open air cinema on the beach |
| Music in the Parks | Music festival (Jazz and Classical) |
| Festes de Gràcia | Neighbourhood festival (Gràcia) |
| Festa de Sant Roc | Neighbourhood festival (Gothic quarter) |
| Festa Major de Sants | Neighbourhood festival (Sants) |
Festivals and events in Barcelona during September
| Event | Description |
| --- | --- |
| Brunch in the Park | Music festival (House & Techno) |
| Festa Major de Poblenou | Neighbourhood festival (Poblenou) |
| La Diada (Catalonia's National Day) | Comemorative & political activities |
| Festa Major de La Ribera | Neighbourhood festival (La Ribera) |
| La Mercè Festival | Neighbourhood festival (City wide) |
| Barcelona Ació Musical | Music festival (Varied styles) |
| Festa Major de la Barceloneta | Neighbourhood festival (La Barceloneta) |
Festivals and events in Barcelona during October
| Event | Description |
| --- | --- |
| Oktoberfest Barcelona | Beer festival (Montjuïc) |
| Saló Nàutic | Boat Show |
| Ironman Barcelona | Triathlon (Calella) |
| Festa Major del Roser | Neighbourhood fair (La Rambla) |
| Dia de la Hispanitat | Public holiday – shops closed |
| Sitges Film Festival | Film festival (Horror) |
| 48H Open House Barcelona | Buildings open to the public |
| Mercat de Mercats | Gastronomic Market |
Festivals and events in Barcelona during November
| Event | Description |
| --- | --- |
| La Castanyada / Tots Sants | Public holiday – shops closed |
| Voll Dam International Jazz Festival | Music festival (Jazz) |
| Saló del Manga | Manga and Japanese culture |
| Carrera de la Mujer | Women's race |
Festivals and events in Barcelona during December
| Event | Description |
| --- | --- |
| Fira de Santa Llucia | Christmas market |
| Fira de la Sagrada Familia | Christmas market |
| Vic Medieval Market | Medieval fayre |
| Ciutat dels Somnis | Christmas activities for children |
| Fira de Reis | Market selling presents |
| Christmas Day | Public holiday – shops closed |
| L'Home dels Nassos | Parade |
| New Years Eve | Fireworks display and celebrations |