Since its first edition in 2014, Barcelona Rock Fest has quickly established itself as one of Europe's top rock and metal music festivals. The line-up gets better each year and has included big-name acts like Aerosmith, Deep Purple, Ozzy Osbourne, ZZ Top, Iron Maiden, Judas Priest and Alice Cooper.
In addition to an extensive lineup of acts covering the entire spectrum of hard rock and heavy metal. Barcelona Rock Fest also enjoys a privileged location that allows festival-goers to combine a 3-day music festival with a visit to one of Europe's most vibrant and cosmopolitan cities.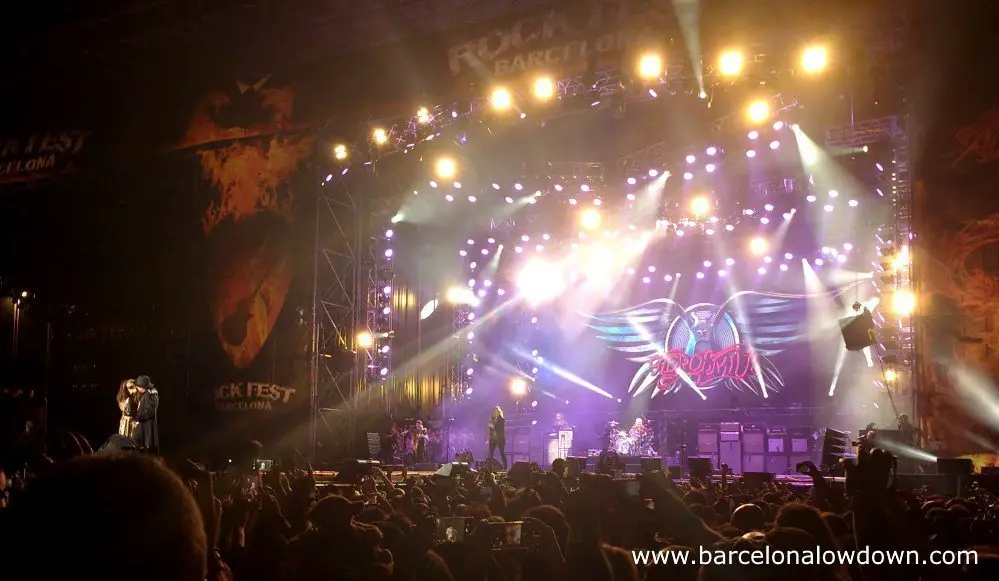 Barcelona Rock Fest: The festival site and stages
Rock Fest Barcelona is staged in Can Zam Park, an 11-hectare park in Santa Coloma de Gramenet on the outskirts of Barcelona.
The festival revolves around two identical main stages set up side by side (Stage Rock on the left and Stage Fest on the right).
The twin-stage format has two benefits:
It eliminates the classic festival dilemma of having to choose between two bands that are playing at the same time.
The bands play almost continuously, one after the other, throughout the day. Whilst one band plays on one stage, the crew prepares the other stage for the next act.
You can choose whether to move with the crowd from one stage to the other or bag yourself a prime spot right in front of one of the stages and accept a lesser view of the other stage.
Large screens on either side of the stages help people who are further away following the action. The sound system is powerful, and the sound engineers generally manage to ensure that everything sounds good no matter where you are standing.
There is also a third smaller stage at the back of the site called the Rock Tent Stage, where lesser-known and local bands play. When the bands finish in the Rock Tent stage (at about 3:30 am), DJs from local rock radio stations and nightclubs take over.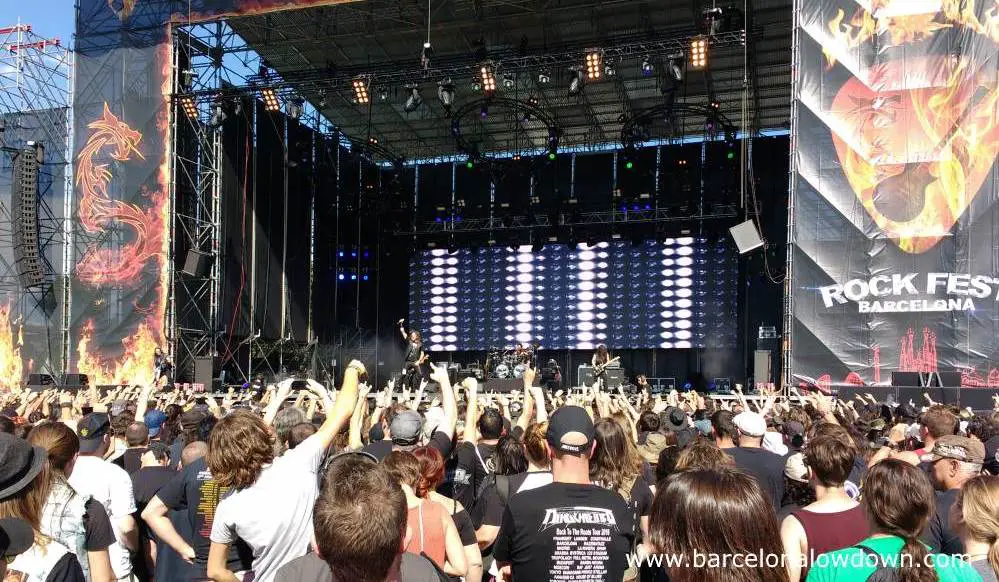 Most of the acts are on stage for 60 minutes; the headlining bands play for an hour and 45 minutes. Everything is very well organized to ensure each band starts on time. The exact schedule will be published on the Barcelona Rockfest website a few weeks before the event.
The best way to ensure that you don't miss anything is to install the Rock Fest app on your phone*. At first glance, the app is just a mobile version of the website, but it has one very useful function: If you click on a group's name in the running order, they are added to your calendar. You then receive a message reminding you that they are about to play 1 hour before the band goes on stage.
If you set an alarm for the first band you want to see each day, when the alarm sounds, you should have enough time to get from the city centre (or the beach) to Can Zam. Please make sure you check your calendar settings to make sure that the alarm is configured correctly.
*Unfortunately, the app wasn't available for the last edition of Barcelona Rock Fest in 2022. Hopefully, the organizers will reinstate it in 2024. If not, I recommend you manually set an alarm on your phone to go off an hour before the first band you want to see is scheduled to go on stage.
Barcelona Rock Fest dates and schedule 2024
At present, it's not been confirmed whether Barcelona Rock Fest will go ahead in 2024. I'll update this post as soon as the information becomes available.
Barcelona Rock Fest Lineup 2024
No information is available yet for 2024. The following bands played in 2022:
Thursday June 30th
AVANTASIA, NIGHTWISH, DROPKICK MURPHYS, ACCEPT, GOTTHARD, JINJER, INSOMNIUM, BULLET, MYRATH, STORMZONE, BLACKOWL, CELTICA.
Friday July 1st:
ALICE COOPER, MERCYFUL FATE, BLIND GUARDIAN, UFO, ALESTORM, DIAMOND HEAD, ORANGE GOBLIN, NASHVILLE PUSSY, KONTRUST, BLOODBATH, EVIL INVADERS, REEF
Saturday July 2nd:
KISS, JUDAS PRIEST, MEGADETH, PHIL CAMPBELL & THE BASTARD SONS, DORO, ANGELUS APATRIDA, D.A.D., MY DYING BRIDE, BLUES PILLS, THE NEW ROSES, CICLONAUTAS, DISCONNECTED, ROCK GODDESS, MIND DRILLER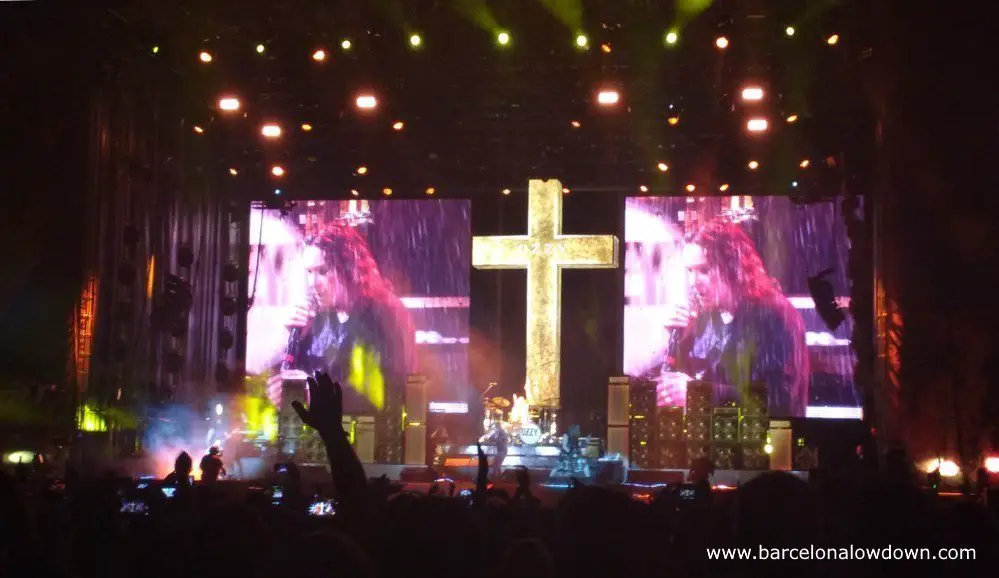 Schedule Rock Fest 2024
No information is available yet for 2024. The 2022 schedule was as follows:
Thursday 30th; Gates open – 14:00. First band starts – 14:55, Headliners – 23:50 to 02:00, Rock DJs until 03:00
Friday 1st; Gates open – 14:00. First band starts – 15:05, Headliners 21:35 to 23:05 Last band finishes – 02:35
Saturday 2nd; Gates open – 13:00. First band starts – 13:10, Headliners – 23:10 to 13:10, Rock DJs until 03:30
Tickets to Barcelona Rock Fest 2024
No information is available yet for 2024. Based on previous editions, tickets will be available online from Ticketmaster or in Barcelona at Carrefour supermarkets, fnac music/book stores and Halcon Viajes travel agents.
| Ticket Type | Price |
| --- | --- |
| 3-day pass (adult) | TBA |
| 3-day pass (12 to 16 years) | TBA |
| Upgrade VIP (only valid with a 3-day pass) | TBA |
| One-day ticket, Friday | TBA |
| One-day ticket, Friday | TBA |
| One-day ticket, Saturday | TBA |
When purchasing your ticket through Ticketmaster or RocknRock, you will receive a voucher which you then exchange for the ticket at the box office near the entrance to the site. Don't forget to bring your passport when picking up your tickets.
Wristbands
Before entering the festival site, one-day tickets and three-day passes are exchanged for wristbands at the entrance to the festival.
Once fitted with your wristband you are free to re-enter the festival site as often as you like. Note: You should also keep your ticket with you in case you are asked to show it.
Three-day pass holders can also get their wristbands fitted at the FNAC store at Plaça de Catalunya (located in the El Triangle shopping centre) on Wednesday 29th of June from 10 am to 8 pm.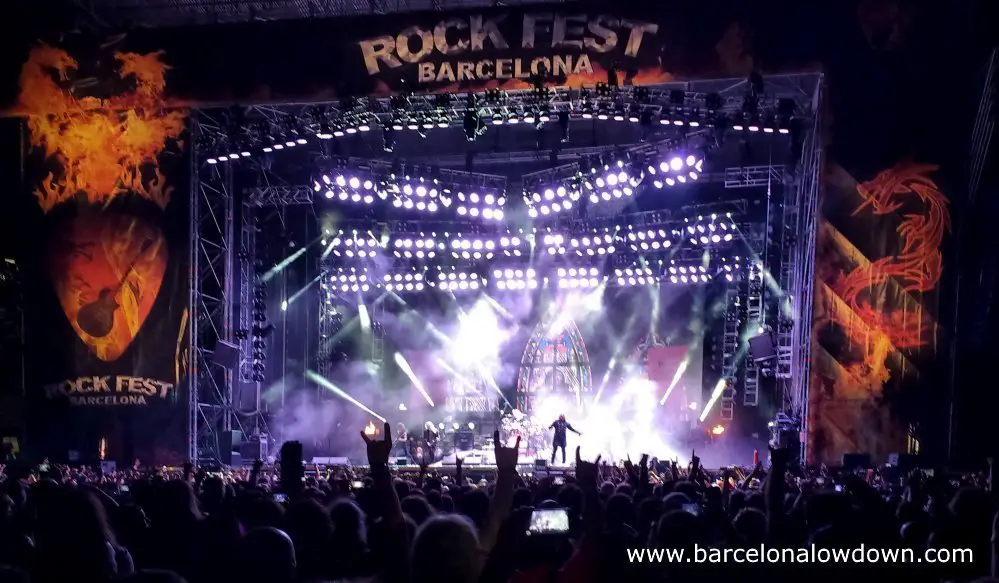 Facilities at Barcelona Rock Fest
In addition to the three stages where bands perform throughout the day there is also;
The autograph signing tent: Where fans get the chance to meet the bands, get autographs and take photos with their idols. The schedule for the autograph signing tent is normally posted on the app and website shortly before the festival. Note; unfortunately, the big-name acts don't normally do signing sessions.
Photo opportunities: If you don't manage to see your idols at the autograph tent, there are a giant-sized guitar and drums and a "guitar throne" where you can take a selfie with your friends to remember the event.
Food trucks and catering: There is a small area with food trucks selling international food.  By music festival standards, prices are quite reasonable (€7 to €8 for a bowl of noodles, burger, kebabs, falafel, bocadillos etc.) There is a covered area with tables where you can enjoy your food sitting in the shade.
Bars: There are two large bars in the middle of the arena where you can grab a cold beer plus mobile beer sellers circulating among the crowd so you don't have to miss a song to go and get a beer.
There is also a beer tent with tables and chairs at the back of the site dubbed the Rock Fest Café.
You are not allowed to bring your own food and drink into the site and all festival-goers are searched at the entrance. Luckily the drink prices aren't too high. In 2019 a half litre bottle of water cost €1 and beer cost €3 or €9. Alternatively, you can nip off-site where you will find enterprising individuals with coolers selling cans of beer for €1.50!
Merchandising: There is an official Rock Fest merchandising stall on site selling the ubiquitous festival T-shirts and jackets. Outside the festival entrance, there's a small market with about a dozen stalls selling a wide range of band T-shirts, jackets, jewellery etc. If you're feeling sunburnt you can pick up a hat here for about €10.
Medical facilities: There is a medical tent with a team of paramedics on site.
Toilets: They may not be the most pleasant of places but at least there are plenty of them and toilet queues aren't usually long. Without going into details, you can expect the seats and floors to be wet. Don't forget to bring your own toilet paper!
Top tip
There are taps with running water where you can wash your hands located next to the food trucks area.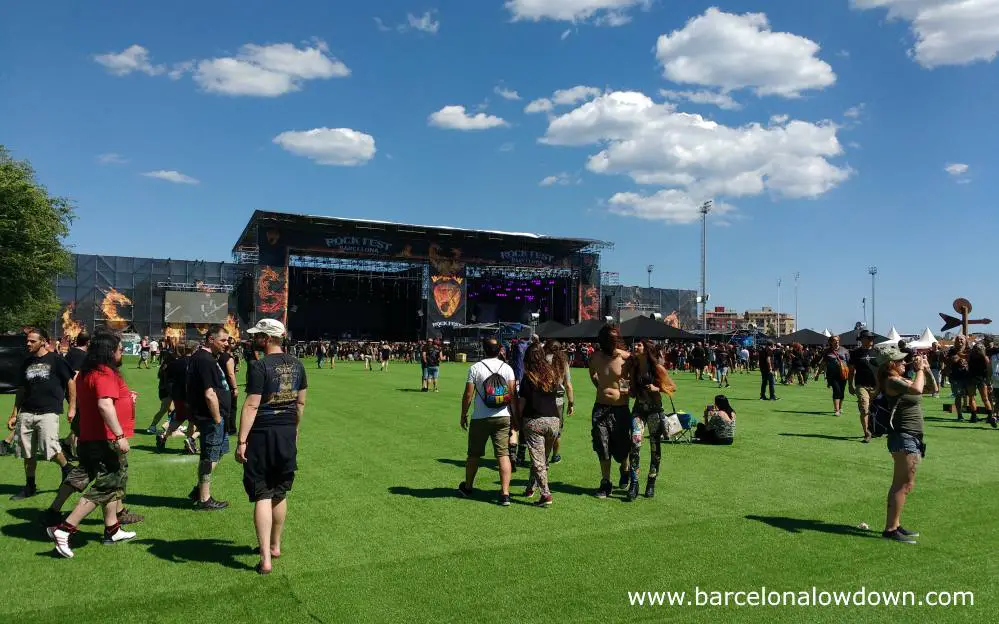 Barcelona Rock Fest Location
Rock Fest Barcelona takes place in Can Zam Park in Santa Coloma de Gramenet on the outskirts of Barcelona. The festival site is easy to get to from Barcelona city centre and from nearby towns such as Badalona.
How to get to Barcelona Rock Fest
In addition to the fantastic line-ups, the great thing about Rock Fest is the location and how easy it is to get to. Can Zam has its own stop on Barcelona metro line L9 nord.
It takes about 45 minutes to get to the festival site from Barcelona city centre. The metro stop is directly in front of the entrance to the festival. You'll see the stages and hear the music in the park below you as you leave the station.
L9 nord connects to lines L1 and L5 at La Sagrera and I recommend that you chose a hotel near to one of the stops on these lines.
The metro runs until 2 am on Friday night, all night long on Saturday night and until midnight on Sunday and weekdays.
If you will be returning to your hotel after these times, night buses N6 and N8 connect Can Zam to the city centre. There are extra buses laid on during the festival including a special bus which runs from Can Zam to Plaça de les Glories, Plaça de Tetuan and Plaça de Catalunya.
It takes 10 minutes to walk from the festival site to the bus stops. At peak times there are queues to get on the buses but it's well organized and there are plenty of buses so you shouldn't have to wait long.
Alternatively, there is a taxi rank near the N6 and N8 bus stops but, at peak times, the queues for the taxis are even longer than the queues for the buses!
Which transport ticket to buy for Rock Fest Barcelona?
For most visitors, it is best to purchase a 1 zone T-casual multi-trip ticket which covers both the metro and the night bus. The T-casual costs €11.35 which works out at just under €1.14 per trip.
More information about Barcelona transport passes here >>
Tickets can be purchased at metro and train stations, tram stops and at some tobacconists. You can also use this ticket on the train to and from the airport.
More information about transport from and to the airport here >>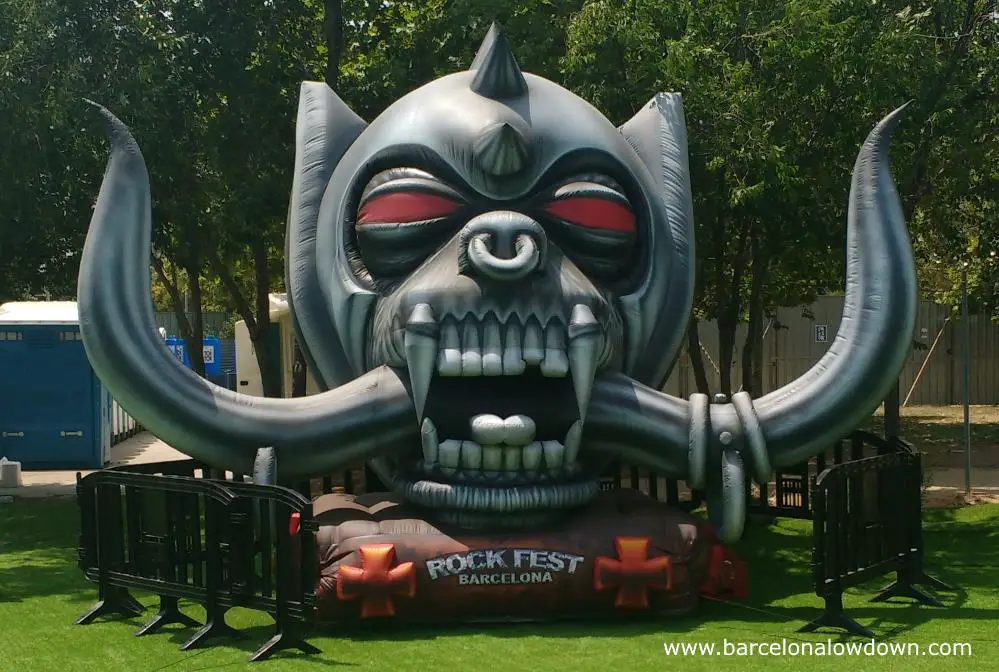 Where to Stay?
Although there are hotels in Santa Coloma de Gramenet and nearby towns such as Badalona, I think it makes more sense to stay in Barcelona. When choosing your hotel, try to pick one which is close to a metro stop on either the L1 or L5 metro lines, both of which connect with L9 nord at La Sagrera.
I recommend that you choose a hotel near Plaça de Catalunya. This central location will allow you to spend your mornings visiting Barcelona's most emblematic attractions and is just 45 minutes from the festival site.
For example, the Hotel Jazz is a very good three-star hotel right next to Plaça de Catalunya with a rooftop pool and terrace. Other good choices would be to stay near the Sagrada Familia (L5) or in Poblenou near the Glories metro station (L1).
If you want to stay as close as possible to the Rock Fest then there's an Ibis Hotel located right next to Can Zam Park. This gives you the advantage of being just a 10-minute walk from the festival site. Allowing you to maximise your time at the festival and have the opportunity to quickly return to your hotel whenever you feel like it.
For more information, check out my in-depth guide to where to stay in Barcelona >>
Camping at Barcelona Rock Fest
For the first few editions of Barcelona Rock Fest there was a campsite laid on at Montmeló with shuttle buses to and from the festival site. Unfortunately, this ended in 2018 and since then there isn't any camping at the festival.
The nearest campsite that I know of is Càmping Masnou which is approximately 10 km from Can Zam.
Map of the festival site
Have I missed anything? If you've something to add or if there's anything else you need to know about Barcelona Rock Fest, please let me know in the comments section below.