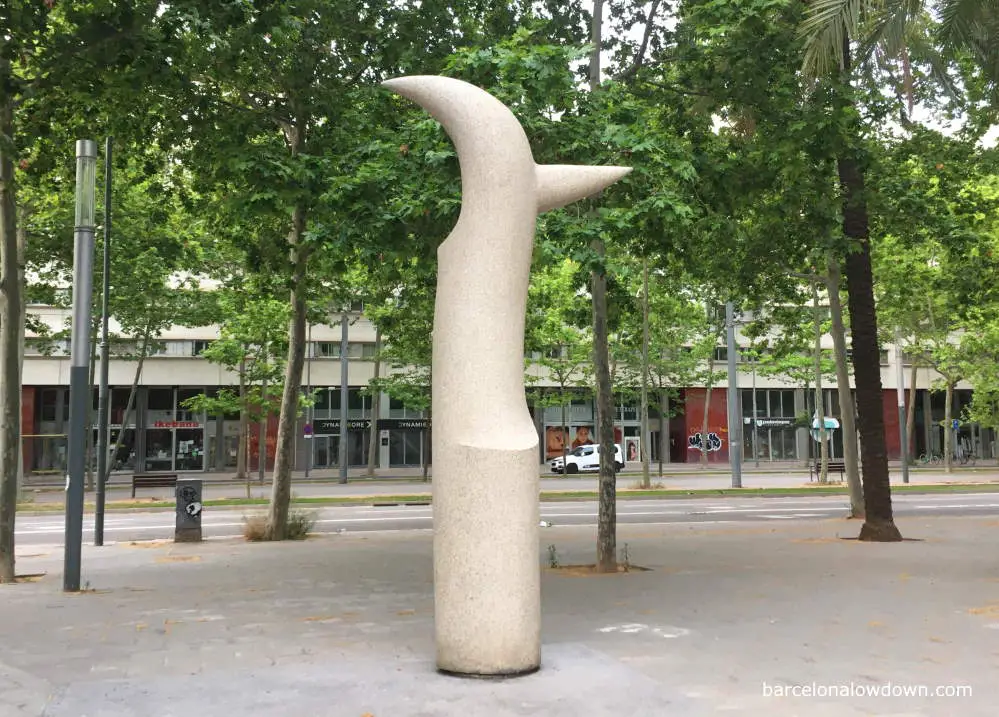 The Monument to Lost Dreams (Catalan: El Monument a les Il·lusions Perdudes) is a sleek, abstract sculpture by cartoonist and multidisciplinary artist Toni Batllori.
Installed in Poblenou in 2015, the pale granite statue was created as part of a fundraising drive for Clowns Without Frontiers (Payasos Sin Fronteras) a registered charity that sends clowns to entertain children in places struck by disasters, war zones and hospitals.
The monument is a scaled-up copy of the branch of a bonsai tree and represents the dreams we renounce as time goes by and the new ones which replace them. Just like a bonsai tree, which continues to produce new shoots each spring even though its branches are cut back on a regular basis.
About the artist
Toni Batllori is best known for his comic strips and cartoons which are published in national newspapers such as La Vanguardia and El País as well as the popular satirical magazine El Jueves.
Born in Barcelona in 1951, Batllori studied engineering, economics, and architecture before turning his hand to art. In 1969 he started working on children's comics but soon moved on to magazines and national newspapers.
In addition to cartoons and illustrations, Batllori is also a sculptor, photographer and has worked on several short films. His work in different fields has won a number of awards including the Premio de Humor Gat Perich, Premio Ciutat de Barcelona and the Premio Nacional de Comunicación de la Generalitat de Catalunya.
Location
Rambla del Poblenou s/n, Barcelona.
How to get there
The statue is located at the intersection of Rambla del Poblenou and Av. Diagonal.
The nearest metro station is Glòries on the red line (L1).
Other attractions nearby
Can Framis Museum
Agbar Tower
DHUB Barcelona Design Museum
Els Encants fleamarket
El Parc del Centre del Poblenou
Map