Plaça de Mossèn Jacint Verdaguer is basically just a large and fairly busy roundabout in the l'Eixample district of Barcelona. The plaza would probably go unnoticed if it wasn't for the twenty-metre high monument which stands in the middle and the giant neon owl that stares down from the roof of a nearby building.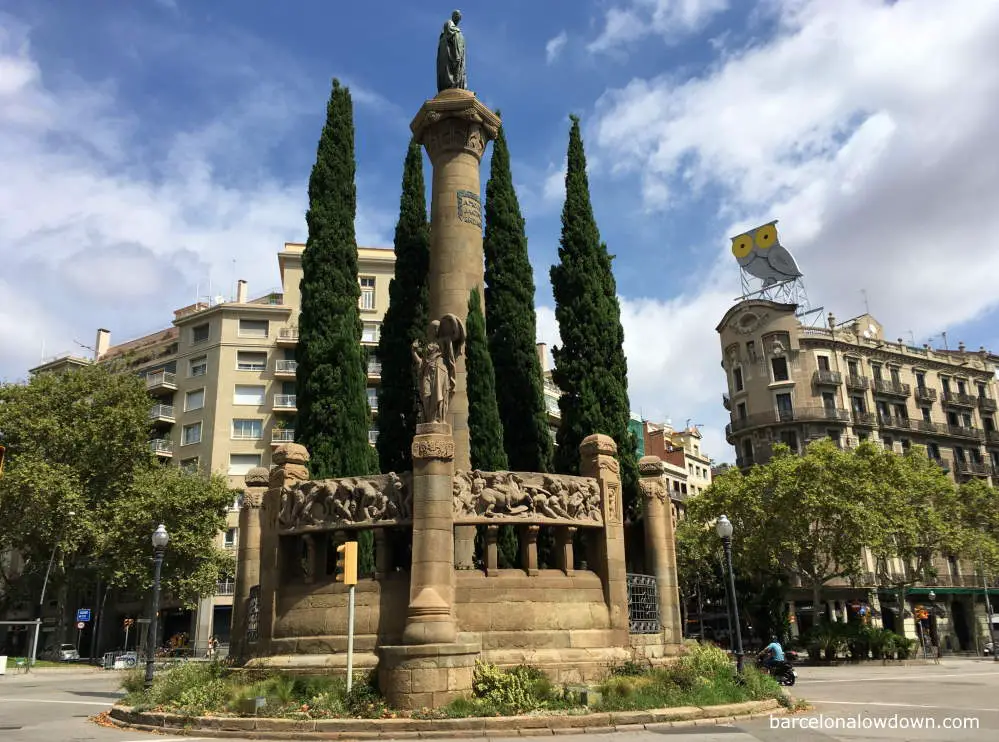 Monument to Mossèn Jacint Verdaguer
Jacint Verdaguer was a popular nineteenth century Catalan poet and priest. His best known poem is a ten volume epic called L'Atlantida which recounts the travels of Hercules, the destruction of Atlantis, the creation of the Mediterranean Sea and discovery of the Americas.
Verdaguer's writing was so popular with the inhabitants of Barcelona that the first edition of one of his books sold a total of 350,000 copies in the city alone. The equivalent of one copy per household [source].
Jacint Verdaguer died in Barcelona in 1902, at the age of 57. In 1924 a twenty-metre high monument was inaugurated at the intersection of Passeig de Sant Joan and Avinguda Diagonal designed by Josep Maria Pericas in collaboration with Joan Borrell i Nicolau and brothers Llucià and Miquel Oslé. The square where it stands was renamed in 1929.
The monument consists of a classical stone column topped by a bronze statue of Jacint Verdaguer dressed in ministerial robes. The priest gazes solemnly down at passers-by, his head inclined in a pose that has led to the statue receiving the nickname of The Crow.
At the base of the column, there are six tall cypress trees surrounded by a stone balustrade decorated with bas reliefs depicting scenes from the poem l'Atlantida. On top of the balustrade stand three Noucentista style figures, each representing a different aspect of poetry.
The Rótulos Roura Owl
The giant neon owl with luminous yellow eyes was installed on the rooftop of number 372 Av. Diagonal during the 1960s. Initially, the bird was accompanied by a sign with the name of the advertising firm which had created it, Rótulos Roura.
During the 1990s, the sign fell foul of new bylaws aimed at reducing light pollution. Fortunately, the owl was considered to be so emblematic that rather than being taken down it was simply switched off.
In 2011 the sign was restored and, although the name of the sign's makers has been removed, the owl's large yellow eyes now light up once again.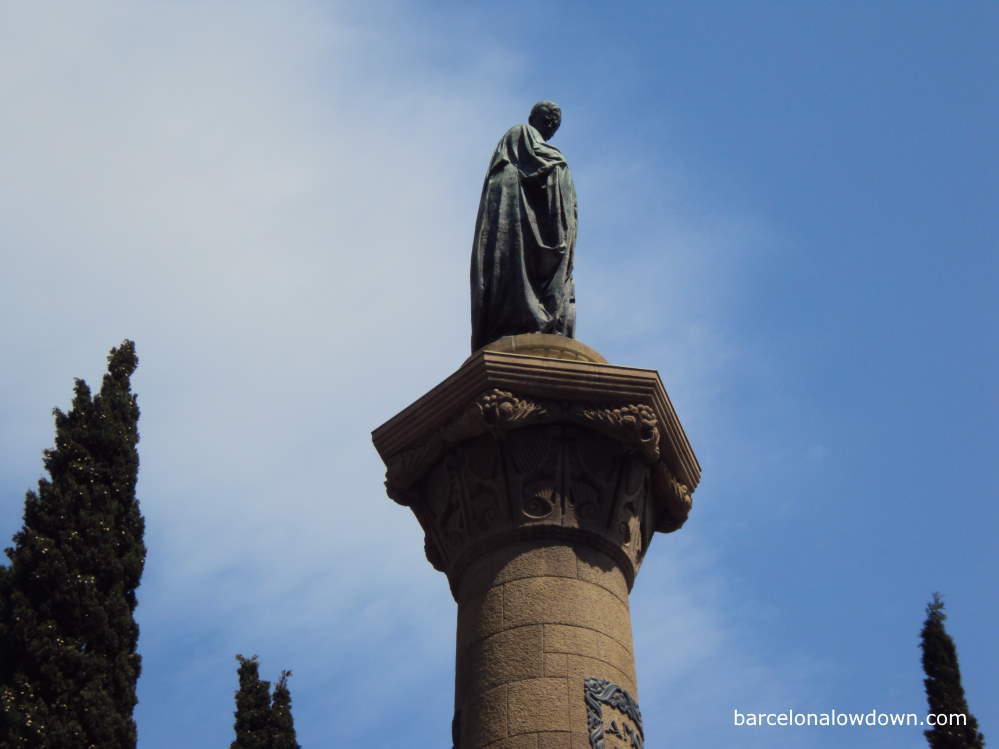 Location
Passeig de Sant Joan s/n
How to get there
Plaça de Mossèn Jacint Verdaguer is located at the intersection of Avinguda Diagonal and Passeig de Sant Joan
The nearest metro stop is Verdaguer on the L4 and L5 metro lines (yellow and blue lines).
Other attractions nearby
Little Red Riding Hood Fountain
La Sagrada Familia
Plaça de Tetuan
Sant Pau Art Nouveau Site
Arc de Triomf
Map