Plaça de Sant Josep Oriol (St. Josep Oriol's Square) is located next to the Santa Maria del Pi Basilica in Barcelona's Gothic Quarter.
Built on the site of one of the Basilica's three cemeteries, the square hosts a regular artists market which takes place every weekend.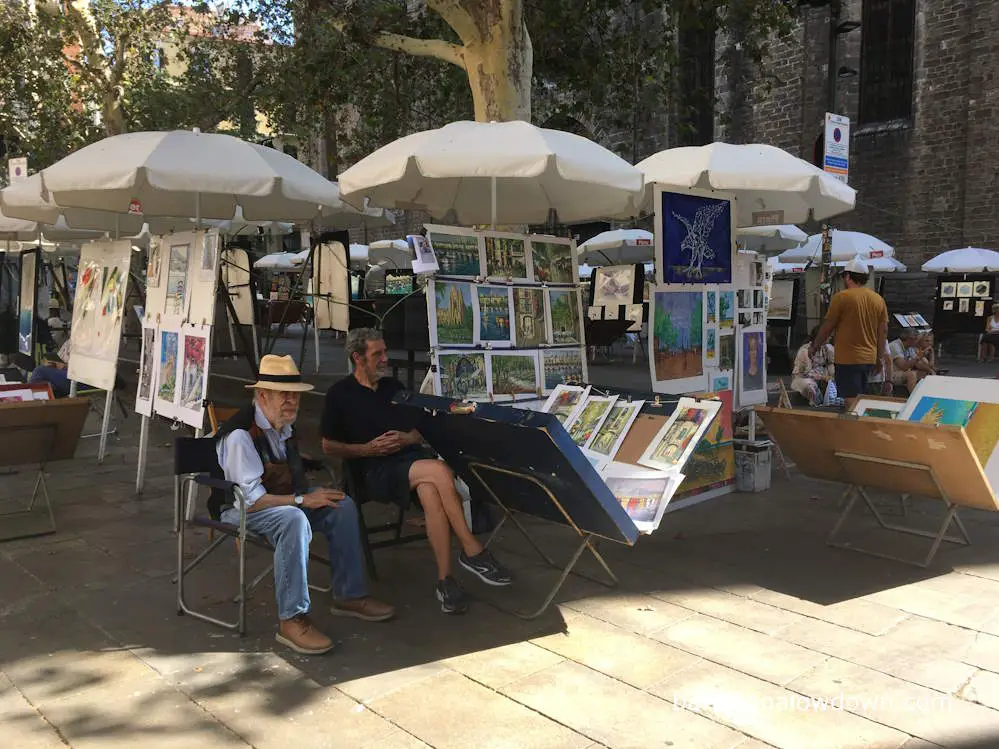 Artists Market
One of the delights of exploring Barcelona's Gothic quarter is that you're never quite sure what you'll come across next. The area is dotted with picturesque squares where you can take a break from sightseeing and sit and watch the world go by.
Plaça de Sant Josep Oriol is flanked by a handful of small bars and restaurants where you can sit outside and enjoy a drink or a meal while listening to buskers and other street performers.
At the weekends, around forty local artists set up stalls in an open air art market called Mostre d'Art dels Pintors del Pi. Whether you're an art enthusiast or just looking for a unique souvenir, it's worth spending a few minutes checking out the stalls and looking at the paintings.
Market opening times
Saturday 11:00 – 20:00
Sunday 11:00 – 14:00
The Square of the Unknown Militia Fighter
One wall of the Basilica of Santa Maria del Pi is daubed with a hand painted sign which states PLAÇA DEL MILICIÁ DESCONEGUT (Square of the Unknown Militia Fighter) and was painted in 1937, at the height of the Spanish Civil War.
During the war, Barcelona was a Republican stronghold and Plaça de Sant Josep Oriol was renamed to honour the people who died in the fight against fascism.
When Franco's troops took Barcelona in 1939, the letters were covered by a wooden board and remained hidden until long after the Spanish dictator's death in 1975.
The painting was rediscovered by chance when the board was removed in 2004. Due to the sign's historical significance, Barcelona city council decided to restore it and installed a metal plaque which reads:
BETWEEN 1937 AND 1939, THIS SQUARE RECEIVED THE NAME OF
SQUARE OF THE UNKNOWN MILITIA

"IN MEMORY OF THOSE WHO GAVE THEIR LIFE IN DEFENSE OF THEIR IDEALS"

BARCELONA, APRIL 2004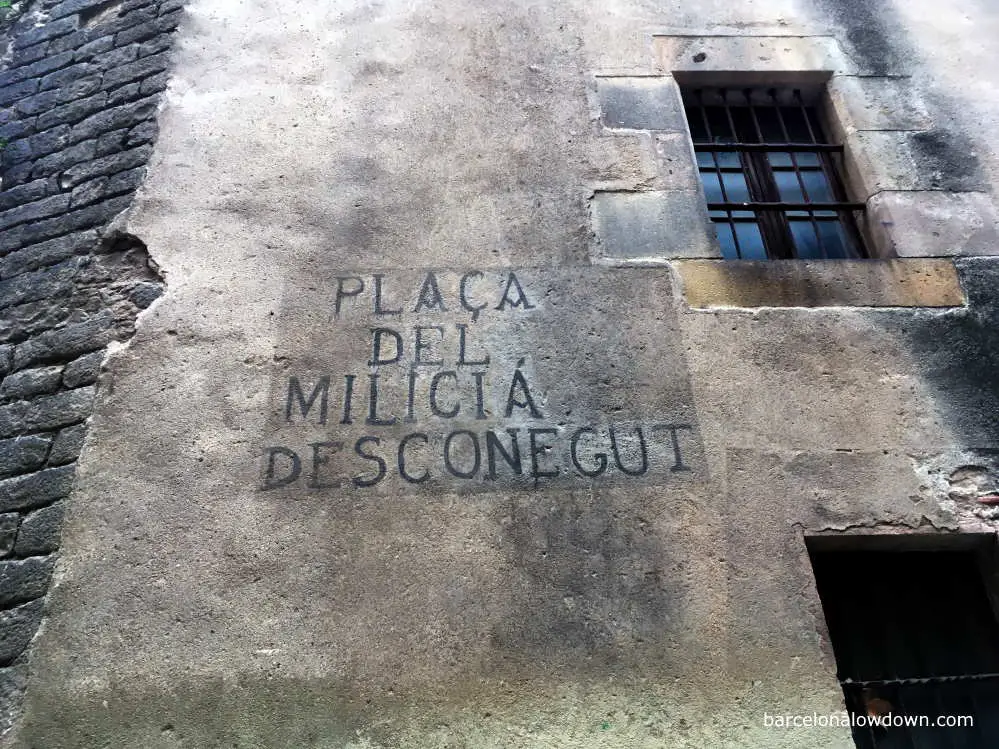 Statue of Ángel Guimerà
Ángel Guimerà was a Spanish poet and playwright, born in Tenerife (Canary Islands) in 1845.
Guimera's family moved to Barcelona when he was eight years old and he grew up living in Barcelona and the town of El Vendrell, near Tarragona.
His most famous play was Martha of the Lowlands (Catalan: Terra Baixa) which was translated into 15 languages and staged extensively throughout Spain and Latin America as well as several stints on Broadway. There were several film adaptations, including a 1914 version produced by Paramount Pictures starring Bertha Kalich.
Guimerà wrote exclusively in Catalan and was a co-founder of La Reinaxensa, a bi-weekly newspaper that promoted Catalan culture and politics.
The bronze statue in Plaça de Sant Josep Oriol is a reproduction of a monument by Josep Cardona i Furró which stands in front of the Teatro Guimerà theatre in Santa Cruz de Tenerife. There's also another copy of the statue in El Vendrell.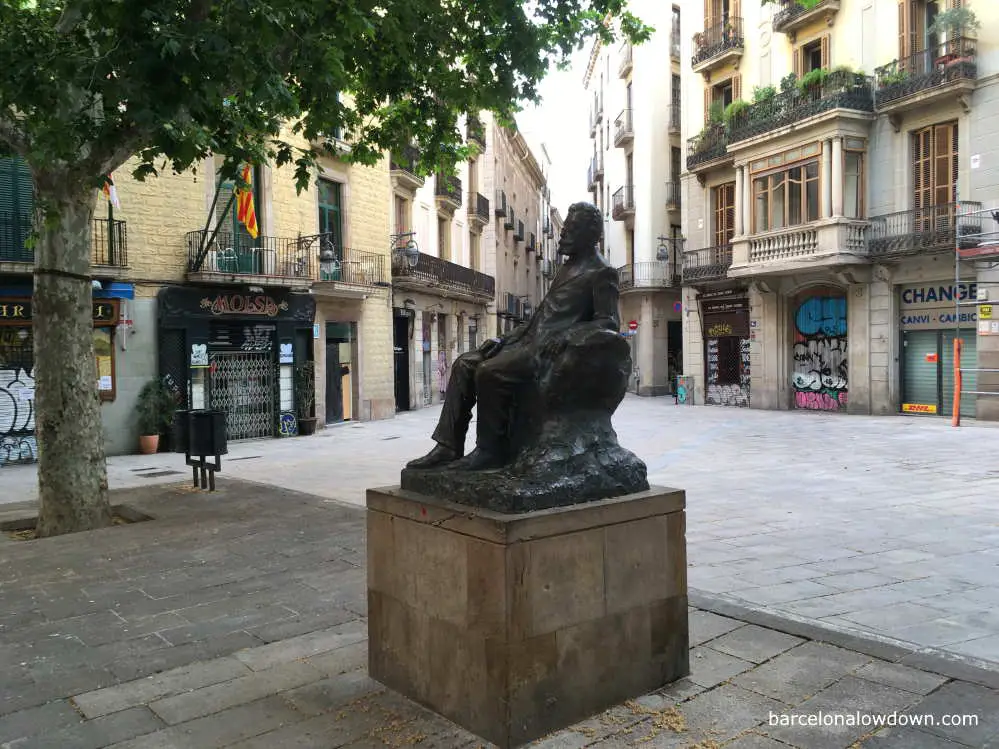 Sculpture of Saint Josep Oriol
The square is named after a seventeenth-century Catholic priest who was born in Barcelona and dedicated his life to helping the poor. After being ordained, Josep Oriol took a vow of poverty and allegedly only ate bread and water.
Legend has it that he could cure the sick and was commonly known as Doctor Pa i Aigua (Doctor Bread and Water). Other more unusual miracles that were attributed to him include paying for a meal by converting slices of radish into coins and saving a man who fell from the roof of the Basilica del Pi.
When he was canonized in 1909, Saint Josep Oriol instantly became one of the city's most popular saints. There are statues of him in several of the city's churches, including Barcelona Cathedral and the Basilica of La Mercè.
The statue which adorns the façade of Casa Mercedes Llopart, directly opposite the sign dedicated to the unknown militia fighter, was inaugurated in 1942.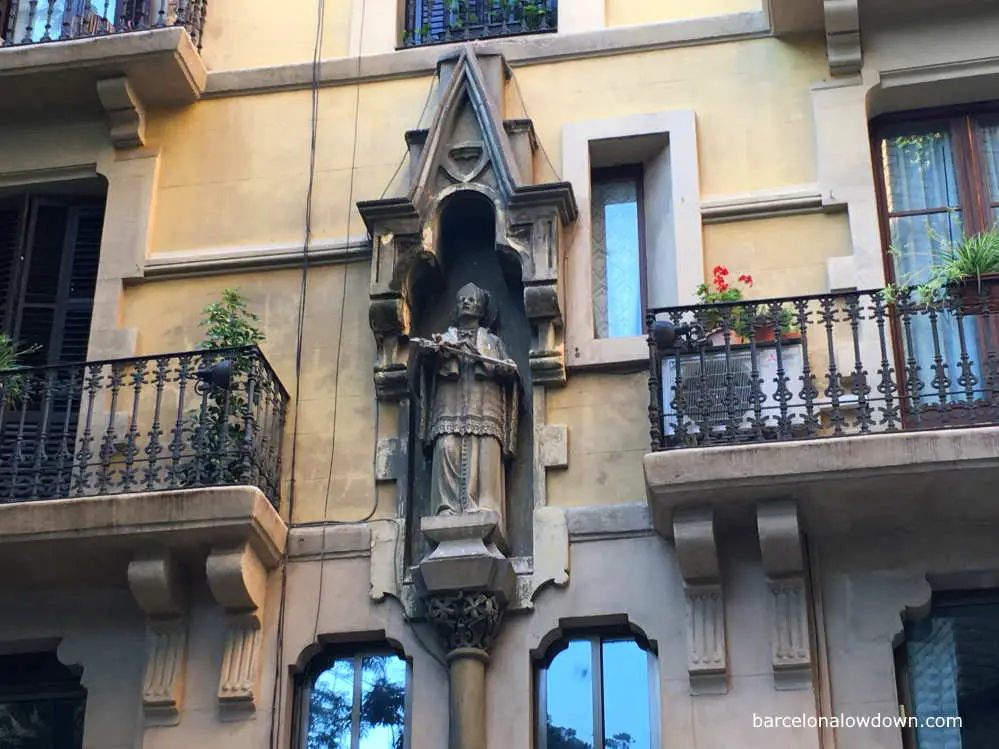 Location
Plaça de Sant Josep Oriol, Barcelona
How to get there
The square is located in the Gothic Quarter next to the Santa Maria del Pi Basilica.
The nearest metro stop is Liceu on the green line (L3).
Other attractions nearby
Basilica of Santa Maria del Pí
Carrer de Petrixol (Chocolate and churros)
Liceu Opera House
Map