Barcelona is one of the most visited cities in Europe with an abundance of things to see and do. In fact, there's so much on offer that if you don't make at least a rough plan before you arrive there's a good chance you'll end up missing out. Luckily there are literally hundreds of independent Barcelona travel blogs to help you organize your trip.
In this post, I've selected some of the best Barcelona blogs currently out there. From travel hacks to bar and restaurant reviews. From ex-pat blogs to lifestyle and photography sites. Whatever your interest and no matter how long your stay, these blogs will help make your visit unforgettable and unique.
Latitude Forty One
Justine has lived in Spain for more than 10 years and Latitude Forty One is packed with tips and ideas for things to do in Barcelona and beyond. What to see, how to get there and even what to wear, her fun blog has it covered.
If you're visiting Barcelona with children, the 100% child tested family & kids section has plenty of ideas to keep younger travellers amused.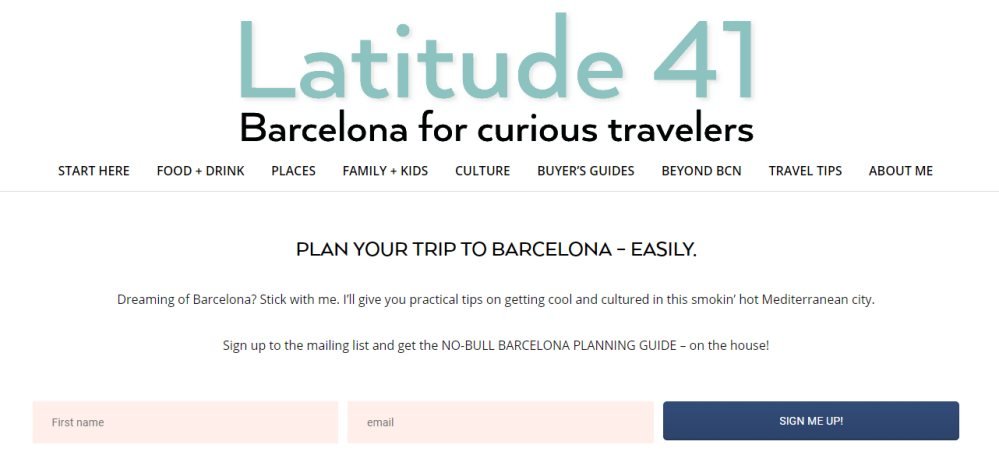 Driftwood Journals
Ben Holbrook is a freelance travel writer, and it shows. His Barcelona-centric blog Driftwood Journals is jammed with articles and photos which wouldn't look out of place in a glossy travel guide. If you're looking for inspiration, start with this post.
Be warned, if you're anything like me you'll probably be scanning the hotel reviews on booking.com before you finish the article. Already here and fancy trying a glass or three of Catalan wine? Check out this post.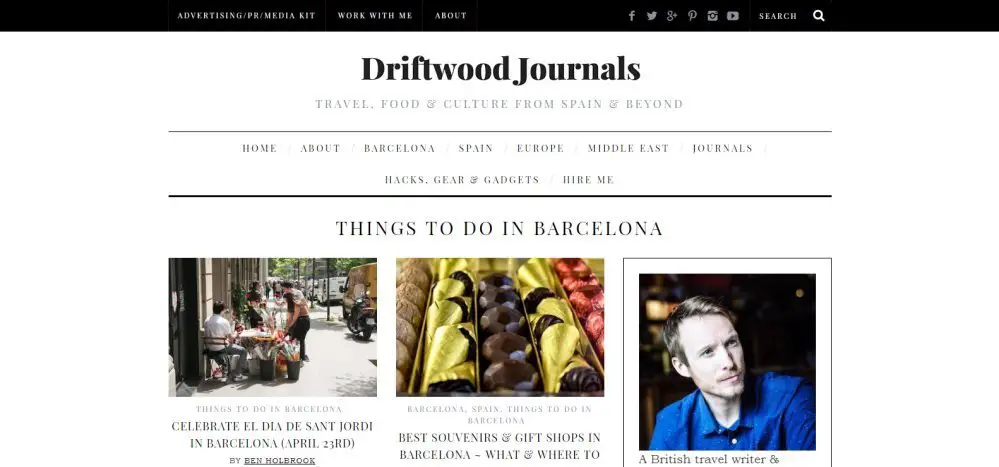 Homage to BCN
Unlike most of the blogs on this list, which are written by individuals or small teams of bloggers, the mainstay of Homage to BCN are carefully curated guest posts.
In the Perfect Days section, Rob asks travellers and locals to describe their ideal day in Barcelona. I don't know where he got the idea from but it's generated an inspiring and ever growing collection posts. I only wish that I'd thought of it first!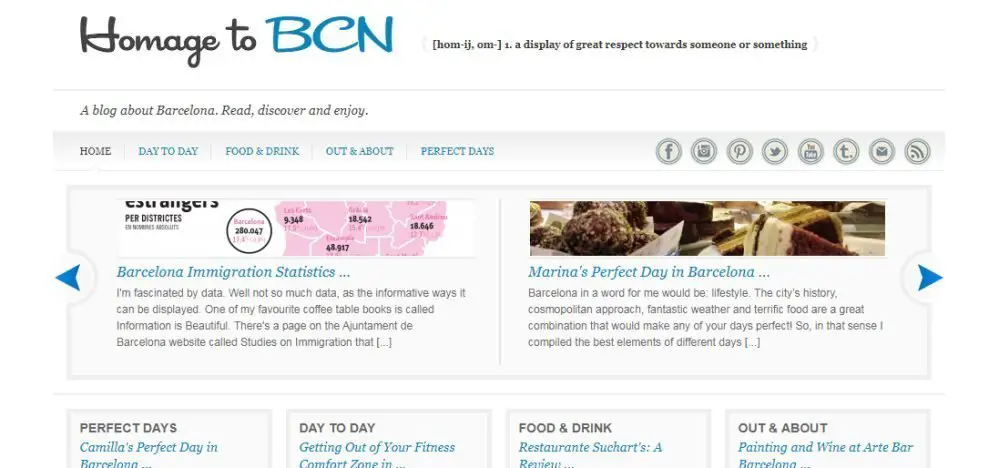 Barcelona Street Scraps
If you like street art and graffiti, I encourage you to take a look at Barcelona Street Scraps by long term Barcelona resident Brian. His blog documents his findings as he scours the streets in search of interesting pieces before they are (in his words) painted over or scraped away.
In addition to images, his twice monthly posts include interesting scraps of information about Barcelona. A great example is this post describing TVBoy's portrayals of the 3 main contenders for the 2019 Spanish general elections.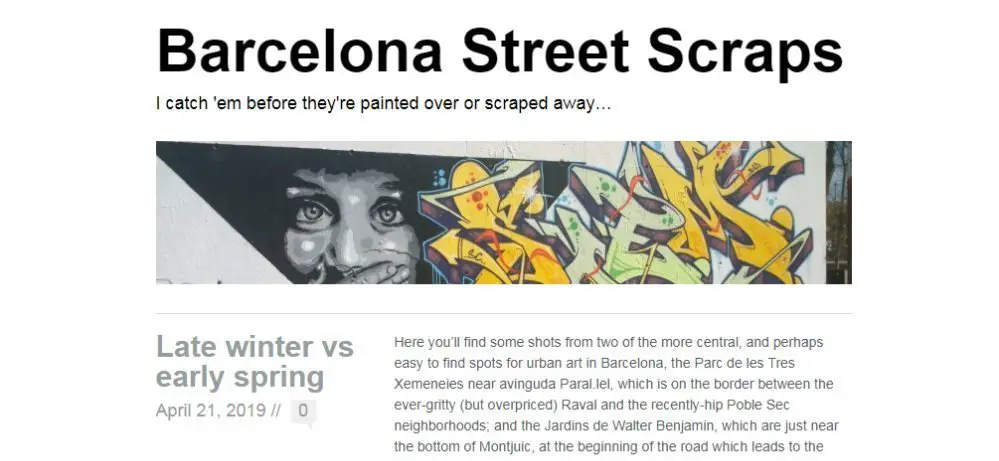 Guiri Girl in Barça
If you've ever wondered what it's like to live abroad I recommend you check out Guiri Girl in Barca. Unfortunately the blog hasn't been updated for a few years now but Julie's entertaining posts will give you a no holds barred glimpse of what her life in Barcelona is like.
From philosophical and introspective posts on the effect of being bilingual or owning a dog in Spain. To harrowing tales about the Spanish health service that will have you rushing to check your health insurance… Oh and there are some good posts about Barcelona and the surrounding area too!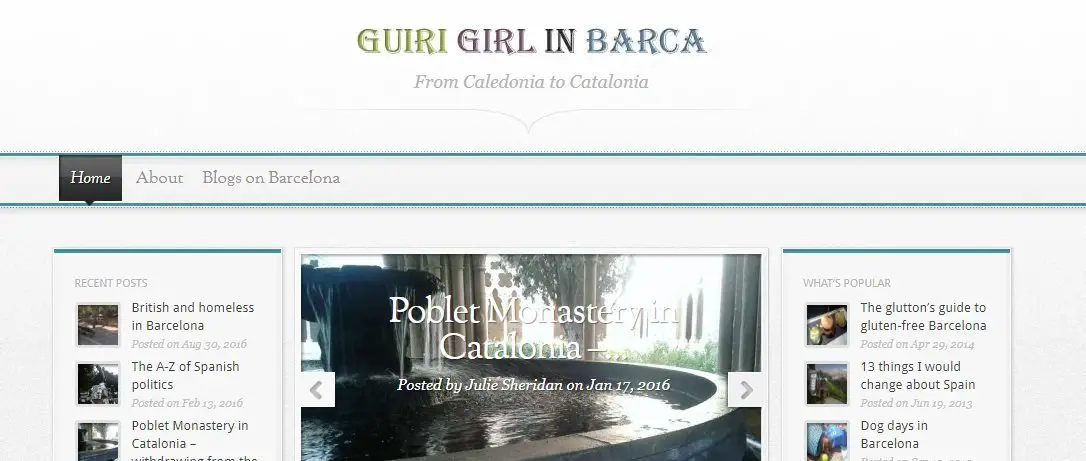 Barcelona Life
Barcelona Life is a travel and lifestyle blog by serial blogger Duncan Rhodes. Whether you're trying to decide where to stay, what to do, or where to party, Barcelona Life has it covered.
Well written articles plus quality photos and a professionally designed template make this one of the best looking blogs on the list. If you're visiting Barcelona as part of a longer trip, check out Duncan's other site Urban Travel Blog.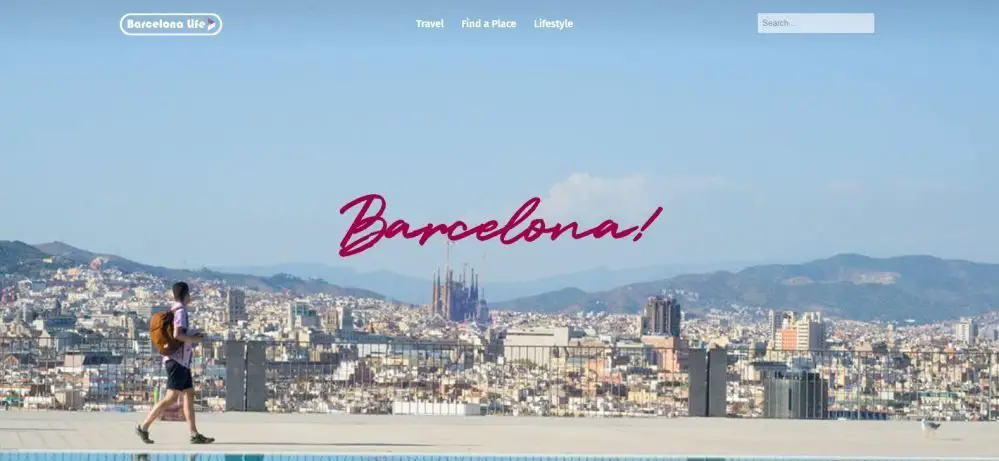 Foodie in Barcelona
Foodie in Barcelona is (you've guessed it) a food blog with reviews of Barcelona's restaurants, cafés, shops and markets.
Suzy's been working on the blog since 2013 (before that she had a similar blog in Berlin) and has already covered an impressive range of restaurants. Her reviews are refreshingly direct and to the point and give you a good idea of what to expect.
Restaurants are listed by neighbourhood and there's a handy index with a hearts rating system to help you decide where to eat.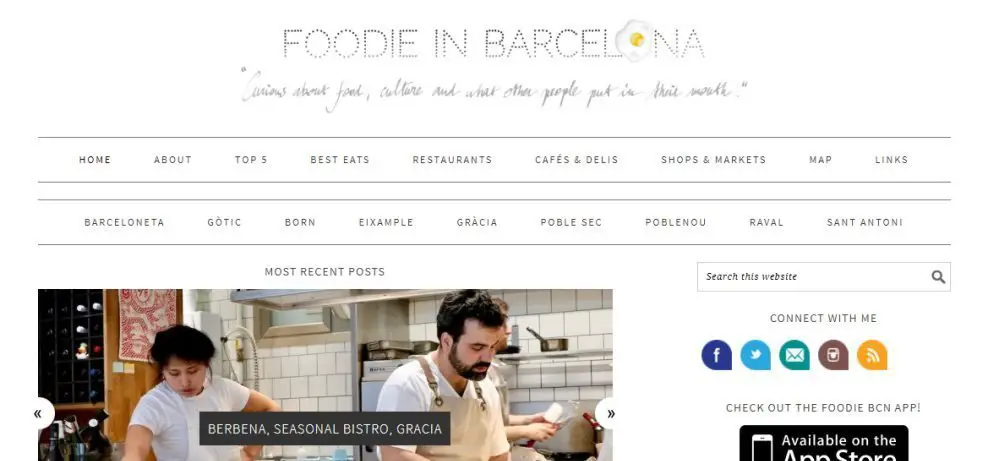 Barcelona Navigator
Barcelona Navigator is awash with interesting posts covering a wide range of Barcelona related topics loosely arranged into directories.
The blog's author Dan is a keen walker who organizes frequent walks on the meetup website. His blog includes some great ideas for hikes in Barcelona and the surrounding area. Unfortunately, they aren't listed as a category so you'll either have to search box to find them or click this link.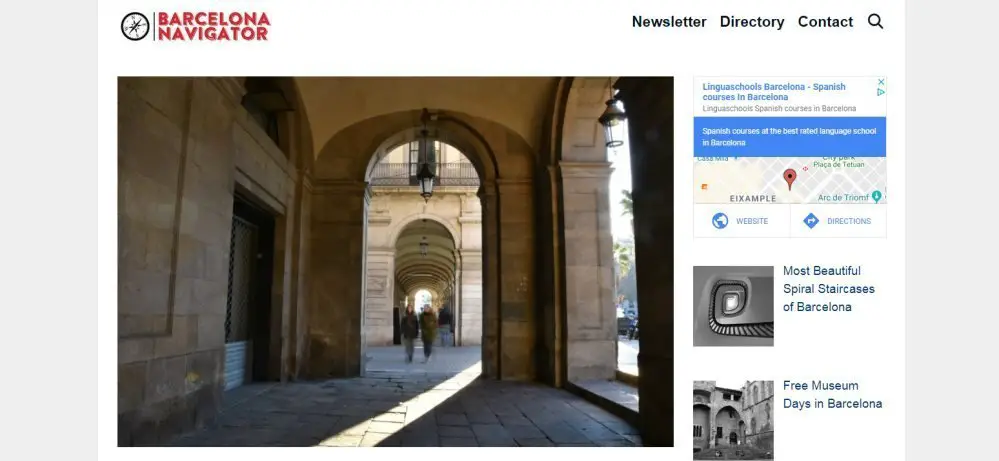 The Vegan Word
The Vegan Word is a vegan travel blog which features recipes, travel guides for a total of 13 countries and a host of vegan travel tips.
Blogger Caitlin currently lives in Barcelona and, hardly surprisingly, her blog includes a section of posts dedicated to the city. Want to know where to find vegan tapas, ice cream or vegan pastries? Look no further. If you'll be travelling beyond Barcelona, Caitlin has also published a couple of vegan travel guidebooks.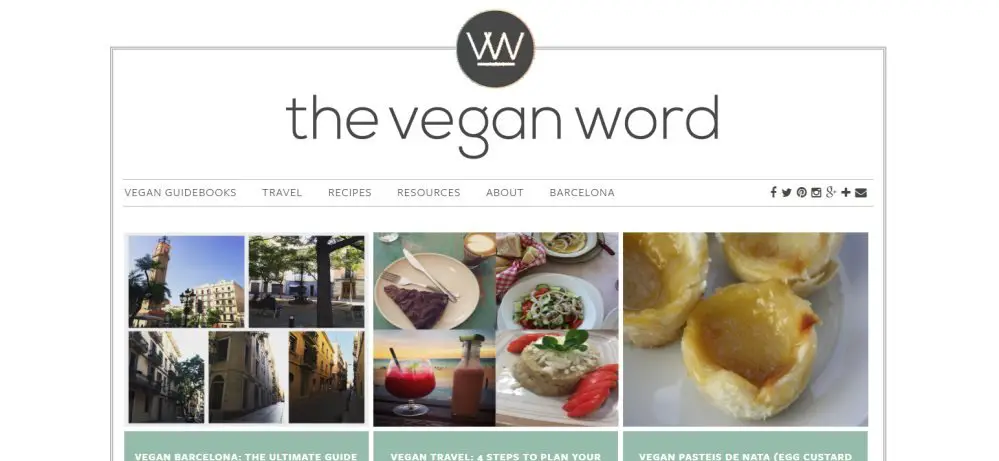 Barcelona Besotted
Whereas most of the other blogs on this list are travel guides of a sort, Barcelona Besotted is more like a collection of love letters.
Quirky, close-up and personal. In each post, typically a few photos accompanied by 3 or 4 lines of text, Australian blogger Sarafina recounts yet another reason why she loves Barcelona. The best way to navigate the blog is to pick a word from the tag cloud and see where it takes you.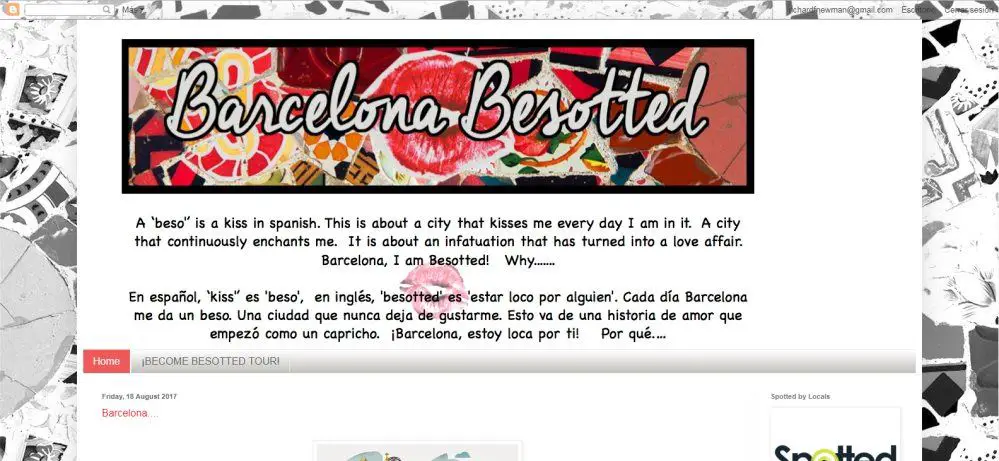 Barcelona Photo Blog
One of the longest running blogs on the list, Barcelona Photo Blog contains 13 years' worth of photos taken by Barcelona local Carlos.
As you would expect from the title, the blog features lots of good quality photos of Barcelona. Most of the posts also contain a fair amount of written text to accompany the images. This is another blog which is best discovered by browsing. Check out these posts dedicated to the human statues.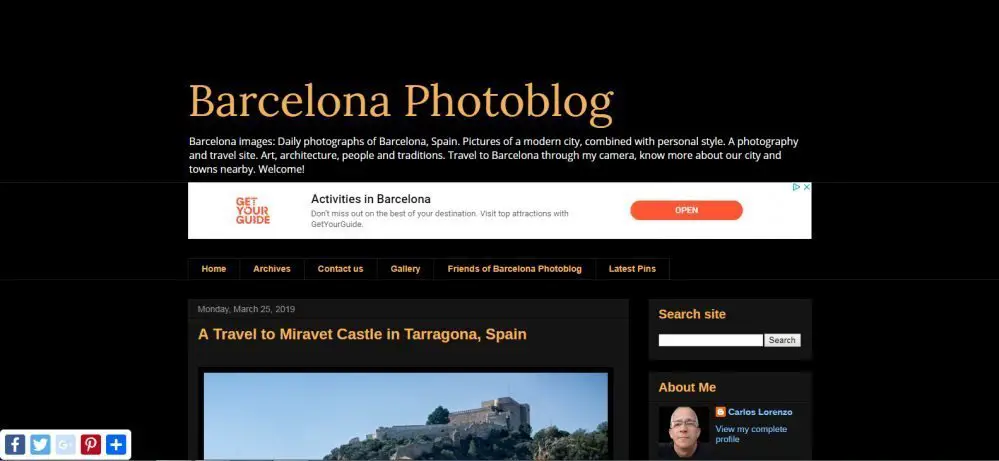 Tales of a Backpacker
This next blog started life as Tales of Barcelona, where blogger Claire Sturzaker shared her experiences in her newly adopted hometown. Then, sometime in 2015, Claire upped sticks and went travelling and the blog mutated into a solo travel blog.
Even so, the Barcelona section still gets updated fairly frequently. Whether you're planning a weekend break in Barcelona or have just bought a one-way ticket to South America, Tales of a Backpacker is sure to give you itchy feet.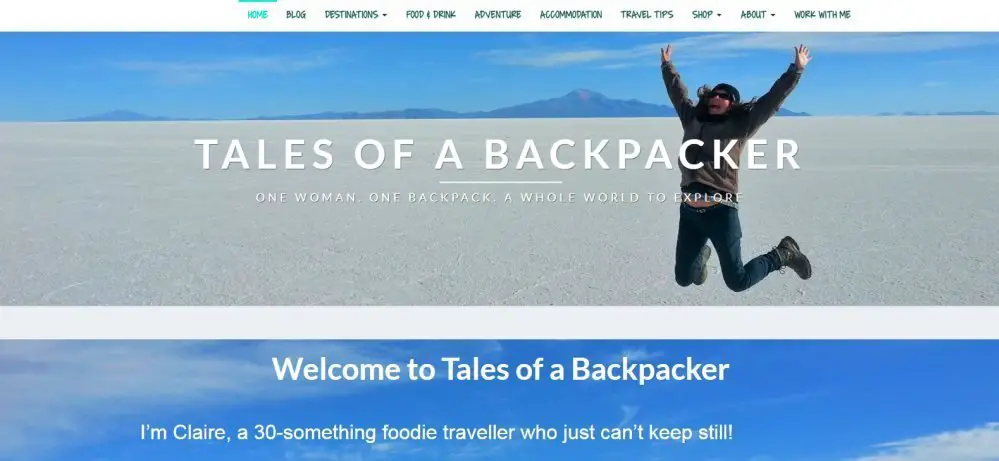 Barcelona Explorers
Barcelona Explorers is a multi-author blog which highlights the city's attractions and traditions from a local's point of view.
There's also an extensive collection of practical travel advice and ideas to help you plan your stay.
Their posts range from reviews of the top Gaudí sites to tips that'll help you blend in with the locals and avoid looking like you just stepped off the plane.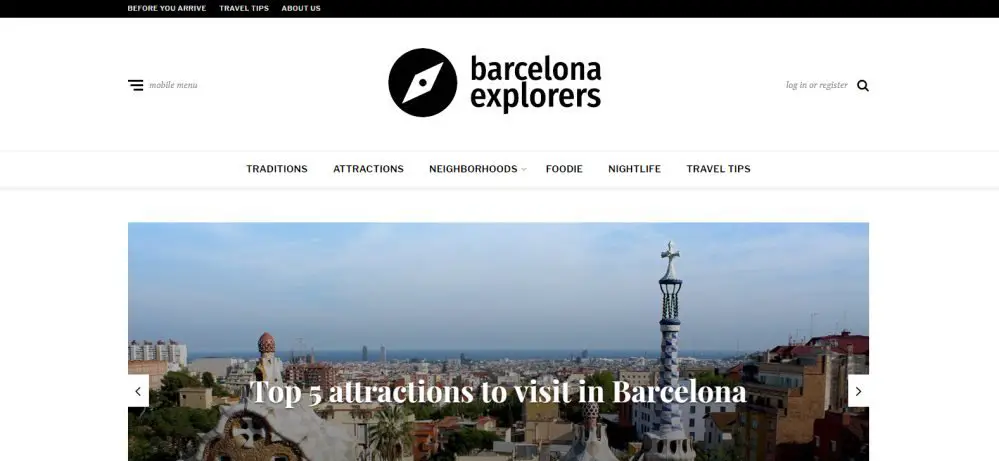 Barcelona Blonde
Barcelona Blonde is a combination travel and ex-pat blog and is a great place to start if you're thinking of moving to Barcelona.
In addition to reviews of top Barcelona attractions, Jessica has written travel guides for other cities and regions of Spain as well quirky and original ideas for things to do.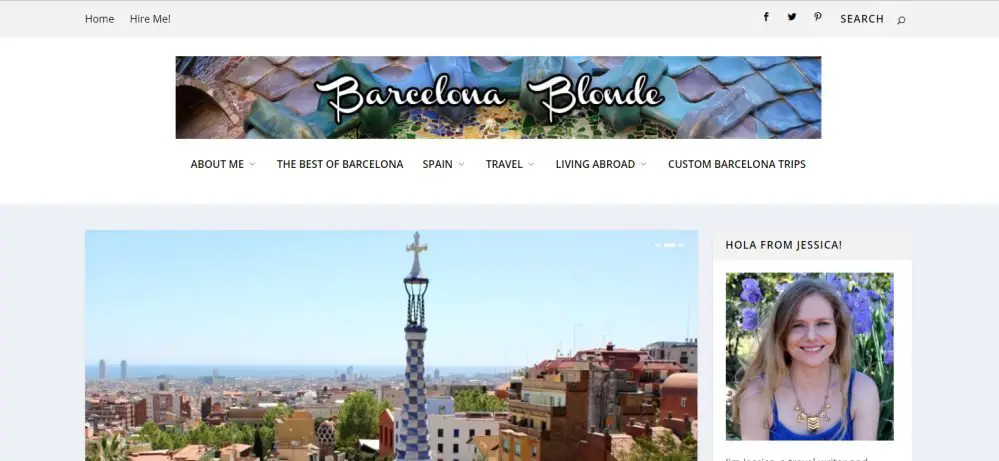 Barcelona Hacks
Barcelona Hacks is chock-full with reviews and practical advice that will help you plan your stay.
From museums to nightclubs to money saving tips, this extensive blog includes everything you need to organize your trip.
Canadian blogger Ash is always on hand to give advice and encourages readers to ask questions in the comments section at the end of every post.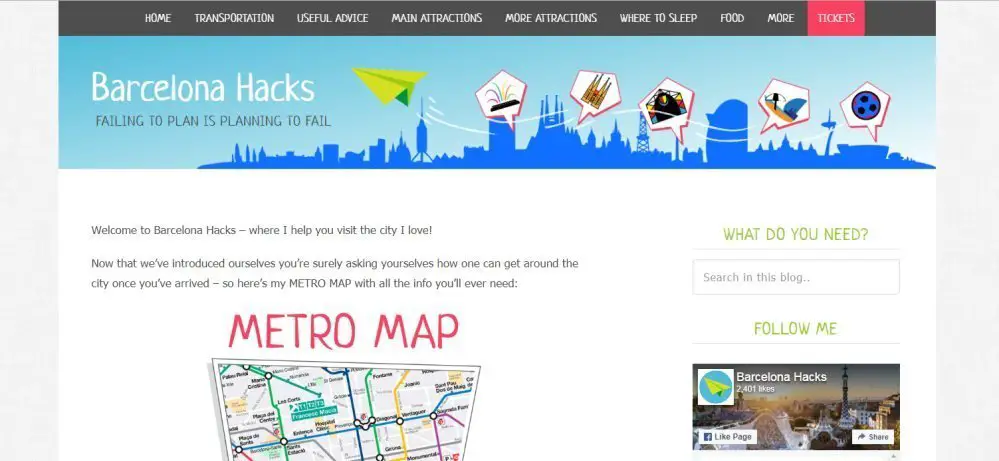 Barcelona Free Art
Barcelona is a city which lives and breathes art. From the flamboyant buildings of Gaudí and Domènech to the paintings of Miró and Pablo Picasso, wherever you look there's something to see.
Barcelona Free Art will help you discover the best known of Barcelona's monuments one sculpture at a time.
Blogger Kevin Booth has also published an interactive e-book dedicated to the art located on Barcelona's waterfront.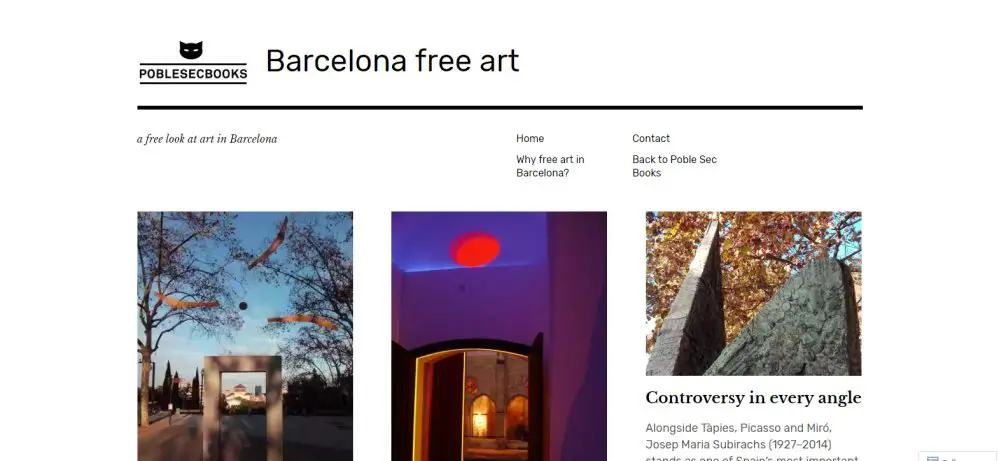 Barcelona Food Experience
Barcelona Food Experience is another excellent Barcelona foodie blog with photos that will make you drool.
In addition to restaurant reviews organized by neighbourhood, Maria has written a comprehensive collection of list-posts to help you find the best bars and restaurants in each category or area.
Regular new restaurants posts are a great resource for locals or frequent visitors who want go beyond their favourites and discover the city's latest inaugurations.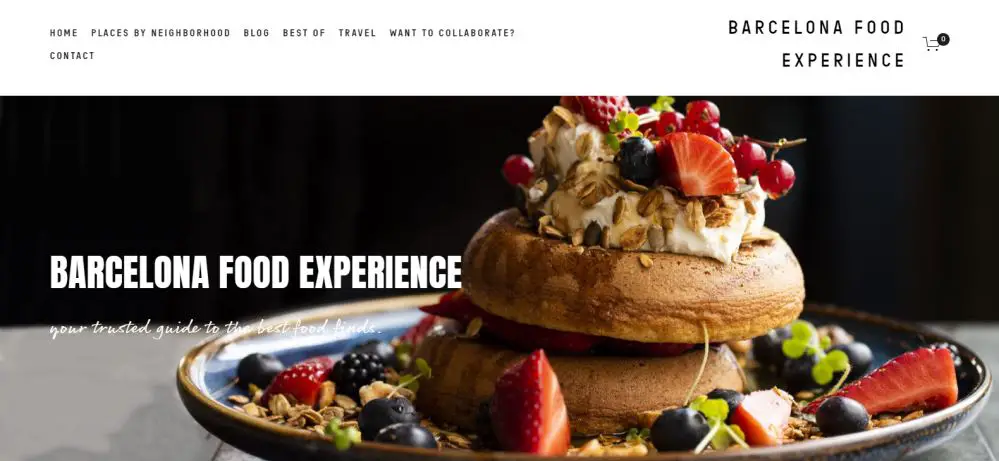 Barcelona Top Travel Tips
Barcelona Top Travel Tips is the English language version of Les Bons Plans de Barcelone.
Written by a small team of multilingual bloggers, the site contains a wealth of useful information, recommendations and reviews.
The combination of drop-down-menus, careful planning and a clean layout make this blog very easy to navigate.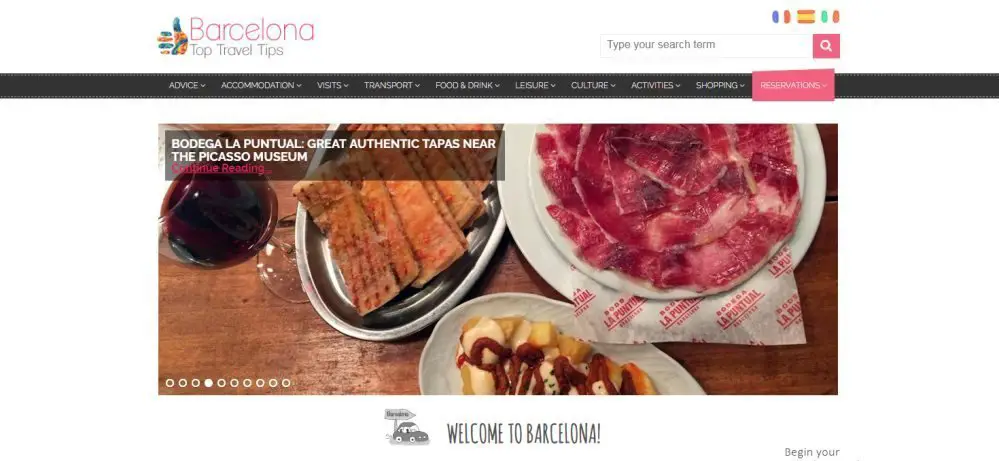 Bill in Barcelona
Bill Sinclair is a writer, blogger and English language coach who has lived in Barcelona since 2003 and blogs at Bill in Barcelona.
Bill eschews the main attractions and concentrates on lesser-known sights. As stated on the homepage: You won't find visitor information about the main tourist sites here, I assume that you will have already researched these.
What you will find is a varied collection of short articles and neighbourhood guides that will help you save money while learning what makes the city click.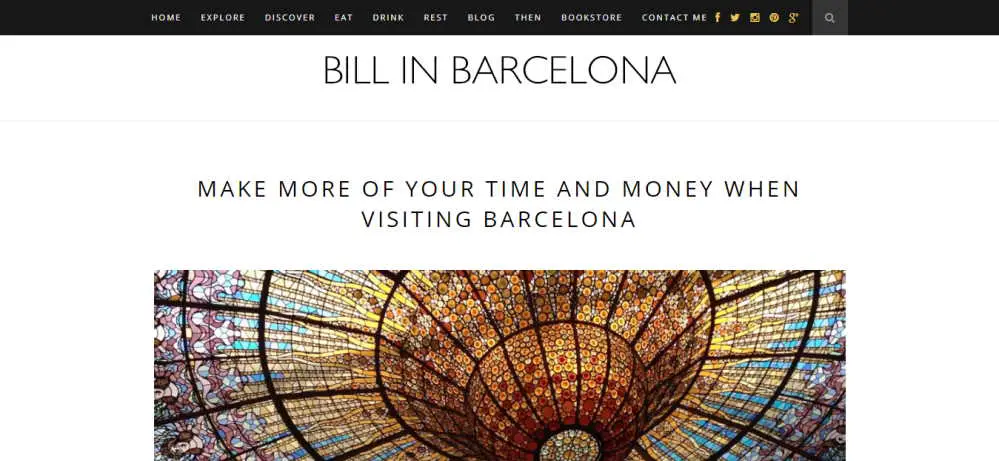 irBarcelona
Ir Barcelona (to go Barcelona), by Barcelona-born blogger Diego, is available in 6 languages including English.
The blog includes a selection of itineraries and list-posts that will help you plan your trip. There are also month by month events posts to ensure you don't miss out on any of the festivals and activities which take place in Barcelona throughout the year.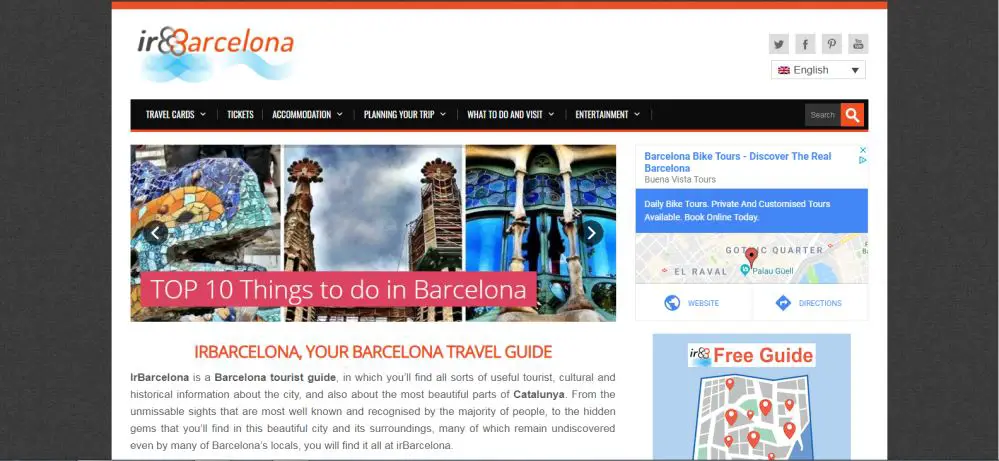 If you've got a favourite Barcelona travel blog that I've missed, tell me about it in the comments and I'll check it out.