T-Mobilitat is a contactless payment system which can be used on public transport within Barcelona and the surrounding area.
There are two ways of using the system:
Directly on your smartphone (Android phones with NFC only)
The T-Mobilitat smart card
In order to use the system, you first need to create an account on the T-Mobilitat website, upload a copy of your passport or ID card and wait for it to be manually approved.
Once your account has been approved, you can use the app to purchase travel passes, which can be used for travel, either directly from your NFC-enabled smartphone (Android phones only) or with a smart card.
If you decide to purchase the smartcard, you can load travel passes onto it from your phone (Android or iOS*).
If your phone isn't compatible with the system, you can also load travel passes onto the card via the ticket machines at metro stations.
*See FAQs below for more information.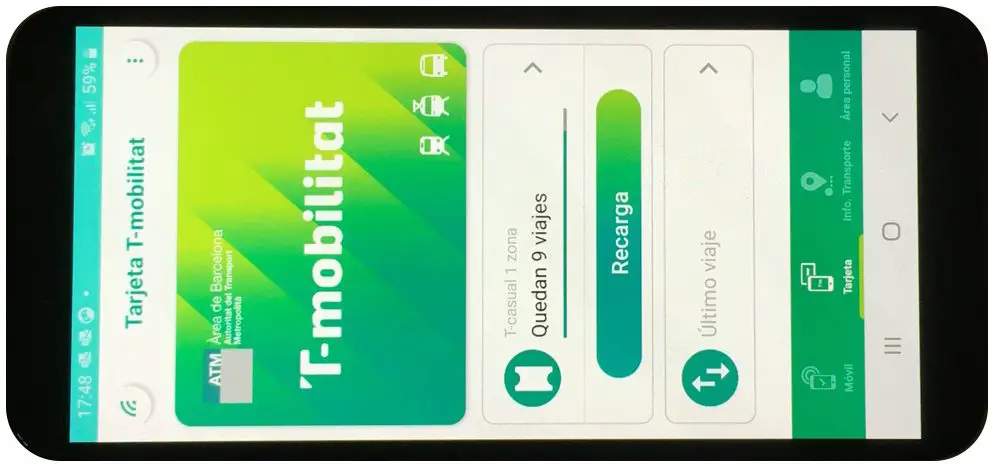 Which travel passes work with T-Mobilitat?
The following travel passes are currently available for use with T-Mobilitat:
T-casual
T-usual
T-Jove
T-familiar
T-16
More information about Barcelona travel passes in this post >>
Where can you use T-Mobilitat
T-mobilitat can be used when travelling on the Barcelona metro, trams and buses, and commuter trains within the ATM zone system.
How to use T-Mobilitat
Once you have created an account and installed the app on your phone, you then have to purchase a travel pass.
If you purchased a T-Mobilitat smartcard, you would already have selected a travel pass when you bought the card.
Using T-Mobilitat is similar to using old-style cardboard tickets with magnetic strips. The only difference is that, instead of validating the ticket by inserting it into a slot at the front of the barrier, you hold your phone or smart card above the square sensor on top of the barrier (see photo below).
As with the old-style cardboard tickets, when the ticket is validated, the number of journeys remaining is reduced by one.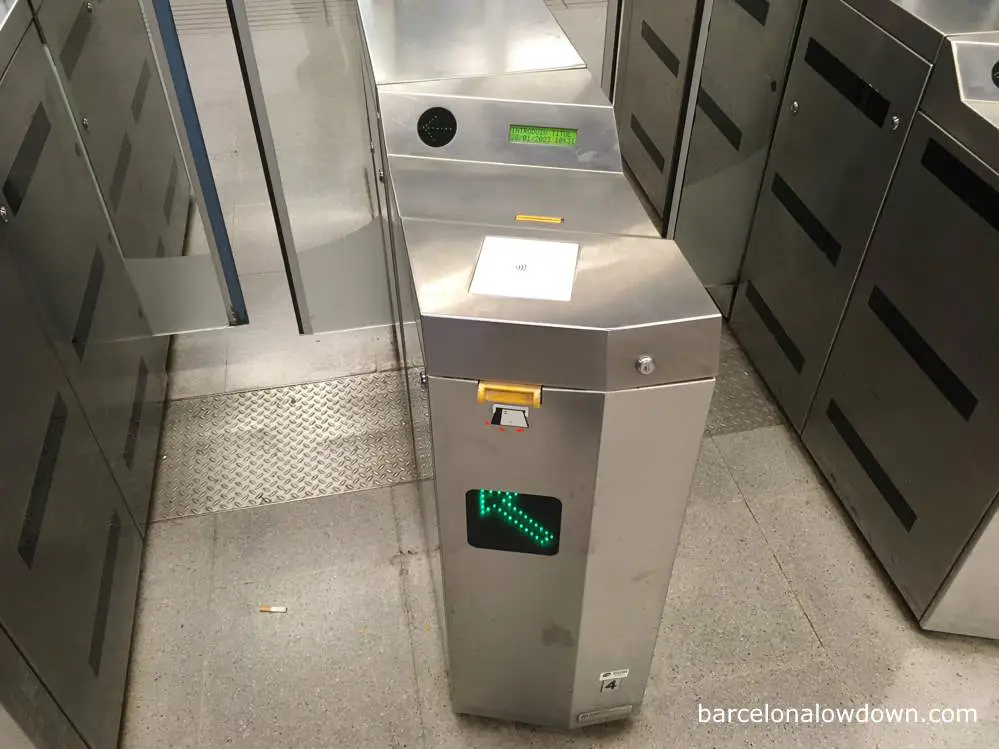 On the metro, you only have to validate the ticket or tap in when you initially enter the metro system and not when changing between lines.
There are also ticket-validating machines fitted inside buses and trams near the doors, although there isn't a physical barrier.
Whichever format of ticket you are using, you must remember to validate it by tapping in whenever you board a bus or a tram. If you fail to do so, you run the risk of being fined for travelling without a valid ticket.
When changing between different modes of transport as part of the same journey, you have to tap in again, but as long as you are within the allowed time, the number of trips remaining on the card remains the same.
Once all the journeys on the card loaded onto your phone or smartcard have been used up, you won't be able to use it again until you've purchased another travel pass via the app. In the case of the smart card, you also have to load it onto the card from your phone.
Creating a T-Mobilitat account
Creating an account on the T-mobilitat website is pretty straightforward, but a couple of steps may not be immediately apparent.
1. You need to register and then create a web account
You'll see in the image below that there is a section on the left where you can register as a user and another section to the right where you can create a web account. In order to use the system fully, you need to do both.
2. If you have an NIE, you will probably still need to get manual approval, the same as if you registered using your passport
At the start of the registration process, people with a Spanish DNI or an NIE are given the option of registering automatically. In contrast, if you register using your passport, you have to upload a scanned copy of your passport and wait for manual approval.
In my experience, automatic approval of the NIE doesn't work, so you will still have to get it manually approved.
T-Mobilitat FAQs
Here are a few of the most popular questions relating to Barcerlona's new T-Mobilitat ticket system. As always, if you can't find the answer to your questions, leave a comment below, and I'll do my best to help.
Do you need to tap out on the Barcelona Metro?
No, you don't need to tap out when using the metro, bus or tram in Barcelona. When entering the metro or boarding a bus or tram, you must tap in to validate the ticket, which remains active for a fixed period depending on the number of zones covered.
When changing between different modes of transport as part of the same journey, for example, from metro to bus, you have to tap in as you enter or board each mode of transportation.
Can you use T-Mobilitat for journeys by metro to and from Barcelona Airport?
If you have loaded a T-usual or T-Jove travel pass onto your T-Mobilitat smart card, you can use it to travel by metro to and from the airport. T-familiar and T-casuals are not valid for the airport metro.
This post has more information about the validity of the different travel passes.
Can I share the T-Mobilitat smartcard?
Each T-Mobilitat account and the associated smartcard are currently linked to a physical person. However, it appears that it will be possible to create anonymous accounts in the future.
Having said that, you can lend your T-mobilitat smart card, or your telephone, to someone else.
On the other hand, the only travel card which allows multiple people to travel together is the T-familiar.
If you have a T-Mobilitat loaded with a T-familiar, it can be shared by two or more people, although you have to validate the card once for each person travelling.
Do I need to purchase a T-Mobilitat smartcard?
If you have an Android phone with NFC, you don't need to purchase a T-mobilitat smartcard. Instead, you can install an additional wallet app which allows you to validate your travel card directly from your phone.
If you have an iPhone, you will have to purchase a smartcard which you can either order online or at some metro and train stations in Barcelona.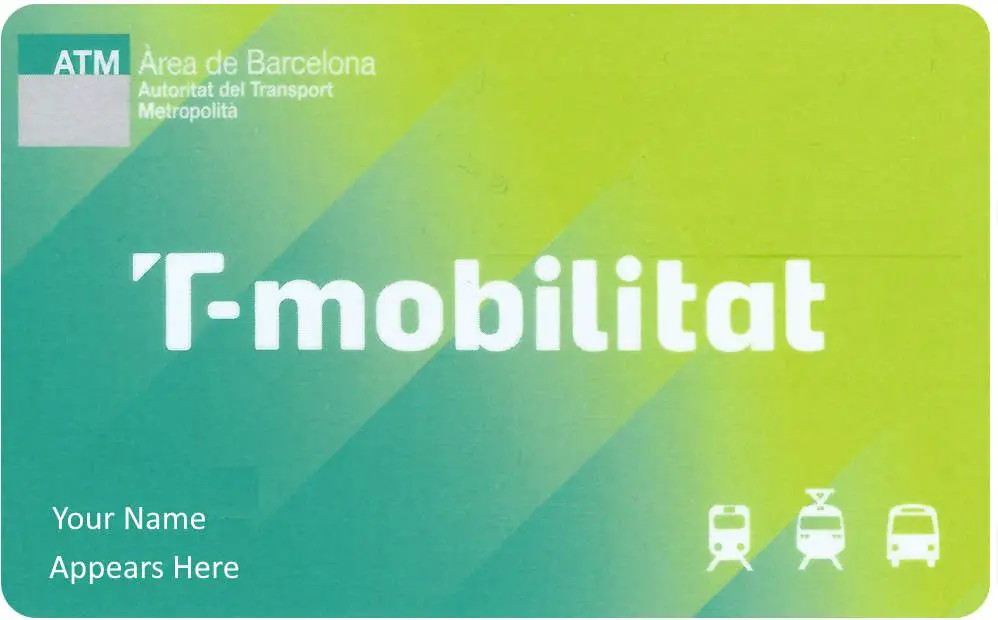 Can you use T-Mobilitat with an iPhone?
If you have an Apple iPhone, you can not use it directly for travelling on the metro, train and tram system. This is because the iPhone doesn't allow third-party apps to make payments using the NFC.
If you are an iPhone user, you will have to purchase the T-mobility smart card, which currently costs €4.50. You can then supposedly use your iPhone to check the card's balance and purchase additional travel cards.
Having said that, I have a five-year-old iPhone SE and have found it impossible to get it to read or even detect my smart card. When comparing it with an Android phone, it seems that the app doesn't even activate the NFC. I know that the NFC works because I regularly use it for making contactless payments in Barcelona.
As far as I can see, the app doesn't work correctly with iPhones, or at least not with older iPhones. If you've successfully used the T-mobilitat app to scan a smartcard with an iPhone, please leave a comment below.
Can you still use the old cardboard tickets on the metro in Barcelona?
Yes, the old cardboard tickets can still be purchased and used for travelling by metro, bus, tram and train. There is currently no information about when the old tickets will be phased out, although I imagine it will be pretty soon.
Does public transport in Barcelona accept contactless payments?
In addition to the T-Mobility contactless ticket system, the ticket machines at train stations accept contactless payments.
You can also purchase single bus tickets with credit cards or other contactless devices on buses.
Can you use the Hola Barcelona Travel Card with T-Mobilitat?
No, the Hola Barcelona Travel Card is currently only available as a smart card which can be purchased online or at metro stations and Tourist Information offices.
How many zones does the T-Mobilitat cover
The number of travel zones covered by the T-Mobilitat depends on the travel card which is loaded onto it. For example, if you purchase a six-zone T-casual and load it onto the smartcard, then you could travel through up to six zones. The same applies if you use the app directly on your Android phone.
Can you load two different travel passes onto the smartcard and use them alternately?
No, at the moment, it's not possible to alternate between different types of travel passes. Despite the benefit of being able to, for example, store a 3-zone T-casual and a 1-zone T-casual on the same card and choose which you use for any particular journey, this functionality is not currently available.