Over the last few years Barcelona's once industrial Poblenou neighbourhood has begun a steady transformation from area full of disused factories to one of hi-tech office blocks, stylish hotels and modern apartment buildings.
Many of the abandoned factories have been torn down. Some have been restored and converted into offices. Others stand derelict awaiting redevelopment, trapped in a kind of speculative limbo and have been transformed by local artists into an ever changing gallery of street art.
This post features a small area of about 5 blocks just north of the Parc del Centre de Poblenou.
The quality, quantity and sheer size of the images make it well worth a visit. At the end of the post I've included a map and suggested walking route.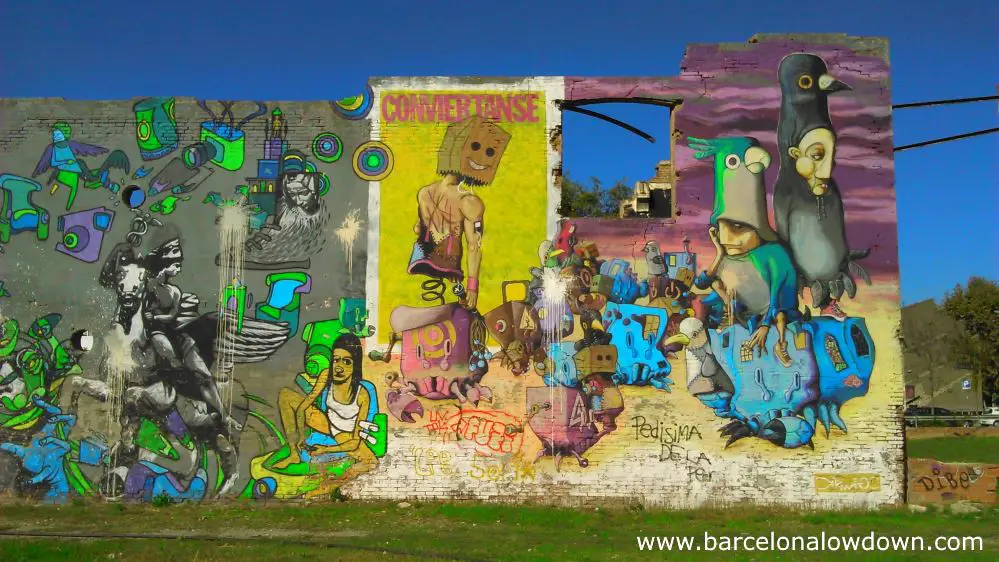 One of the things I love about street art is that it's continually changing. The fact that an artist is prepared to spend their time and money on something which will only be there for a few days or weeks is inspirational.
In an attempt to keep this post up to date I walk the route several times a year and share my photos on Instagram with the tag #bcnlowdown_walks
Update March 2022
Since I wrote this post back in 2015 many of the abandoned factories in Poblenou have been torn down and replaced by modern office blocks, apartment buildings and a university campus.
Although this is good for the neighbourhood as a whole, unfortunately, it means that, apart from a couple of short sections, most of the walls featured in this post no longer exist.
I am currently working on a new self-guided street art tour, probably using public transport. In the meantime, if you want to discover some of Barcelona's best urban art, you could take this graffiti tour or check out some of my other posts.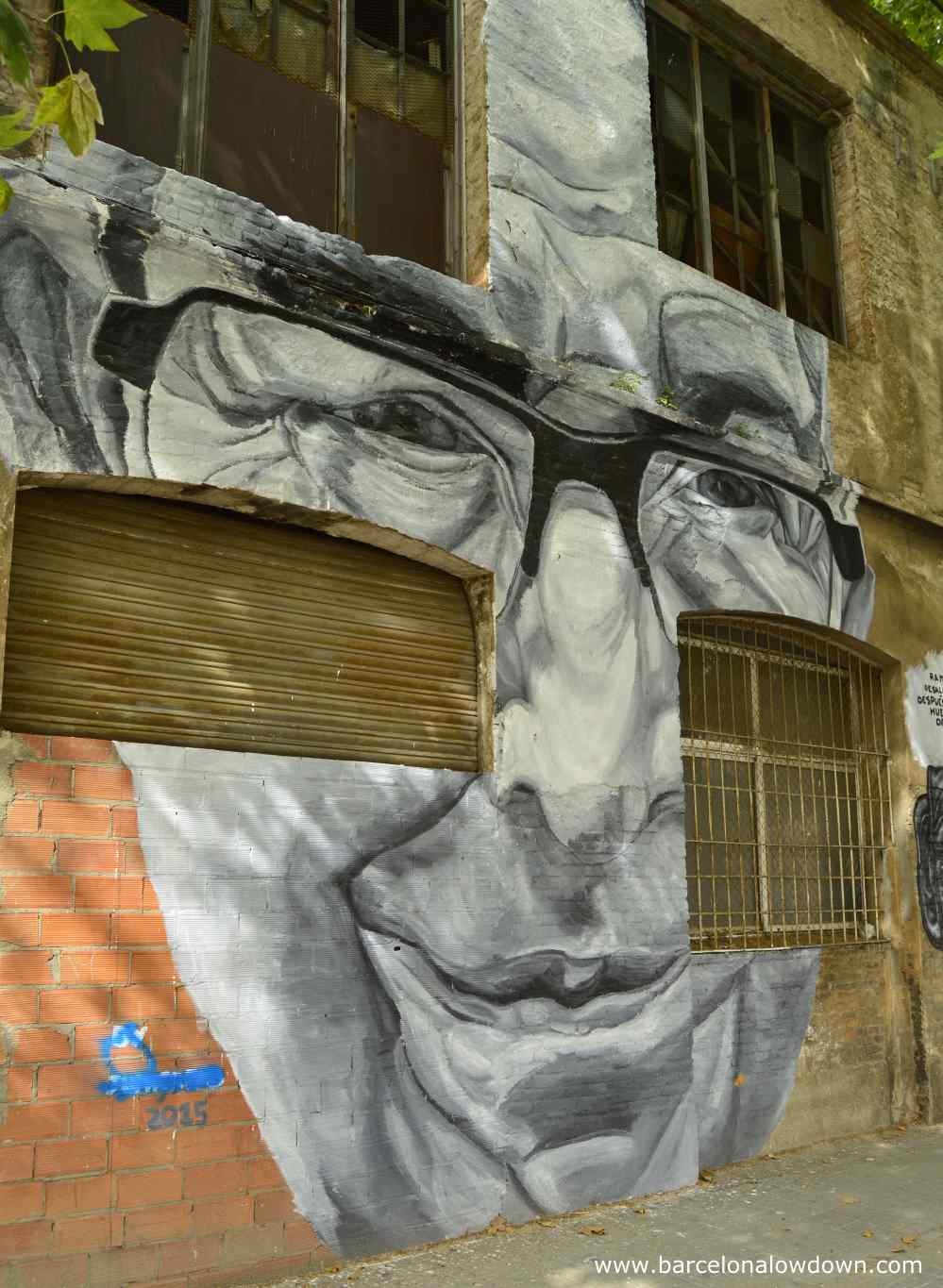 Self Guided Street Art Walking Tour of Poblenou
Take tram line T4 to Pere IV, from here follow Carrer de Marroc along the west side of the Parc del centre de Poblenou.
Just before you get to Carrer de Espronceda you will see a large metal gate which is the entrance to an old factory that is now an art research and production centre. If the gate is open take a look inside, otherwise continue along the perimeter of the site.
The walls are covered with street art from the pedestrian crossing around the corner and along Carrer de Espronceda for almost half a block. Don't forget to look up or you might miss the the 5 story high corinthian column and the home made statue of an alien (on the other side of the road).
From here the route follows Carrer Pere IV. At first the left hand side of the road is fenced off by steel hoardings and brick walls. If you look over the wall you will see a haunting black face painted by Axel Void on a tower of the old La Escocesa chemical factory which is now a centre for artists.
After you pass the Parroquia del Sagrat Cor church there are a couple of large murals on the right hand side products of the second ÚS Barcelona street art festival by the artists Mariela Arias and Btoy.
Turn left along Carrer de la Selva de Mar. Once you pass the Nissan car showroom and auto repair shop the rest of the block as far as Carrer de Peru is covered with graffiti including several images by Rubicon1.
This street is in a continuous state of flux and the walls are painted over regularly.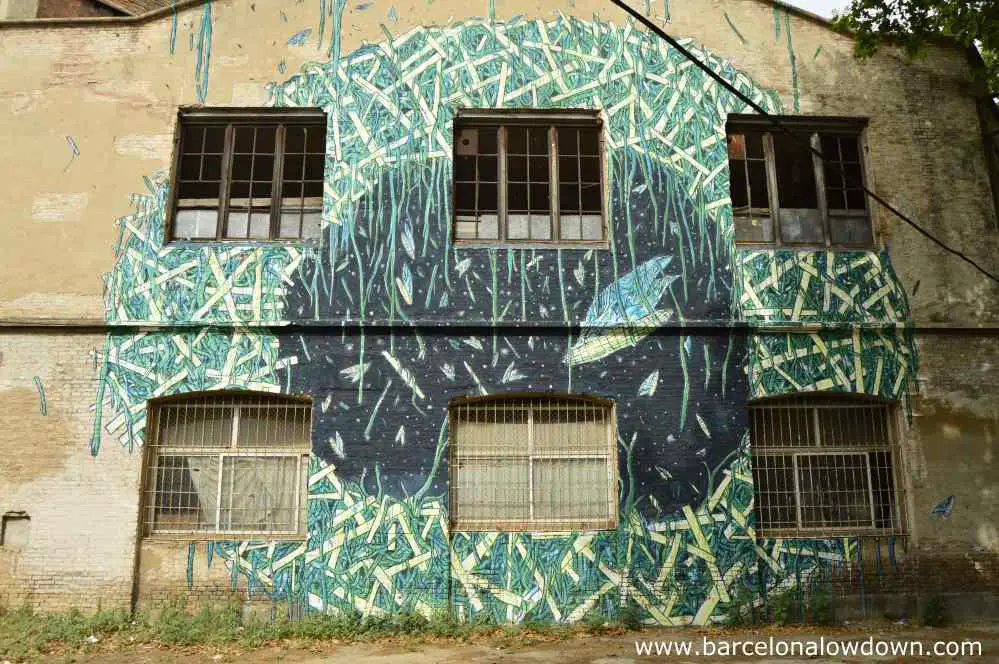 Double back on yourself and head east along Selva de Mar, just after you cross Pere IV there is a portrait by Jupiterfab of an old man who was evicted from his home after his wife died. On the other side of the same building is a large painting by Crisa which at first glance looks like an eye but which I think represents the world and the universe.
Further along on the other side of the road is a tiny temporary allotment with a large painting of a diabolic fruit tree.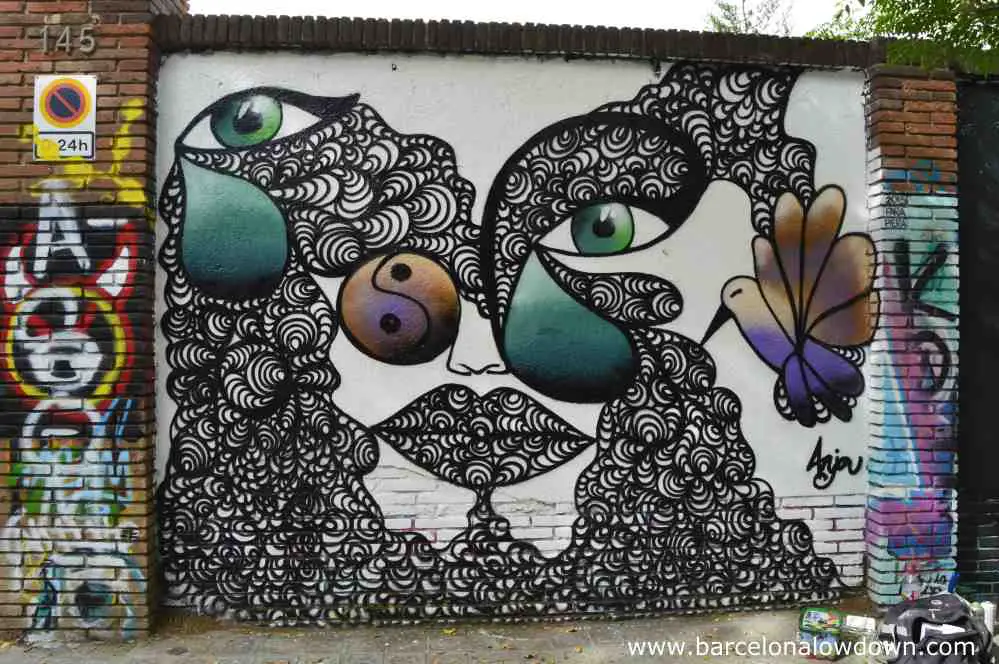 Keep heading towards the sea, just before you reach Av. Diagonal are two of the largest works of street art in the area.
The first is a large derelict building which has been turned into a giant head. The same building continues along Carrer de Veneçuela with a huge mural of a group of greyhounds running (Now painted over and replaced by several smaller pieces). The other side of the wall is covered with several interesting and colourful compositions.
Next we head north along Carrer de Veneçuela two blocks to the intersection with Carrer de l'Agricultura. As you reach the intersection you can't miss the high walls which are covered with street art.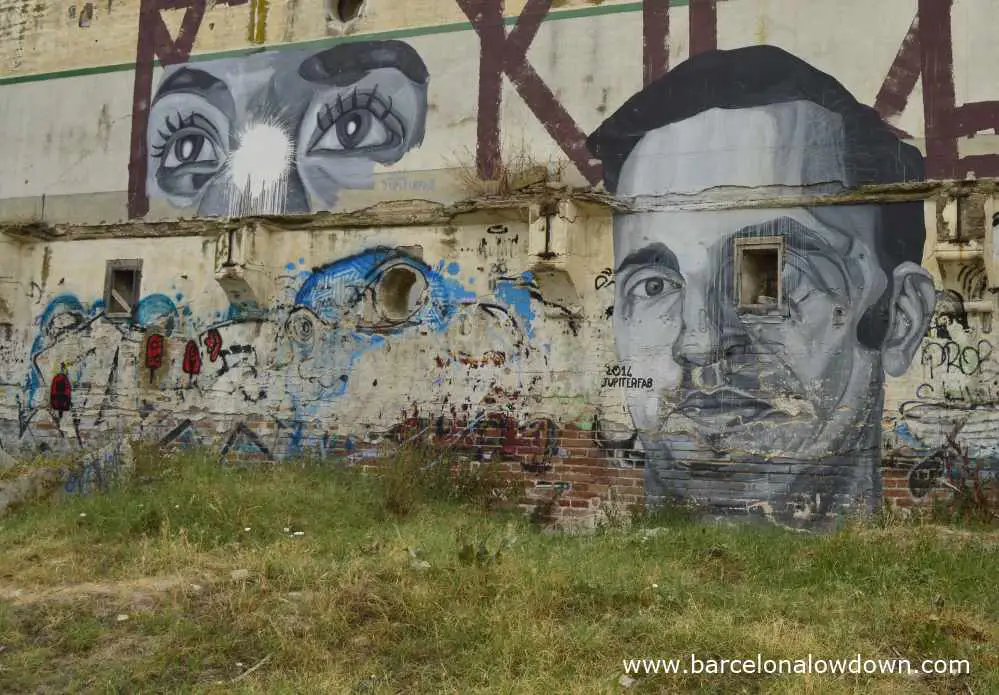 All four sides of the block between Carrer de l'Agricultura and Carrer de Josep Pla are covered in graffiti. I suggest you walk around the block an in an anticlockwise direction. This is another area where you will often see street artists at work at the weekend.
We then finish our self-guided street art walking tour of Poblenou by following Carrer de Veneçuela back to Selva de Mar where we can catch either the tram or metro at the stops near Av. Diagonal (see map below).
Time needed: One hour.