This bronze statue of Antoni Viladomat I Manalt by Catalan artist Torquat Tasso was one of a series of eight monuments depicting Catalan heroes inaugurated in 1886. In 1959 most of the statues were melted down and used to make a replacement for the statue of Mare de Déu de la Mercè, which tops the church of the same name. The only other statues which survived are the nearby statue of Roger de Llúria and the monument to Rafael Casanova.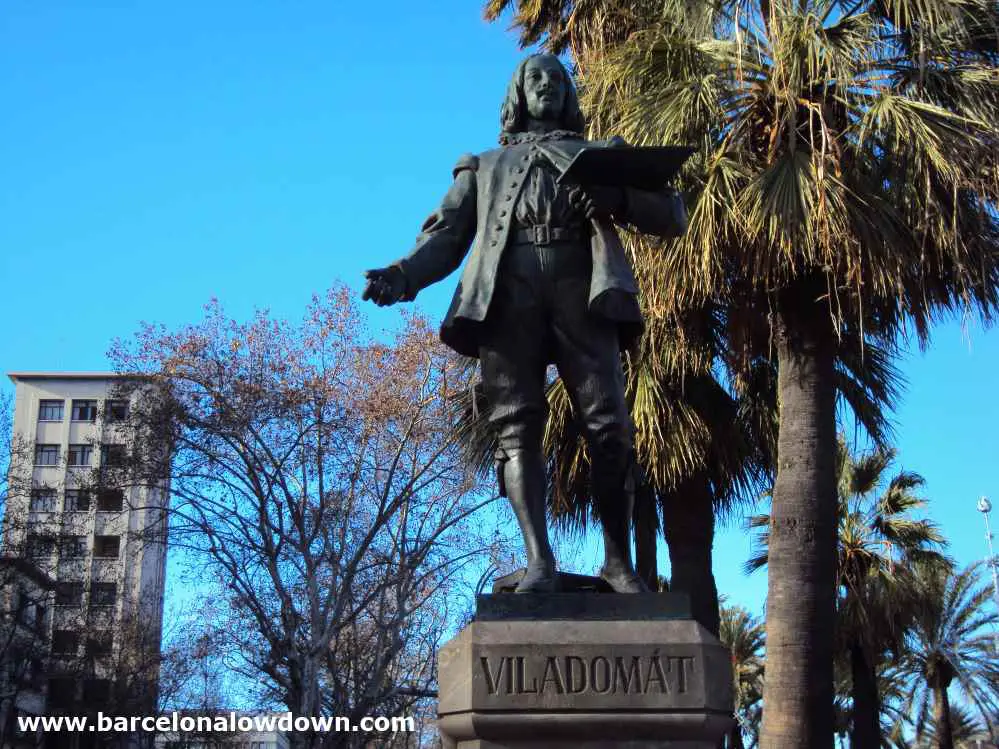 Who was Antoni Viladomat i Manalt?
Antoni Viladomat i Manalt was one of the most important Catalan painters of the 18th century. Born in Barcelona in 1678, he studied with Pascual Bailón Savall and Joan Baptista Perramon and worked in most of Barcelona's churches and monasteries of the time. He was influenced by artists from Italy and France who came to Barcelona when Archduke Charles of Austria moved his court here during the War of the Spanish Succession.
A very prolific artist, Viladomat is said to have painted around 600 paintings, many of which have since been destroyed. Today his most famous works are exhibited in the MNAC museum (Barcelona) and the Prado (Madrid).
30 km north of Barcelona in Mataró, the l'església de Santa Maria church contains the Conjunt dels Dolors which is considered to be one of the best-preserved examples of Catalan baroque art.
About the Artist
Torquat Tasso was born in Barcelona in 1852 and studied in the famous Escola de la Llotja. He was responsible for numerous sculptures for the Barcelona Universal Exposition of 1888. His best-known works include the statue of Antoni Viladomat and the Apoteosis de las Ciencias y las Artes frieze, which adorns the Arc de Triomf.
Location
The statue is situated at the intersection of Passeig Lluis Companys and Passeig de Pujades in front of the entrance to the Parc de la Ciutadella.
How to get there
The nearest Metro stops are Arc de Triomf on the red line (L1) and Ciutadella/Vila Olimpica on the yellow line (L4). Also the Ciutadella/Vila Olimpica Tram stop (T4)
Other attractions nearby:
The Ciutadella Park
The Chocolate Museum
Map