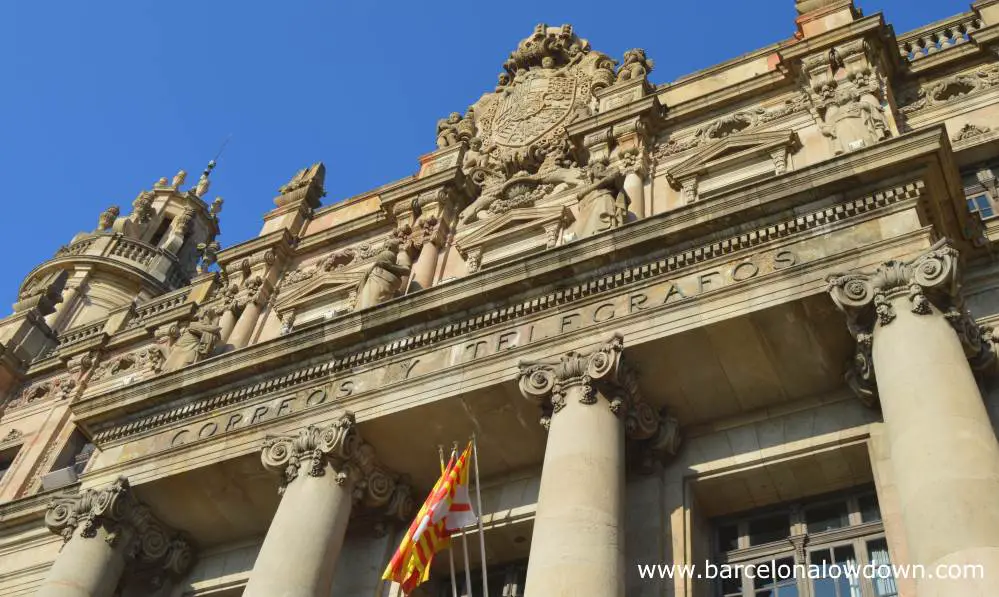 Passeig de Colom, the avenue which runs from the Columbus monument towards the Parc de la Ciutadella, is flanked by a series of elegant buildings dating back to the late 19th and early 20th centuries.
One of the most interesting of them is the Central Post Office which was designed by Josep Goday i Casals and Jaume Torres i Grau and built in 1927. The building's design is a mixture of Catalan Modernism and Noucentism (the architectural and artistic style which immediately followed Modernism).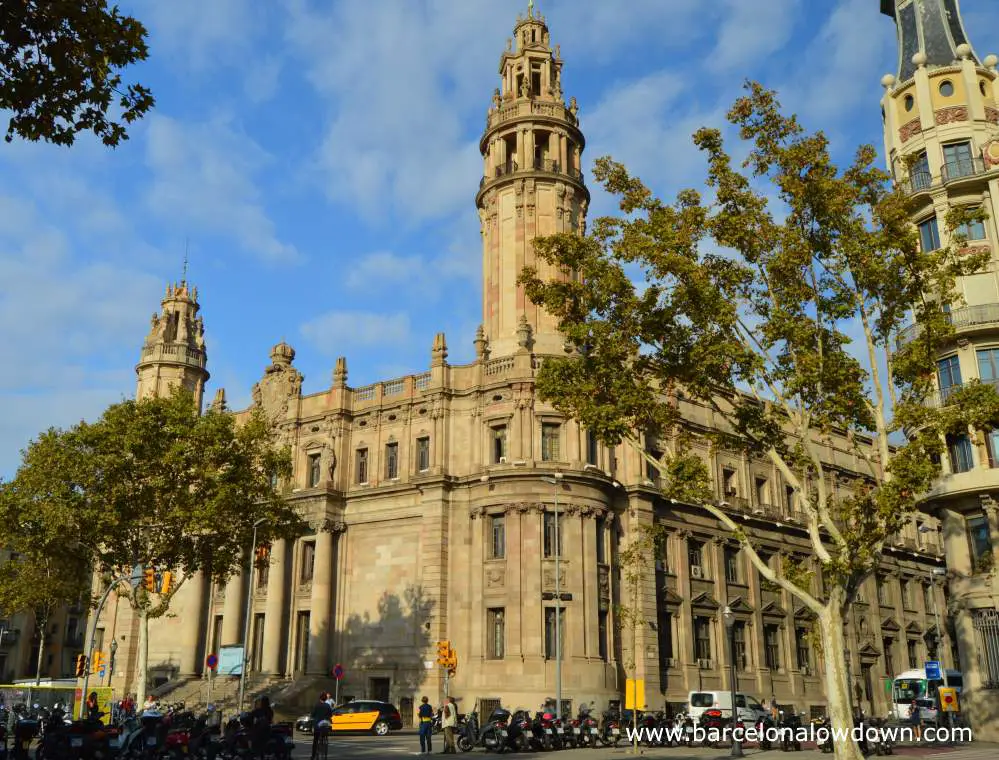 The post office overlooks Barcelona harbour and its façade is dominated by the classically styled main entrance. An elegant stone staircase leads up to 3 large doorways flanked by 4 Ionic style columns topped by an architrave supporting 4 statues above which there is a large coat of arms.
If the building and it's surroundings look familiar it's probably because they featured in a long running advert for Le Male by Jean Paul Gaultier. The one where a sailor returns home aboard a ship which runs aground and tears up the streets.
Part of the advert was filmed from the roof of the post office and you get a brief glimpse of one of the towers and the back of the coat of arms 34 seconds into the video. The ship finally grinds to a halt in front of one of the buildings on the other side of Via Laietana.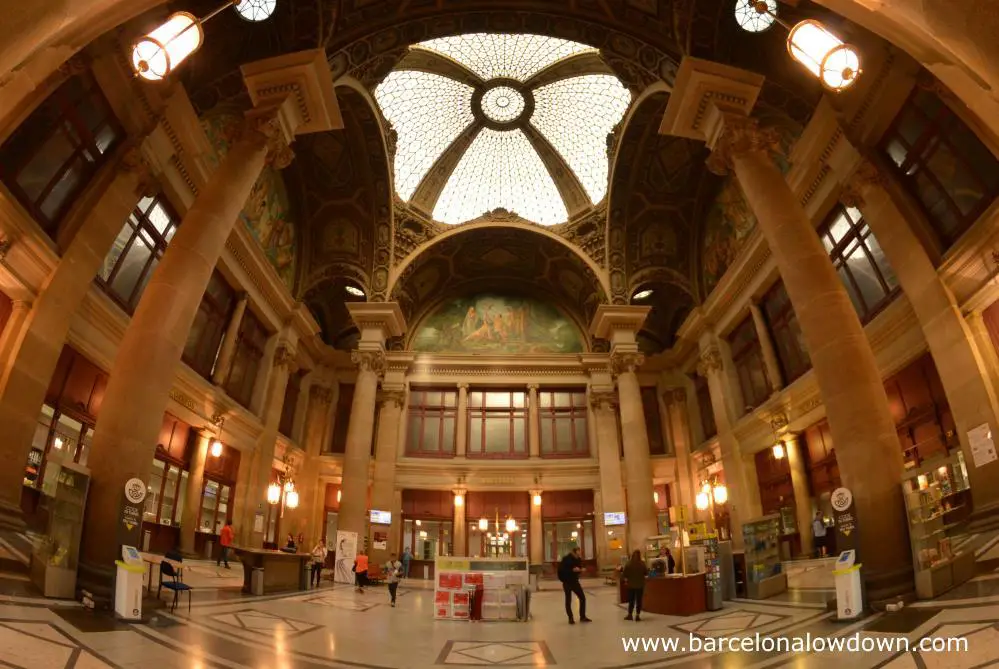 Entering the building through the wooden revolving doors you might be surprised to discover that it's still a fully functioning post office. In fact it's Barcelona's main post office and if you want to send a parcel home then this is the place to do it.
Once through the foyer you come to the main hall which, apart from a bit of electronic gadgetry, hasn't changed since the building opened in 1927. The square hall is surrounded on three sides by glass fronted wooden counters, 4 slender stone pillars support the high ceiling.
The hall is illuminated by sunlight filtering through a central glass dome. The ceiling, arches and upper parts of the walls are decorated with classical frescoes by artists Josep Galí, Francesc Labarta, Josep Obiols and Francesc Canyelles. One of the paintings features the Greek god Hermes, son of Zeus and messenger of the Gods.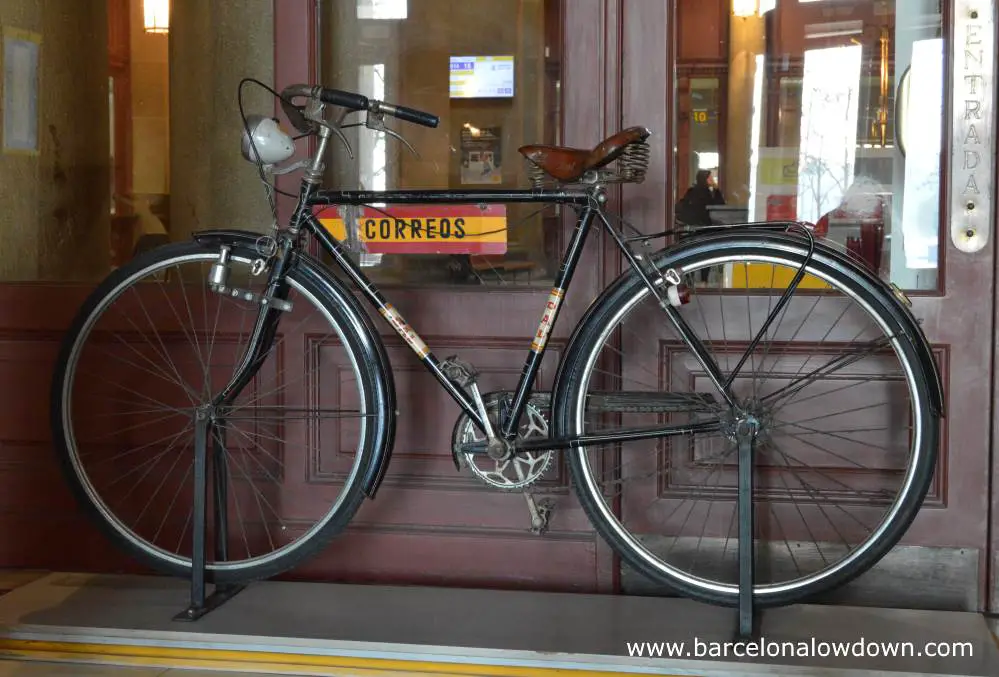 Time needed to visit
5 minutes.
Entry fee
Free of charge.
Opening times
Monday to Friday 08:30 to 21:30
Saturday 08:30 to 14;00
Location
Plaça d´Antonio López, s/n
How to get there
The post office is half way between Jaume I and Barceloneta metro stations (both on the L4 yellow line). Jaume I is the easiest to walk from since you don't have to cross any busy roads.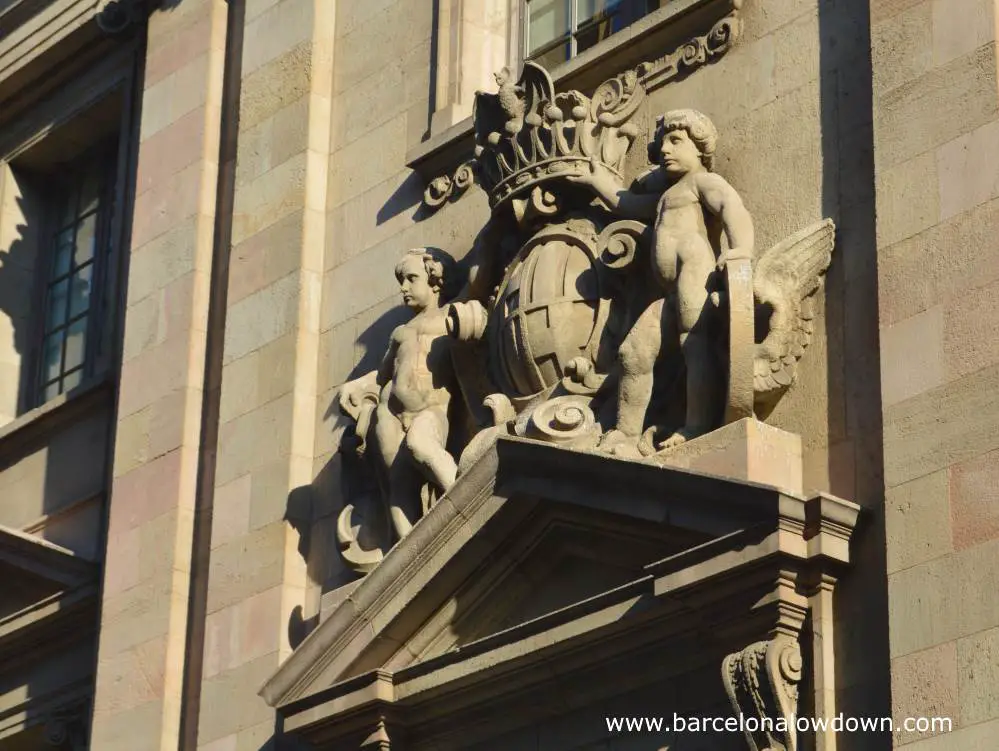 Other attracions nearby:
Barcelona's head
The Gambrinus lobster statue
Barcelona França railway station
Palau de la Musica Catalana
Basílica de Santa Maria del Mar
The Christopher Columbus monument
Map