Carmela is one of four sculptures by Jaume Plensa which were exhibited at the Palau de la Musica Catalana in 2016.
The statue was such a hit with the neighbours that they started a petition on change.org asking the organizers and Barcelona city council to keep it there indefinitely.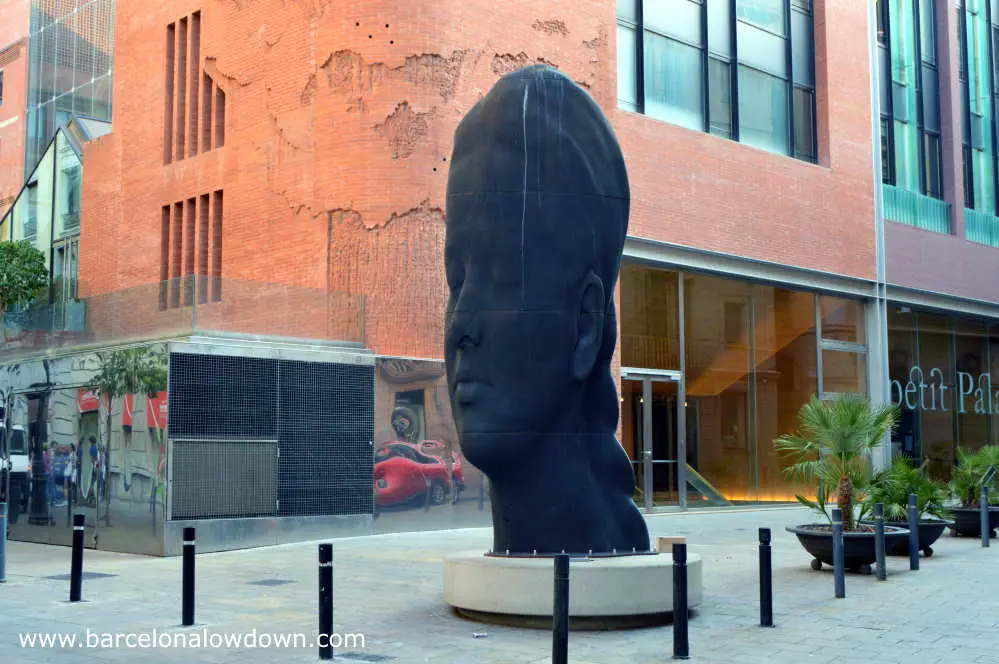 Carmela Sculpture
Carmela was created from a photo of a Barcelona teenager. Plensa scanned the photo to create a three dimensional image which he then compressed in one axes before casting it in iron.
The result is an enigmatic flattened sculpture which, when viewed from the right angle, looks like a large three-dimensional bust.
During the inauguration of the exhibition, Plensa said of the figure:
"Carmela represents a girl from Barcelona, a Mediterranean beauty, a timeless beauty, from both past and future, who perhaps has not yet discovered that she is interested in art."
The statue was originally meant to be exhibited outside the Palau de la Musica until September 2016 when it was due to be shipped to Grand Rapids (Michigan USA).
Thanks to the public's reaction, Plensa ceded the sculpture, estimated value €700,000, to the city for an initial period of eight years.
About the artist
Sculptor Jaume Plensa was born in Barcelona in 1955. He studied art at the Escola de Belles Arts de Barcelona and has lived and worked in Germany, France, Italy and the UK.
Best known for public art pieces such as the Crown Fountain and Behind the Walls, he also works with other media including drawing, audio and video.
In 2014 Xavier Trias, then-Mayor of Barcelona asked him to create an iconic new sculpture for the city's waterfront. Plensa envisaged a 52-metre high stainless steel head that would be installed on the Espigó del Gas, at one end of the Barceloneta beach. The project was put on hold in 2015 after Trias lost the elections to Ada Colau.
Location
Carmela is located at Plaça Luis Millet next to the Palau de la Musica Catalana at Carrer Sant Pere Més Alt, 3.
How to get there
The nearest metro stations are Urquinaona (L1 & L4), Catalunya (L1 & L3) and Jaume I (L4).
Other attractions nearby
Palau de la Musica Catalana
Santa Caterina Market
Barcelona Cathedral
MUHBA Plaça del Rei
Picasso Museum
Map