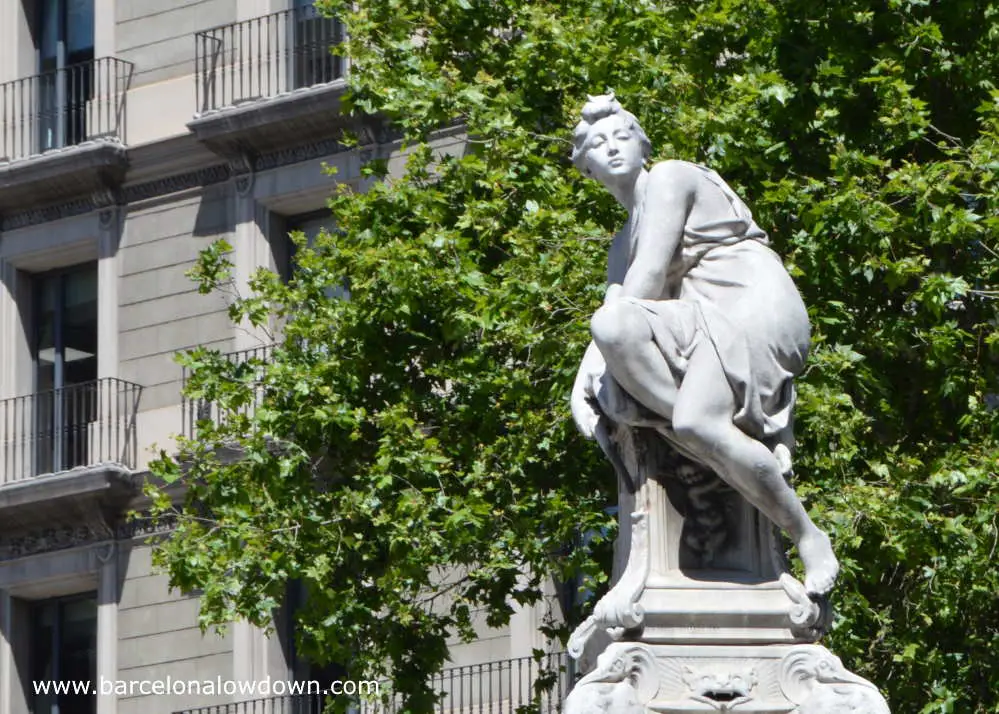 Located on the intersection of Gran Via and Roger de Lluria, the Fountain of Diana is a six and a half metre tall marble fountain topped by a statue of the Roman goddess Diana the huntress.
The Renaissance styled Fountain by Venancio Vallmitjana was commissioned by Barcelona city council in 1913.
Apparently, the young goddess was originally portrayed naked but elections were held shortly before the fountain was completed and the incoming conservative council obliged Vallmitjana to make a new statue, discreetly covered by a Roman-style tunic.
When it was inaugurated in 1916, the fountain was surrounded by a wide flowerbed. Now, a century later, the increased number of vehicles using Gran Via has meant that it's been reduced to a small traffic island.
Diana the Huntress in Roman Mythology
Diana is the Roman goddess of hunting, the forest and animals. She's also associated with the moon and is a symbol of fertility and childbirth. In art, Diana is depicted carrying a bow, often accompanied by hunting dogs or a stag.
Diana's counterpart in Greek mythology is Artemis who shares many of her legends.
One of the best-known stories tells how one day Diana took a break from hunting to bathe in a stream where she was spotted by Actaeon. To ensure he didn't tell anyone, Diana turned him into a stag whereby he was promptly torn apart by his own dogs.
Her followers erected a temple on Aventine Hill in Rome where they celebrated a festival called Nemoralia which takes place annually on the thirteenth of August.
[source]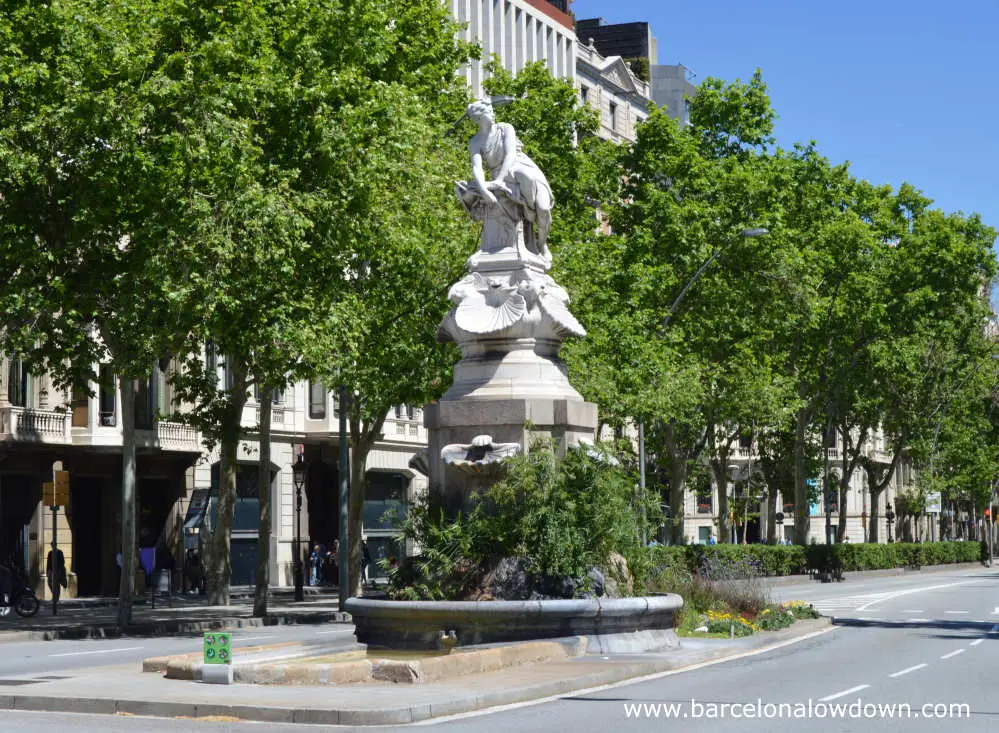 About the artist
Venancio Vallmitjana was born in Barcelona in 1830 and studied at the famous La Llotja art school. After completing his studies, he opened a studio with his brother Agapito making decorative statues for churches.
In 1880 he created a statue of Venus for the fountain in El Parc de la Ciutadella. Other notable works include Beauty Dominating Strength, Maja, and Majo, all three of which are in the MNAC museum in Barcelona.
Location
The Diana fountain is located at Gran Via de les Corts Catalanes 645, at the intersection with Carrer de Roger de Lluria.
How to get there
The fountain is halfway between the metro stops Passeig de Gràcia and Tetuan on the purple metro line (L2). Urquinaona (L1 & L4) and Girona (L4) are also nearby.
Other attractions nearby
Casa Batlló
La Pedrera
Monument to Doctor Bartomeu Robert
Arc de Triomf
Palau de la Musica Catalana
Map