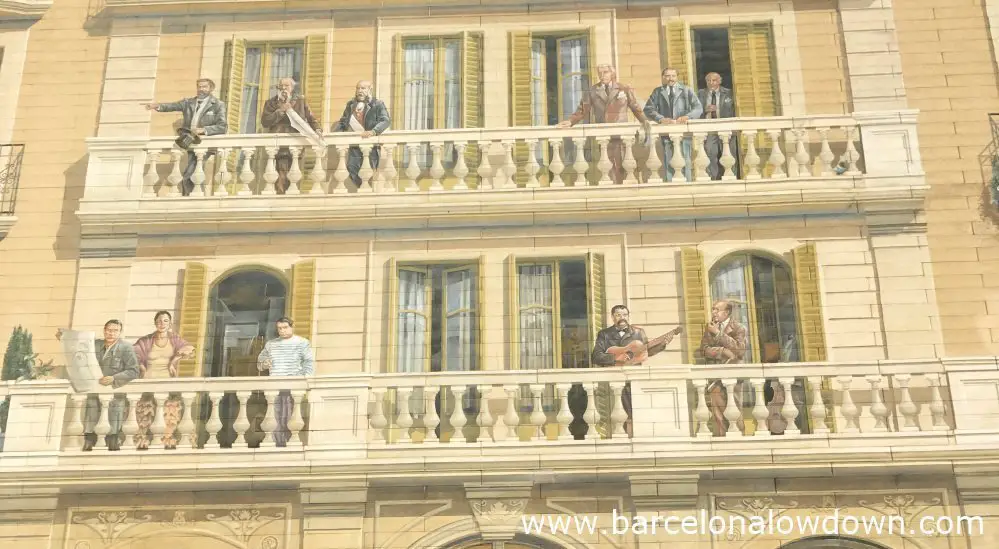 Balcons de Barcelona (Barcelona Balconies) is a large scale Trompe l'oil style mural painted on the southwest elevation of an apartment building in the l'Eixample neighbourhood, near the Sagrada Familia.
Part of a campaign called Barcelona posa't guapa (Barcelona get pretty) the mural was painted in 1992 in the run-up to the Olympic games.
Despite the fact that the façades of many of the buildings in this area of Barcelona are elaborately decorated. The sides are normally left plain and unadorned, ready for the construction of adjacent buildings.
The 450 m2 mural meticulously recreates the façade of an elegant early 20th-century building, complete with balconies, full-length shuttered windows and shopfronts at street level.
The balconies are occupied by famous Barcelona residents and visitors, including; Antoni Gaudí, Joan Miró, Pablo Picasso, Carmen Armaya, Pau Casals, Ildefons Cerdà, Lluís Companys and Francesc Macià. Not to mention, barely visible up on the top floor, Christopher Columbus.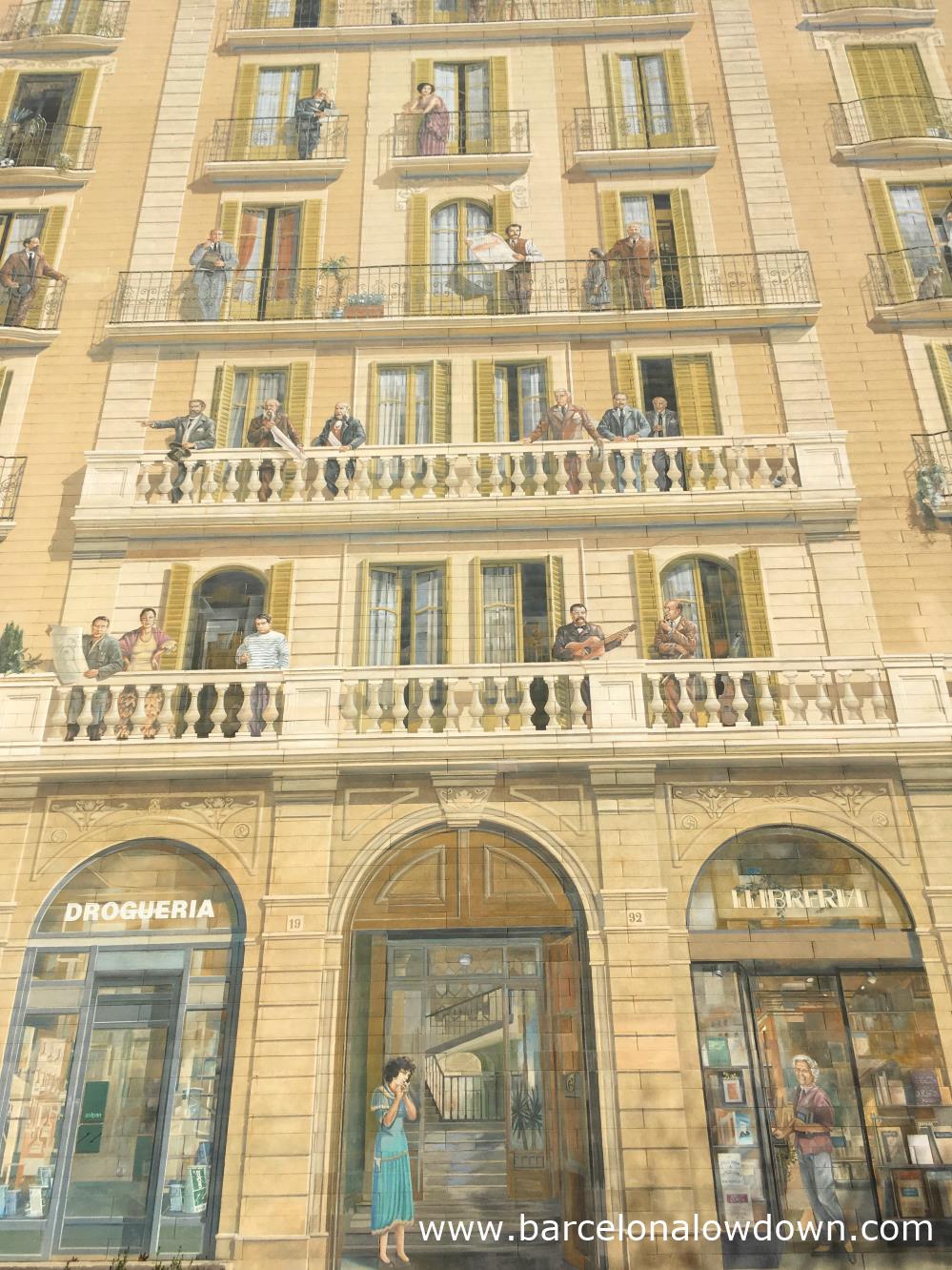 About the artist
Cité Création is a French artists' co-operative founded in Lyon in 1978. The group specializes in the creation of large scale trompe-l'oil designs that combine art with urban planning.
Their earliest works include The Canuts fresco and The Lyonnaise mural which were both painted in Lyon city centre. To date, they have created more than 700 projects in cities as far afield as Mexico City, Berlin, Shanghai and Paris, Quebec and of course Barcelona.
As is the case with Barcelona Balconies, the subject of their murals is normally connected to the history and heritage of the city where they are located.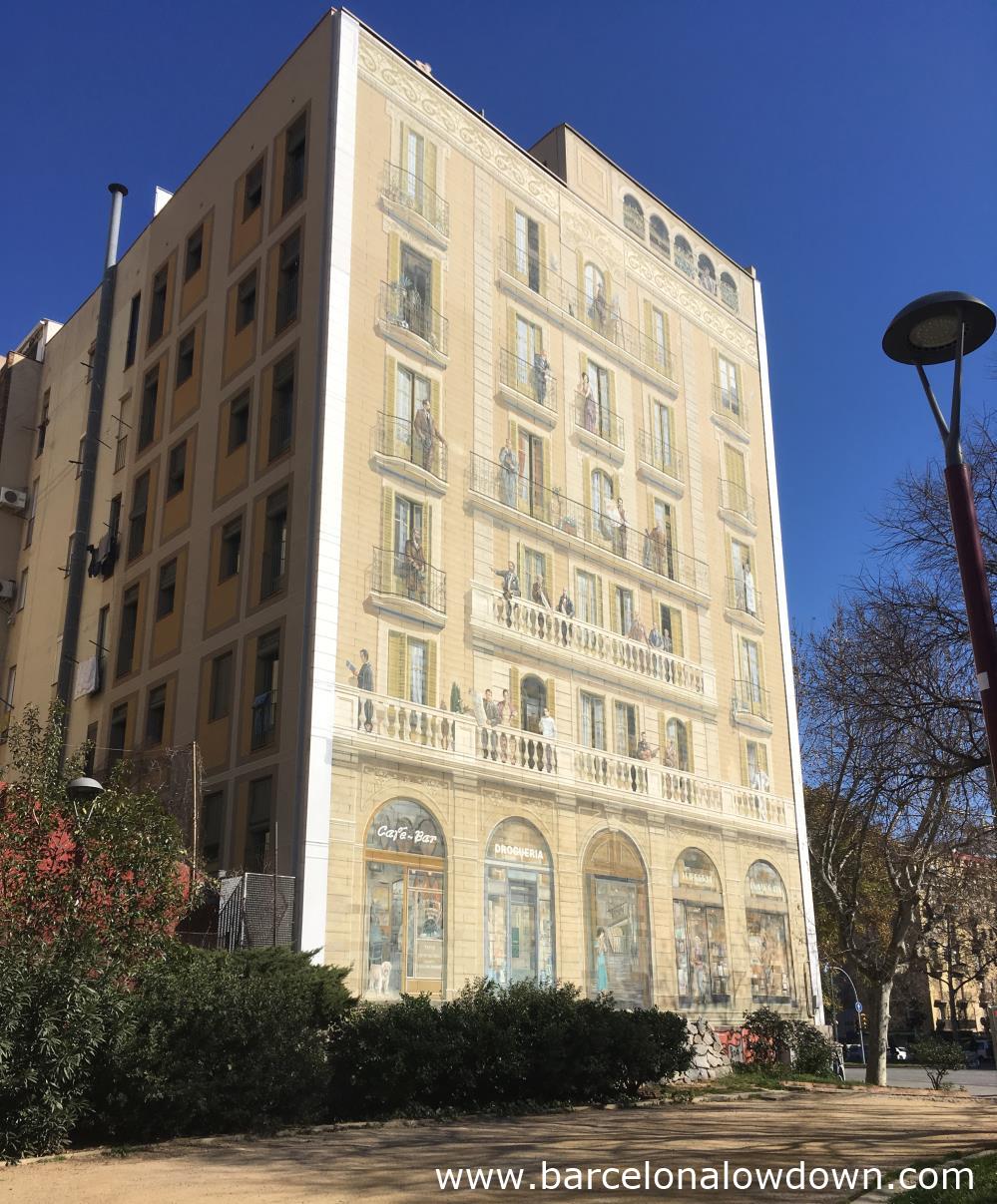 Location
The mural is located at Carrer dels Enamorats 5 overlooking Plaça Pablo Neruda in the l'Eixample neighbourhood.
How to get there
The nearest metro station is Monumental on the L2 (purple line).
Other attractions nearby:
La Monumental bull ring
La Sagrada Familia
The Agbar Tower (aka Torre Glòries)
Els Encants Vells (flea market)
Barcelona Music Museum (Museu de la Música)
Map