The main attraction at Joan Miró Park is the 22m high Woman and Bird Sculpture (Dona I Ocell). This somewhat phallic tiled statue was constructed in 1983, just a few months before Miro's death.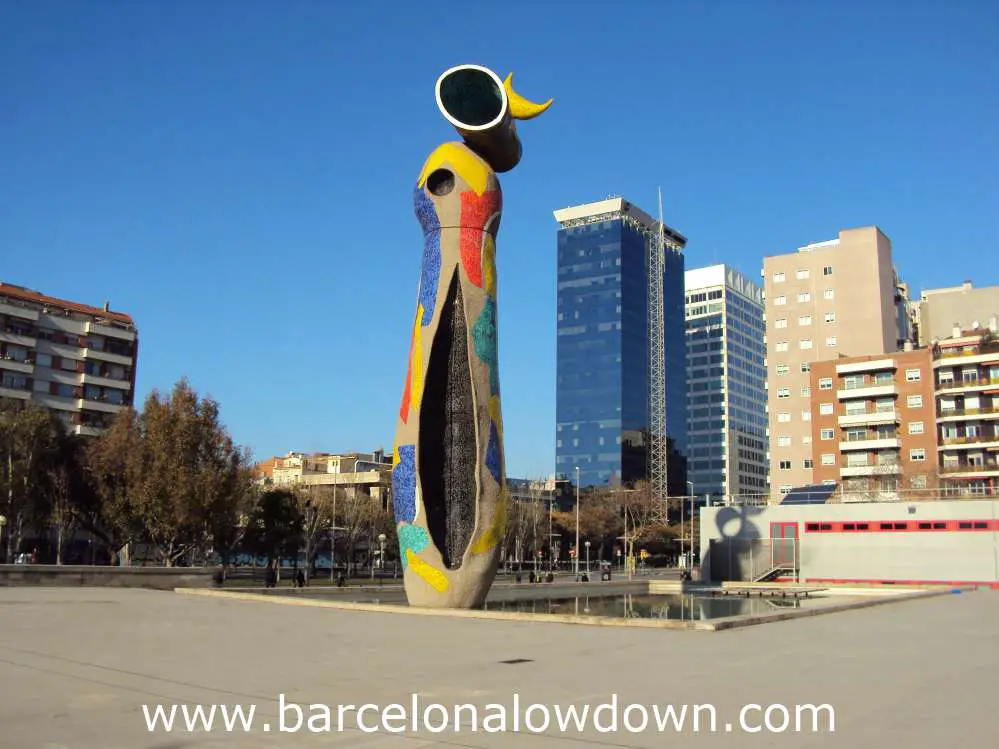 Although the the main body of the sculpture might look inherently masculine, the vertical black hole on one side indicates that it is in fact a female figure. Miró often used the female form to represent the universe and birds to represent the link with earth. So the statue represents the link between earth and the universe.
On the other hand, bearing in mind that this was one of the first major works of public art inaugurated in Barcelona after democracy was reinstated, I can't help wondering whether the erection of a 22m high multicoloured concrete penis was in fact a kind of cathartic expression of freedom (artistic and otherwise).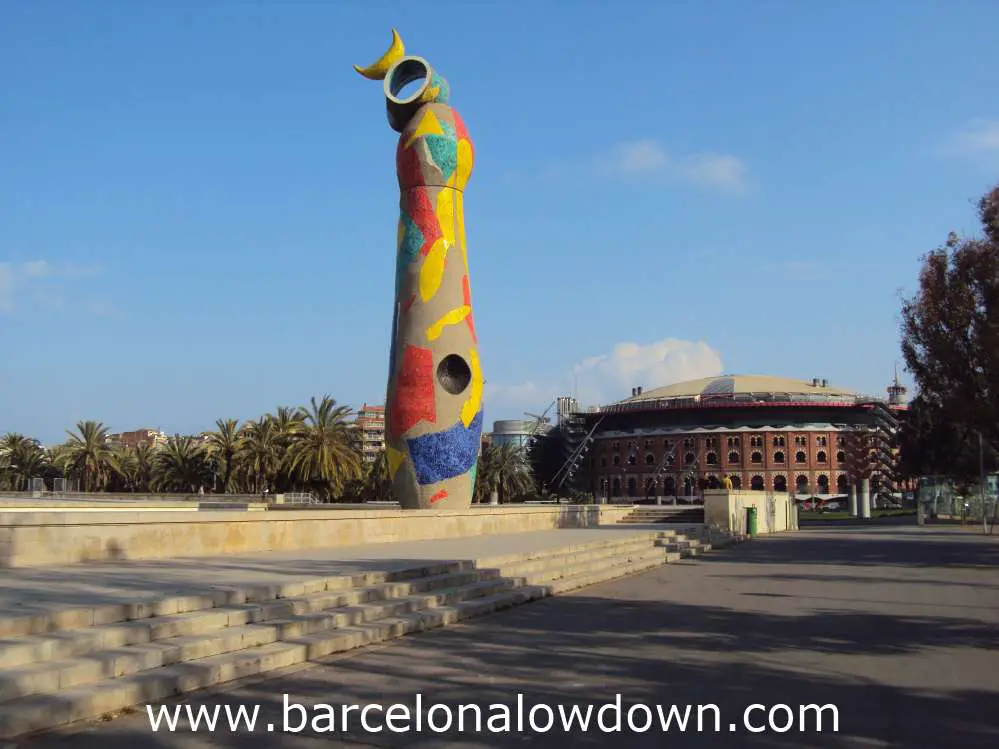 Joan Miró Park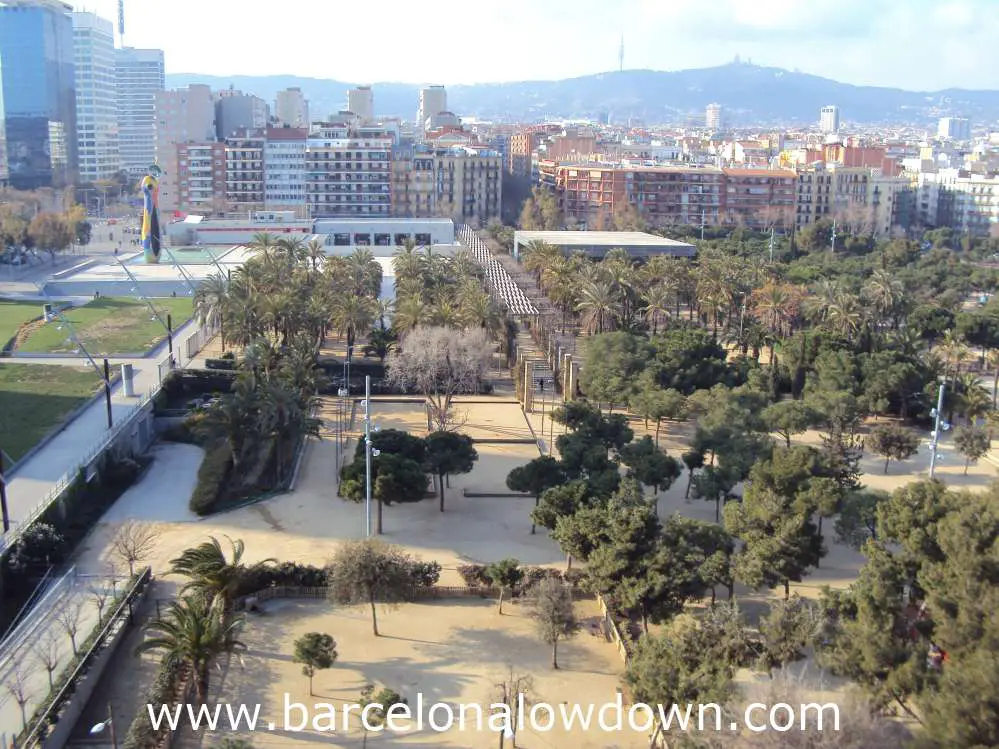 The park is divided into two distinct environments ;
The Woman and Bird Sculpture stands in a rectangular pool overlooking an open grassy area.
The lower section, where an abundance of trees affords shade from the summer sun.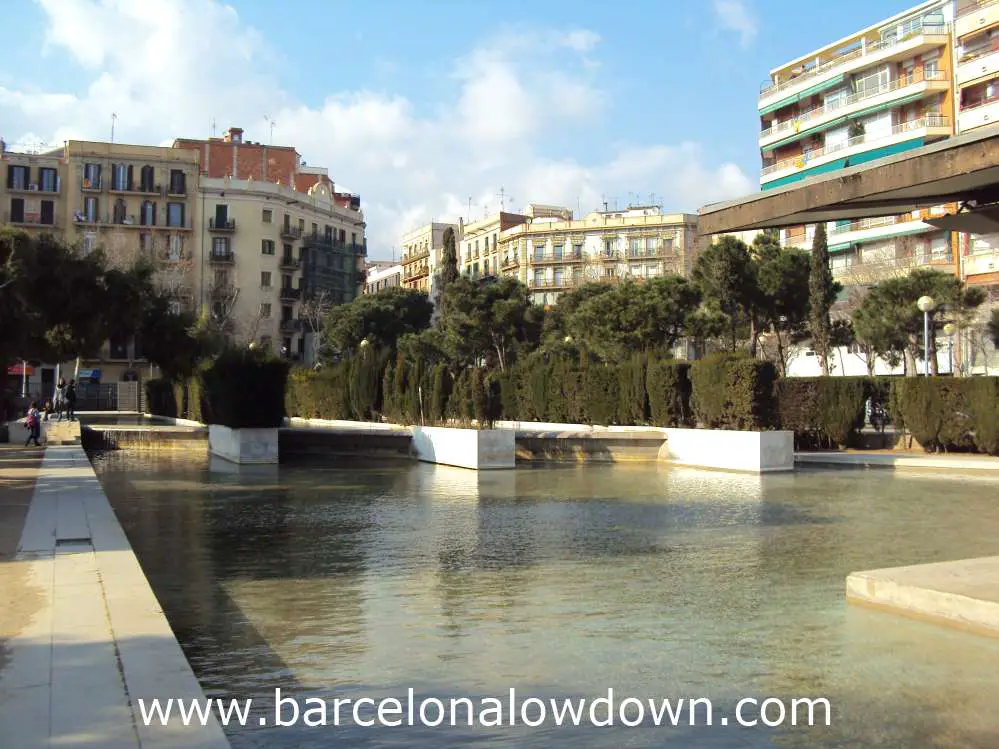 The park boasts four children's play areas (2 for five years and under, 2 for six to twelve year olds), two open-air snack bars, a public library surrounded by a lake, a basketball court and areas for playing pétanque. There is also a Barcelona WIFI transmitter which provides free internet connection as well as a reasonable sized "off lead" area for dogs.
Location
Carrer de Tarragona 74, Barcelona
How to get there
The nearest metro stations are Tarragona (green line L3) and Plaça d' Espanya (red and green lines (L1 & L3)
Bus numbers 27, 109 and 115 stop near the park.
There is a subterranean car-park below the park.
Opening Times
10 am to sunset
Entry fee
FREE
Other Attractions Nearby
Map
Park Guide – Joan Miró Park
| | |
| --- | --- |
| Name | Parc de Joan Miró |
| Category | Park |
| Size | 47100m2 |
| Opening Hours | 10 am – sunset |
| Entry Fee | Free |
| Neighbourhood | Eixample |
| Public Transport | Metro – Tarragona & Plaça d' Espanya |
| Underfoot | Compressed sand/gravel with paved and grassy areas |
| Sculptures / Public Art? | Yes |
| Café / Refreshments? | Two open-air snack bars |
| Drinking Fountains? | No |
| Public Toilets? | No |
| Children's Play Area? | Yes 4 |
| Sports / Fitness Equipment? | Basketball and pétanque |
| Shady Areas? | Yes |
| Dogs Allowed? | Yes, the park includes an off lead area for dogs |
| Free WIFI | yes |